As skincare lovers, we're not at a loss for self-care picks and appointments. But you know who would benefit from an occasional self-care moment too? Yup, your boo. One of the current trends on TikTok is the #SpaNightRoutine, where gals treat their partners to an evening of pampering and skincare. The videos under this tag have accumulated 867 million views collectively.
Okay, some would say it's a bit voyeuristic since we do get a glimpse into a couple's relationship. The virtual closeness TikTok videos offer make it so appealing to users, giving you a sneak peek into other people's lives. A lot of beauty influencers use this to reach their followers on a pseudo-one-on-one conversation, encouraging them to check out so-and-so brand's products.
Skincare videos also have an inherently relaxing vibe, especially if it has traces of ASMR like the videos in this trend. You can hear the opening of sheet mask packages and the soft squish of serums, all layered over Vedo's "You Got It". It's bite-sized beauty content at its best.
The "basic" skincare steps involved
A video usually starts with the 'facialist' showing different sheet masks, letting their partner pick one to use. After choosing, they're given a headband to keep their hair out of their face. Then comes the eye masks, lip masks, sheet masks, facial rollers, serums, and more. The more indulgent videos would even include pedicures and eyebrow grooming. At the end of it, we're treated to the boyfriend's glowing, moisturised skin — with a little help of a filter and flash. Some even turn the tables and make the boyfriend do his girlfriend's skincare routine for the night. Sounds fun, doesn't it?
If you want to treat your boo (or your roommate, sibling, etc.) to their own spa night routine inspired by this TikTok trend, check out these top picks!
Eye patches
Wrinkles and fine lines get more pronounced on male skin as they age, so a little bit of eye care wouldn't hurt. While we love our eye creams, the spa night routine TikTok trend uses eye patches for extra hydration. The aim is to hydrate the area, which helps to address most of the problems concerning it like puffiness, fine lines, and sagging skin. Some put the eye patches underneath the sheet masks, but you can always put them on separately to lengthen the home spa session.
Our spa night picks: skyn ICELAND Hydro Cool Firming Eye Gels have a cooling gel that's infused with highly potent active ingredients and Icelandic glacial water to help firm, tone, brighten, de-puff, and reduce the appearance of wrinkles. Another affordable option is the DHC Pack Sheet Eyes which contains aloe leaf juice and other soothing botanical extracts to soothe your eye area.
Lip masks
Don't skip on lip care; apply a hydrating lip product at the same time as the eye masks. We're not talking about lip balms either. We're going for luxurious lip masks that range from creamy gels to patches. Look for products with ingredients like hyaluronic acid that nourish and hydrate the lips.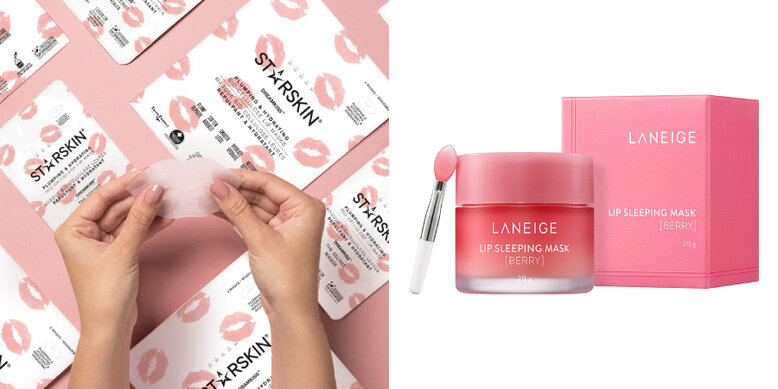 Our spa night picks: STARSKIN Dreamkiss™ Plumping & Hydrating Bio-Cellulose Second Skin Lip Masks are Bio-Cellulose lip masks that hydrate, soften and smooth lips with a blend of hyaluronic acid, honey, and mango extract. Meanwhile, the cult-fave LANEIGE Lip Sleeping Mask in Berry has antioxidant-rich berry extracts, hydro-ion mineral water, evening primrose root extract, and Hunza Apricot extract that transform your lips to be more moist and supple overnight.
Sheet masks
TikTok's version of a spa night always has sheet masks involved. These are great for moisturising and soothing — depending on the type of mask — which can help with male skin. ICYDK, guys' skin tend to be more oily due to their active sebaceous glands while constant shaving makes their skin more sensitive. They're also more prone to experiencing transepidermal water loss later on in life compared to women. Adding some light moisture, especially if they tend to skip daily moisturisers, can help combat these skin problems.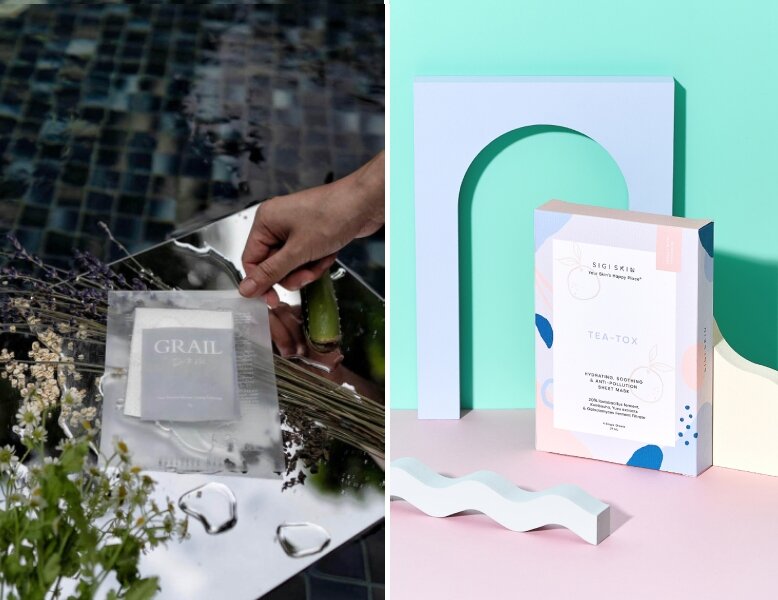 Our spa night picks: The GRAIL DO-IT-ALL Masks contain Japanese sea green caviar, Icelandic chamomile, and copper tripeptide that help to combat ageing, brighten skin, treat pigmentation and tighten pores. On the other hand, the Sigi Skin Tea-tox sheet masks harness a concoction of probiotics, cold-pressed yuzu extracts, kombucha and sake extracts to help brighten, soothe, and heal the skin, while eliminating any redness and irritation.
Serums and facial oils
After all of the masking, the next step in the spa night routine TikTok trend is to apply a serum or a facial oil. This is usually a pre-step to the facial massage, creating a slick surface to help the massage go smoother. Of course, serums and facial oils with targeted benefits like brightening and anti-ageing can help target other skin concerns your partner may have too.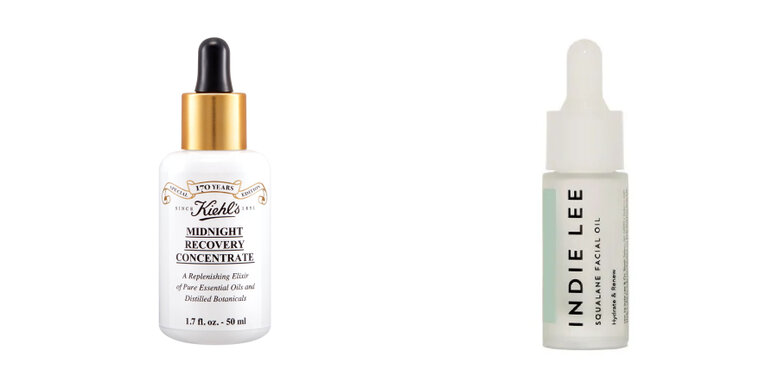 Our spa night picks: The Kiehl's Midnight Recovery Concentrate is an oldie but a goodie. This anti-ageing serum, made with lavender essential oil and evening primrose oil, helps to retexturise and hydrate the skin overnight. If you want pure hydration, the Indie Lee Squalane Facial Oil is made with 100 per cent pure olive-derived squalane oil which is a good emollient and natural antioxidant.
Facial massage
Lastly, the facial massage. We're not aestheticians but we think this step is pretty important in recreating the spa experience. Aside from helping the skin absorb the products you just applied, a facial massage increases blood flow, improves circulation, and encourages lymphatic drainage (depuffing skin). You can use your hands or pick up a beauty tool to help the skin absorb all the products better. Remember to cover the important areas like the T-zone, temples, cheeks, and jawline to get better results.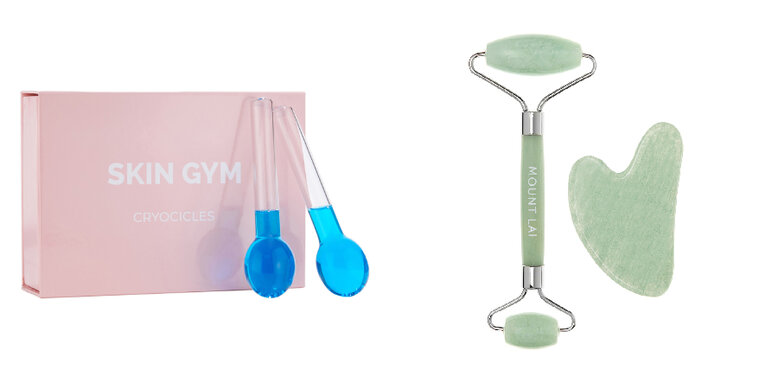 Our spa night picks: Pop the Skin Gym Cryocicles Face Massager into the freezer before gently rolling it across your partner's face. This creates a nice, cool sensation reminiscent of spa treatments. You can also use a jade roller or gua sha — you can get both in the Mount Lai The Jade Facial Spa Set — which works just as well.
The best part is you can use all of these products on yourself, too. Everybody wins with this social media trend!
(Cover photo from: Pavel Danilyuk via Unsplash)
For more self-care essentials, check out this month's beauty launches.
Comments, questions or feedback? Email us at [email protected].