With social media making product reviews available at their fingertips, Filipinas are always on the hunt for great beauty products. Good news: On 26 September in the El Nido Villa of Okada Manila, the launch of
Shiseido Philippines
opened new doors to the beauty world.
From left to right: President and CEO of Shiseido Asia Pacific Jean-Philipp Charrier, Shiseido Philippines Ambassador KC Concepcion, and Shiseido Philippines Managing Director Koji Nakata.
While Shiseido, the brand, has been present in the Philippines for years, this exciting moment in the beauty world gives Filipinas access to more beauty innovations from across the globe. Aside from Shiseido and Shiseido Men skincare products, prestigious cult-favourites such as
NARS
and
Laura Mercier
and new entries like
Senka
are now more available to the Philippine market. This announcement was accompanied by naming actress
KC Concepcion
as the new Philippine ambassador for Shiseido.
With this, we entered the Shiseido Beauty Mansion to discover the different brands they're bringing into the country. Each room was dedicated to a specific brand, their pioneering and best-selling products, and even some holiday collections to watch out for.
The chic bedspread and vanity set-up inside the Laura Mercier room.
We first explored the chic bedroom set-up in the
Laura Mercier
room. Filipinas will now be able to enjoy the world-renown skin-perfecting makeup brand's best-selling products such as their
Flawless Lumiere Radiance Perfecting Foundation
.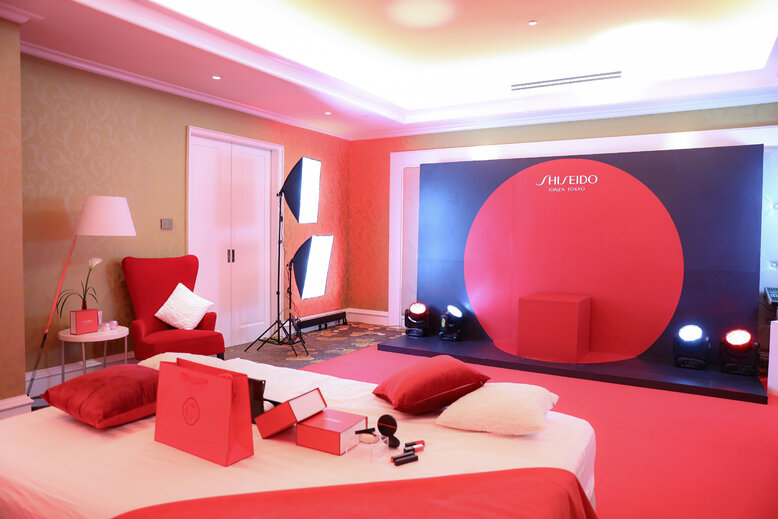 The Shiseido room featuring the Shiseido photo wall.
Of course, there was also a
Shiseido
suite where guests got their photos taken in front of the Shiseido wall. Spread throughout the suite were Shiseido products, including their new
Synchro Skin Self-Refreshing
collection. Their cleansing range was appropriately placed in the
en suite
bathroom.
Getting ready for the holidays in the NARS room.
Next, we entered the glittering world of
NARS Cosmetics
. The well-loved brand's upcoming holiday collection was the centre of attention of the room, and we cannot wait to test them out once they launch.
The cloud-like foam decor in the Senka room.
As we approached the
Senka
room, we were able to get glimpses of a cloudy and foamy décor. We tried out their
Perfect Whip Cleanser
, which held to true to its name. They demonstrated how to 'whip' the cleanser to the perfect consistency that will leave your skin feeling soft and smooth. Senka products will be available in Duty Free and Watsons starting this October, with nationwide shipping coming later on this year.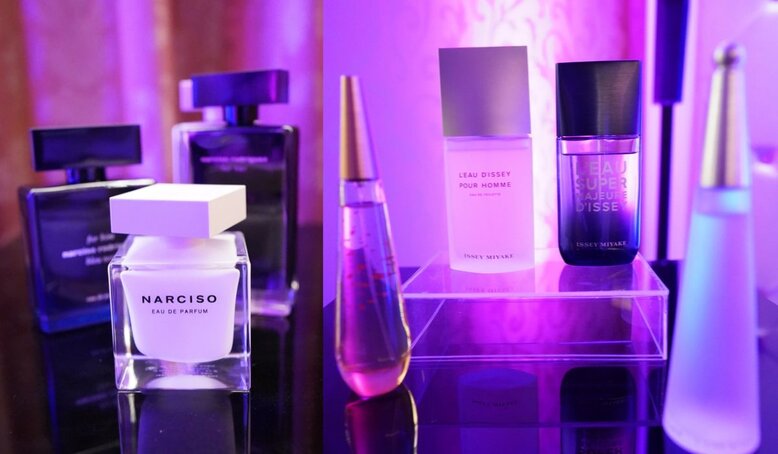 Left: Narciso Rodriguez fragrances. Right: Japanese fragrance brand Issey Miyake.
Lastly, we also got to see an impressive line-up of fragrances. The assortment includes brands like the popular
Dolce & Gabbana
, Japanese brand
Issey Miyake
, and sensual perfumes from
Narciso Rodriguez
.
You can purchase Shiseido products on BeautyMNL, Lazada, their boutiques, and partner beauty counters nationwide.
Comments, questions or feedback? Email us at [email protected].