This story was first published on 14 January 2022.
Celebrity beauty lines will continue to be the centre of conversations this year. Kim Kardashian re-branded her KKW Beauty empire to SKKN BY KIM recently following her divorce from Kanye West. Meanwhile, model Hailey Rhode Baldwin AKA Mrs Justin Bieber has just launched her beauty brand, Rhode Skincare as well. Read on for details and get a closer look at Rhode's first product line-up.
Rhode Skincare's product line-up: A cream, gel serum and lip treatment
Newly launched (and already sold out) online, Rhode Skincare's first product line-up comprises three skincare products: a Barrier Restore Cream, a Peptide Glazing Fluid gel serum and three variants of the Peptide Lip Treatment to "glaze your skin with goodness." All the products are formulated for sensitive skin and are also vegan, gluten-free and cruelty-free. They are also developed by dermatologists.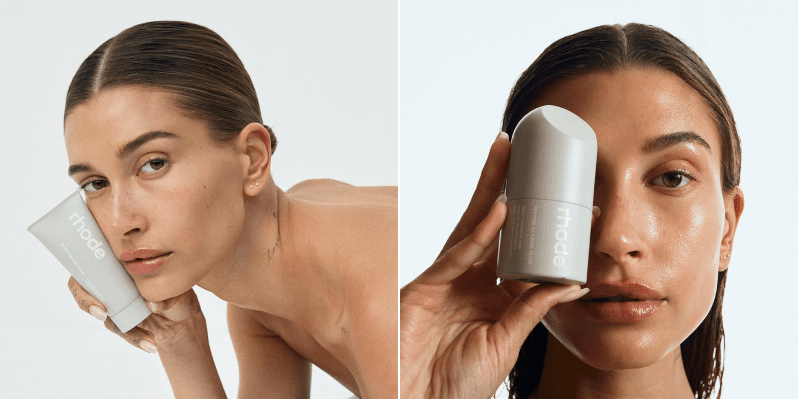 The Barrier Restore Cream is a moisturiser that aims to "comfort, soothe, and restore the skin barrier." Its key ingredients include shea butter to hydrate and moisturise the skin with five essential fatty acids, plant-based squalane to calm the skin, peptides to reduce the look of fine lines, acai to protect the skin from harmful free radicals, and nourishing niacinamide. This is priced at USD29/~SGD40 for 50ML.
The Peptide Glazing Fluid is a gel serum and Hailey's "signature step to dewy, glazed skin." Apart from niacinamide and peptides, this also has hyaluronic acid to hydrate the skin and marula oil to support and soften the skin barrier. This is also priced at USD29/~SGD40 for 50ML.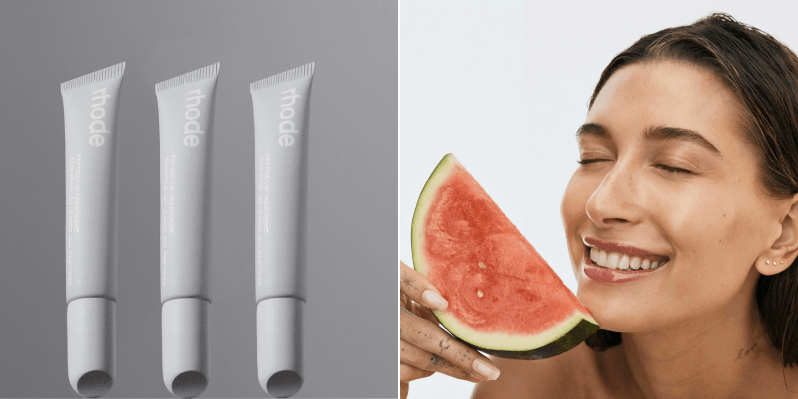 There's also the Peptide Lip Treatment, which leaves lips "looking glossy" while protecting and nourishing dry skin from within. Key ingredients include cupuacu to improve skin's suppleness and babassu to replenish overall skin moisture. The lip treatment comes in three flavours: Unscented, Watermelon Slice and Salted Caramel. This is priced at USD16/~SGD22 for 10ML.
Hailey's journey to launching Rhode Skincare
Did you know? Hailey Bieber had plans to launch her own beauty line more than three years ago. According to Allure, she attempted to file a trademark for Bieber Beauty back in April 2019. However, she couldn't because the brand shared too many similarities with what her husband Justin Bieber had filed back in 2010. Fast forward to February 2021, she filed another trademark for the naming rights to Rhode. Now, she's working on launching the brand this year.
The news was first revealed in November 2021 in one of Hailey's YouTube videos, where she shared that "Rhode has been in the works for a very long time" and will launch in 2022. Details of the brand have been kept under wraps until recently.
Rhode is starting with skincare
In January, the 25-year-old was involved in a photoshoot that involved some of the beauty industry's most prolific professionals, including fashion stylist Karla Welch, OUAI founder and hairstylist Jen Atkin and makeup artist Nina Park. Nina posted a photo of Hailey with damp hair, dewy makeup and a casual ribbed tank top on her Instagram.
Apart from the usual tags, Nina had also tagged @rhode in the post, which potentially hinted that Hailey's beauty look was created using Rhode Beauty products and/or the look was created for the brand's launch campaign. With the words "rhode skincare" in its bio, we guessed that the brand will launch with a line of skincare products first that will help fans to mimic Hailey's luminous yet effortless-looking 'dolphin' skin or 'glazed doughnut' skin.
What's next for Rhode?
If all goes well, the brand may then branch out to other categories, such as makeup, fragrances and haircare; a report by TMZ found that Hailey has plans to use the potential Rhode trademark to launch a beauty brand that encompasses "beauty and wellness merch, bath and shower products, beauty creams, personal cleaning products, cosmetics, makeup, fragrances, haircare and skincare."
The brand has also hinted on its site that it will launch a cleanser, though a release date has yet to be confirmed.
Where to purchase Rhode
Rhode is currently only available on the brand's website and ships within the United States. The brand has yet to reveal if it intends to launch at major beauty retailers such as Sephora or Ulta, but has shared that it's "working hard" on expanding internationally. The products are priced from USD16/~SGD22 for a Peptide Lip Treatment to USD95/~SGD131 for a full, five-piece set.
What are your thoughts on celebrity beauty lines?
Cover photos from: rhodeskin.com
Speaking of beauty launches, celebrity makeup artist Patrick Ta's beauty brand is available at Sephora Singapore. See here for more details.

Comments, questions or feedback? Email us at [email protected].