We're sure that, like many of us, you've been daydreaming of the day when we'll finally board our flight to a new destination. Aside from the excitement of discovering a new place, we also get to plan our outfits and looks for the 'gram. But since the pandemic prompted us to re-evaluate our priorities, especially when it comes to beauty regimens, we also need to reorganise what we'll be packing for future trips in our post-COVID travel beauty kits.
For context, a lot of people are already planning for future trips in the coming months and well into next year. "Six in ten (62%) Singaporean travellers have used the increased time at home to plan future travel while slightly over half (54%) have banked more vacation days, so are excited about the potential of taking longer vacations in 2021," Booking.com shared in a press release last April. As for where they're heading, destinations like South Africa, Europe, the US and Canada were popular pre-pandemic but Trip.com CEO Jane Sun foresees countries that have proven to successfully address the pandemic will become more popular among travellers.
To get insights on travel-friendly beauty essentials, we tapped some of the Clozette Community's most active travel content creators to share the personal picks they'll be bringing on their future trips locally and abroad.
For less clutter: multipurpose makeup and tools
"My pre-pandemic travel beauty kit looks like a simple kit but complete. I used to buy a sachet pack or smaller-sized versions of my common products like the LANEIGE Water Sleeping Mask, Fresh Skinlab Tomato Glass Makeup Remover Wipes and the Fresh Skinlab Tomato Glass Skin Booster Serum so they wouldn't consume [a lot of] space in my bag," Chi Maracha shared.
However, the pandemic made her realise it's better to "wear less makeup when going out" since she's always wearing a face mask, which has led to some bouts of maskne. She's opting to go for multitasking makeup products like the Sunnies Face Lip Dip in Girl Crush for her cheeks and lips. She also shared she'll be packing an antibacterial sanitiser for her makeup tools, like the Ellana Cosmetics Makeup Sanitising Spray and Instant Brush Cleaner, on her future trips. First stop? Japan.
For truly clean kits: some antibacterial essentials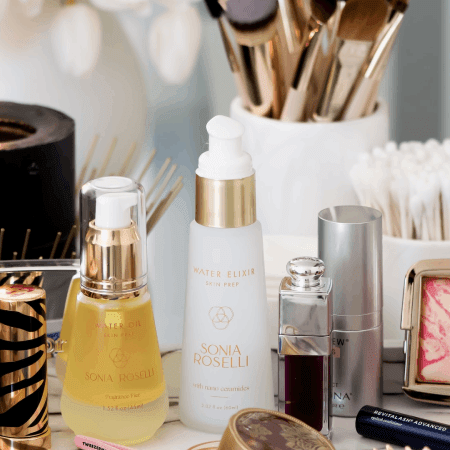 Chervon is another travel content creator eager to explore Japan. And we're eager to live vicariously through her travel photos that not only capture the beautiful scenery but also showcase her stunning outfits too. To tie her ensemble together, she also has personal makeup faves. "My non-negotiables would be my face and eye make-up removing solutions, Crystal Tomato Beyond Sun Protection, Heliocare Ultra-D Oral sunblock, moisturiser, Estée Lauder Foundation Double Wear Foundation, and lipstick."
One of her travel hacks is curating her beauty kit depending on her trips. "It depends on how long I travel. The product sizes vary from sachet samples given out by beauty counters to pre-packed rationed liquid and creams." These are travel-friendly products that don't take a lot of space and you get to test out different products throughout the leg of your trip.
Some of her new essentials will be used to maintain the cleanliness of her products. "Lots of antibacterial wipes, alcohol wipes and hand sanitisers. The wipes would be cleaning most of the places we could be touching and also to clean my beauty applicators."
For on-point looks: basic but trusty makeup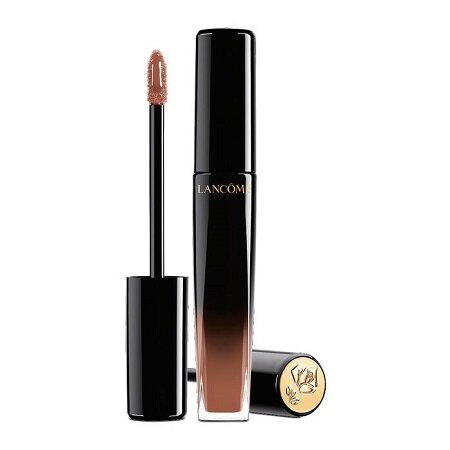 Meanwhile, Levy's hoping to visit sunnier places like Greece and Dubai once it's safer to travel. Regardless of the destination, she usually brings her go-to Olay toner, Biore sunscreen, compact powder, eyeliner, lipsticks from NARS or BYS Cosmetics, and Maybelline mascara. But for her post-COVID travel beauty kit, she's whittling it down to her new essentials. Currently, it includes a Clinique or Biore sunscreen, mascara, blusher, and a MAC Cosmetics highlighter.
"I would rather focus and place more effort on the exposed area of the face which includes the eyes," she said. However, she also shared that her penchant for lippies is still going strong despite having to wear masks. Levy's currently loving the Lancôme L'Absolut Lacquer Gloss in 274 Beige Sensation since it's "a perfect pink-brown that gives more elegance than the usual nude and still looks really natural."
For pampered skin: oodles of effective skincare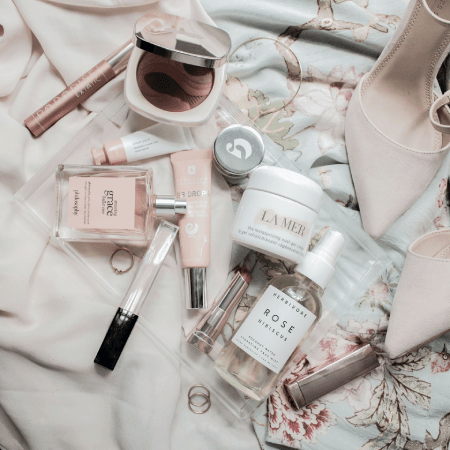 For new mum Yuni, a major shift in her beauty routine is investing in skincare. "Since the pandemic started, I started investing more in skincare instead of makeup. Healthy skin is much more important than covering it up with makeup," she explained. She used to bring a full-range beauty kit on her trips, especially foundation since she "likes to look perfect with makeup".
Some of her current non-negotiables include sunscreen and moisturiser, but she always keeps sanitisers and alcohol-based wet tissues in her bag when going out. These will definitely find their way into her post-COVID beauty kit, especially since she's hoping to visit Canada, New Zealand and Iceland to go on road trips and explore the mountain areas in those countries.
For a quick refresh: a rejuvenating facial mist
Speaking of heading Down Under, Shu of shuutravels plans on hitting either Australia or New Zealand once safer travel is possible. "I think I'll take two months off work and just roam around," she laughed.
As for what's making its way into her luggage, she's sticking with her usual line-up of skincare. "It's pretty much the same as what I'd use on a daily basis, but travel-sized," she explained. Her staples are makeup wipes and a moisturising cleanser. "I love the Bifesta Cleansing Sheets and the Fresh Soy Face Cleanser."
When it comes to toners, serums, and moisturisers, she likes to try out new products. "I'll take this chance to try new brands and travel-size samples I've collected over time." Another staple in her travel makeup kit is a facial mist for a quick, refreshing touch-up while on the go. "My favourite so far is the SIORIS Time Is Running Out Facial Mist."
A new addition to her rotation is hand sanitisers. "I'm not picky about the brand but I think the Lifebuoy Total 10 Sanitiser smells really refreshing."
Other than the products, Shu's planning to spend as much of her time outdoors as possible. "[I want to] spend more time outdoors and away from air-conditioned rooms! My skin is much more hydrated than a year before and I'm really loving the natural glow."
Now that you know what your fellow wanderers are bringing along, what's in your post-COVID travel beauty kit?
(Cover photo from: Johanne Kristensen via Unsplash)
For more travel-friendly picks, check out these multipurpose skincare products.
Comments, questions or feedback? Email us at [email protected].