My relationship with acne started when I was nine years old. I've gone through many skincare routines since, have had professional treatments and peels, and even had a phase where I treated makeup as my saving grace. Now, at 26, I'm proud to say that I've gotten over the confidence-busting effect of having acne-prone skin. Still, that doesn't mean that I no longer deal with it and its after-effects like scars or dark spots.


The quest to find a product that works has been tough. And recently, with my pre-period breakouts and
maskne
getting worse, I was about to give up. Then came
Oxecure's Acne Clear Potion
. One of the Thai brand's acne defence bestsellers, this solution claims to "target active pimples and deliver fast visible results in as fast as six hours". Curious to know if this is the answer to my long-time problem, I decided to put it to the test. Here are my thoughts.
First impressions and claims
The Acne Clear Potion comes in Oxecure's signature white and green packaging. It's similar to a cult-favourite
drying lotion
, but only at a quarter of the price at PHP349/~USD7.
The product is formulated with two per cent salicylic acid (for exfoliation and dealing with acne and acne spots), niacinamide (for brightening and rejuvenating the skin), and Encapsulated Multi-Acne Care Technology (to ensure the product's effects retain in the skin) packed in a 15ml bottle. The product has a clear liquid solution at the top and a pink powder at the bottom, which is said to be the 'key' to this product's potency.
Usage and application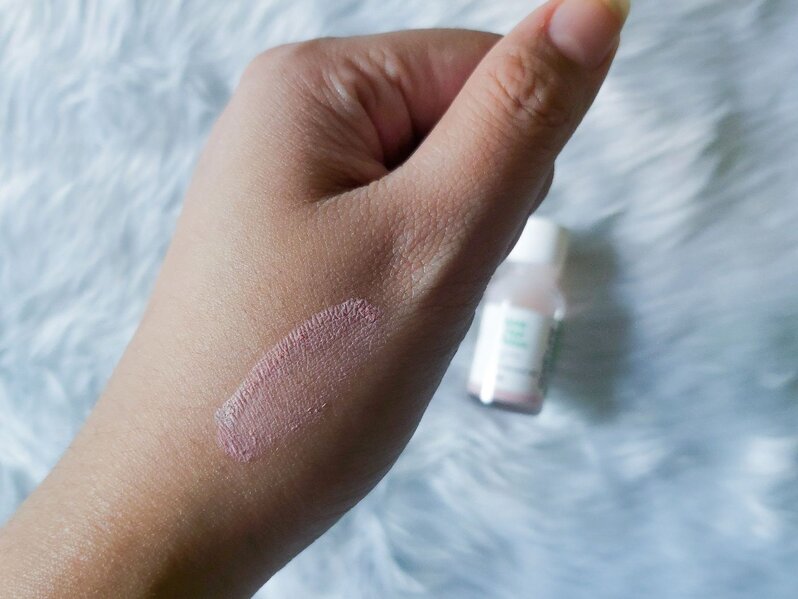 The box and the bottle both have clear instructions on how to use the product, which includes dipping a cotton bud to get the pink powder from the bottom and applying it to the targeted area after washing the face. If the solution gets mixed, wait until the powder has settled back into the bottom of the bottle before using. It's pretty straightforward and perfect for people like me who love a no-nonsense product.
I noticed that given the heat and humidity, putting on too many products on my skin only leads to more breakouts. That's why I've decided to trim down my skincare routine significantly to let my skin breathe.
Acne Clear Potion was the only new addition to my current routine consisting of a facial wash and face lotion. I was quite worried that it might aggravate my skin even more, so I used it only on one spot first. When I noticed that it didn't make it worse, I started to use it more liberally as the days passed.
It leaves a pink clay-like dot on the skin similar to when you're using mud masks. It has a slight scent, probably from the aloe vera, chamomile, and alcohol in it. It's not really bothersome to me, though lingers for a bit especially during application; it might be off-putting for those sensitive to fragrances.
It dries down fast, which is great especially during times when I'm already in a hurry to sleep. I was worried that it might aggravate my skin like other acne-spot treatments I've tried in the past. Thankfully, I didn't experience any irritation or inflammation. I also noticed that it helped to immediately minimise some growing bumps; I see results the morning after I apply it on. It also quickly dealt with the existing bumps that I had — big or small — and made them disappear almost traceless.
Final thoughts
So did the Oxecure Acne Clear Potion work as it's supposed to? I'm happy to report so! After a week, I noticed that not only did it help deal with my breakouts but it also helped to fade most of my dark spots. This worked especially for the ones on my jawline which I've dealt with for months because of maskne. It's not a complete 180-degree turn since you can still see traces of them, but the quick development was quite pleasing.
I've been using the product for over a month now and aside from dealing with active acne, I also noticed that my pre-period breakouts have lessened since.
At PHP349/~USD7 for the standard 15ml bottle, it's worth your every buck. It's been a long time coming, but I think I've found a new acne-defence holy grail in this one.
Grab a bottle of the Oxecure Acne Clear Potion at the
official Oxecure website
,
Facebook Shop
,
BeautyMNL
,
ZALORA
, and official Oxecure stores at
Lazada
and
Shopee
. It's also available in all Watsons stores in the Philippines.
*The product was sent as a press gift. The views and the opinion of the reviewer are independent and purely editorial.
Comments, questions or feedback? Email us at [email protected].