The simplified approach to beauty — both in makeup and skincare — has been accumulating a lot of support over the years, as seen in a recent trend report by Mintel. This might be the reason why more brands are coming out with multi-purpose makeup products lately. We can definitely see the appeal. People love the convenience of a single product to create a complete look. It's ideal for on-the-go ladies, who typically apply their makeup en route to their destination. For those working on a budget, two- (or more) in-one products are especially attractive.
Similar to lip and cheek tints, creamy makeup sticks are good for quickly adding colour to our complexion but without the hassle of finger stains. With that in mind, we've curated some of the best multi-use makeup sticks that you should check out if you want to whittle down your daily makeup routine.
Nudestix Nudies Matte All Over Face Color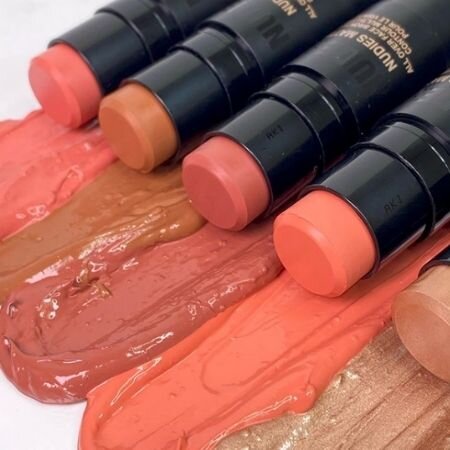 As a brand founded on creating easy-to-use makeup, Nudestix has a lot of multi-purpose makeup products to offer. In particular, their multi-use and water-resistant Nudies makeup sticks are a classic choice when wanting to quickly add a fresh swash of colour on your cheeks. The shades range from browns to universal nudes that you can use primarily as a bronzer and blush combo but can also be used as a cream eyeshadow. Nudestix also recently added several shades to their line-up; the new Nude Peach (a soft peachy coral) and Salty Siren (a rosy coral) shades are the ones that we're picking up for a quick, radiant makeup look.
Why we like it: It's a leading contender in the convenience department since it has a built-in brush for blending and a matte black case with a mirror that you can use literally anywhere. Handy, isn't it?
BLK Cosmetics Universal Multi-Tasking Color Stick
With a tagline like "Uncomplicated Beauty", we're not surprised that BLK Cosmetics would also have a beginner-friendly multi-use makeup stick in their collection. The Universal Multi-Tasking Color Stick can be primarily used as a vibrant blush but you can also dab it on your eyelids and lips for a monotone look. Can we also take a moment to appreciate the shade names Merlot, Margarita, and Mimosa? It has us thinking of lounging by the pool.
Why we like it: The shades are universally flattering, as the collection's name suggests, so there's one that will surely suit your fancy, if not all of them!
Stila Complete Harmony Lip & Cheek Stick
While we're on the topic of creating monochromatic looks, you can use the Stila Complete Harmony Lip & Cheek Stick to create one harmonious — pun intended — look. The creamy formula blends easily when applied as a subtle blush or layered up as a pigmented lipstick. They also have singular bronzer and highlighter shades called Sunkissed Bronze and Kitten Highlighter that you could mix and match together.
Why we like it: It contains castor seed oil, which we love for its moisturising benefits. A makeup product with skincare perks is usually a good thing, in our opinion.
Fenty Beauty Match Stix
We can't forget about the inaugural multi-use makeup stick from Fenty Beauty. Available in matte, shimmer, and glow finishes that you can use to conceal, correct, contour, blush and highlight, the Match Stix's lightweight formula can be blended using a sponge, brush, or with your fingers. The Match Stix also has a magnetic packaging that's super convenient in keeping our makeup kits organised.
Why we like it: There's a good balance of wearable and out-of-the-box colours to choose from. Fenty Beauty keeps updating the Match Stix range with new fun and playful shades, like the purple Unicorn, so we'll never be at a loss for options.
Byredo Colour Stick
If you haven't heard it yet, fragrance brand Byredo will be coming out with a makeup collection next month. We're specifically looking forward to their Colour Stick. Packaged in a sculptural component, it'll come in 16 shades that you can apply on your cheeks, eyes, and lips depending on how you feel like using it that day. The entire makeup line had some help from makeup artist Isamaya Ffrench, so we're curious to test it IRL when it becomes available in Singapore for USD30 this 1 October.
Why we like it: From the limited photos available, the colour story of this range would feature bold hues and metallic finishes. If you like playing with colourful, editorial makeup looks, then this is a launch worth waiting for.
(Cover photo from: @nudestix)
Want to know how else to use these multi-purpose products? Check out the trendy dolphin skin makeup trend that will soon take over your feed.
Comments, questions or feedback? Email us at [email protected].