La Perla may be known for its luxury lingerie, but did you know it's delving into beauty products too? Yes, you heard that right. You can now add La Perla to the roster of luxury brands vying for a spot on your vanity table. Here's what you need to know about the upcoming release of La Perla Beauty products.
Confidence-boosting beauty
First, imagine the confidence boost you get from sexy lingerie and compare it to the feeling of swiping on your fave lipstick. That's the feeling La Perla Beauty is hoping to evoke. Similar to how wearing lingerie should be for your personal enjoyment, the new La Perla beauty products hope to bring the same philosophy into your beauty regimen.
They're not the first lingerie brand to explore the beauty realm — Victoria's Secret sells colognes and lotions alongside their intimate apparel and Aerie has a minimalist beauty collection. Prior to that, several collabs between lingerie and beauty brands have been a normal practice. We have Savage x Fenty and Fenty Beauty and the limited-edition Parade x BITE Beauty Lip Set as examples.
Now, we can't fault fashion brands for expanding their wares to include makeup and skincare. The beauty and personal care market is estimated to grow 4.75% annually from 2021 to 2025 while fashion forecasts predicted growth of apparel revenue to around 5.5% from 2020 to 2025 prior to the pandemic. Since then, several retailers have declared losses and bankruptcies. Even Inditex — which owns the brands ZARA, Pull & Bear, Stradivarius, and Massimo Dutti — closed thousands of its international stores last year.
Maybe shopping for our closets wasn't that much of a priority last year, but taking care of our skin definitely was at the top of the list. Skin worries like maskne and dullness invigorated people to take care of their complexions. Virtual meetings had us staring at our own faces for hours every week. So yes, our beauty collections grew.
Sustainable, transparent luxury
So what should we expect from this new haute beauté line? Like many beauty brands right now, La Perla beauty products claim to be committed to caring for you and the environment. Thus, they're promising to use and disclose ingredients that are ethically sourced and minimally impact the environment.
An important part of sustainability involves using environmentally friendly packaging. According to La Perla, its makeup, bodycare, and fragrances will come in artisanal bottles made from recycled glass. Those will be encased in cardboard boxes and paper also made from recycled materials or sourced from sustainably managed forests.
Fragrances now, makeup and bodycare to come
Eager to find out which beauty products are coming your way? You don't have to wait too long as La Perla Beauty is launching its makeup and bodycare collections in July. We'll give you a lowdown of what they have to offer now and what's in store ahead.
As of the moment, La Perla Beauty perfumes are already available in some selected European countries through their website. These eight fragrances contain essential oils that leave a lasting aroma. Each is priced at GBP57/~USD80. Their Haute Perfumerie Collection currently offers a wide range of fragrance stories from citrus to woody to floral.
La Perla Beauty's makeup products currently focus on the lips and eyes. The Matte Silk Lipstick and Satin Lip Balm will come encased in bold red and gold packaging, capturing the luxurious identity of the brand. The Matte Silk lippies will come in eight different shades of red while the hydrating Satin Lip Balm will be available in two sheer-finish variants.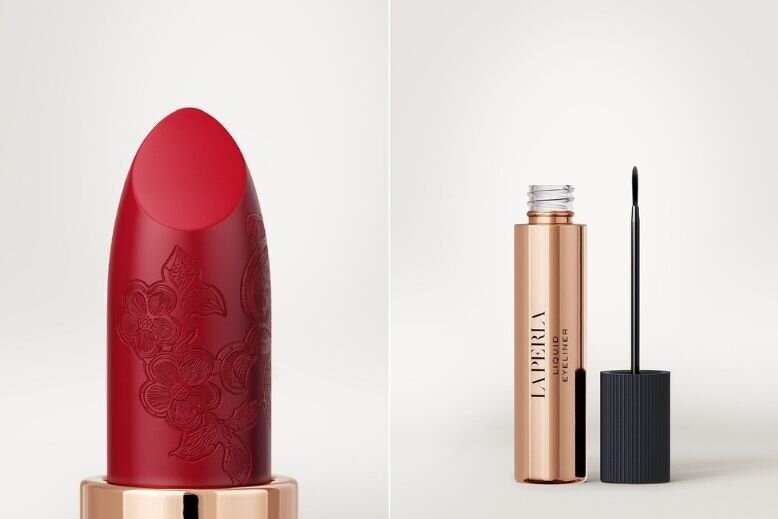 Alongside these lippies are three types of eye-enhancing goodies. Fluff up your lashes with the Volumising Mascara enriched with shea butter. For adding colour to your mask makeup looks, you can pick up the Liquid Eyeliner that comes in red, brown, red, and blue variants. Finally, groom your brows with the Sculpting Brow Gel in clear, light brown, or deep brown shades.
As for bodycare, it's all about smoothing and retexturising formulas. The products — which currently include a shower oil, a body scrub, a body serum, and a cream — feature plant-based oils like coconut and jojoba as well as shea butter. Some are also enriched with prebiotics to help strengthen your skin's microbiome. As a plus, these come in nude-coloured bottles with lace-like frills — perfect for displaying on your shelf or vanity table.
Now that you know what will be available starting next month, will you be buying makeup, fragrance, and bodycare from La Perla?
(Cover photo from: @beauty.by.laperla)
Next, discover what's going on with Harry Styles' beauty brand.
Comments, questions or feedback? Email us at [email protected].