We've hit the middle of January and the year is now in full swing. Some of you may just be coming back from their holiday getaway. Most are back at work doing the daily grind. If you're reading this, then you're taking a quick break to catch up on the latest beauty releases (good for you). The industry's biggest beauty brands have been hard at work to come out with makeup, skincare products and fragrances for the best year ever. Check out January 2020's beauty launches!
KANEBO Wrinkle Lift Serum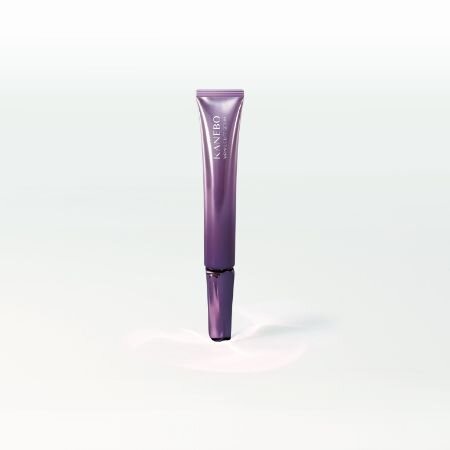 SGD190/~USD140.98, 20ml
The secret to a youthful look? For KANEBO, it's in the serum. Rewind the effects of time with KANEBO's new Wrinkle Lift Serum. This age-defying serum was formulated to plump up the skin around your eyes and mouth as well as on your forehead. It locks in moisture to improve skin elasticity and combat dryness — leaving it looking softer, plumper, and younger-looking. You can purchase it from KANEBO counters in Singapore at Takashimaya Department Store and OG Albert Complex.
Melvita Rose Plumping Serum-Lotion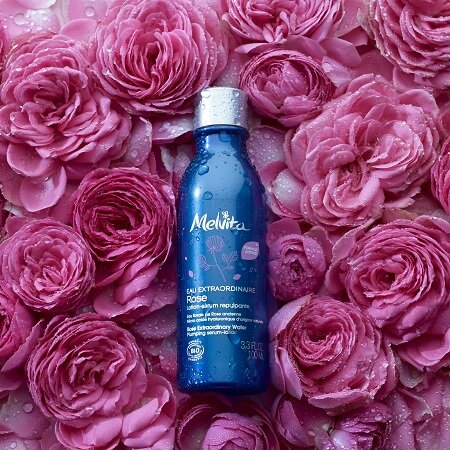 SGD45/~USD33.39, 100ml
From the French organic and clean beauty brand Melvita comes an intensely hydrating serum-lotion. It contains a higher concentration of natural micro hyaluronic acid. It promises to not only quench your skin's thirst but also deliver intense hydration even eight hours after application. It has a pearly, gel-like texture that feels good on the skin. The Melvita Rose Plumping Serum-Lotion is available in their ION Orchard and Takashimaya stores in Singapore, as well as on their
website
.
FENTY Beauty Full Frontal Volume, Lift & Curl Mascara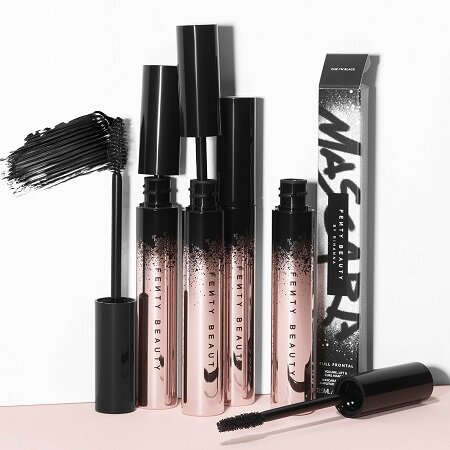 SGD39/~USD28.94
Lashes like Rihanna? Check! FENTY Beauty just released their first mascara today. The newly launched mascara aims to be your new holy grail — it volumises, lengthens, curls, and lifts your lashes with just one product. The lightweight, ultra-black formula is applied by a fat-to-flat mascara wand. The "fat" side lifts your lashes while applying the maximum amount of product; on the other hand, the flat side can be used to define and curl your lashes. You can get it now at Sephora stores and on Sephora.sg.
FENTY Beauty Snap Shadows Mix & Match Eyeshadow Palettes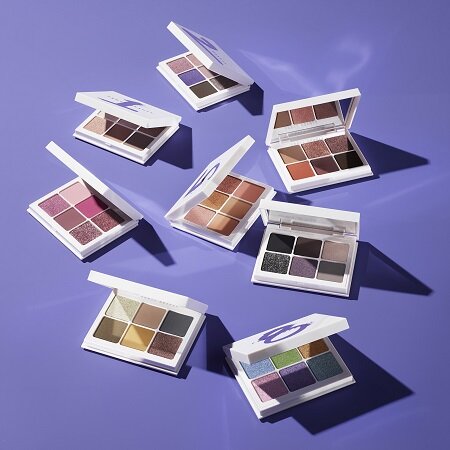 SGD39/~USD28.94 each or two for SGD70/~USD52
FENTY Beauty introduces a new way of playing with colour. The new Snap Shadows come in eight different colour stories that you can mix and match together depending on your mood. Snap two mini palettes together to give you endless options for a day-to-night look. Intensely pigmented yet easy to blend, it's now available in Sephora stores.
FENTY Beauty FlyPencil Longwear Pencil Eyeliner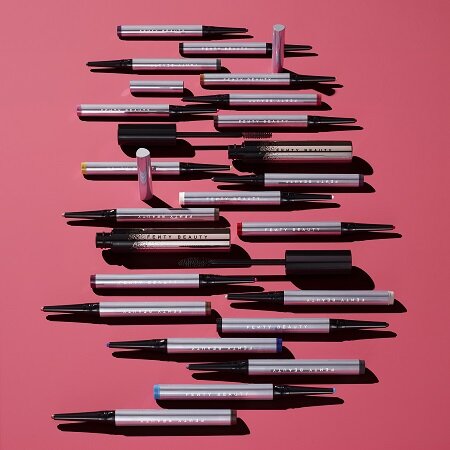 SGD33/~USD24.49
Liquid eyeliner not your thing? You can still have that snatched eyeliner look with the new FlyPencil Longwear Pencil Eyeliner from FENTY Beauty. Available in 20 shades, the creamy and intensely pigmented formula deposits rich colours in a single glide. If you're worried about raccoon eyes, don't fret. The formula is also smudge- and water-resistant. You can nab this long-wearing pencil eyeliner through Sephora's website and Sephora stores starting 17 January 2020.
HERA Black Eau de Parfum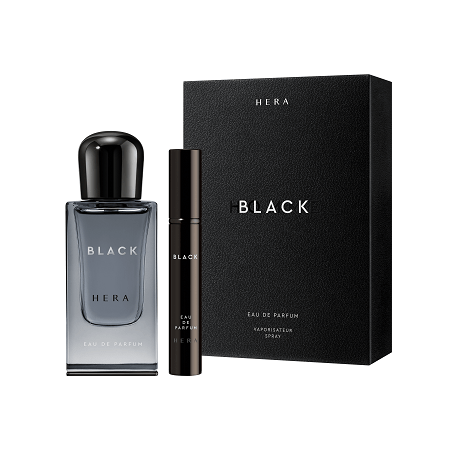 SGD105/~USD77.91, 50ml
To start off the year, HERA just released their very first masculine scent within the HERA signature line. Gift your hubby with this sophisticated aromatic cologne, a unique combination of refreshing and woody musk. Its simple and sleek black bottle embodies the characteristics of a sophisticated urban man. The gift set retails for SGD105 with a 5ml spray bottle, exclusively available at HERA's ION boutique.
HERA Blue Lilac and Ice Green Eau de Toilette
SGD65/~USD48.23, 50ml in each gift set
Find your new signature scent for spring with HERA's new fragrances. The luscious Blue Lilac Eau de Toilette is a white floral fragrance that captures the clean and clear aroma extracted from the delicate Seoul Lilac. It was created in partnership with renowned master perfumers, Richard Herpin and Marie Salamgane. On the other hand, the Ice Green Eau de Toilette is bright and invigorating like a bright summer's day. Fresh and citrusy, Ice Green Eau de Toilette is an interpretation of a refreshing and uplifting scent for carefree days ahead. Both can now be purchased at the HERA ION boutique.
Kat Von D Beauty's XO Vinyl Lip Cream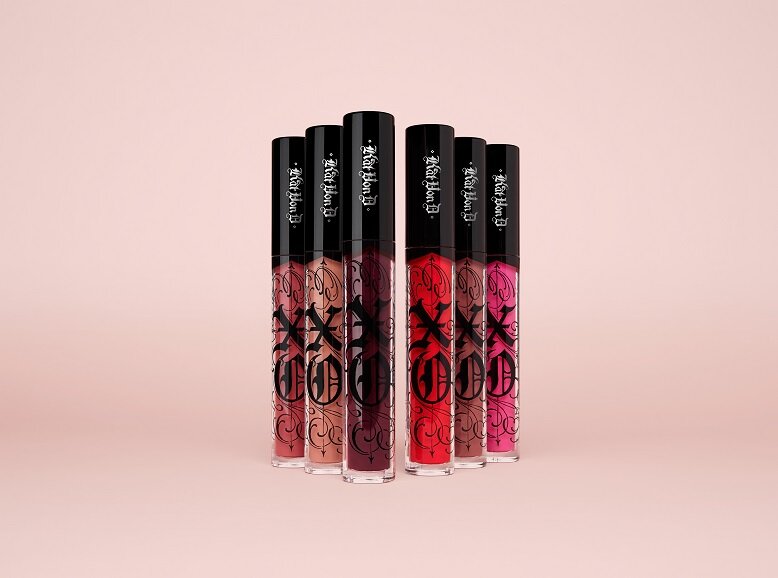 SGD28/~USD 20.78
Pucker up for spring with the new XO Vinyl Lip Creams from Kat Von D Beauty. Its unique formula offers a vinyl-like shine with a highly pigmented coverage. It's not a gloss, yet also not a liquid lipstick. If you don't like the heavy, drying texture of liquid lipsticks, yet are also not a fan of glossy lips, this might be perfect for you. It comes in six flower-inspired shades and is available on the Sephora website and in stores today.
Kat Von D Beauty's Everlasting Blush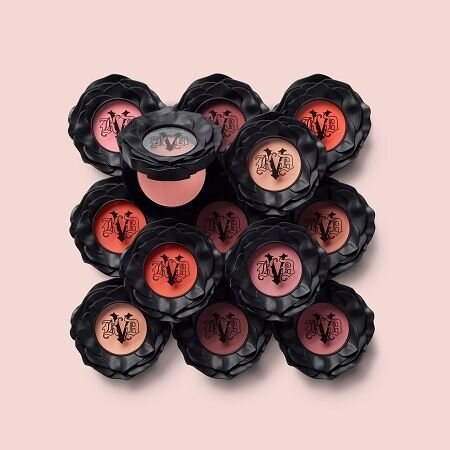 SGD38/~USD28.20
Kat Von D started 2020 with a bang, as she also releases a new blush range today. The Everlasting Blush comes in six spring-perfect shades with a soft matte finish. Its silky, vegan, micro-milled powder formula, inspired by flowers blooming in spring, packs a lot of colour in one dab but blends beautifully on your skin. You can purchase it now in Sephora stores in Singapore and online.
The Body Shop Drops of Youth™ Youth Concentrate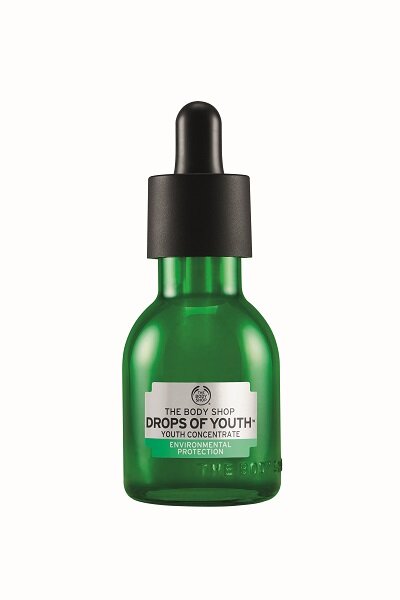 SGD60/~USD44.52, 30ml. SGD80/~USD59.36, 50ml
The Body Shop's bestseller just got better. The bestselling Drops of Youth™ Youth Concentrate now has more natural antioxidants and Rwandan moringa seed oil. This is in addition to the 99 per cent natural ingredients of the previous formula. The renewed Youth Concentrate is reinforced with environmental protection, targeting the harmful effects of indoor and outdoor pollution on the skin. It's now available at all The Body Shop stores across Singapore.
Supergoop! New Year, New Skincare Routine Kit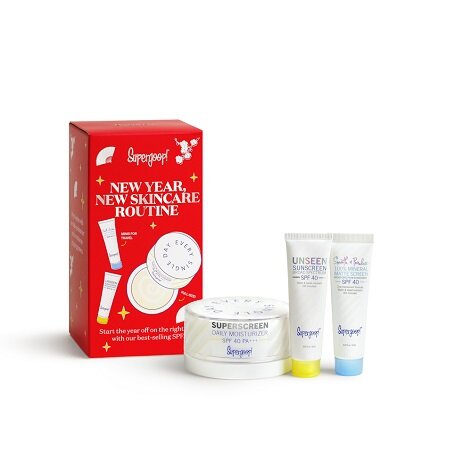 SGD70/~USD51.94
If you haven't started using SPF, today is the best time to start. The well-loved skincare brand Supergoop! just released the New Year, New Skincare Routine Kit to eliminate the guesswork from your worries. The kit contains three SPF-rich products: a full-sized bottle of Superscreen Daily Moisturizer SPF 40 and two makeup primers (Unseen Sunscreen SPF 40 and the 100 per cent Mineral Matte Screen SPF 40).
Jo Malone Vetiver & Golden Vanilla Cologne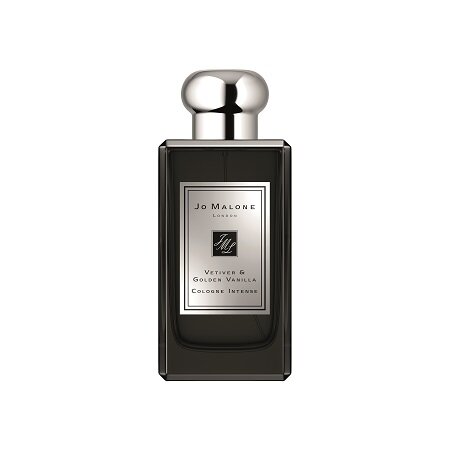 SGD280/~USD207.75, 100ml. SGD196/~USD145.43, 50ml
Go on a 'round-the-world journey with Jo Malone London's new scent. The Vetiver & Golden Vanilla Cologne is the new permanent addition to their Cologne Intense collection. This time, it takes you the island of Madagascar, with its two prized ingredients of earthy vetiver and warm Vanilla Bourbon. It also has a dash of cardamom and some grapefruit tea. Available in Jo Malone London boutiques in Singapore.
THREE 2020 Spring Makeup Collection: Emotional Landscapes
Express your emotions with THREE's spring collection. The new collection is composed of eyeliner, eyeshadow quads, and limited-edition lip crayons that let you explore the colourful world of makeup. Nail the perfect winged liner with the waterproof formula of the Indestructible Eyeliner (SGD48/~USD35.61) and its eight colours. Create endless looks with the THREE Dimensional Vision Eye Palettes (SGD93/~USD69) that come in four combinations. Finally, draw on that luscious pout with the squalane-infused Magic Touch Lip Writer (SGD43/~USD31.91) in five rosy hues. You can nab the collection in Singapore at TANGS at Tang Plaza and Takashimaya S.C.
Miss Dior Rose n' Roses and Maison Christian Dior Rouge Trafalgar
Everything's coming up roses with the Miss Dior Rose n' Roses (SGD137/~USD101.65, 50ml). It's a floral explosion, enveloping you with the radiant scent of May roses. It's a vivacious scent perfect for spring. If you want a cheekier scent, the Rouge Trafalgar (SGD140/~USD103.88, 40ml) is both seductive yet delicate. Created by François Demachy, it has subtle notes of blackcurrant and grapefruit. Rouge Trafalgar is exclusively available in Singapore at the Maison Christian Dior boutique at ION Orchard, while Miss Dior Rose n' Roses can be purchased in all Dior counters islandwide.
Dior Capture Totale C.E.L.L. Energy Range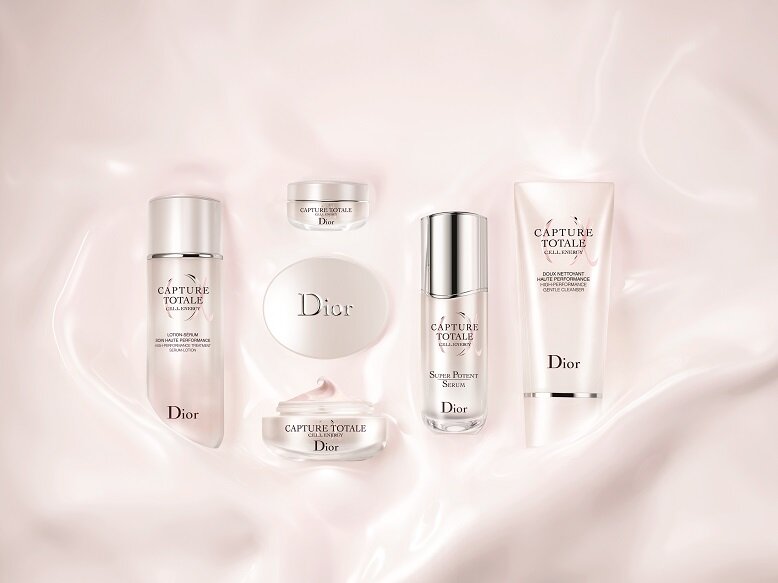 Price unavailable
Meet the new Capture Totale C.E.L.L. Energy range, the newest arrival from Dior Skincare. Every product within the range was created to be the perfect age-defying and youth-infusing skincare product in the market. Every step works to condition, deeply treat, and intensely comfort the skin. Each item in the collection boasts of Bio-Cellular Technology. It also has a subtle citrus scent that will awaken your senses. You can get your hands on this all-new collection in Dior counters all over Singapore.
Dior Lip Glow Oil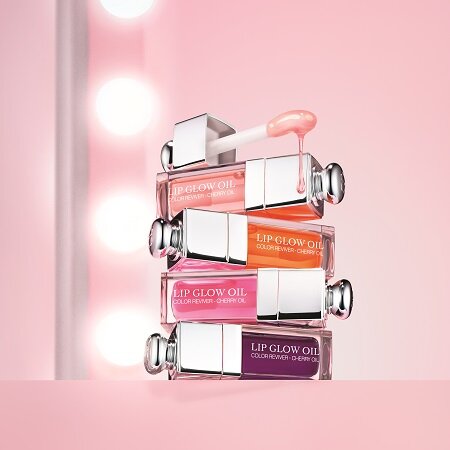 SGD50/~USD37.10
2020 is looking to be the year of glossy lips! Dior's new Lip Glow Oil offers an intensely nourishing lip care formula infused with cherry oil. It also has a colour reviver technology that amplifies your lips' rosy hue. Aside from the hydration, it also coats your lips with a mirror-like shine with one swipe and lasts all day long. It comes in six shades that range and is now available in all Dior counters.
CHANEL LE LIFT Crème Yeux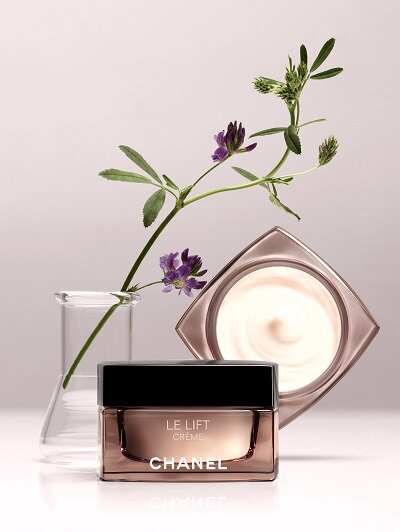 SGD140/~USD103.88,15g
Banish dark undereyes with the all-new LE LIFT Crème Yeux from CHANEL. The eye cream focuses on the loss of skin tone and brightness around the eyes while ensuring comfort and uniformity. The smoothing and firming cream combines botanical ingredients, in their most effective concentrations, which instantly lifts the skin around the eye area while simultaneously brightening dark circles and minimizing puffiness. Now available at all CHANEL Beauty and Fragrance stores.
CHANEL Desert Dream Collection
Looking for neutral hues? CHANEL's Desert Dream collection offers just that. The collection's muted hues are inspired by the beautiful duality of the desert. Created by CHANEL'S Lucia Pica, the collection boasts two limited-edition highlighters, the Exclusive Creation in Éclat du Désert (a pink-beige highlighter) and the Baume Essentiel in Golden Light (a bronzy, caramel highlighter). For the lips, there is the Rouge Allure in Rouge Brûlant (vivid orange pink) and the ultra-matte Rouge Allure Velvet Extrême in Endless (warm rosewood). The collection also includes nail polish in two mauvy shades, Daydream and Mirage.
But the collection's crowning glory is its eye products. There are two shades of cream eyeshadow pencils with the Stylos Ombre et Contour in Contour Brun (coffee bean brown) and Contour Mauve (intense rosy beige). The two eyeshadow quads are called Elemental (cool, dusty shades) and Warm Memories (deep warm shades). Finally, metallic eyeshadows in five colour variants add extra sparkle. CHANEL's Desert Dream collection can be purchased at CHANEL Beauty and Fragrance stores.
Tom Ford Gloss Luxe Collection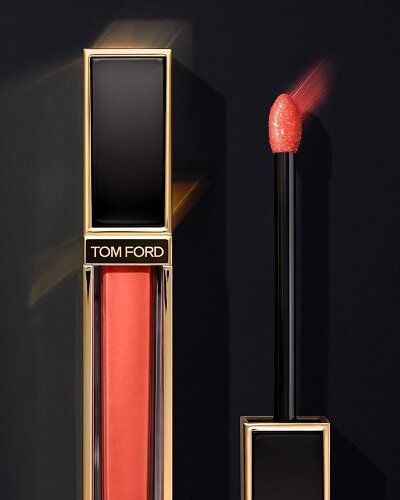 SGD72/~USD53.42, 7ml
Get the saturated glossy lip of your dreams with Tom Ford Beauty's Gloss Luxe Collection. It offers high-shine and saturated lip colours while also moisturising your lips. The formula is infused with three kinds of nourishing oils — namely avocado, olive, and jojoba — with hollow powders for a weightless feel. With 20 shades to choose from, it can be worn alone or on top of your favourite lipstick. But do hurry — it's available for a limited time only. In Singapore, head over to the Tom Ford boutiques in Marina Bay Sands, TANGS at Tang Plaza, Takashimaya, and Robinsons Raffles City.
Burberry Matte Glow Foundation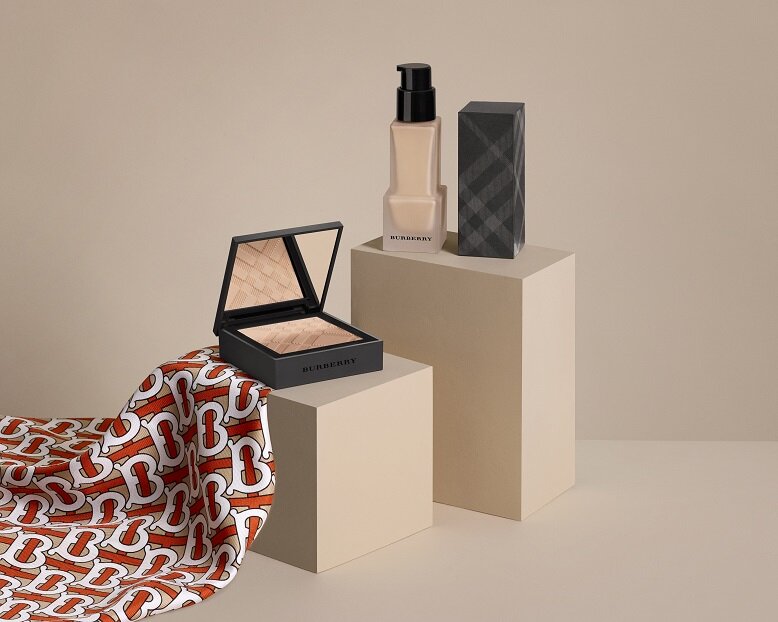 SGD85/~USD63.07
Today marks the release of the brand-new Burberry Matte Glow Foundation. It has an ultra-lightweight breathable formula with an "undetectable, flawless coverage". It's designed to keep shine under control and have an all-day wear, while also being heat and pollution resistant. The best part? It comes in 30 inclusive shades. A total of 28 shades are available starting today in Sephora ION in Singapore and sephora.sg. Also available is the Burberry Matte Glow Compact.
Drunk Elephant F-Balm Electrolyte Waterfacial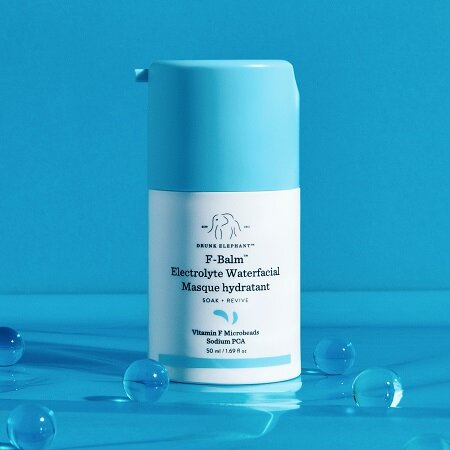 SGD74/~USD 54.91, 50ml
Soak and revive your skin for the year ahead with Drunk Elephant's very first overnight mask. The F-Balm Electrolyte Waterfacial has cooling and quenching properties that makes it very pleasant on the skin. It plumps, restores, and rehydrates your skin with an electrolyte cocktail while also strengthening the skin's acid mantle. The key ingredient is Vitamin F, an essential fatty acid with anti-inflammatory properties. The Drunk Elephant F-Balm Electrolyte Waterfacial is available online and in Singapore at Sephora ION & Ngee An City.
fresh Lotus Youth Preserve Moisturiser and Eye Cream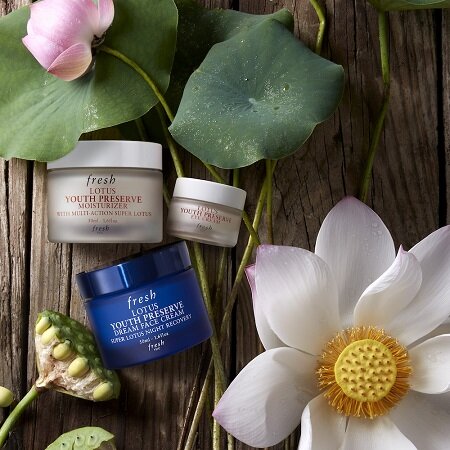 Lotus Youth Preserve Moisturizer retails at SGD89/~USD66.04, 50ml and SGD32/~USD23.74, 15ml. Lotus Youth Preserve Eye Cream retails at SGD78/~USD57.87, 15ml.
Level up your self-care with some anti-oxidant rich products. This year, fresh adds two new products alongside the bestselling Lotus Youth Preserve Dream Face Cream. Say hello to the Lotus Youth Preserve Moisturiser and Eye Cream — now with the revolutionary Super Lotus as one of its ingredients. The Super Lotus boosts radiance, strengthens the skin's barrier and protects against invisible aggressors that cause premature aging. Get it at fresh boutiques and in Sephora, both online and in-store.
Marc Jacobs See-Quins Glam Glitter Liquid Eyeshadows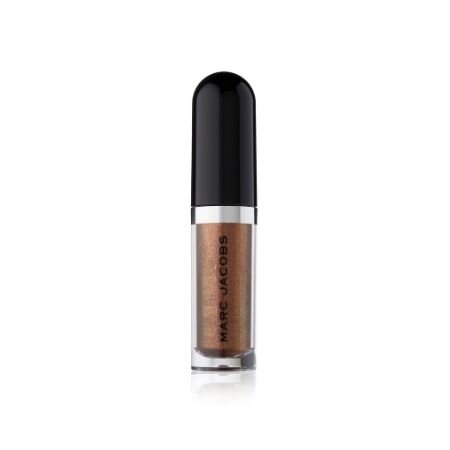 SGD38/~USD28.20
Amp up your eye look with a dash of glitter. The new See-Quins Glam Glitter Liquid Eyeshadows are a new take on the brand's original bestseller, the Glittering See-Quins. For a fuss-free glitzy look, swipe on the lightweight and long-wearing formula on to your lids and blend with a brush or your fingertip. No sliding, creasing, or falling-out involved. You can get it now in Sephora stores and through the Sephora website.
Comments, questions or feedback? Email us at [email protected].