Ready to have glowing skin? Meet Elixir, Japan's no.1 skincare brand that specialises in anti-ageing skincare.
Established in 1983, Elixir is one of Shiseido Group's skincare brands that's been well-loved by Japanese consumers for 15 years* running. According to a survey conducted from 2006 to 2021, Elixir has been the top-selling skincare brand across all sales channels in Japan. Its products, which are also available and popular across Asian countries including China and Taiwan, have won multiple awards in Japan. Elixir has also achieved continued double-digit growth in the Chinese market for four consecutive years since 2017.
On top of these accolades, the brand promises to help you achieve "Pearl Glow Skin". The best part is that you can now shop for these glow-giving products in Singapore through its newly opened Lazada store.
What makes Elixir products special?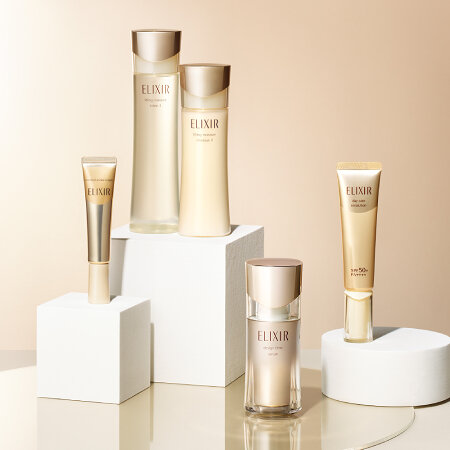 With its technology backed by over 30 years of collagen research, Elixir's skincare products are formulated to trigger the skin's natural ability to produce more collagen. This formulation gives you tsuyadama — the natural inner glow in your cheeks that's only visible when they're firm, translucent, and moisturised.
Aside from tsuyadama, Elixir also promises to help you enjoy self-care and reap the confidence resulting from the skin-caring effects given by its products. "Elixir believes that beautiful skin has the power to empower you and fill you with confidence," the brand shares. "Which is why daily skincare with Elixir results in Pearl Glow Skin — so that to bring you confidence and joy, and to encourage you to move forward."
Get to know Elixir's hero products
Elixir currently has three collections that target the different skin needs and concerns of Asian women: Anti-Ageing, Brightening, and Pore Care.
Elixir's Anti-Ageing range addresses and reduces the signs of skin ageing such as fine lines and wrinkles, sagging skin, and lack of elasticity. The Brightening range targets dark spots and lightens up dull complexions. The Pore Care range is specifically formulated to help manage oily skin and minimise visible pores. Aside from their individual skin benefits, all of the products in these collections can help you have that Pearl Glow Skin.
Curious to know which Elixir product you should try first? You can't go wrong with the brand's hero products.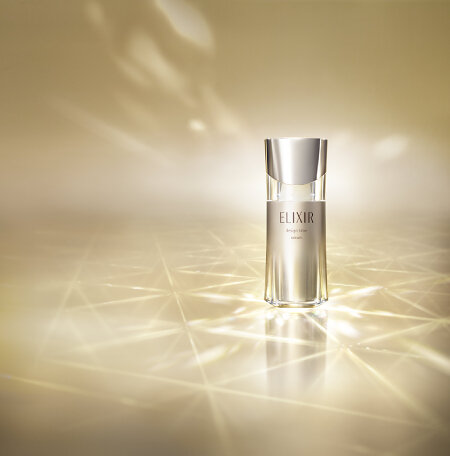 Did you know that the Design Time Serum won the Top Award at the International Federation of Societies of Cosmetic Chemists (IFSCC) for its unique technology? This anti-ageing serum is empowered with Age-Defying Technology that strengthens the internal network of the skin to help prevent sagginess and boost skin elasticity by increasing the collagen density in the skin. It's recommended that you apply this serum after your facial lotion and before your emulsion to better lock in moisture.
The Elixir Design Time Serum is available in Singapore for SGD79.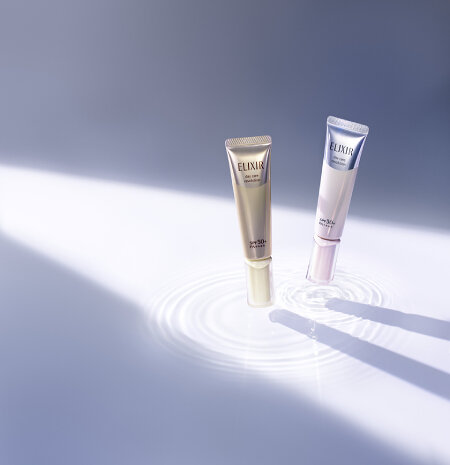 Feeling a little lazy to do multiple steps in your skincare routine? Pick up the multitasking Day Care Revolution that acts as a primer, moisturiser, and sunscreen in one product. It's also formulated with Daytime Aqua Mask EX to keep skin hydrated, with SPF50+ PA++++ UV protection to effectively shield your skin from UV rays. It comes in Brightening and Anti-Ageing variants that you can use depending on your skin needs.
The Elixir Day Care Revolution (Brightening) and Elixir Day Care Revolution (Anti-Ageing) are priced at SGD55.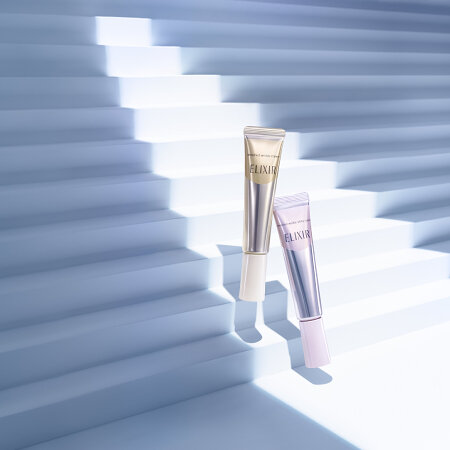 If you want a targeted solution to wrinkles, pick up the Wrinkle Cream. It's the first wrinkle cream approved by Japan's Food and Drug Administration (FDA) for its ability to reduce the appearance of wrinkles in as fast as eight weeks. While it's more common among skincare brands to use retinol derivatives in wrinkle creams, Elixir formulated theirs with pure retinol a.k.a the gold standard of anti-ageing ingredients. It's also available in two variants, Anti-Ageing and Brightening, to suit individual skin needs.
The Wrinkle Cream (Anti-Ageing) is available in Singapore for SGD102 while the Wrinkle Cream (Brightening) is priced at SGD113.
Now that Elixir has launched in Singapore, you too can achieve Pearl Glow Skin. All of Elixir's hero products, as well as the other items in their collections, are now available in Singapore through the brand's new Lazada store.
You can also stay up to date on the brand's updates by following them on Instagram.
Discover the rest of Elixir's award-winning skincare on its Singapore website. The brand is also celebrating its Singapore launch with exclusive promotions on its Lazada Singapore store, so don't miss out!
Comments, questions or feedback? Email us at [email protected].