We're so relieved that this wasn't an April Fool's prank! #ICYDK, beauty brand e.l.f Cosmetics has teamed up with Dunkin' (formerly known as Dunkin' Donuts) to launch a limited-edition makeup collection. The best part? It has everything you need to create a fun, makeup version of the 'Glazed Doughnut' look. Read on for more.
What to know about the e.l.f x Dunkin' makeup collection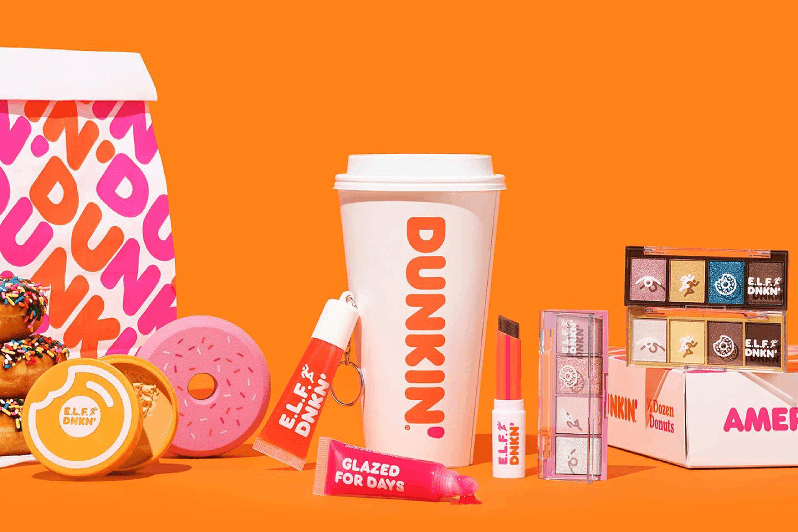 The e.l.f Runs On Dunkin' collection comprises five types of makeup products that sport Dunkin's distinct logo and pink and orange brand colours. It boasts "coffee-inspired textures, glazed-up formulas and ultra-pigmented shades."
How to create the 'Glazed Doughnut' look — for your makeup
The 'Glazed Doughnut' trend shot to popularity after model Hailey Bieber shared about it on Instagram in 2021 and again earlier this year. This trend is all about achieving dewy, glowy skin from top to toe by layering multiple skincare products, such as a lip balm, face oil, and an intense body moisturiser.
You can bring those glossy vibes to your makeup too with a little help from this new e.l.f x Dunkin' collection. Here's how.
Eyes: 'Dunkin' Dozen' Eyeshadow Palette
Get your glaze on: Bring extra shine to those peepers with this 12-shade eyeshadow palette set, which is inspired by Dunkin' doughnuts. Create an iridescent eye makeup look by applying lighter shades, such as silver or champagne to the inner corner of your lids.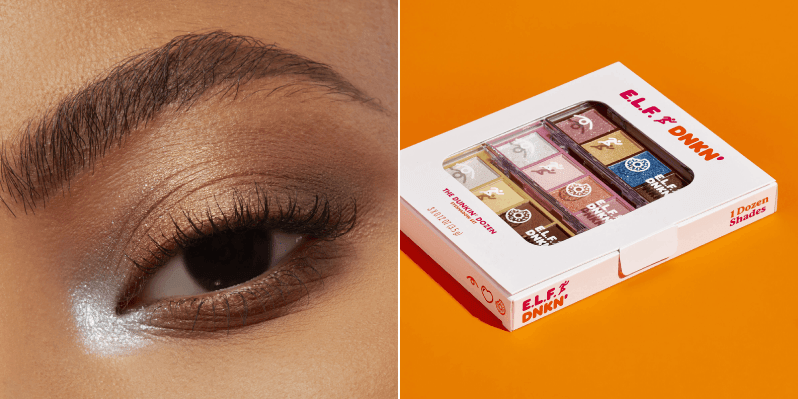 Then, add a touch of pink to the centre of your eyelids. Add definition and drama with rich chocolate shades and a dash of blue hue. Consider doubling up some of these shades as a highlighter for your cheeks to create a more cohesive look.
This eyeshadow palette is priced at USD16/SGD23.
Lips: Coffee Lip Scrub and 'Glazed for Days' Lip Gloss Set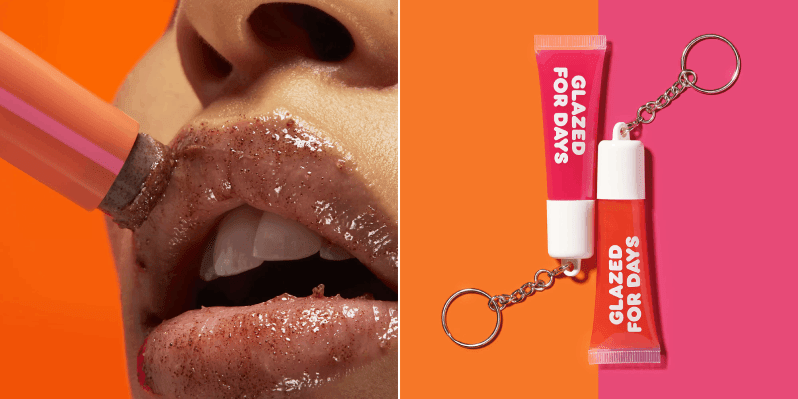 Get your glaze on: Prep your pout with the exfoliating Coffee Lip Scrub, which has a delicious scent that smells just like Dunkin's original blend. Then, bring a splash of colour to your lips with the Glazed for Days Lip Gloss Set. The set contains two shades: pink and orange, which are inspired by Dunkin's brand colours.
The lip scrub is priced at USD6/~SGD8, while the lip gloss set is priced at USD12/~SGD16.
Face: 'Donut Forget' Putty Primer and 'Strawberry Frosted With Sprinkles' Face Sponge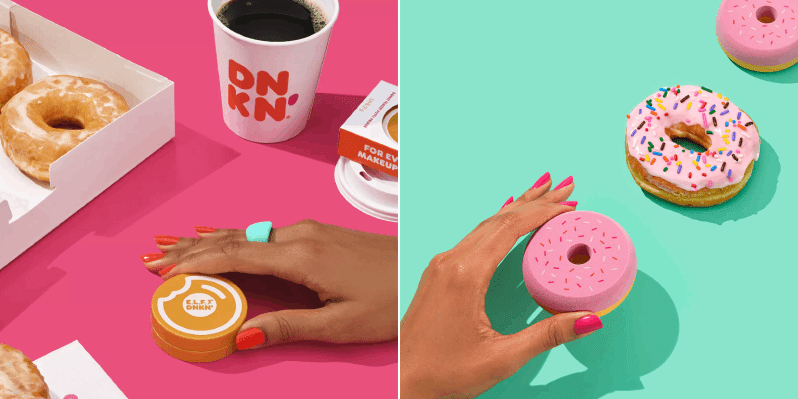 Get your glaze on: This collection doesn't include foundation products, however, you can easily stock up on these with e.l.f Cosmetics' extensive foundation range.
Prep your skin for makeup application with the 'Donut Forget' Putty Primer, which has the same formula as the brand's best-selling Poreless Putty Primer but with a subtle glazed doughnut scent. Blend on with the adorable 'Strawberry Frosted with Sprinkles' Face Sponge, which can be used wet or dry with liquid and cream makeup products.
The primer is priced at USD12/~SGD16, while the face sponge is priced at USD9/~SGD12.
Where to buy the e.l.f x Dunkin' makeup collection
The collection is now available for purchase online for e.l.f Cosmetics Beauty Squad Loyalty Program members, so be sure to sign up via its website. Membership is free. The brand ships to selected countries in Asia, including Singapore and the Philippines.
(Cover photos from: @elfcosmetics and elfcosmetics.com)
Next, discover hair slugging, the latest TikTok trend that aims to revive your hair overnight.

Comments, questions or feedback? Email us at [email protected].