One of our major skin woes is hyperpigmentation. So we're always open to learning about products and procedures that might answer that problem. It was right on time then that we were invited by DR.WU to their Taipei hub to learn about their new science-backed product line, Glutalight™ Whitening System. Imagine a skincare line so powerful it replaces the need for skin whitening injections. This is what we'd call innovation at its best. Watch our video above to get a peek of what went down during our trip then scroll down to read about our discoveries.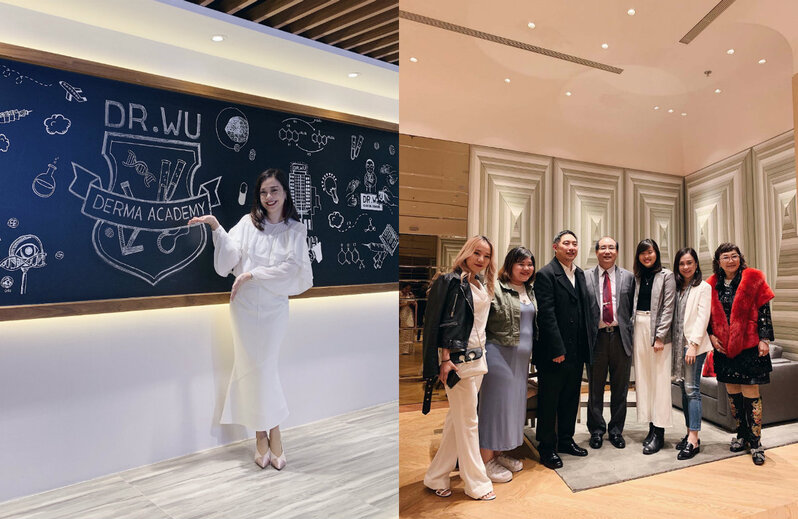 At DR.WU's HQ in Taipei (left); Media members from Singapore with Eric Wu & Dr. Wu (right)
The power of Glutathione
Glutathione has been used by many for solving their hyperpigmentation problems, and many of us might have even tried different oral supplements and topical creams. They say you get your desired effect when you take the ingredient through an injection. But DR.WU thought of creating a daily skincare line that packs the same punch — yes, without needles. Seems too good to be true? An independent study of 24 participants, in collaboration with Providence University Cosmetics Lab, showed that the Glutalight™ Whitening System showed promising results within seven to 28 days. But of course, it's important to consider that results vary with skin type and condition. Maybe it's not exactly the overnight skin problem-solving miracle we'd like, but it does sound promising.
Meet this all-rounder skincare system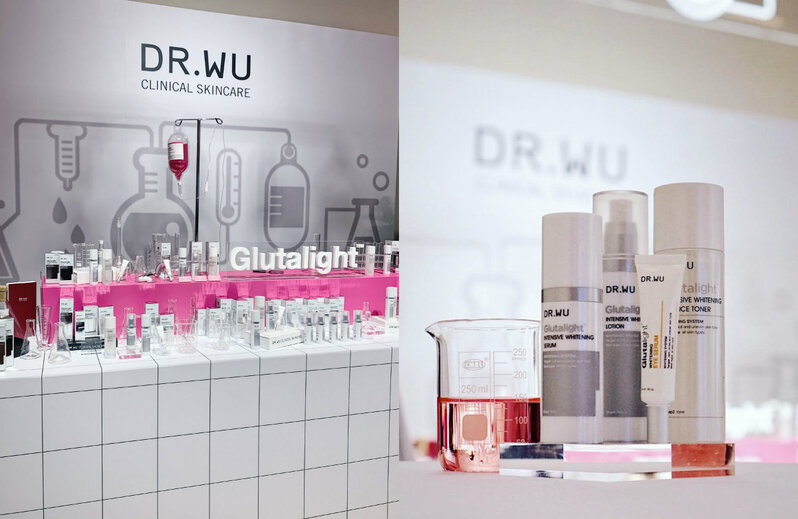 But it's not just lightening dark spots that Glutalight™ Whitening System promises. It's unlike other whitening products that lighten skin but then leave us with uneven areas and maybe a bit of dryness and irritation to deal with afterwards. The range has major moisturising benefits as well, with active ingredients that whiten, brighten, clarify, smooth, and even out skin tone with every use. Plus, all the products can be used even during the day because the formulation is acid-free and the active ingredients do not react negatively to sunlight. Sounds like a lot, but we do love a good multi-tasker! How exactly does it do that? Heads up, there'll be a bit of skincare science ahead.
The Glutalight™ Whitening System features a Japan-patented Glutathione, which is a more stable and more effective version compared to others. The formula also includes AA2G (another powerful whitening ingredient); soothing and pigment-fighting vitamins B3, B5, and B6; antioxidant HerbEx Silybum Extract™; and Hyalo-Oligo, a type of Hyaluronic Acid that penetrates deeply into pores to deliver moisture. Together they work to combat pigmentation while keeping the skin amply moisturised and improving overall skin clarity.
Now it may not exactly solve all our skin problems, but it will do the most it can to give us our clearest and brightest looking skin yet. Curious about the range of products that the Glutalight™ Whitening System offers? Learn more about them below.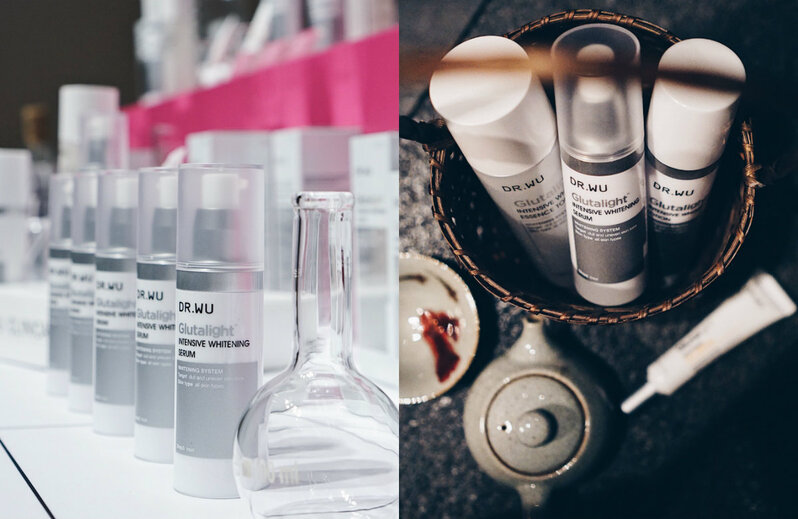 Glutalight™ Intensive Whitening Toner
Toners are a crucial step to any skincare routine after cleansing. The proper toner balances, hydrates, and preps the skin to maximise the benefits of the products that are layered on afterwards. The toner contains the same Glutalight™ formula with the addition of Allantoin to soothe, whiten and moisturise skin.
Glutalight™ Intensive Whitening Serum
This powerful serum claims to be the complete whitener by stopping melanin on every level. The unique combination of the Glutalight™ formula enables this serum to prevent melanin while combating dark spots and uneven skin tone. The addition of Shea Nut extract packed with vitamin E hydrates and restores skin elasticity while stimulating antioxidant activity.
Glutalight™ Intensive Whitening Lotion

This whitening lotion is geared towards brightening and repairing the skin. With the RonaFlair skin softener, the skin is smoother and more moisturised, imparting a soft and dewy glow. Its lightweight, creamy texture easily absorbs into the skin without the sticky residue.
Glutalight™ Intensive Whitening Eye Serum
Plagued by dark circles? The Glutalight™ Intensive Whitening Eye Serum promises to remove darkness under the eyes and to improve overall eye appearance with the addition of Haloxyl™ and Biophytex LS9832 to brighten, tighten and firm the eye area.
Learn more about DR.WU products here.
Comments, questions or feedback? Email us at [email protected].