Dr. Dennis Gross has unveiled its latest range. Meet the VitaminC Lactic line-up! The new skincare range consists of three products and this trio work together to keep skin radiant amidst daily stressors such as pollution, secondhand smoke and UV damage.
Dr. Dennis Gross VitaminC Lactic Ingredients, Products, Price
True to its name, the VitaminC Lactic spotlights two ingredients: Vitamin C and Lactic Acid. The skincare brand shares that each product from the range features an ideal percentage of vitamin C and lactic acid to boost the skin's radiance.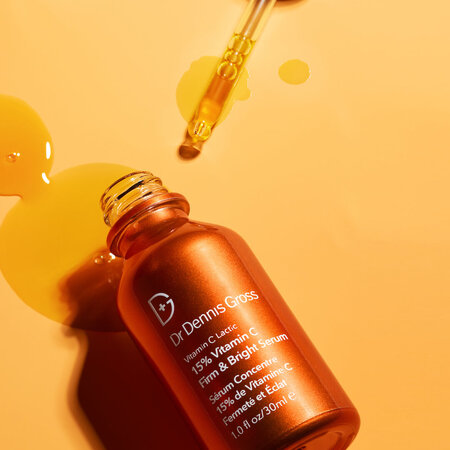 Dr. Dennis Gross explains that these two ingredients are the "ultimate besties". Vitamin C provides a good dose of antioxidants to the skin to fight damaging free radicals while lactic acid removes the surface layer of dead skin to ensure better product absorption. Lactic acid can also support the skin's ceramides to increase its water content.
The range includes the VitaminC Lactic 15% Vitamin C Firm & Bright Serum (SGD 130), an antioxidant-rich serum with 15% L-ascorbic acid. There's also the VitaminC Lactic Firm & Bright Eye Treatment (SGD 104), a silky, fast-absorbing treatment that boasts three forms of vitamin C, lactic acid, and tranexamic acid. Finally, there's the VitaminC Lactic Dewy Deep Cream (SGD 114) a rich face cream with vitamin C, niacinamide, squalane, and ceramides.
Dr. Dennis Gross VitaminC Lactic Availability In Singapore
The VitaminC Lactic range will be available exclusively at Sephora Singapore's boutiques and online store starting 15 September 2022.
Comments, questions or feedback? Email us at [email protected].