Do you love astrology and makeup? If so, ColourPop Cosmetics is set to launch the Astrology Eyeshadow Palettes Collection that you may want to check out.
The collection, launching on 20 August (our time) on the brand's official website, features 12 quad palettes — one for each sign — that contain four unique eyeshadow shades in matte and shimmer finishes. You can use these four pressed powder eyeshadows to create minimalistic and creative eye looks. As a plus, each palette is affordably priced at USD9. This is the brand's second zodiac-inspired collection, the first which launched back in 2018 and was made in collaboration with beauty YouTuber Kathleen Lights.
#TeamClozette's writers take a look at the ColourPop Astrology Palettes and share which palette resonates with them the most. Is it the palette that represents their Sun, Moon, or Rising sign? Maybe it's another sign altogether. Read on to find out.
The Bold and The Aries
Since Aries is one of the astrological signs under the fire element, this Aries-inspired ColourPop Astrology Eyeshadow Palette features a red and pink theme which really resonates with Senior Features Writer and Aries baby Amanda as she can see herself using the dark red matte shade to add an extra touch to her Zoom-ready makeup look.
"Red isn't my favourite colour but most people think it is because I often wear it makeup-wise and clothes-wise. That's why whenever I look into astrology-related items, I'm quite happy that red is always recommended as the colour for Aries. I'm never one to shy away from bold eyeshadow looks and I've been pretty fond of using red shadows recently so this quad is definitely something that'll I'll hit pan on quick."
Sagittarius In Flight
Despite it not being related to her Sun, Moon, or Rising sign, Fashion Features Writer Sheryl has her eye on the Sagittarius In Flight palette. "Passionate, motivated and confident. As a proud Aries baby, I'd like to think that I embody these traits on my best days! The Bold & The Aries palette looks gorgeous, though I have my eye on a fellow fire sign's palette: the Sagittarius In Flight.
It has two deep rose shades that I can rock on date nights, a peachy base for daily wear and a stunning gold-caramel shade for special occasions," Sheryl shared. As a makeup minimalist, she also appreciates that she only has to pick from four eyeshadow shades to create a look. In her opinion, this palette is very hassle-free and beginner-friendly to use.
Never Taurus Apart and Big Leo Energy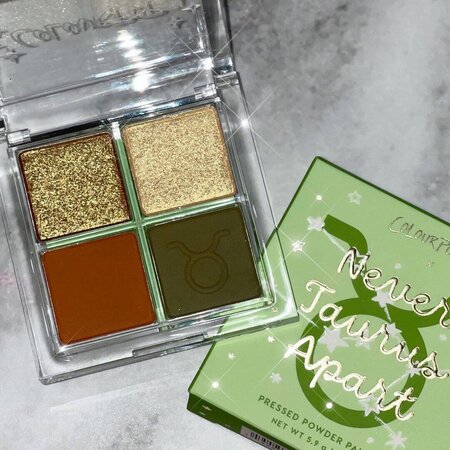 "Whenever there's an astrology-themed beauty collection, my Sun sign Taurus always gets the earthy colours — most probably because it's an Earth sign. But while I like green on my garden and matcha drinks, I don't prefer it on my eyes," Senior Features Writer Therese shared. Cheekily named Never Taurus Apart, referring to the sign's affinity for consistency, the palette features an army green matte hue and a burnt brown matte as the base colours. To add character, it has bronze and champagne shimmers you can pop on the inner half of the eyelid.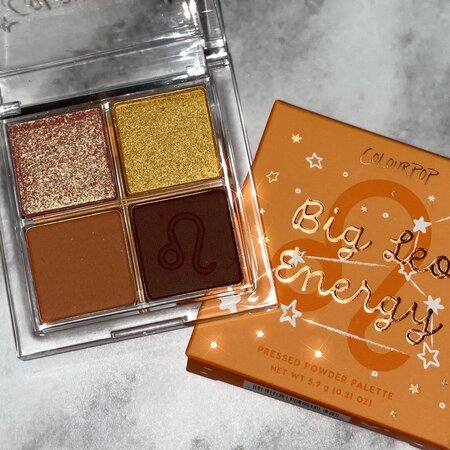 The Taurus-inspired colours are nice, but Therese says she also likes the golden shades in the Big Leo Energy palette since these are easier to work with and complements her complexion. "There's little opportunity to show off your beauty looks lately so I'll probably use the gold shades to match my pink beaded mask during my next grocery trip, just for fun."
Like A Virgo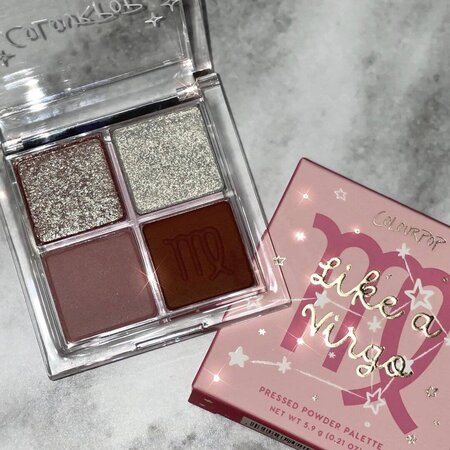 Virgos are usually described as organised, logical, and practical which is something Beauty Features Writer Alyana strives to be on a daily basis. Her Moon sign of Virgo offers a good buffering aspect in her Aries-driven personality. This is perhaps why she's also drawn to the calm lavender tones of the Like A Virgo Astrology Eyeshadow Palette.
"While I do love me some reds, I have a soft spot of purple tones and lavender-pink shimmers in the Virgo palette. There's enough colour, so I can do a playful purple eye look for dates, while the warm brown matte can anchor it as a transition shade or serve as a subtle eye contouring shade for days when I want to wear minimal makeup while working at home."
Which of ColourPop's Astrology Eyeshadow Palettes are you eyeing?
(Cover photo from: @colourpopcosmetics)
Comments, questions or feedback? Email us at [email protected].