With maskne, acne and dark spots becoming more common these days, what we need are brightening skincare ingredients in our daily products. As much as we want these skin problems to naturally go away overnight, it just doesn't work that way. Skin discolouration that's a few shades darker than your natural skin tone can take six to 12 months to fade, according to the American Association of Dermatology. Luckily, there are a lot of brightening skincare products that promise to treat these dark spots — not overnight but faster. Here's a rundown of items you could use.
Cetaphil Brightness Refresh Toner
Cetaphil's new range of brightening skincare products is all about giving you a more radiant appearance. The Brightness Refresh Toner is specially made for rebalancing uneven skin tones without any irritation involved. It returns the skin's luminous glow while making it soft to the touch. Plus, it's hypoallergenic and fragrance-free so it might work well for sensitive skin.
The brightening factor: The entire Bright Healthy Radiance range was formulated with GentleBright Technology, which uses the powers of niacinamide and sea daffodil to correct dark spots, boost brightness, and even out the skin tone without irritating the skin.
IRÉN Skin Star Light Brightening Serum
When it comes to skincare, serums are a very effective method to deliver potent ingredients deep into the skin. One serum you can use to treat acne marks and dark spots is the IRÉN Skin's Star Light Brightening Serum. The Yuzu extract, two per cent Alpha-Arbutin, and niacinamide work hand-in-hand to treat hyperpigmentation and bring back illumination to dull skin.
The brightening factor: This potent vegan serum contains Yuzu extract, a traditional Japanese ingredient that naturally brightens the skin and is said to be more effective in suppressing melanin production (which causes discolouration) than Vitamin C.
Charlotte Tilbury Goddess Skin Clay Mask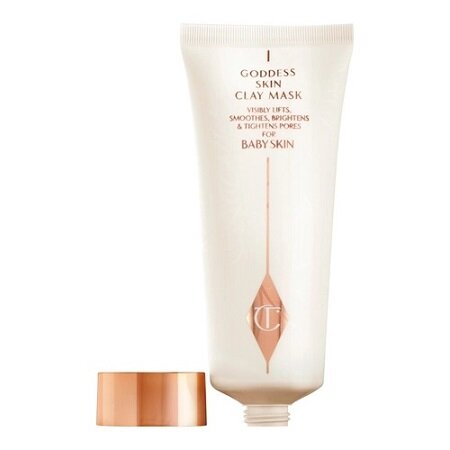 Who wouldn't want a goddess-like complexion? The award-winning Goddess Skin Clay Mask from Charlotte Tilbury will give you just that. It smooths and tightens the appearance of your pores, while hydrating and softening the skin. The mix of Spanish clay and sweet almond oil refines and corrects your complexion and leaves a dewiness that can only come from hydrated skin.
The brightening factor: This brightening skincare product contains good ol' Vitamin C, a natural brightening agent, and rosehip oil — which is a natural source of linoleic acid, another brightening skincare ingredient — in its cocktail of ingredients.
Dr. G Brightening Peeling Gel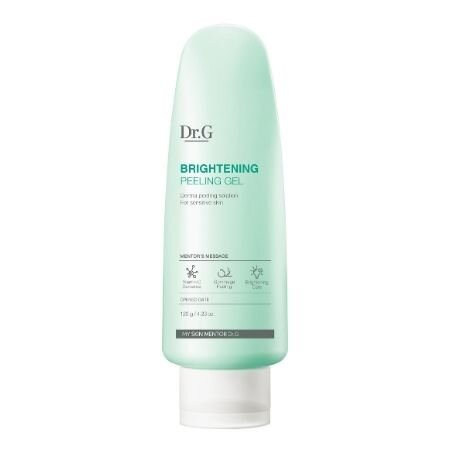 Another way to treat dark spots is through exfoliation. This would get rid of the dead, darkened skin cells and reveal the brighter skin underneath. A gentle exfoliator like the Dr. G Brightening Peeling Gel will do the trick. It contains natural cellulose that gently removes dead skin cells while also having a moisturising perk from the honey, trehalose and hollyhock in its formula.
The brightening factor: Aside from the natural cellulose, it's packed with brightening skincare ingredients like Vitamin C, Vitamin E and Black Willow that give your skin a glow-up from within.
Melvita Nectar Blanc Brightening UV Shield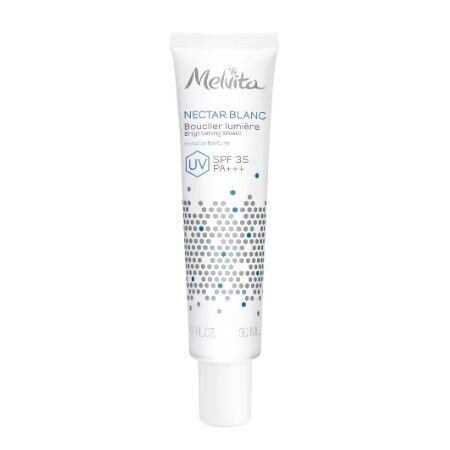 Lastly, the secret to maintaining luminous skin is through sun protection. The Melvita Nectar Blanc Brightening UV Shield is a brightening skincare product that has the added benefit of protecting your skin from UV rays. It has SPF 35 PA+++ and a light milk-in-oil texture that dries to a soft and velvety finish.
The brightening factor: Melvita's Nectar Blanc products harness the powers of a brightening skincare ingredient called white star lily extract, a melanin inhibitor that protects against pigmentation caused by oxidative stress.
(Cover photo from: Karolina Grabowska via Pexels)
In other skincare-related topics, here's how to exfoliate your underarms properly.
Comments, questions or feedback? Email us at [email protected].