This article was first published on 17 June 2022.
Are you all caught up with Stranger Things? If so, then you're probably anticipating Season 4 Volume 2 like the rest of us. ICYMI, Netflix recently dropped new teasers for the second part of the fourth season, showing our favourite Hawkins crew trying to deal with the story's current 'villain' Vecna — and things don't seem all that pretty.
Stranger Things Season 4 Volume 1 recap
Before we dive into our plot predictions for Season 4 Volume 2, let's backtrack a little bit. Warning: some spoilers ahead!
Season 3 ended with Will (Noah Schnapp) moving away from Hawkins with his mum Joyce (Wynona Ryder), his brother Jonathan (Charlie Heaton), and Eleven (Millie Bobby Brown) in the hopes of starting fresh after all the traumatic experiences that happened in Seasons 1 to 3. This meant leaving behind his childhood bestfriends Mike (Finn Wolfhard), Lucas (Caleb McLaughlin), and Dustin (Gaten Matarazzo). Eleven also needed to say goodbye to her new bestie Max (Sadie Sink), who joined the crew in Season 2. Eleven also lost her powers, which brought her equal relief and frustration.


The events of Season 4 Volume 1 falls months after Season 3's finale, with Will and Eleven (now known by the town as Jane a.k.a. her birthname) now in a high school in California. They're treated as outcasts, especially Eleven, who is often made fun of by their schoolmates. However, Eleven remains positive, knowing that Mike is flying over to see her and Will during the school break.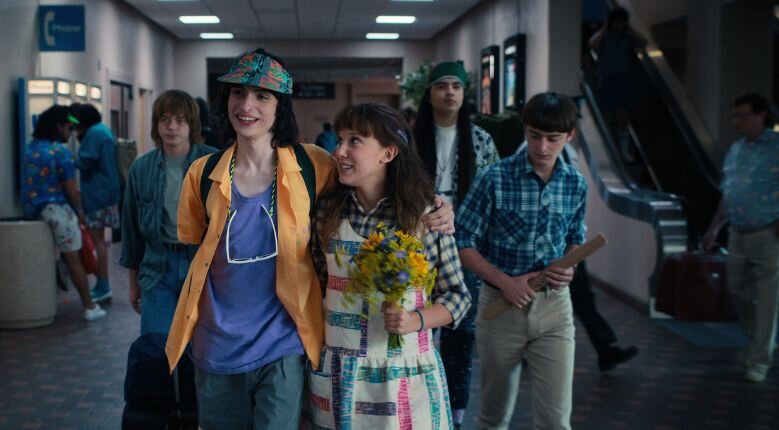 When Mike arrives in the new town, Eleven lies to Mike, saying that she has tons of friends and that she's adjusting well to the new environment. Will finds Eleven's behaviour frustrating and calls her out. Will is also annoyed at Mike for failing to keep in touch with him now that he's moved away.
Things immediately go south when Eleven is 'abducted'. Will and Mike later find out that Eleven is actually being taken back to the facility she originally came from so that her powers can be restored. Worried, Will and Mike seek the help of Jonathan and his new friend Argyle (Eduardo Franco) to find Eleven.
Meanwhile, in Hawkins, a series of gruesome deaths started happening. When the girlfiend of Hawkins High's basketball team captain died in the same manner, the school athletes immediately started suspecting Eddie (Joseph Quinn), a stoner who was an easy target for accusations. Eddie is part of a Dungeons & Dragons club that Mike, Dustin, and Lucas' sister Erica (Priah Ferguson) is currently a part of. Eddie being a target meant the club was under suspicion as well. Lucas, who is now part of the basketball team, started worrying about his childhood friends and went to warn them.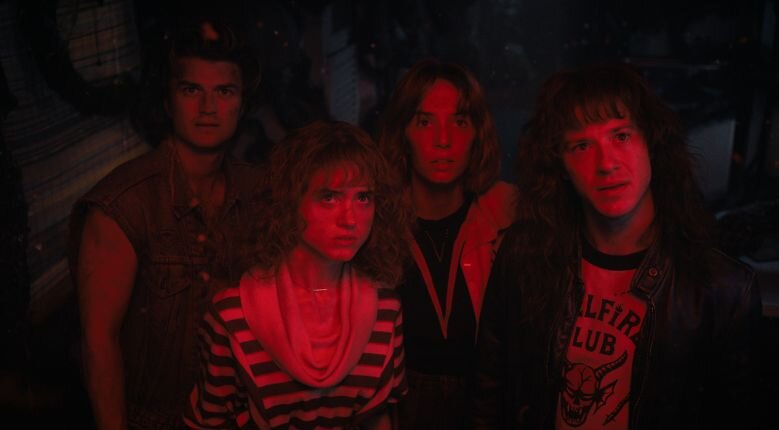 As they investigate what really happened, they find out the truth about the deaths and learned that Max is the next victim. Looking to save Max, Dustin, Lucas, Erica, and Eddie got the help of Steve (Joe Keery), Will's sister and Jonathan's girlfriend Nancy (Natalia Dyer), and Steve's friend from Season 3, Robin (Maya Hawke a.k.a. Uma Thurman and Ethan Hawke's kid IRL). The further they investigate, the more they learn about Vecna, the ghoulish creature that causes the mysterious deaths all over town. When things started looking up for this group, Nancy suddenly gets trapped in the Upside Down. Yikes!
The adults are also having their own adventure in Season 4 as Joyce and Murray (Brett Gelman) try to break Hopper (David Harbour) out of a Russian prison. Joyce and Murray get scammed, end up in many compromising situations, and almost get thrown into prison themselves, while Hopper himself tries to escape on his own as well.
Circling back to Eleven, Season 4 was more of an exploration of her backstory that wasn't revealed as much in Season 1. As she submerges into a 'sensory deprivation tank', audiences are transported to Eleven's consciousness set in September 1979 when she was still a test subject of Dr. Brenner a.k.a. Papa (Martin Modine). We see Two and the rest of the more powerful subjects being mean to Eleven, causing her to be frightful and heavily dependent on Papa. One day, an orderly named Peter (Jamie Campbell Bower) warns Eleven not to trust Papa. Peter continues to be a friend to Eleven until one day, he helps her plan her escape.

Right at the escape route, Peter asks Eleven if she can remove a chip from his neck using her powers. Eleven agrees and does what she's told. However, moments after removing the chip from Peter's neck, Eleven witnesses how Peter easily became powerful, with abilities parallel to hers. He started killing the other people in the facility to Eleven's anguished surprise. The two have a showdown and we finally get the biggest plot twist-slash-Season-1-recall of all time: Peter is actual test subject One and his confrontation with Eleven is what caused the Upside Down to open. And get this: Peter is also Vecna!
Stranger Things Season 4 Volume 2 plot predictions
Who couldn't help but gasp after that Volume 1 ending? That said, do our plot predictions for Season 4 Volume 2 match yours?
1. Nancy survives the Upside Down
One of the biggest 'oh no!' moments in the first part of Season 4 was when Vecna was able to trap Nancy in the Upside Down after using Nancy's guilt over her late bestfriend Barb's passing in Season 1. However, Season 4 Volume 2 photos suggest that Nancy survives the encounter (thankfully!) and that she's ready to be our favourite gun-shooting heroine once more.
2. Nancy and Steve might get back together
In case you forgot, Nancy and Steve used to date back in Season 1. They had a falling out and Nancy ended up with Will's brother, Jonathan (trivia: Nancy and Jonathan actors Natalia Dyer and Charlie Heaton are actually dating in real life, too!). However, after Jonathan moved away with his brother and mother, it was seen in Season 4 that him and Nancy are having major relationship issues. The Upside Down dangers in Seasons 1 to 3 they had to overcome together were also a core part of their relationship and now that they're having their own separate adventures, the characters — and us, the audience — realise that when they're not trying to survive these threats together, they're better off being on their own.
That said, many interactions between Nancy and Steve in Season 4 Volume 1 suggest that they might be rekindling their affection for each other. Steve has one of the most major character developments in the show, especially after he and Nancy broke up, and this newer, better version of him fits her more now. Steve has also openly suggested that he still has feelings for Nancy, despite trying (and failing) to date other girls after their breakup. Even Robin agrees that the two still have chemistry.
3. Will will reveal a major secret about himself to Mike
Will has been hinting at a secret he's been wanting to tell Mike in Season 4 Volume 1 and many fans
speculate
that it'll be about Will's sexuality. Whether or not that's the case, we're totally rooting for Will to finally open up to Mike after seeing how much the two have struggled with their friendship since Will's return from the Upside Down at the end of Season 1. The two have regarded each other as being the best friends, even with Lucas and Dustin in the picture, so we're sure that a huge weight will be lifted off Will's chest when he finally talks to Mike about what's bothering him.
4. 'Papa' will finally meet his end
Brenner, who is responsible for experimenting on gifted children, has always been an intriguing character since we only see him through the eyes of the test subjects. He's painted as manipulative and exploitative, with nothing but building these children as weapons in mind. But there might be more to his story in Volume 2's first episode (Episode 8 in the entirety of Season 4), titled
Papa
.
While there's nothing much revealed about the plot of Volume 2 other than the 2.5 hours of runtime, it's safe to assume that it will have more than enough space to talk us through Brenner's real intentions in seeking out these children. Still, if we're getting an episode dedicated entirely to him after all this time, then it might mean his role in the story is also about to meet its conclusion.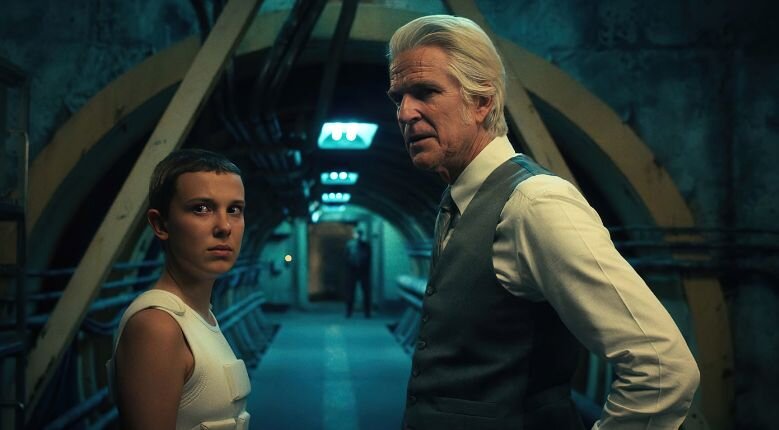 5. It might also be the end of the line for Eddie or Argyle… or worse, Robin
Stranger Things
is no
Game Of Thrones
so deaths in the core group are almost impossible to happen, especially with one more season left after Season 4. But if there's one thing we've noticed about this show, it's that it loves to introduce interesting side characters that get killed off after becoming memorable or loveable.
In Season 1, Barb (Shannon Purser) and Benny's (Chris Sullivan) stints were short yet still very painful. In Season 2, dear Bob's (Sean Astin) sacrifice left us in tears. And who can forget Max's brother Billy, who, despite being a major jerk in Season 2 and most of Season 3, still got his redemption arc by the end of the third instalment of the series.

Looking at this trend, it is possible that Eddie or Argyle are the next ones to go. Eddie proved to be a very quirky addition to the Hawkins crew which made him easily liked by most fans. Argyle, on the other hand, provides great comic relief, which balances out the intense parts of the series splendidly.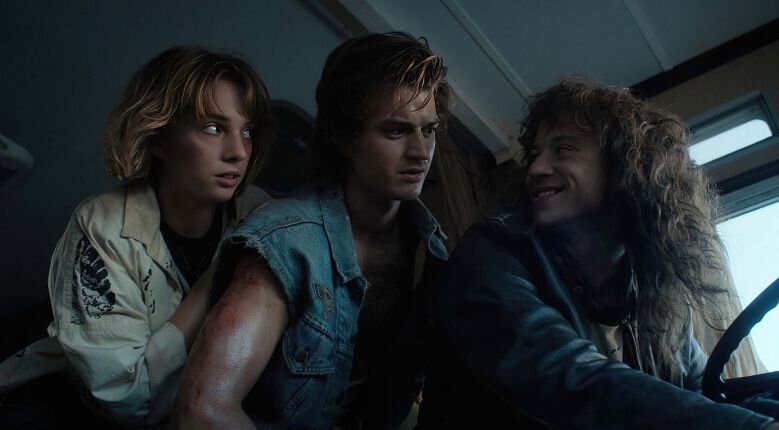 But while we'll be sad to see these two go, it wouldn't be that much of a blow compared to what we would feel if they kill off Robin's character. In the Season 4 Volume 2 trailer, Robin was also seen telling Steve that they "might not win" this time around, which may mean bad news for the character.
Robin is smart, funny, and a great friend to Steve, Nancy, and the kids. In Season 3, she also confessed to Steve about being a lesbian where her story of struggling to understand her own feelings while dealing with the fear of being judged by others was one of the most equally heartwarming and heartbreaking scenes in the season. Now that she's part of the main friend group and has developed an amazing dynamic with Nancy, we'd love to see Robin open up more about who she is to the rest of the characters.
Her friendship with Nancy can also break cliched and often sexualised TV tropes about LGBTQ+ and straight relationships and show that lesbians and straight women can be portrayed as having a healthy platonic friendship just like in real life.
It would be a shame to kill off Robin at this point so we're really crossing our fingers our teeny-tiny hunch about this happening is wrong.
6. Vecna will be defeated but a new villain will be set up for Season 5… and it's someone we all know and love
After learning more about Eleven's backstory and the Upside Down's origin, we're pretty sure that Vecna will be defeated one way or another, much like past Stranger Things villains. But since we've gone almost full circle to Season 1 due to the events of Season 4, it's almost impossible to think of any other potential villain for the series' fifth and final season.
Our guess: Eleven.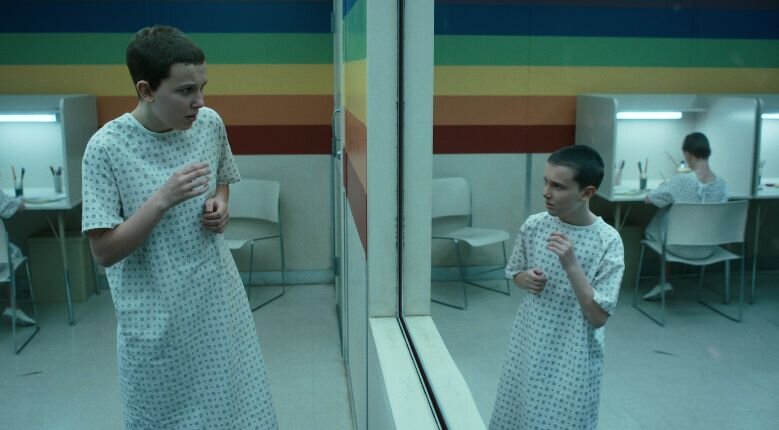 That's right. As much as we love El, we can totally see her being set up as the main antagonist for Season 5. Following our prediction that Papa/Brenner will meet his end in Season 4 Volume 2, it would make sense that Eleven's powers would turn even more turbulent should she cause the death of her maker. We've seen her lose control over the years and we've seen the potential of her powers through Vecna. Any strong provocation might lead to 'evil Eleven' and we're pretty sure it's something all of us already know but are just denying to accept.
Stranger Things Season 4 Volume 2 release date
Stranger Things
Season 4 Volume 2 will drop on 1 July. Stream the rest of the series
here
.
(Cover photo from:
Netflix
)
From one Netflix hit to the next, check out our plot predictions for the zombie hit All Of Us Our Dead here.
Comments, questions or feedback? Email us at [email protected].