Looking for something interesting to watch but don't know where to start? Here's a new Park Min-Young drama to catch up on: Love In Contract. This fun new K-drama is about Choi Sang-Eun (Park), who works as a marriage contract master.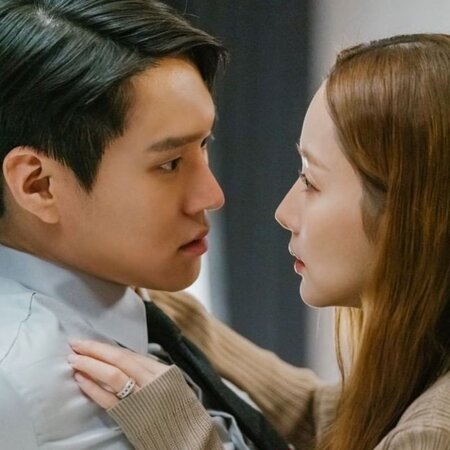 Love In Contract plot
Choi Sang-Eun gets hired to play the wife of her clients. She transforms into the kind of woman they need given their situations and their relationships are purely professional. Some of her clients hire her for a short time and some have been with her for years.
One of her clients, Jung Ji-Ho (Ko Gyung-Pyo), has been in a contract with her for five years and meets her three times a week. Despite how long they've known each other, Ji-Ho remains mysterious. Being the professional that she is, Sang-Eun also doesn't pry into Ji-Ho's business.


Kang Hae-Jin (Kim Jae-Young), a popular actor, also hires Sang-Eun as his contract wife. They meet each other three days a week, with the schedule alternating Ji-Ho's.
Despite feeling satisfied with helping her clients, Sang-Eun feels tired of living her current lifestyle and plans to start a new life in Canada with her gay ex-husband and now-longtime-bestfriend Woo Gwang-Nam (Kang Hyung-Seok).


However, she starts getting cold feet before breaking things off with Ji-Ho and Hae-Jin realises that her relationship with the two may have roots deeper than what's in their contracts.
Sounds interesting? Below are more reasons to watch Park Min-Young's Love In Contract – no spoilers, of course!
1. The tropes are familiar but still enjoyable to watch
Just like any other rom-com, this K-drama follows a certain format and the characters fall into tropes like the mysterious male lead #1, the personality-filled male lead #2, and the pretty and charming female lead to complete the trio. However, despite all the familiarity,
Love In Contract
offers something fresh to the viewing experience. It's going to make you fall in love with the characters and the funny storyline.
2. The characters have interesting backstories that make them well-rounded
While we won't spoil major revelations about each character and why they ended up living the lives they're living, it's safe to say that amidst the hyperbolic plot surrounding this drama, the characters still feel very real when it comes to their personal struggles. Commitment issues, family responsibilities, complicated history with romantic relationships — there's something to relate to and help you immerse into these characters even better.
3. Park Min-Young carries the lead role amazingly
Park Min-Young always plays each role not only with such charm and elegance, but also a certain warmth that makes you embrace the character. Not only is she able to be a chameleon in this role as she transforms into different 'wife' personas, but she also separates them from the true Choi Sang-Eun who's more complicated and fragile than she lets on.
Her compelling chemistry with both Ko Gyung-Pyo and Kim Jae-Young also makes it hard for viewers to choose who should she end up with. We don't know about you but this just makes the love triangle aspect of the K-drama even more exciting for us!
Watch Love In Contract here.
Comments, questions or feedback? Email us at [email protected].