Happiness is a thriller-suspense K-drama that aired from November to December 2021. It followed the wave of many Korean zombie-centric storylines that emerged after the popularity of Train To Busan in 2016. It ran for 12 episodes, airing every Friday and Saturday. When it finally landed with all episodes available on Netflix, it enter the trends once again.
Before you binge-watch it, though, we think you should get to know the cast a bit more.
Happiness cast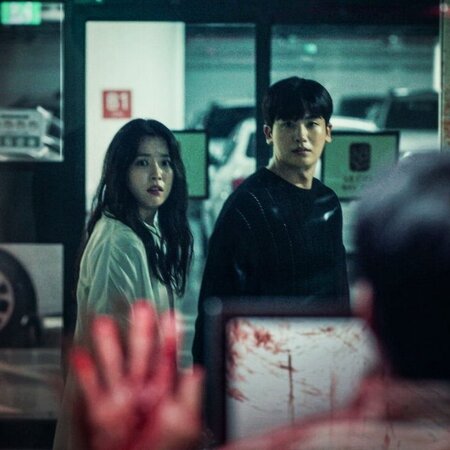 Happiness
stars Han Hyo-Joo as Yoon Sae-Bom, a fierce and highly decisive police officer. She moves into Forest Le Ciel Building 101, a high-rise apartment building. Shortly after settling in, she faces a crisis after the building was locked down due to a disease outbreak.
Park Hyung-Sik also leads the Happiness cast as Detective Jung Yi-Hyun, Sae-Bom's high school schoolmate who used to have feelings for her. He was also affected by the lockdown in Building 101.
Jo Woo-Jin is also part of this drama's main ensemble. He plays Han Tae-Seok, a lieutenant colonel who is part of the health service department. He has some involvement in the origins and development of the outbreak.
Other actors who are part of the cast are Lee Joon-Hyuk as police officer Kim Jung-Kook and Bae Hae-Sun as Oh Yeon-Ok from Unit 1202.
Whether you're rewatching the series or checking the show out for the first time, here are more TV shows and films featuring the Happiness cast.
1. Han Hyo-Joo in Always (2011)
You may remember Han Hyo-Joo from dramas like
Dong-Yi
and
W: Two Worlds Apart
, but her 2011 film
Always
still tops our Han Hyo-Joo must-watch list. The actress played the role of Jung-Hwa, a visually impaired woman who crosses paths with aloof parking attendant Cheol-Min (played by Choi Ji-Sub). As the two spend more time together, they fall in love. However, secrets about their individual pasts come haunting them just when they're about to reach their happily ever after.
Reasons to watch it: The film is equally heartwrenching and heartwarming. Every moment makes you want to root for Jung-Hwa and Cheol-Min as individuals and as a couple. It has predictable moments just like any other melodramatic storyline, but the ending will surely leave you satisfied. Watch Always here.


2. Park Hyung-Sik in Strong Woman Do Bong-Soon (2017)
Before he joined
Happiness
and became the lead on
Soundtrack 1
along with Han So-Hee, Park Hyung-Sik first captured the hearts of K-drama fans in
Strong Woman Do Bong-Soon
. He played the role of Min-Hyuk, the CEO of a gaming company who's been receiving constant security threats. He accidentally meets the titular heroine Do Bong-Soon (Park Bo-Young), a young woman born with superhuman strength. Min-Hyuk hires Bong-Soon as his bodyguard. One day, Bong-Soon's childhood friend and unrequited love Detective Kook-Do (Ji Soo) has a case he needs to solve in which Bong-Soon and Min-Hyuk get involved.
Reasons to watch it: Just like any other rom-com, this K-drama is fun and nothing short of entertaining. It's lighthearted and will definitely put you in a good mood. Plus, both Park Hyung-Sik and Park Bo-Young had nothing but sweet things to say about each other when talking about their time together in the drama, which makes it clear why their chemistry as leads is simply off the charts. Stream Strong Woman Do Bong-Soon here.
3. Jo Woo-Jin in Goblin: The Lonely And Great God (2016)
Whether you're a K-drama binger or a casual viewer, if you've seen the most popular K-titles, we're sure you're familiar with Jo Woo-Jin. The 43-year-old actor has been in many star-studded films and TV shows like
Mr. Sunshine
(starring Lee Byung-Hyun and Kim Tae-Ri) and
Seobok
(starring Gong Yoo and Park Bo Gum). But for us, his most memorable role is the vile and cunning Secretary Kim in the 2016 hit
Goblin
.
Jo Woo-Jin's character didn't appear until around the middle of the series. But he was definitely the biggest villain of the drama who disrupted the lives of Goblin (Gong Yoo), Grim Reaper (Lee Dong-Wook), and Eun-Tak (Kim Go-Eun).
Reasons to watch it: Goblin is a beloved K-drama and remains one of South Korea's highest-rated TV shows to date. But if you still haven't seen it yet, we guarantee that Jo Woo-Jin's performance will definitely make the viewing experience even more exciting. It would take a while for you to appreciate him playing the good guy in other dramas after seeing him in this work — it's that powerful! Check out Goblin here.


4. Lee Joon-Hyuk in Touch Your Heart (2019)
Similar to Joo Woo-Jin, Lee Joon-Hyuk is one of those 'staple actors' that you see in almost all K-dramas. And while K-fans have seen him as a cop, a school teacher, an uncle, and many more on numerous occasions, our favourite role of his is talent agency CEO Yeon Joon-Seok in
Touch Your Heart
. It's about Oh Yeon-Seo (Yoo In-Na), a popular actress who lost her career after getting framed for a drug scandal. To make her comeback two years later in a legal drama, she had to undergo secret training in a real law firm. She becomes the secretary of competent but cold-hearted Kwon Jung-Rok (Lee Dong-Wook).
Reasons to watch it: The drama is a rom-com but it also tapped into the dark sides of the Korean entertainment industry. Lee Joon-Hyuk's role as the understanding and unwavering Yeon Joo-Seok seems like a jab at real-life talent management CEOs who don't seem to care about their talents. Joo-Seok was both a big fan and a father figure to Yeon-Seo and he never gave up on her despite the many troubles she faced in her career. Him rooting for her from start to finish is definitely one of the subtlest yet most heartwarming subplots of the drama. Watch Touch Your Heart here.
5. Bae Hae-Sun in Hi Bye Mama! (2020)
Hi Bye Mama!
stars Kim Tae-Hee as Cha Yu-Ri, a woman who died five years ago. She left behind her daughter who is still a toddler and her husband Jo Kang-Hwa (Lee Kyu-Hyung). Yu-Ri watches over her family as a ghost. One day, she was given a chance to become human again. However, she only has 49 days to resolve all her pre-death unfinished business in order to make her reincarnation permanent.
Bae Hae-Sun appears in this drama as Sung Mi-Ja, one of Cha Yu-Ri's fellow ghosts. Despite being a supporting character, Sung Mi-Ja, along with Cha Yu-Ri's other ghost friends, make up the heartwarming subplots of the story.
Reasons to watch it: Hi Bye Mama! is a reminder that we should never take anything for granted no matter what age or stage in life we're in. The main story, along with the plot detours, will certainly leave a long-lasting impression. Fair warning though: make sure you have more than one box of tissue if you decide to watch this because every episode will trigger your tear ducts. Stream Hi Bye Mama! here.
(Cover photo from: Netflix)
Next, we give you five reasons to watch Kim Jae-Wook and Krystal Jung's Crazy Love.
Comments, questions or feedback? Email us at [email protected].