Everything Everywhere All At Once is a film that has been raking in awards this season. The iconic Michelle Yeoh leads the science-fiction-meets-action-meets-comedy-meets-drama movie about Evelyn Quan Wang, a dissatisfied laundromat owner suddenly caught in a universe-changing phenomenon in the middle of living her tiring, mundane life.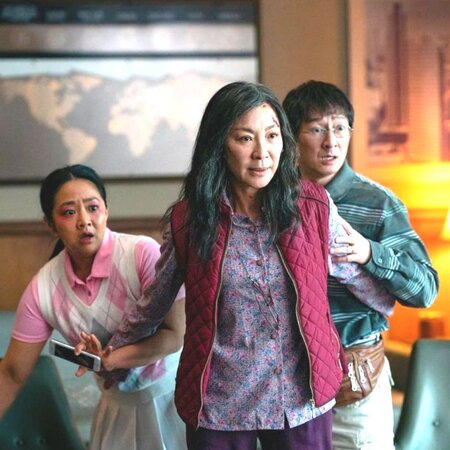 Watching the trailer alone, there's one word to describe the movie: trippy. But diving deep into its 139-minute runtime, it's safe to say that this is a spectacularly unique film, whose charm is hard to describe.
Wondering what made us think so? Below is our full spoiler-free review of Everything Everywhere All At Once.


Everything Everywhere All At Once plot
The movie starts with Evelyn (Michelle Yeoh) dealing with a very exhausting day. Her laundromat business with her husband Waywond (Ke Huy Quan) is in its routinary chaos and Evelyn finds her husband useless in helping her keep things in order. They are also being tax audited by the Internal Revenue Service (IRS) on the same day.
On top of this, her father, Gong Gong (James Hong), is visiting from China to celebrate Chinese New Year with her family. It's immediately implied that their relationship is strained and that Evelyn was keen not to upset her father in any way.


Evelyn's daughter Joy (Stephanie Hsu) also adds to her stress. Joy wants to bring her non-Chinese girlfriend Becky (Tallie Medel) to the Chinese New Year party the family is hosting. However, Evelyn is worried that her daughter dating someone of the same sex might be too much for Gong Gong who is traditional and conservative. This makes Joy extremely upset, showing that her and Evelyn's relationship is also fragile.
Everything seems normal at first — too normal, in fact. However, during the meeting with the IRS, weird things started happening around Evelyn. Her husband gets possessed by Alpha Waymond, a version of Waymond from another universe called the Alphaverse. Alpha Waymond explains to Evelyn that she has to help him save the multiverse from someone called Jobu Topaki who serves as a major threat to the multiverse's safety.


Everything Everywhere All At Once review
1. The plot is messy… but that's the point
Everything Everywhere All At Once
is a bizarre mix of genres. It's a trippy science fiction film that dabbles with the concept of a multiverse. This comes as no surprise considering that the movie was produced by the Russo Brothers (Anthony and Joseph Russo), best known for their work in the Marvel Cinematic Universe (MCU).
Tied to this mind-boggling concept is an absurd comedy balanced with smart and heartwarming storytelling by writers and directors Daniel Kwan and Daniel Scheinert (known collectively as Daniels), who also created Swiss Army Man (starring Daniel Radcliffe).


Since the concept revolves around multiverses and alternate realities, the shifts in each scene feel and look like a whiplash. But instead of inducing dizziness and confusion in the audience, it makes sense simply because it creates a solid picture of Evelyn's journey and feelings throughout the film. It also illustrates a battle between existentialism and nihilism in the most creative and smartly comedic way.
But what really makes the story work is the way it grounds its chaotic narrative through its characters. We wouldn't want to spoil too much so the only example we'll provide is Waymond, whose existence in every universe serves as Evelyn's anchor against all the noise.



The story, despite its many detours, also has a way of going back to a linear narrative because the characters represent something about the overall story. And despite everything, the film knows that its core is a family drama that zooms in on marriage and parent-child relationships.
P.S. Film buffs will also enjoy a couple of references this movie has parodied/referenced, such as Disney-Pixar's Ratatouille and Wong Kar-Wai's In The Mood For Love.
2. Michelle Yeoh is phenomenal
The Malaysian actress, renowned globally for her roles in multiple hits like
Crouching Tiger Hidden Dragon
,
Memoirs Of A Geisha
,
Tomorrow Never Dies
, and
Crazy Rich Asians
, is the heart of
Everything Everywhere All At Once
.
She played Evelyn with such a wide range, allowing the viewers to see a multifaceted character — a struggling immigrant, mother, wife, and daughter on one side; an esteemed martial artist and industry-trapped actress on another; an ordinary working woman with issues to deal with on another front, and so much more — while keeping her funny, real, and relatable.


Evelyn's life is messy and chaotic and she has so many hopes and dreams and what ifs and all parallel universes representing each of these meshes right in front of her. This movie is Evelyn's story. The viewers are simply bystanders. Still, this doesn't detach our feelings from Evelyn. In fact, the mess makes the audience even closer to her character. And it's all because of Michelle Yeoh's impeccable performance.
3. The supporting cast also matches up to Michelle Yeoh's performance
Former child actor Ke Huy Quan, best known for his role as Short Round in the 1984 film
Indiana Jones and The Temple Of Doom
, makes his major Hollywood comeback as Michelle Yeoh's onscreen husband in this film. In a
recent interview
, he talked about the lack of opportunities for Asian-American actors in Hollywood back when he was younger, leading to his hiatus from the industry. But we couldn't be more thankful for his return.
Ke's portrayal of Waymond had so much dimension, giving the shifts between the different Waymonds from the various universes their own charm and identity. His amazing chemistry with Michelle Yeoh also felt so natural that it was so easy to fall in love with their dynamic.
There's also Stephanie Hsu who played Ke and Michelle's onscreen daughter Joy. The Broadway actress may be a neophyte to the big screen, but she doesn't pale in comparison to them. It's hard to talk about Joy's character without spoiling major plot points, but we'll say that Stephanie also delivered a noteworthy performance. Similar to Ke, there are so many layers to Stephanie's portrayal that helped make this out-of-this-world narrative play out effectively.


4. The movie's charm is in the details
This film is maximalist when it comes to the effects, editing, acting, and overall concept. But the use of small, seemingly insignificant details to weave things together adds to the movie's charm and cohesion. It's also filled with many quotes that aren't in any way trying hard to be deep or poetic but simply hit home because they're real and raw.
5. The cinematography is a treat
If you didn't see this film in cinemas during its initial run, then we highly recommend you stream it on TV instead of your phone or laptop when you do watch it because it's a visual feast.
This film's cinematography is jaw-droppingly good, giving the audience a vivid representation of what a multiverse might actually look like. Kudos to the editing team, too, not just because of the brilliant visual effects in the film but because even the simplest jump cuts purposefully enrich the film's storytelling experience.


Where to watch Everything Everywhere All At Once in Singapore
Overall,
Everything Everywhere All At Once
feels like a love letter to a myriad of cinematic genres while making a very simple and direct point about family, relationships, and life.
It's now available to stream on Singapore via YouTube Movies, Apple TV, and Google Play Movies.
Comments, questions or feedback? Email us at [email protected].