This article was first published on 10 November 2022.
Train To Busan in 2016 changed how we see zombies onscreen. Gone are the slow-moving walking corpses we've gotten used to in Western shows; it's now all about fast-running, high-jumping, freshly rotting half-dead bodies. And yes, this new breed of zombies is unique to Asian zombie dramas, especially in recent K-dramas and films.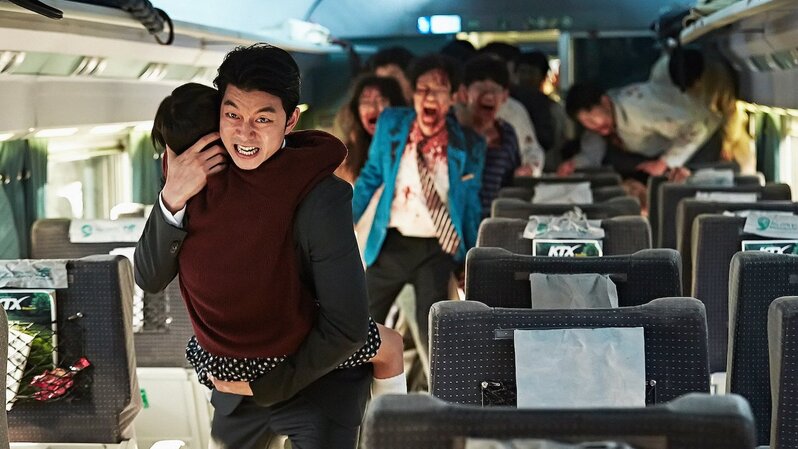 It may not be everyone's cup of tea. But if you're the type who's been wanting to experience an adrenaline rush from some heartstopping zombie action, here's a list of Korean zombie TV shows and films you need to add to your watchlist ASAP.
1. #Alive
Gamer Oh Joon-Woo (Yoo Ah-In) is struggling to survive after being forced to lock himself in his apartment due to a zombie outbreak. He wanted to end his life after finding out his family has been killed by zombies, but he regains hope after meeting another survivor, Kim Yoo-Bin (Park Shin-Hye), in the same apartment complex. The two of them try to get help through the use of gadgets and social media.
Why you'll love it: Aside from the usual jumpscares and heart-pumping scores we all love in zombie flicks, this film also realistically reimagines how it will be like to experience a zombie apocalypse in a technologically dependent world. Watch #Alive here.


2. Kingdom
Set in Korea's Joseon Dynasty, this thrilling period drama all starts with the King (Yoo Se-Woong) suddenly catching an illness. The Queen (Kim Hye-Jun) and her father, Chief State Councilor Jo Hak-Joo (Ryoo Seung-Ryeong), have forbidden anyone, including the King's son and the Queen's stepson Crown Prince Lee Chang (Ju Ji-Hoon), to see the King. Thinking that something more serious has happened to his father, Lee Chang tries to investigate. He ends up learning a sinister secret surrounding his father's condition.
Why you'll love it: A period drama with zombies? Talk about an intriguing concept! But aside from the unique take on the zombie genre, the political aspect of this series proves that sometimes, human greed is a lot scarier than any flesh-eating monster. Watch Kingdom here.
3. All Of Us Are Dead
A failed science experiment causes a zombie outbreak at Hyosan High School. Since the school became ground zero, all communications with the outside world were cut off by the government. This left the students fending for themselves as they find a way to survive without being infected.
Why you'll love it: If you can't choose between a high school coming-of-age drama and a zombie TV show, this will surely give you a taste of both. Plus, there are a lot of fresh faces in the cast (Park Ji-Hu, Yoon Chang-Young, Cho Yi-Hyun, and Park Solomon a.k.a. Lomon) who did so well in this series that you'll surely watch out for them in more works. Watch All Of Us Are Dead here.


4. Happiness
Led by a
star-studded cast
,
Happiness
is a Korean zombie TV show that will leave you feeling the opposite of the title (but, as weird as it sounds, in an entertaining manner). It's about the residents of Forest Le Ciel Building 101, a high-rise apartment building that was locked down due to a zombie outbreak. Tensions rise when the tenants try to survive, with others being more morally compromised than the others.
Why you'll love it: While a little bit more slow-paced story-wise compared to the others on this list, Happiness builds up its narrative effectively to keep the audience engaged all throughout. It also has a touch of family, romance, and friendship, making it a well-rounded series. Watch it here.
5. Peninsula
Wrapping up this list is the standalone
Train To Busan
sequel, Peninsula. This movie shows the lives of South Korean citizens four years after the initial outbreak happened. The story follows former South Korean Marine Corps Captain Jung-Seok (Gang Dong-Won) who gets hired by mobsters to retrieve a truck containing millions of US dollars. In exchange, he and his partner Chul-min (Kim Do-Yoon) will get half the money. However, both money-hungry humans and flesh-eating zombies get in their way.
Why you'll love it: We wouldn't spoil any of the juicy details. But trust us, this film has the same mix of post-apocalyptic thrill and melodrama that made its predecessor, Train To Busan, amazing. Watch Peninsula here.
6. Zombie Detective
Kang Min-Ho (Choi Jin-hyuk) wakes up to a new life as a zombie without any idea of his past. He then re-learns how to act like a human, even covering his zombie scars with some cinema-worthy makeup, and takes on the identity of the private detective Kim Moo-young.
Why you'll love it: The cheerful yet suspenseful take on the zombie theme sees Min-Ho solving crimes and trying to figure out how zombies came to be. Watch Zombie Detective here.


7. Rampant
Give Train To Busan a historical twist and you've got Rampant starring none other than Hyun Bin. This movie follows Prince Lee Chun (Hyun Bin) who comes back to Joseon after being kidnapped and imprisoned by the Qing family. He discovers his home country overrun by the undead, leading him to find ways to save his countrymen.
Why you'll love it: It's a political historical drama mixed with the thrill and threat of flesh-hungry zombies — what's not to love? Watch Rampant here.
8. The Odd Family: Zombie On Sale




Torn between wanting to watch an exciting zombie film but tired of the usual suspense-thriller plot? Give this zombie-comedy movie a try. The story is about the Park family whose patriarch gets bitten by a zombie. After discovering that a pharmaceutical company was behind the zombie's existence, the Park family decides to come after the corporation to try and gain profit.
Why you'll love it: It's funny, smart, yet surprisingly heartwarming, making it a refreshing take from the usual zombie narrative. Watch The Odd Family: Zombie On Sale here.




9. The Wailing




The Wailing isn't exactly a zombie film, but it definitely includes savage, flesh-eating creatures in the story. It introduces us to a policeman (Kwak Do-Won), a shaman (Hwang Jung-Min), and a mysterious stranger (Jun Kunimura) becoming the centre of strange happenings on a remote island where villagers are either killed or infected by the unknown.
Why you'll love it: The Wailing has a lot of twists and turns that will surely keep you on the edge of your seat. While best experienced as a first-time viewer, rewatching this will give you a different realisation about the film each time. Watch The Wailing here.
(Cover photo from: Netflix)
Comments, questions or feedback? Email us at [email protected].