Movie stills showing Cuban-Spanish actress Ana De Armas as Marilyn Monroe in the upcoming Netflix film Blonde have definitely shaken the Internet. Besides the uncanny resemblance Ana has with Marilyn in the released photos, the movie was also tagged with a rare NC-17 rating, indicating that it is not approved for viewers below 18 years of age. This is because the movie (based on Joyce Carol Oates' novel of the same name) is said to be "unapologetic" and would "definitely offend" certain personalities that will be mentioned in the story. Talk about intriguing!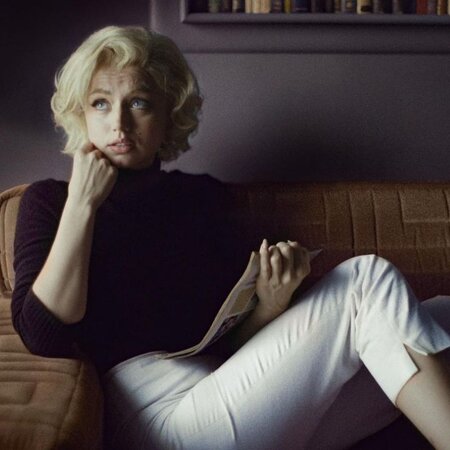 Given the weight of the role, especially with the world's unwavering fascination over Marilyn's life, it's understandable that there's curiosity not just for the movie's plot but also over the actress slated to play her in this latest biopic.
Who is Ana De Armas?
Before her Hollywood debut in 2015, Ana De Armas was already a household name in Cuba and Spain. This is due to her lead roles in the TV drama
Una de Rosa Francia
in 2006 and
El Internado
which ran from 2007 to 2010.
She started out with small English-speaking roles in American movies until she caught her big break 2017. Since then, she showed excellence in a variety of movie genres, with mostly science fiction and mystery-action being her strongest suit — and yes, some of them you might've already heard about.
Here's a list of Ana De Armas movies you have to see before catching her in Blonde.


Ana De Armas movies
1. Blade Runner 2049 (2017)
This neo-noir science fiction film is a stand-alone sequel to the 1982
Blade Runner
movie. It's set in the year 2049 and follows the story of Officer K (Ryan Gosling), a new 'blade runner' for the Los Angeles Police Department. He uncovers a secret about the current system that can potentially affect what's left of society. This discovery urges him to seek out Rick Deckard (Harrison Ford), a former blade runner who suddenly disappeared 30 years ago.
Why you should watch it: If you love futuristic narratives with their own fascinating lore, this movie is for you. This movie also served as Ana's breakout role in Hollywood as Joi, the artificial intelligence (AI) girlfriend of Ryan Gosling's character. Despite playing an AI who is also in hologram form, Ana was able to bring warmth and 'humanity' to the character, causing her to leave a significant impression on the viewer.
Watch Blade Runner 2049 here.
2. Knives Out (2019)
This ensemble movie starring Chris Evans, Daniel Craig, Jamie Lee Curtis, Ana De Armas, and many more is perfect for any 'whodunit' movie fans. It's about the mystery surrounding rich novelist Harlan Thrombey's (Christopher Plummer) murder. It happened the day after Harlan celebrated his 85th birthday with his dysfunctional family, all of which have proven to have enough motives to become a suspect. Private detective Benoit Blanc (Daniel Craig) investigates the crime in which Harlan's nurse Marta (Ana De Armas) seems to be the only reliable character witness.
Why you should watch it: Who wouldn't love ensemble movies? But aside from the compelling cast, the movie also takes you through the thrill of a murder mystery in a very caricaturish yet not cringey manner. Ana's performance as Marta is also vital to the story, as we see the narrative mostly through her and Benoit's perspective.
Watch Knives Out here.


3. No Time To Die (2021)
Yes, Ana's in a Bond film, too. The actress briefly but memorably appeared in the fifth and final instalment of Daniel Craig's portrayal of the MI6 agent as newbie agent Paloma. The film revolves around Bond's life after retiring the role of 007, which leads him back to showdown with an old enemy.
Why you should watch it: Bond films are a classic at this point, so it's quite a given that this should be on your must-watch list. Interestingly enough, this Bond film, unlike its other iterations, is more in touch with domestic romance which is quite fresh given Bond's history of swapping love interests in every movie. Plus, Ana's quirky but badass portrayal of agent Paloma is definitely one of the most amusing parts of the film and we really wish we could see more of her should they do another reboot.
Watch No Time To Die here.
4. Knock Knock (2015)
Once you're done binging her newer works, it's time to check out Ana's earlier projects, starting with
Knock Knock
. The movie, which also stars Keanu Reeves, is about Evan, a happily married man left alone at home one weekend. He had to work while his wife and children went on a family-planned beach trip. During a rainstorm, Evan finds himself answering the door to two women, Genesis (Lorenza Izzo) and Bel (Ana De Armas) who claim to be lost and in need of a place to stay. Evan hesitates but eventually gives in. Little did he know, the two women aren't at all who they seem.
Why you should watch it: This psychological thriller will truly take you through a rollercoaster of emotions. It's not exactly for the faint of heart since there are a lot of intense scenes in the movie, but if you're looking for up for a twisted yet weirdly entertaining watch, this is definitely it. Ana definitely showed promise in her role as Bel in this film, which is a great foreshadowing for her success in bigger roles that followed after this stint.
Watch Knock Knock here.


5. War Dogs (2016)
Lastly, there's also this comedy-crime film starring Jonah Hill and Miles Teller. It's a heavily fictionalised narrative about two arms dealers who receive a US Army contract to supply for the Afghan National Army. We won't spoil the plot further since it's better if you go into it blindly. Ana De Armas and Bradley Cooper complete the main cast.
Why you should watch it: Despite the heavy comedy the story presents, it also provides effective social commentary on political warfare and arms dealership that is grounded on the current reality of the US. It makes the movie both smart and entertaining. Of course, Ana's role in the film also shows that she can do comedy as much as she can do melodrama and action.
Watch War Dogs here.


Blonde release date
The Marilyn Monroe biopic
Blonde
starring Ana De Armas will stream on Netflix globally on 23 September 2022.
(Cover photo from: @ana_d_armas)
From one anticipated movie to another, check out the details on The Hunger Games prequel The Ballad of Songbirds and Snakes here.
Comments, questions or feedback? Email us at [email protected].