Can't wait to unwind during the weekend? We get you. But before you log off from your devices and retreat to your safe haven, check out our curated guide to this weekend's (2 - 4 December) most buzz-worthy events and happenings in Singapore that are worth a spot on your calendar — from Hendrick's Christmas Wonderland pop-up to Jewel Changi Airport's free livestreaming of the FIFA World Cup.
Fri, 2 Dec: Drink and be merry at the Hendrick's Christmas Wonderland pop-up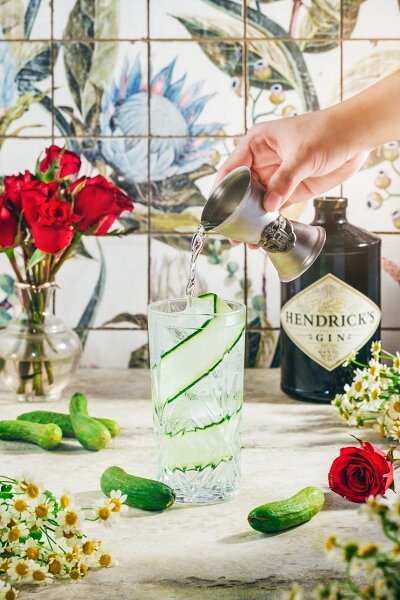 The annual Hendrick's Christmas Wonderland pop-up returns with a playground of yuletide oddities. From 2 December 2022 to 1 January 2023, visitors can explore their whimsical side at Hendrick's Holiday Hot Air Balloon Bar which comes with a vast selection of festive cocktails. There will be plenty of picture-worthy absurdities, including the biggest gift box you've ever seen and a bathtub full of presents.
The details: Hendrick's Christmas Wonderland pop-up is located at Gardens By The Bay, 18 Marina Gardens Dr, Singapore 018953.
Fri, 2 Dec: Escape to winter wonderland at Ice Magic: The Great Fantasy on Ice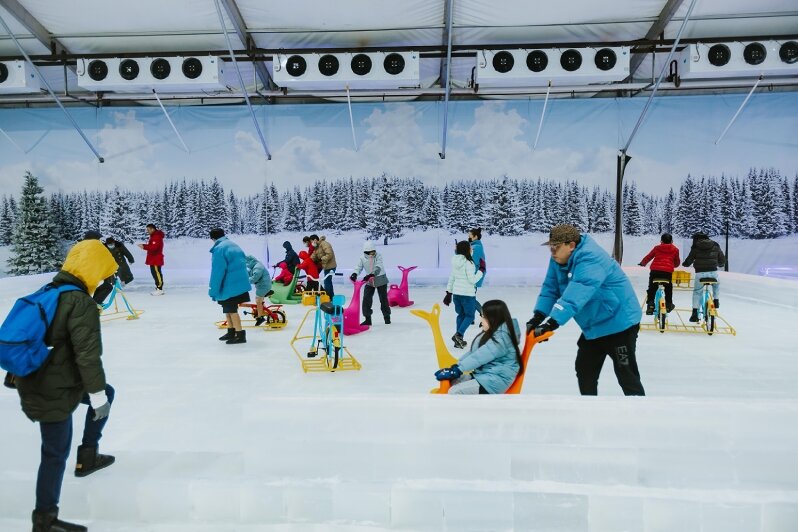 Proudly presented by Chocolate Origin x CACAOCAT, Ice Magic: The Great Fantasy on Ice is Singapore's biggest winter-themed pop-up playground. Some activities you can enjoy include sliding down a 70-metre snow slope, the longest and tallest snow slope ever constructed in Singapore; gliding on a 4.5-metre high figure-8 Ice Slide that's constructed purely out of ice by master sculptors who hail from the famous Harbin Ice Festival in China; try curling a.k.a. 'ice chess', ice bowling and ice cycling.
The details: The spectacle is located at Bayfront Event Space, 12A Bayfront Ave, Singapore 018970. Tickets are priced at SGD25 to SGD45 on SISTIC.com. It's open from 10AM to 10PM everyday, from now until 1 January 2023.
Sat, 3 Dec: Catch a free live World Cup screening at Jewel Changi Airport
Are you keeping up with the latest World Cup matches? You can witness the Round of 16 matches live on a big, big screen at Jewel Changi Airport! Beginning 3 Dec 2022, viewers can enjoy free streaming on a mega LED screen and also stand to win up to SGD5,000 worth of Jewel gift vouchers by predicting the winners of each match.
The details: The LED screen will be located at Level 1 of Shiseido Forest Valley (near Shang Social and and Tempura Makino). No prior bookings are required.


Fri, 25 Nov (PM): Visit the Levi's Tailor Shop at VivoCity
Buy better, wear longer. Levi's is hosting a limited-time pop-up activation at its VivoCity for shoppers to learn more about repurposing and recycling their clothes. Get the chance to customise your Levi's apparel with embroidery or patches at the store's Levi's Tailor Shop. Join the brand's DIY workshop to create a pouch from upcycled Levi's denim or recycle your pre-loved denim at the store's recycling bin.
The details: The Levi's Buy Better, Wear Longer Pop-Up will be open till 27 November, from 10AM to 10PM. Located at East Boulevard 2, VivoCity, 1 HarbourFront Walk, S 098585. The DIY workshop is free and accommodates up to 10 pax per day. Sign up here.
Sat, 26 Nov (AM): 'Dine' with Hello Kitty and Little Twin Stars at The Stamford Brasserie
Swissotel The Stamford has transformed its French-style bistro into a Hello Kitty and Little Twin Stars Café, which now features pastel motifs, cotton candy awnings and a dreamy ambience. This special initiative also includes a themed menu and a photo wall for fans to indulge in their love for the adorable characters.
The details: The Hello Kitty and Little Twin Stars café is open till 29 January 2023. It opens daily from 10AM to 11PM. Prices range between SGD5.50++ and SGD30++. Make your reservations here.
Sat, 26 Nov (PM): Shop at Boutique Fairs Singapore
Boutique Fairs is back at The Pit Building in time for the festive season and will boast a lineup of over 240 Singapore-based, design-forward brands and designers. You can expect the fair's first showcase of young designers, exclusive launches, and workshops to hone your craft. There's also the opportunity to learn how you can support the cause of various community organisations in Singapore.
The details: Boutique Fairs Singapore will be open from 25 November to 27 November. Opens from 10AM till 9PM on Friday and Saturday and till 6PM on Sunday. Located at F1 Pit Building, 1 Republic Boulevard, S 038975. Tickets are priced between SGD5 and SGD25. Get them here.
Sun, 27 Nov (AM): Drop by the SK-II HyperFestive pop-up at Sephora ION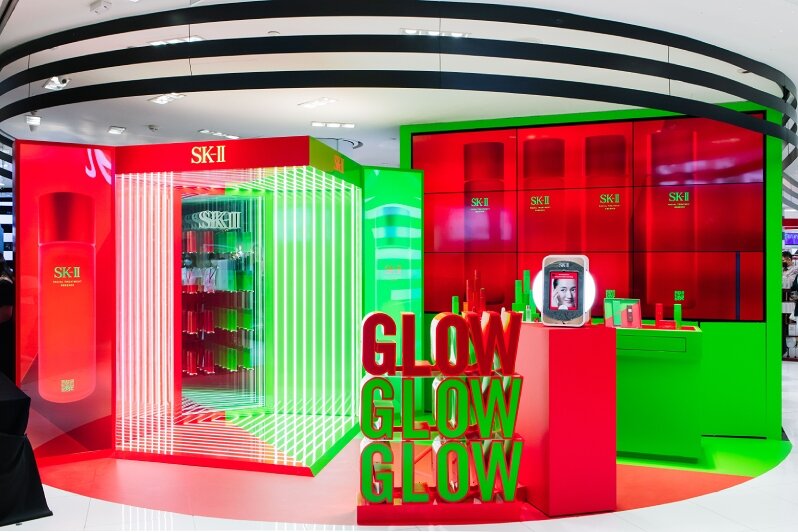 Familiar with SK-II's iconic PITERA essence? Curious to learn more about it? Drop by Sephora at ION Orchard as SKI-II has unveiled its HyperFestive pop-up. The new space invites you to learn more about SK-II's limited edition PITERA essence bottles. You can also get your polaroid picture taken at the photo booth and have your SK-II products gift-wrapped in the brand's festive print. You can also walk home with a limited edition pouch and sling bag when you purchase the SK-II HyperFestive kit.
The details: The SK-II HyperFestive pop-up store will be open till 7 December. It is located at Sephora ION, 2 Orchard Turn, #B2-09, S 238801.
Sun, 27 Nov (PM): Check out PetExpo 2022
Pawrents, you won't want to miss this. PetExpo 2022 will feature over 100 brands from 80 exhibitors for you to stock up on pet products and supplies. It will also include informative workshops and talks. Keen to add a new member to your family? There will also be animals up for adoption, including cats, dogs and bunnies.
The details: PetExpo 2022 will be held from 25 November to 27 November. Located at Singapore Expo Hall 6, 1 Expo Dr, S 486041. Opening hours: 11AM to 8PM on Friday, 10AM to 8PM on Saturday and Sunday. Admission tickets are priced at SGD5 per day and SGD12 for a 3-day pass for adults. Kids aged below 12 enter for free.
Fri, 18 Nov (PM): Visit the Watsons Bugis ETUDE pop-up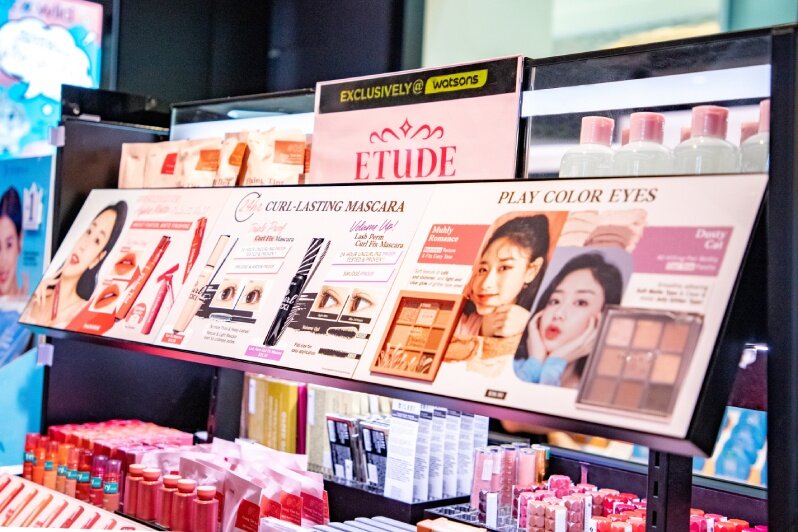 Have you heard the good news? K-beauty brand ETUDE has returned to Singapore and will be available exclusively at 10 Watsons outlets islandwide. To mark its return, the brand has put together an activation at Watsons Bugis, which gives you the chance to redeem exclusive gifts, such as a mini luggage makeup pouch and a mirror. From now till 7 December, you can also purchase two ETUDE products at 20% off. Watsons members will get to enjoy an additional 5% off as well.
The details: The Watsons Bugis ETUDE activation is located at 200 Victoria Street, #02-27 to 33/33A Bugis Junction, S 188021.
Sat, 19 Nov (AM): Bring your fur kids to Design Orchard
Fashion veteran and author Daniel Boey is celebrating the launch of his new children's book Furry Tales by Leia at Design Orchard and, yes, your fur kids are welcome to join the party. Activities to expect? A runway show featuring rescue dogs in pieces from The Animal Project, a fireside chat and reading of the new book, and a styling workshop featuring doggie-and-owner twin sets.
The details: Furry Tales by LEIA will be held on Saturday, 19 November from 11AM to 12PM. Located at Design Orchard, 250 Orchard Road, S 238905.
Sun, 19 Nov (PM): Experience festive fun at The Great Lush Playground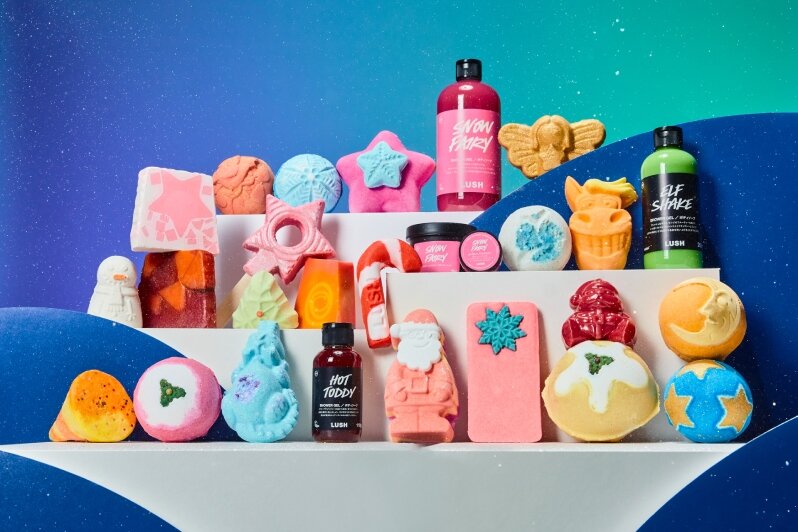 Love LUSH products? Be sure to check out the British high street brand's limited-time weekend pop-up at the Museum of Ice Cream. Titled 'The Great Lush Playground', this sweet affair will give you a preview of the brand's new collection, and a taste of 'Lush Snow Fairy Soft Serve', a Lush-inspired ice cream. You will also get to make your own Bubble Bar and 'dive' into the sprinkle pool to win Lush goodies.
The details: 'The Great Lush Playground' will be available on 19 and 20 November. It is open from 10AM till late. Tickets are priced from SGD46 for a Daytime ticket (10AM to 5:30PM). Get your tickets here.
Sun, 20 Nov (AM): Check out the Creamier & Friends Weekend Market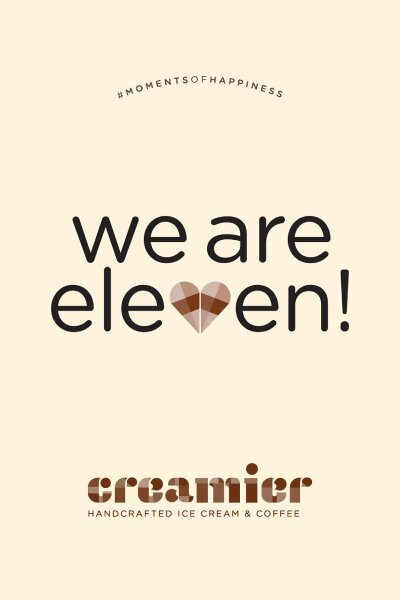 Beloved ice cream brand Creamier is hosting a weekend market at its Gillman Barracks store to celebrate its 11th anniversary. Apart from tucking into delicious desserts, you can also peruse and enjoy products from other brands, including fresh bagels by Able Bagel, coffee by PPP Coffee, candles by Pass It On and even B&W Instant Photography service by Paper Block Co.
The details: The 'Creamier & Friends Weekend Market: 11th Anniversary Celebrations' will be held on 19 and 20 November, from 12PM to 6PM. Located at Creamier Handcrafted Ice Cream & Coffee, Gillman Barracks, 5A Lock Road Singapore, S 108927. Admission is free. Register your interest here.
Sun, 20 Nov (PM): Pop by the new Clarks Parkway Parade store
It's another win for the Easties! Clarks has opened its fourth full-fledged store at Parkway Parade. The new, family-friendly space houses the brand's largest selection of kids' footwear and features cosy festive decor to ring in the year-end festivities. From 19 to 20 November, you can stand to redeem a Christmas cookie and a bottle of cold-pressed juice when you visit the store. Plus, with every purchase, you can stand to bring home a reusable canvas bag and twinning caps with your little ones too.
The details: The opening specials at Clarks Parkway Parade will be available till 20 Nov, 6PM. Clarks Parkway Parade is located at 80 Marine Parade Rd, #01-76/77, S 449269. The store opens daily from 10:30AM to 9:30PM.
Fri, 11 Nov (PM): Get snack-happy at the Okinawa Fair by Isetan Scotts
Can't travel to Japan's 'Hawaii' just yet? Get a taste of Okinawa at Isetan Scotts' Okinawa Fair, which offers a medley of popular Japanese snacks and drinks. The lineup includes seasoned rice balls, Orion beer, cookies and ice cream.
The details: The Okinawa Fair will be held in the basement of Isetan Scotts Supermarket till 17 November. Preview the product lineup here.
Sat, 12 Nov (AM): Visit 'Monet: A Journey Through Seasons' at Changi Airport
Art enthusiasts, listen up: Changi Airport has put together an experience that invites you to immerse yourself in the four seasons through reproductions of some of Claude Monet's artworks. For the uninitiated, Claude Monet is a French artist who's often known as the founding father of impressionist painting. Intrigued? Head over to the exhibit and witness the beauty of his works in person.
The details: 'Monet: A Journey Through Seasons At Changi' opens daily from 7AM to 11PM. Located at Changi Airport, Terminal 2, Level 3. Admission is free. Learn more here.
Sat, 12 Nov (PM): Head over to Changi Festive Village
After checking out the Monet exhibition, you can also head over to the Underground Carnival in Terminal 3 and have a go at more than 30 rides and game booths available there. Plus, it features a first-in-Singapore World of Jellyfish installation and a neon-lit go-kart circuit at Dino Kart 3.0.
Then, travel to the Departure Hall and Check-In Row 11 respectively to marvel at the brand-new Avatar-themed installations and participate in archery and jellyfish crafting activities at 'Mangrove Adventures'. Finally, head to Jewel Changi Airport's Canopy Park to catch interactive displays and witness the Avatar-inspired light and sound show at the HSBC Rain Vortex.
The details: Changi Festive Village is open till 2 January 2023. See here for more.
Sun, 13 Nov (AM): Get on the green side with Planters Market
Aspiring plant-fluencers, this one is for you. Check out Singapore's largest Planters Market, which will be held at Gardens by the Bay. This weekend-exclusive affair will have over 20 booths selling an assortment of plants — so you can be sure that you'll find a new plant baby that you can add to your ever-growing collection.
The details: Planters Market will be held on 12 and 13 November from 10AM to 5PM. Located at Waterview Room, Gardens by the Bay, beside the entrance of Flower Dome.
Sun, 13 Nov (PM): Check out 'Avatar: The Experience' at Gardens by the Bay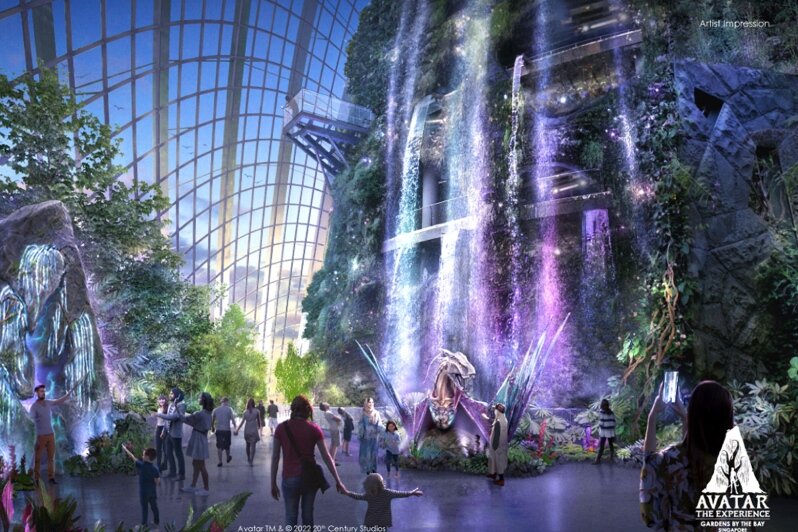 While you're still at Gardens by the Bay, make a note to head over to the Cloud Forest to check out Avatar: The Experience. This immersive experience will give you a glimpse into the world and story of AVATAR, the blockbuster hit. Travel through the walkthrough experience to discover bioluminescent environments, mystical creatures, flora and more. You will even get to witness new creatures from the upcoming film Avatar: The Way of Water, exclusively premiering here in Singapore.
The details: Avatar: The Experience will be open daily till 31 March 2023 from 9AM to 9PM. Tickets are priced at SGD27 per adult for residents of Singapore. See here for more.
Fri, 4 Nov (PM): Be part of the Singapore Writers Festival (SWF)
Singapore's premier literary event celebrates its 25th edition this year and to commemorate this special milestone, it has unveiled its first-ever outdoor Festival Village that will host outdoor performances, interactive workshops, poetry readings, F&B offerings and more. Don't forget to visit the Festival Bookhouse at The Arts House by Closetful of Books, which features a wide selection of books, festival merchandise and more.
The details: The Singapore Writers Festival is happening from 4 to 20 November 2022. The Festival is located at The Arts House and the Anderson Bridge area of the Civic District. Festival Passes are priced at SGD30 each. Purchase your ticket here.
Sat, 5 Nov (AM): Pop by The Doraemon Exhibition
#ICYDK, the highly anticipated Doraemon Exhibition has officially opened at the National Museum of Singapore. Giving you a glimpse into the past, present and future of Doraemon, the contemporary art show will showcase original drawings by Doraemon's creator, the late Mr Fujiko F Fujio. Be sure to pop by the Doraemon-themed café and peruse the limited-edition merchandise too.
The details: The Doraemon Exhibition Singapore 2022 will be open daily till 5 February 2023 from 10AM to 7PM, with last admission at 6:30PM. Located at the National Museum of Singapore, 93 Stamford Rd, S178897. Tickets are priced at SGD30 each. Get them here.
Sat, 5 Nov (PM): Visit Dior's The Atelier of Dreams outside ION Orchard
Ready to dream in Dior? Parfums Christian Dior has collaborated with ION Orchard to present a 15-metre-tall Dior Enchanted Star — the largest Dior star in Asia — outside the shopping mall. It has also unveiled 'The Atelier of Dreams' pop-up, which gives Dior lovers a closer look at the brand's wide array of beauty products that are perfect for this season of gifting.
You can also customise your holiday greeting cards with limited-edition Dior stamps designed by local artist Tiffany Lovage, and indulge in exclusive Christmas cupcakes from The Marmalade Pantry.
The details: Parfums Christian Dior's Dior Enchanted Star and 'The Atelier of Dreams' pop-up will be available till 1 January 2023. They are located outside of ION Orchard, 2 Orchard Turn, S 238801. For information on ION Orchard's holiday highlights, see here.
Sun, 6 Nov (AM) Check out M.A.C x Museum of Ice Cream's collaboration
Popular makeup brand M.A.C has teamed up with the Museum of Ice Cream Singapore to launch a limited-edition initiative that spotlights the brand's Holiday Collections.
Indulge in an exclusive M.A.C-inspired and-flavoured ice cream alongside five other unique and unlimited ice cream treats. Plus, you will also receive a goodie bag with M.A.C Hero samples and a gift voucher to purchase your favourite M.A.C products in-store.
The details: M.A.C x Museum of Ice Cream is open from 10AM to 5:30PM and will be available till Sun, 6 November 2022. The Museum of Ice Cream is located at 100 Loewen Rd, S 248837. Tickets are priced from SGD36 per pax. Snag your slot here.
Sun, 6 Nov (PM): Enjoy BBQ bites at Sentosa GrillFest
Here's your last chance to check out Sentosa GrillFest, which will come to a close this 13 November. Taking place during the weekend (Friday to Sunday), the beachside barbecue festival will present a wide array of grilled meats and desserts for you to feast on. Plus, you'll get to enjoy views of the beach as you chill out to outdoor performances.
The details: Sentosa GrillFest is located at Siloso Beach, Sentosa. Admission is free. Learn more here.
Fri, 28 Oct (PM): Check out Gamebox at Paya Lebar Quarter
Fan of arcade games? Lendlease and INVADE have joined hands to present Gamebox , a neon and gamified playspace that spotlights arcade favourites, multiplayer games and live music by local artistes.
In order to redeem your complimentary bass pass to play up to five different games, you'll need to spend a minimum of SGD80 (or SGD60 if you're a Lendlease Plus Member) at Paya Lebar Quarter. Otherwise, you can also redeem free play at any gaming arena with no minimum spending required.
The details: Gamebox is open from 12PM to 10PM on Fridays and Saturdays, and 12PM to 9PM on all other days from now till 6 November 2022. Located at 10 Paya Lebar Road, PLQ Plaza, Paya Lebar Quarter, S 409057.
Sat, 29 Oct (AM): Shop at the Makers' Market's Clarke Quay pop-up
Makers' Market, a marketplace that offers locally curated crafts and design goods from the region, will be hosting a weekend pop-up at Clarke Quay Central. Get started on your Christmas shopping by perusing the selection of home scents, crystals, jewellery and other trinkets available at the marketplace.
The details: The Makers' Market pop-up will be held from 28 to 30 October, between 11AM and 9PM. Located at Clarke Quay Central Atrium Space, 6 Eu Tong Sen St, S 059817.
Sat, 29 Oct (PM): Attend the Halloween Candlelight Concert at Haw Par Villa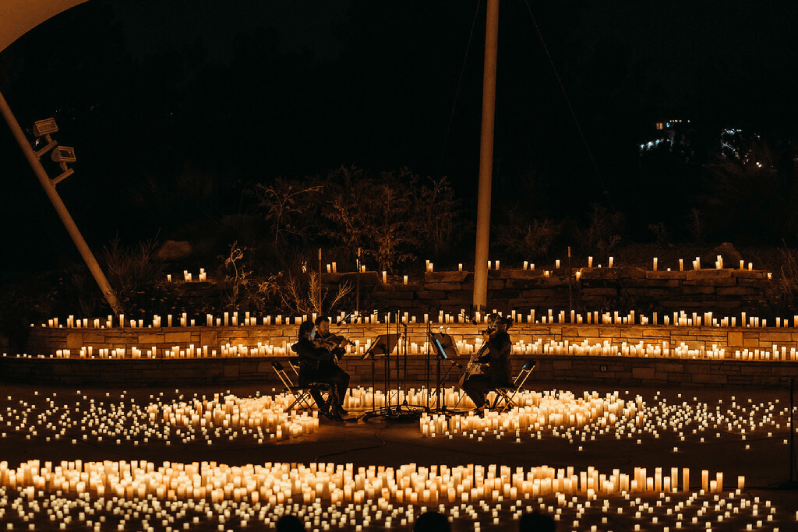 Up for more spooktacular fun, the folks behind Candlelight Concerts will be staging a chilling outdoor Candlelight special at Haw Par Villa for one night only. Treat your ears to scores from Stranger Things, The Addams Family, Thriller by Michael Jackson and more during this exciting event.
The details: 'Candlelight Halloween: A Chilling Evening' will take place at Haw Par Villa on 29 October at 9PM. The duration of the performance is 60 minutes and tickets are priced at SGD45 per pax. Haw Par Vailla is located at 262 Pasir Panjang Rd, S 118628. Book your tickets here.
Sun, 30 Oct (AM): Visit 'Deep Boo Sea' at S.E.A Aquarium
Universal Studios Singapore's Halloween Horror Nights need no introduction, but if you're looking for something that's much more family-friendly (and less spooky), head over to S.E.A Aquarium to check out the 'Deep Boo Sea Scare-Arium'. The attraction is filled with fun activities for adults and kids to learn more about marine animals, such as a Trick or Treat Trail, Spooky Meet & Greets and Deep Boo Dives.
The details: Tickets are priced from SGD41 for children aged between four and 12. 'Deep Boo Sea' will be available on selected days from 10AM to 5PM till 8 November 2022. Book your tickets here.
Sun, 30 Oct (PM): Lounge at Las Palmas rooftop bar
Are you and your BFFs due for a proper catch-up over fancy drinks and nosh? Consider booking a spot at Las Palmas, an all-new rooftop, F&B concept located on the 33rd floor of Courtyard By Marriott Singapore Novena.
The bar features elements influenced by the vibrant Palm Springs and Los Angeles — think pretty-pink sunloungers, stunning sunset views and designer light fixtures that set the mood. Of course, it offers delicious, photo-worthy bites and quirkily named cocktails to boot too.
The details: Las Palmas officially opens on 29 October 2022. It is located at Courtyard By Marriott Singapore Novena, 99 Irrawaddy Road, S 329568 and opens daily from 5PM to 1AM. Learn more here.
Next, check out our review of the TikTok-famous La Roche-Posay Cicaplast Baume B5.




Comments, questions or feedback? Email us at [email protected].