This article was first published on 5 April 2022.
Looking to revamp your wardrobe for the inevitable back-to-office sitch? Consider picking up some elevated basic clothing pieces that you can wear for any occasion. From casual days lounging at home to casual Fridays in the office, these staple clothing brands in Singapore will breathe new life into your ensembles.
What are basic clothing staples?
When we talk about the "basics", we mean neutral-coloured pieces of clothing that can be worn for any occasion at any time of the year. This can be your white button-down shirt or a little black dress. However, there are also elevated basics that have more modern cuts, fabrics, and silhouettes. These tend to be a mix of classic casualwear and athleisure, so they create a more relaxed yet still stylish appearance.
If you want to start updating your wardrobe ASAP, check out the best elevated basics clothing brands you can find in Singapore.
1. Joah Brown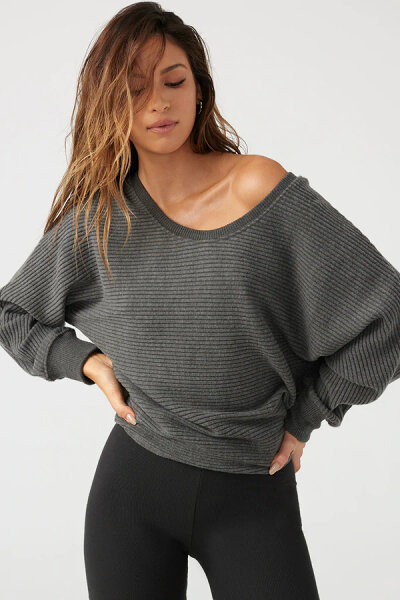 Los Angeles-based streetwear brand Joah Brown makes ethically made basics that prioritise comfort and timelessness above all. The pieces are designed by the brand's founder, self-taught designer Joah Brown.
Our pick: The Slouchy Dolman Long Sleeve, is an off-the-shoulder pullover that straddles the fine line between comfy and fashionable. It comes in two colours and sizes small to large. It's priced at USD194/~SGD263.
Shop the staple clothing brand on its website, where it ships directly to Singapore through DHL and FedEx.
2. Alo Yoga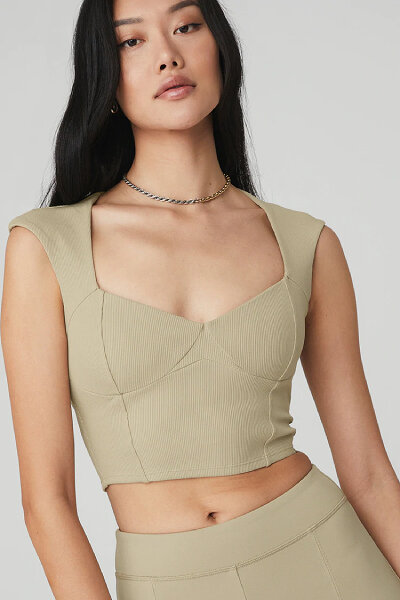 If you prefer more athleisure looks for your days off, Alo Yoga is a good place to look for new closet pieces. This elevated basics clothing brand primarily makes yoga workout pieces that can also double as everyday 'fits. Pair their yoga leggings with an oversized polo shirt or wear a yoga top under a lightweight jacket and voila — an instant outfit.
Our pick: The Ribbed Sweetheart Short Sleeve top is made from ribbed performance fabric and comes with built-in cups to provide your gals and torso with light support. It's available in three colours, sizes XS to XL, and is priced at SGD100.
Shop the brand on its website.
3. Beyond the Vines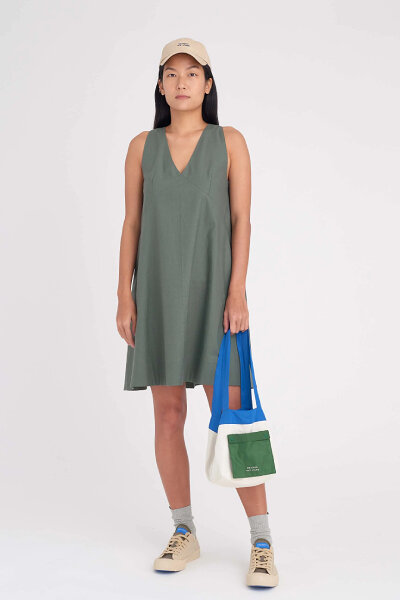 For those who prefer more relaxed silhouettes, Beyond the Vines will be your new go-to staple brand. It's co-founded by a husband-wife team and specialises in simple contemporary designs that can find their homes in any closet. Aside from accessories, men's, women's, and kids' apparel, they also have lifestyle items like homeware and phone cases.
Our pick: The Pleat Detail V Neck Dress with its A-line design and flattering V-shaped neckline can be dressed up or down with the right accessories. It's available in four colours and is priced at SGD119.
Shop more pieces on the brand's website.
4. Love & Bravery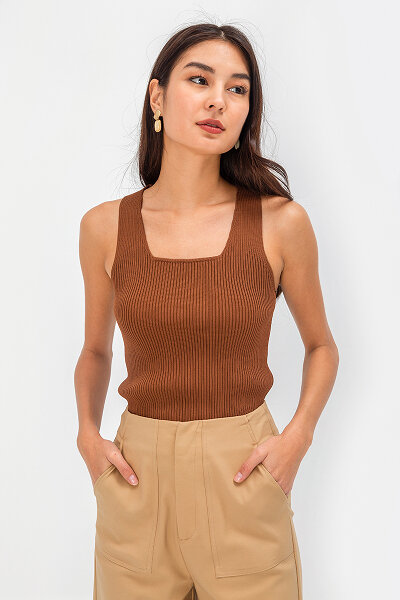 Singapore-based elevated basics clothing brand Love & Bravery was founded in 2005 and creates pieces that focus on providing quality, cut and wearability at affordable prices. They have a wide range of everyday pieces and statement clothing that you can wear to gatherings and to the office.
Our pick: The Karlita Squareneck Knit Top. Its square neckline flatters a lot of body shapes and the stretchy fabric makes it so comfortable to wear. Priced at SGD28, you can choose from three colours and sizes small to large.
Shop Karlita on its website.
5. Love, Bonito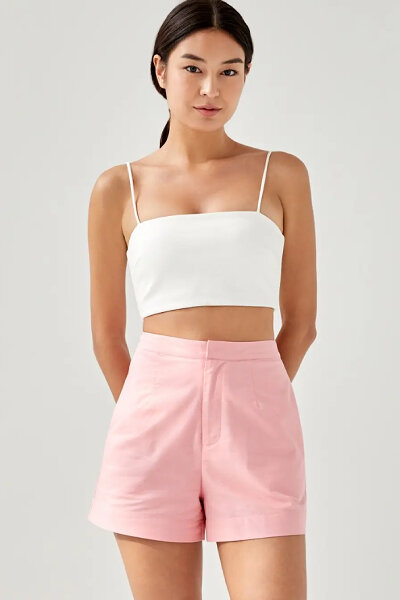 Love, Bonito is a well-loved Singaporean clothing brand that offers a wide variety of elevated basics. They even have a dedicated line called The Staples where you can shop for clothes for work and casual occasions.
Our pick: If versatility is the name of the game, then the Jaelia Cropped Camisole Top is a clear winner. The thin-strapped crop top can be worn underneath a blazer and with some high-waisted trousers for office hours. If you pair it with jeans and comfy kicks, it automatically turns into a more relaxed OOTD. Priced at SGD26.90, it comes in four colours with sizes ranging from XXS to XXL.
You can find more Love, Bonito pieces on the brand's website.
6. Uniqlo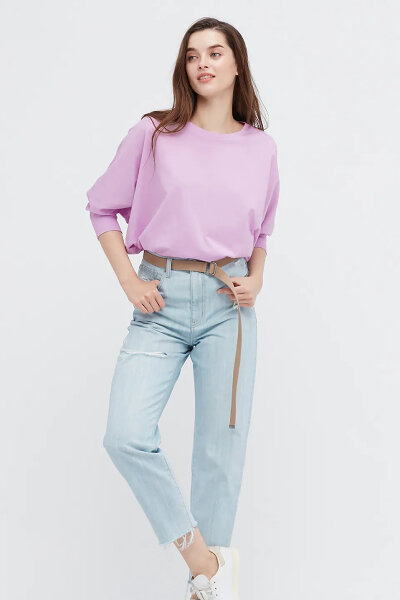 We can't talk about elevated basics clothing brands without touching on Uniqlo. The Japanese clothing brand uses cutting-edge fabric tech in its pieces, allowing them to tailor it to different environments such as heat and cold weather. Their pieces are also minimalist and timeless, sure to never go out of style.
Our pick: If you're looking for a new basic top for work, the Smooth Cotton Dolman 3/4 Sleeve T-Shirt is a good pick. Its cute lavender colour is all the colour you'll need, while its relaxed boxy cut and voluminous sleeves put a spin on usual officewear. It comes in sizes XS to 3XL and is affordably priced at SGD19.90.
Shop more Uniqlo pieces here.
7. BASIS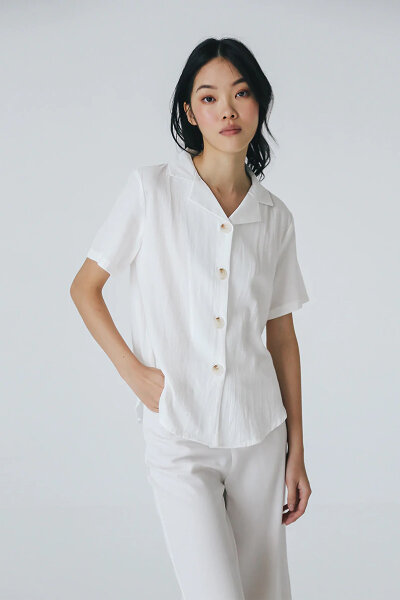 Established in 2019, BASIS Clothing is a slow fashion brand that designs their clothes to be effortless and understated. This Singaporean brand uses lightweight and breathable fabrics in all of their pieces, making it suitable for our humid weather.
Our pick: The Cotton Resort Shirt. It's designed with a boxy fit, curved hem, classic notched collar and quality matte shell buttons that make you feel uber relaxed while still looking cool. Priced at SGD45, it comes in four colours and sizes small to extra large.
Shop BASIS on their website.
8. Kydra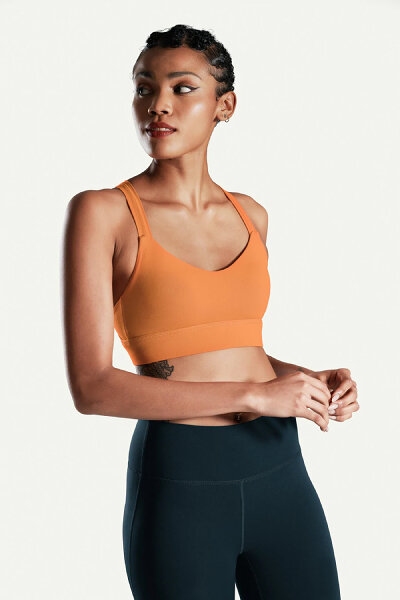 For women who love their workouts and staying comfy, Kydra's range of versatile workout pieces can be worn both inside and out of the gym. The elevated basics brand's technical apparel are made to be sweat-wicking (perfect for humid weather) and comes in fun hues to switch up your outfits.
Our pick: The Nova Midline Bra can take you from workout to chill out in a pinch. It's designed for medium to high-impact exercises, so it gives a lot of support while still being comfortable to wear. Priced at SGDSGD62, it comes in four colours and sizes.
You can shop Kydra's collections here.
9. Bare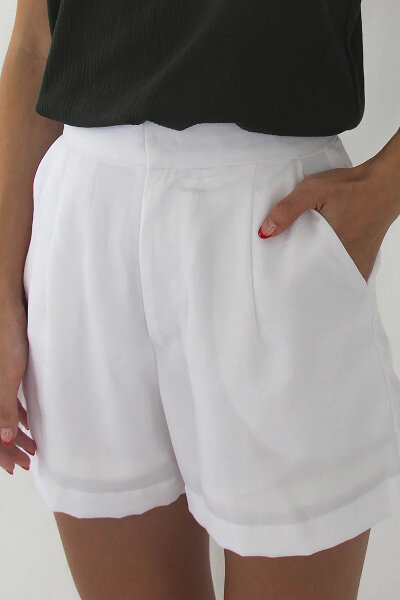 Singaporean label Bare is designed with sustainability in mind. Since they care about the planet, they create timeless pieces that stand through the test of time and trends.
Our pick: The Fuji Short is a must-have in every wardrobe. It's inspired by the timeless appeal of Mount Fuji and has a classic boy-short silhouette. Plus, it's made with 100% TENCEL Lyocell which is biodegradable and compostable. It's priced at SGD79 and comes in sizes XS to L.
Shop Bare on the brand's website.
10. Theory
New York-grown retailer Theory is known for its tailored silhouettes and its luxurious, yet eco-conscious, fabrics. If you like cotton, wool, and linen pieces, then Theory will be your new go-to brand. Plus, it's the brand's goal for its signature fabrics to reach 100% traceability by 2025.
Our pick: Everyone needs at least one blazer in their arsenal, so let yours be Shrunken Blazer in Seersucker. It takes the classic blazer style and "shrinks" it for a more fashionable look. Wear it with a pair of high-waisted trousers and you've found your updated smart casual 'fit. It's priced at SGD655 and comes in sizes 00 to 6.
Shop Theory on its website.
(Cover photos from: barelabel.co and sg.theory.com)
Pair your new basics with some statement sunnies, like those found in the Jentle Garden pop-up collection.
Comments, questions or feedback? Email us at [email protected].