Not everyone wants to splurge thousands on brand-name clothes to seem cool. Fashion isn't about brands, it's about style! You can be a fashionista even on a small budget and stand out from the cookie-cutter image. The most iconic and unique looks are what eventually will become trendy because no one likes ordinary or boring. It's time to create your own clothing trend and DIY clothing using your own inventive ideas. For more information, click here.


Ways you can dress like a fashionista affordably
With the rise of online fashion retailers and fast-fashion brands, it can be tricky to stay up-to-date on trends. It can also be difficult to stick to a budget and not break the bank. Luckily, there are lots of great DIY clothing options that you can create yourself that require no sewing or design skills! Here are some affordable clothing trends that you can easily recreate at home:


Denim jackets are forever popular






Denim jackets have been trending for years now, but they can often be expensive when purchased in stores. This staple piece is simple to DIY at home. Simply grab an old denim button-up shirt from your closet and turn it into a trendy jacket with minimal effort. This is a great way to keep your wardrobe updated without having to invest in an expensive new piece.


Edgy off-the-shoulder outfits
Off-the-shoulder tops are another hot trend right now. They are often pricey when purchased in stores because they are unique. To get a few off-shoulder tops in your wardrobe, there are a lot of fun DIY options you can apply to old clothes. Try creating a cute off-the-shoulder crop top out of an old tank or trimming the top of a maxi dress to put your own unique spin on this style.
Lace tops for a classic look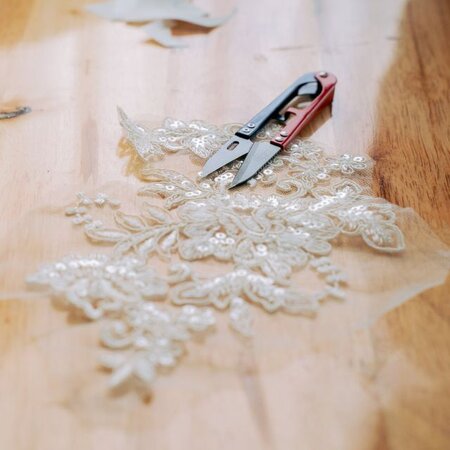 Lace-up tops and dresses are in demand, but buying these pieces can be costly. Luckily, this style is very easy to recreate at home with a little bit of fabric glue or tape. Before you begin, ensure that your DIY approach won't damage delicate fabrics such as silks or satins. Go to an arts and crafts store and purchase a roll of lace. You can trip it to fit the top of a shirt, the hem of a skirt, on sleeves, and on the ridges of pockets. Superglue them to your clothing items. Try pairing lace fringes with neutral-coloured tops for a fun twist on a classic style!
Lace leggings
Lace leggings were a huge trend last year, but they can be quite expensive to purchase. Luckily, it's pretty easy to make your own lace-style leggings at home. Simply cut some lace or mesh fabric into the shape of your desired legging style and sew it onto a pair of plain black tights. You can also add embellishments like rhinestones if you want. This is a fun way to get in on this trendy look without having to spend much money at all!
Print-on-demand customisation
If you're interested in creating custom clothing for any occasion, check out the many print-on-demand services and design services available online. From trendy t-shirts to personalized team uniforms, there are countless options available to suit all of your needs. Print-on-demand services allow you to:
Have great tools and templates. Print-on-demand services make it easy to create custom clothing for any occasion. You can choose from a wide range of templates and design tools to create your own unique designs, and the service will guide you through the rest of the process.
Customise fabric style. You can select the type and colour of fabric, size, and style of fabric. If you prefer 100% cotton, cotton and polyester blend, or cotton with rayon and polyester, you can choose from these options. For colder seasons, you can pick fleece-insulated fabrics.
Have creative design options. Add any finishing touches to your design, such as text or graphics. You can create your own designs and even add patterns to your clothing items. Order a sample of your finished product to ensure its quality.
Have an incredibly affordable option. Print-on-demand services make it easy and affordable to create custom clothing for any occasion. You can use them for your next special event.
DIY clothes just became easier
It's not expensive to get custom-designed clothes when you craft them yourself. Instead of getting them custom tailored, use print-on-demand services and have your new clothes sent right to your door.
Comments, questions or feedback? Email us at [email protected].