Worried about allergies or poor air quality in your home? You may want to consider buying an air purifier like the German-made Cosmo Pro® Air Purifier. It promises to clean up your indoor environment from any particles, dust and other allergens. It also claims to be the most advanced air purifier in Singapore. Our Creative Director and co-founder Kersie Koh, who is also a hands-on mum of three put it to the test to see if this home tech gadget is a must-have in every home.
*The product was sent as a press gift. The views and opinions of the reviewer are independent and purely editorial.
Cosmo Pro® Air Purifier claims and first impressions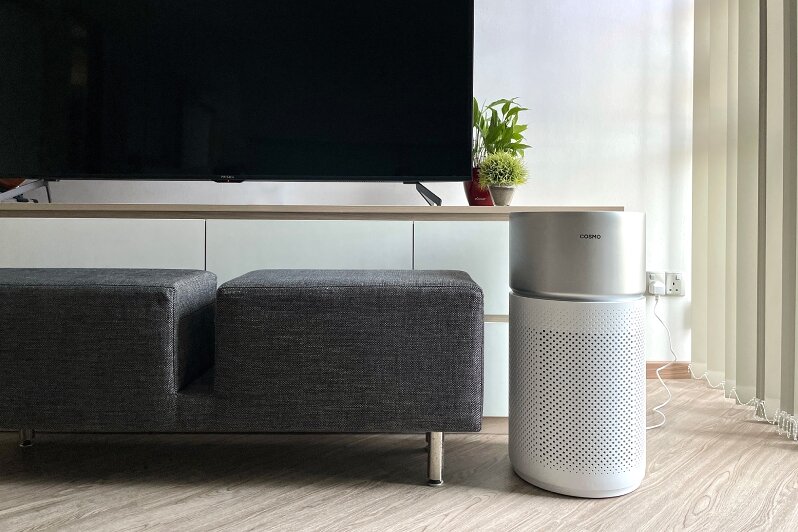 The Cosmo Pro® Air Purifier promises to clean your air with its medical-grade H13+ HEPA filter, which can capture almost all of the airborne particles its encounters. This sweet feature supposedly makes it do five different functions at once — filter dust and other allergens, neutralise odours, absorb formaldehyde, prevent bacterial growth, kill harmful substances with light energy in its chamber, and track and filter large particles floating in the air.
"I want my boys' room to have better overall air quality, especially while they're sleeping, and because they started waking up in the morning sneezing," Kersie shared.
Kersie was also intrigued by the air purifier's layer of an activated carbon filter that promises to neutralise odours. "I'm excited to see how this works out given that my boys are growing up, entering into puberty and starting to no longer smell like babies," she added. The activated charcoal filter can also help fur parents in reducing the foul odours left by their pets.
Cosmo Pro® Air Purifier size and design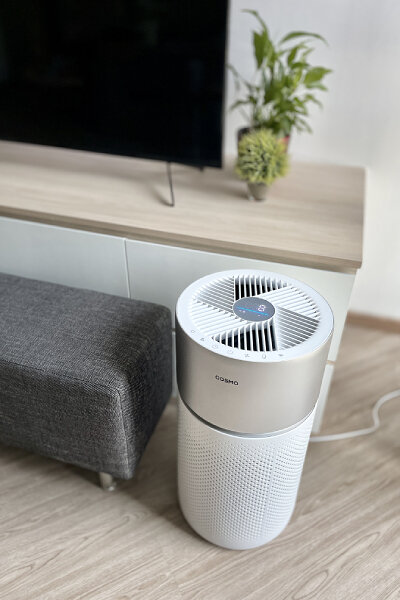 Since it's made to cover an area of 100 square meters, its size — 58 x29 centimetres — has to be enough to catch all the particles in the space. "The purifier is quite big, but when I looked at the filter inside I understood why it needs to be a certain size to be able to do its work properly in a sizable room," Kersie shared. It makes up for its size with its sleek cylindrical design. "The design is quite nice and fits well with the design of our rooms."
Its aerodynamic design also ensures that it can clean every corner of the room, even if it has poor ventilation.
Setting up the Cosmo Pro® Air Purifier
It's easy to set up the air purifier, according to Kersie, since all she needed to do was press the power button on its responsive LED screen display and the air purifier did the rest. "When you first turn it on, the purifier will test the room environment for about 30 seconds with its AI-powered Particle Count Sensor. Once done, the purifier automatically settles into the correct mode based on the room's air quality," Kersie explained. You can also track your room's air quality through your phone. If you connect it to your WiFi, the air purifier also considers the air quality right outside your home for a more comprehensive analysis.
You can lock your setting preferences with a child lock function if you have little kids; this prevents their playful fingers from changing your air purifier setting.
Cosmo Pro® Air Purifier features
The Cosmo Pro® Air Purifier boasts a three-fan speed control that allows you to adjust its noise level. Its sleep mode features a noise level of 20 decibels, virtually unnoticeable and perfect for light sleepers.
"I'm very pleased that the sound level after the initial 30 seconds of testing will settle into an almost inaudible hum as promised," Kersie shared. "It's great too that it has the night mode that keeps things running without the need for any light indicators to stay on. It's perfect for my needs in providing my two boys' room with better air quality especially while they're sleeping."
The Cosmo Pro Air Purifier also doesn't require a lot of maintenance. "I'm glad that we only need to change the 5-in-1 HEPA filter every one to one and half years and that the first filter comes free with the air purifier," Kersie said. Plus, each air purifier comes with a five-year warranty.
"I'm excited that the boys are loving their new cool device in the room. They would actually remember to turn it on come bed-time which comforts them and hence comforts me as well."
Cosmo Pro® price and where to find it in Singapore
The Cosmo Pro® Air Purifier retails for SGD699 but currently has a promotional price of SGD499 — a good deal in Kersie's book. You can purchase it on the Air Purifiers Singapore website.
Next, create your own home theatre with this mini projector.
Comments, questions or feedback? Email us at [email protected].