Awfully Chocolate had its flag firmly planted in the confectionery battlefield since opening its maiden shop in Katong in 1998, leading the charge with "the cake that started it all" — its signature All Chocolate Cake. The F&B group now boasts various retail and café concepts across the island and abroad too.
Sitting at the cross-junction of East Coast and Joo Chiat Road is the chain's flagship store Awfully Chocolate Bakery & Cafe, which was rebranded from Ninethirty by Awfully Chocolate. We were invited to check out the ongoing Amazing Value SGD25 Dinner Sets promotion at this contemporary casual bistro.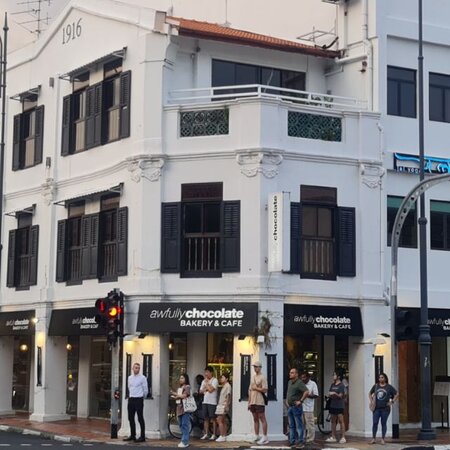 Awfully Chocolate Bakery & Café
Space and simplicity define this corner shophouse cafe. It's set with large glass windows that let in natural light and decked with timber-strip flooring, wooden tables, muted green chairs, and plenty of hanging pot plants to create a smart, laid-back ambience.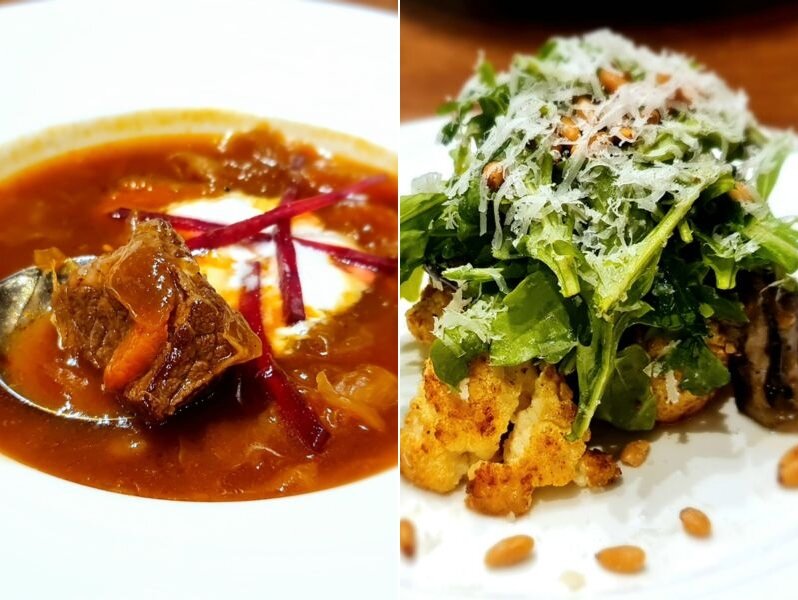 The concise set dinner menu has enough options to make you ponder your choice of a starter and a main course. On the starters, we're not sure why the
Borscht Soup
has a "Singapore" prefix, but it turned out to be a comforting bowl of tender stewed beef, beetroot, and cabbage soup, zested up with a dollop of sour cream. While we enjoyed the nuttiness of the prettily assembled
Grilled Cauliflower Salad,
the vegetable would have tasted sweeter with a couple more minutes on the grill to caramelise it.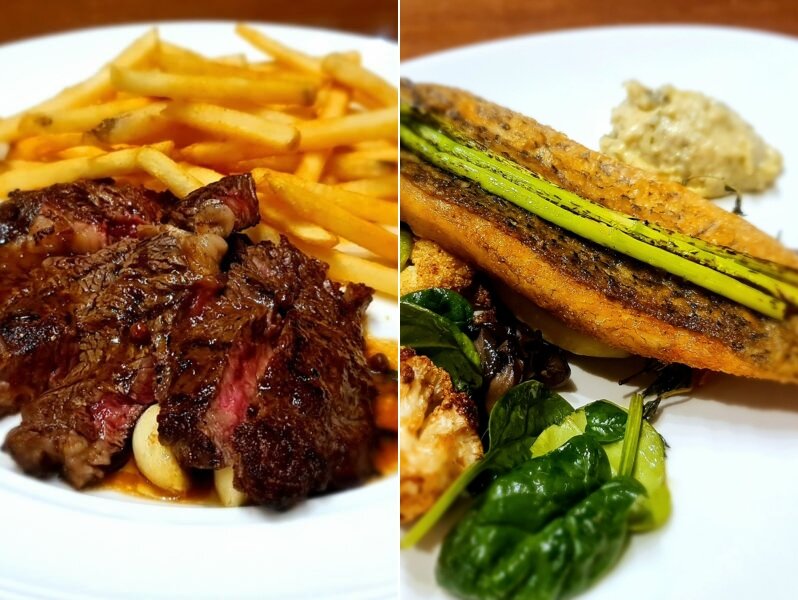 For the main course, I had my eyes set on the
Miso Aged Cod Spaghettini
(SGD3 supplement), but it was not available. Fortunately, the substitute
Grilled Seabass
didn't disappoint. The skin of the fillet was seared crisp while keeping the flesh moist and served with spinach, strands of asparagus, and caper aioli sauce on the side.
My companion's Ribeye Steak was decently sized, cooked to her requested doneness, and served with a generous portion of crisp thin-cut fries. The steak was juicy and flavourful, but a tad less seasoning would have better suited our light palates so that we could do justice to the accompanying piquant mushroom peppercorn sauce. If you order the steak, I recommend pairing it with the Famiglia Grillo Merlot (SGD9 supplement). Its nuanced, spicy flavour goes well with the medium-rare steak.


We can't leave without tasting the cake that started it all, and it's as good as Awfully Chocolate claims. Made with its own chocolate without any cream, the slice of moist, chocolate fudge sponge cake has a dark roast flavour and a balanced sweetness and is indeed delightful. All in all, the dinner set offers very good value considering the quality of the dishes, the prime location of the cafe in the heart of trendy Katong, and today's inflationary times.
Awfully Chocolate Bakery & Café is located at 131 E Coast Rd, Singapore 428816.

Comments, questions or feedback? Email us at [email protected].