Hear us out: proposals often catch the lucky lady by surprise. If it were up to us, it would be nice to have manicured nails when the moment happens. We might get swept off our feet during the moment and forget about how our nails look (nothing wrong with that) but it might also delay the time we'd share the news with loved ones until we can get our nails done. But that's not the case for some women. Here are three ladies who came prepared — engagement nails and all — for that happy moment they said "yes" to happily ever after.
Bring on the bling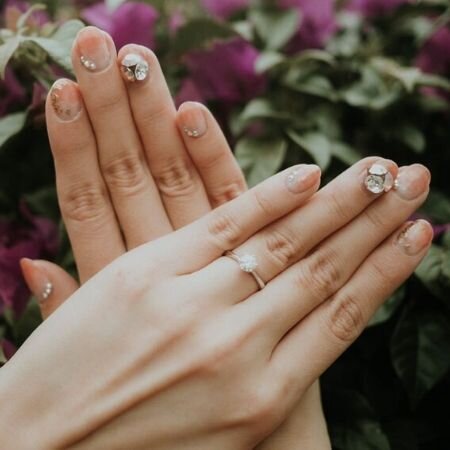 A word of warning if you're expecting a proposal: it's best to keep the bling on the smaller side. Clozette Ambassador Jacelyn Phang can attest to this! Jacelyn was given a heads up by her mum about the upcoming special moment so she went to her go-to nail lady for these customised jewelled nails with blush pink polish. Suffice to say, there's a lot of bling happening here but we're sure nothing beats the sparkle of happiness in Jacelyn's eyes.
Foils and glitter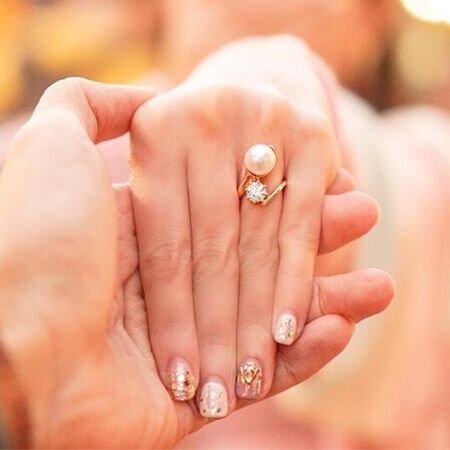 Another take on bedazzled engagement nails is this one from Star Clozetter Shermaine Inez. A girly-girl at heart, she's always sporting a chic and trendy manicure. Her obsession with beautiful nails came in handy when her now-fiancé Xian proposed to her in the Yangmingshan National Park in Taiwan, a destination particularly special to them. She had the lovely Jean Yip Salon create these sparkly nails especially for her birthday trip to Taiwan. Little did she know that these nails would perfectly complement her new engagement ring!
Festive red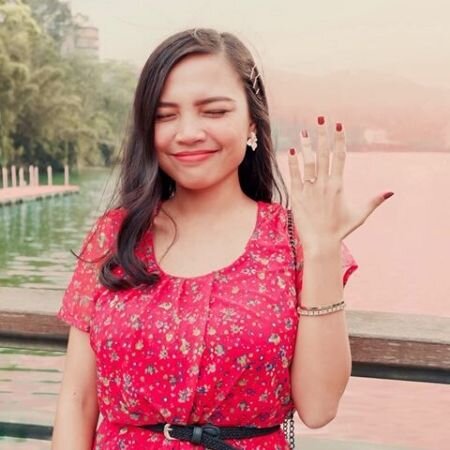 Taiwan seems to be a go-to spot for proposals. This time, Star Clozetter Bella Angeles happened to have some basic red nail polish on when her boyfriend Jeff proposed during their Taiwan trip. Totally unplanned, Bella was caught off-guard when Jeff got down on one knee in front of her during their stop at the picturesque Sun Moon Lake. We think the lively colour on her nails captures the happiness and romance of that moment, as seen on Bella's face.
(Cover photo: shermaineinez)
Now that the proposal is done, here are some real-life wedding nails that may inspire the new bride-to-be.
Comments, questions or feedback? Email us at [email protected].