This article was first published on 1 November 2022.
Have a special occasion happening soon? You can be a bride-to-be looking for professional hands to bring out your glow for the special day or a career woman attending an important formal work event. Either way, you may want to book a professional makeup service to help you serve your best face. There are a lot of trained professional makeup artists and salons in Singapore you can turn to. Here are just 12 of them!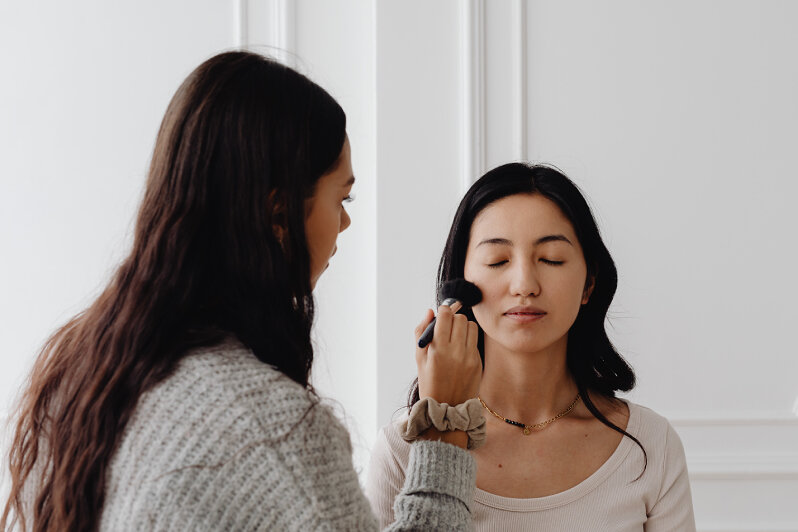 1. Alena Chua Artisan Makeup
Alena is a professional makeup artist who specialises in bridal makeup and has over six years of experience under her belt. She also holds certifications in Korean, Japanese, Taiwanese, and Russian beauty styles. She also offers hairstyling services.
Book here.
2. Joyce Yeo Makeup
Joyce focuses on enhancing the natural features of her clients and is trained in soft Korean and Japanese bridal looks. Aside from makeup, she's also been trained by top bridal Japanese hair designers in Tokyo to create vintage and modern hairdos.
Book here.
3. Autelier Makeup
Founded and managed by acclaimed makeup artist Cherry Au, this makeup services salon is one of the leading bridal makeup companies in Singapore. Aside from bridal makeup services, it also offers services for personal and corporate portraits.
Book here.
4. Jennis Wong Makeup
Jennis specialises in makeup services throughout the wedding run — from the pre-nuptial shoot to makeup for the bride and entourage on the day of the ceremony. She also provides personal makeup courses.
Book here.
5. Victoria Han Makeup Studio
This makeup studio in Singapore is run by professional makeup artist Victoria Han. She's certified in makeup and hairstyling artistry in Korea, Japan and Hong Kong styles. Her work has graced numerous weddings, fashion shows, beauty pageants, and dinner events.
Inquire here.
6. Roseanne Tang
Roseanne is a professional makeup artist and educator who, in addition to her makeup services, has conducted workshops and classes for companies like Sephora, Benefit Cosmetics, Urban Decay, Clinique and Laneige.
Inquire here.
7. Alycia Tan Makeup
Alycia has over 15 years of professional makeup experience. She's particularly good at customising beauty looks according to the theme or image of your overall look since she's also a fashion design graduate. Alycia can also style hairdos ranging from simple to elaborate.
Book here.
8. Clara Song Makeup
Clara's works encompass bridal makeup and hairstyling, commercial makeup looks, and even editorial makeup. If you're an expectant mum, she can be your artist for your maternity shoots too!
Inquire here.
9. Cocoon Makeup & Hair Service
Cocoon's team of professional makeup artists expertly brings out every client's natural beauty. They make it a priority to stay updated on the latest beauty trends too. P.S. They also offer makeup packages if you want to switch up your look for your wedding reception.
Inquire here.
10. Angel Chua Makeup
Brides, grooms, entourages, and non-bridal clients will love Angel's signature, natural, glowy makeup looks. She can also do lash extensions and filler lash lifts if you want to have lush eyelashes for your event.
Inquire via WhatsApp at +6596569231.
11. Powderpuffed
Powderpuffed is the sister brand of a bridal studio in Singapore. Its team of makeup artists specialises in bridal hair and makeup services and aims to bring out your gem-like sparkle.
Inquire here.
12. Beauty Without Filter
Beauty Without Filter's team of makeup artists will customise your makeup based on your character and features. They can do hairstyling too! The best part is they've worked on some of the makeup looks in Crazy Rich Asians — amazing, right?
Contact them here.
Don't forget to treat yourself to a relaxing wellness spa stay so you're well-rested and relaxed before the big day!
Comments, questions or feedback? Email us at [email protected].