This article was first published on 22 November 2021.
Dewy cushion foundations are the ultimate makeup essentials lately. Don't believe us? Google searches for product recommendations for this category have been consistently increasing over the past few months, as businesses and offices go back to face-to-face work across the world. It's no wonder beauty lovers have been thinking of refreshing their stash with these lightweight complexion products.
What to look for in a cushion foundation
It also doesn't hurt that these have skin-caring ingredients, like hyaluronic acid, that make the skin look and feel good and hopefully limits our chances of getting maskne. It's also very common to find formulas with SPF content that protect your skin from sun damage, an essential skincare ingredient especially for those living in sunnier areas like us.
Ready to give your complexion a flawless, dewy finish? Here are some of the best cushion foundations to check out.
1. Dior Forever Skin Glow Cushion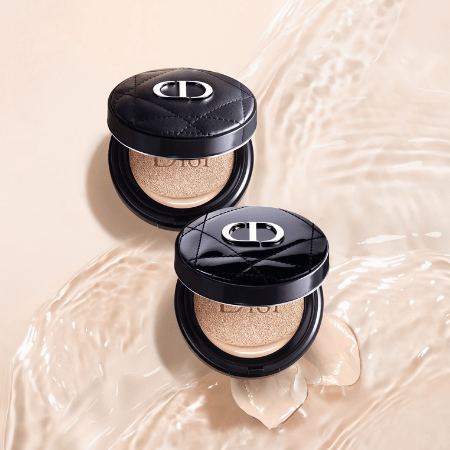 For those who don't mind a little bit of daily luxury, Dior's Forever Skin Glow Cushion takes the OG Dior Perfect Cushion formula and adds a long-wearing radiant finish. This dewy cushion foundation is the "ultra-radiant" version of the skin-perfecting crowd-fave, made with light-reflecting pigments and luminous oils that make the skin look like it's lit from within for up to 24 hours.
Why it's great: It also contains moisture-locking wild pansy extract — an iconic Dior ingredient — and SPF 50 for additional skincare benefits.
You can get your hands on its three shade variants at Dior Beauty boutiques, counters, and e-store in Singapore where it's priced at SGD108 each.
2. Happy Skin Cosmetics Serum Cushion Foundation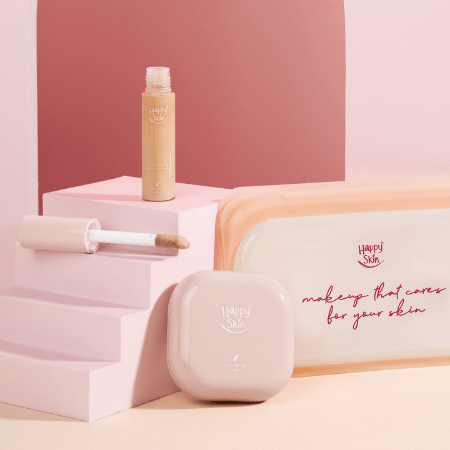 If you're searching for a glowy matte cushion foundation to help keep your skin looking dewy throughout the day, this serum-infused release may be for you. Its breathable, non-greasy formula has hydrating niacinamide and hyaluronic acid, soothing kahai oil, and antioxidant-rich squalane to keep your skin in tip-top shape.
Why it's great: It also has SPF15 and Anti-Blue Light Technology to protect from UV- and blue light ray-based damage.
You can now shop it online in Singapore via BEAUBIT where it's priced at SGD39.99.

3. Ange Gardien Paris Naturale Glow 2-in-1 Cushion Foundation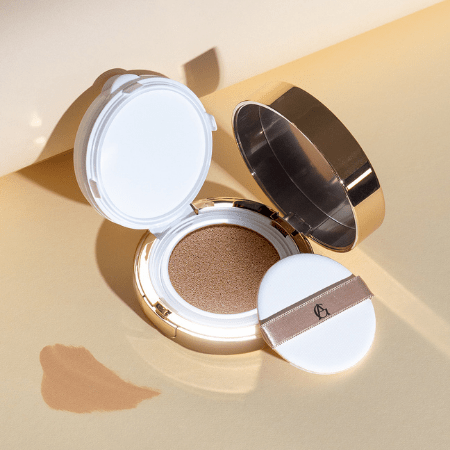 French beauty brand Ange Gardien Paris' sole cushion foundation has a skin-tight (read: no caking or pilling) coverage formula enriched with sustainably sourced ingredients like hydrating acacia peptide, brightening niacinamide, and anti-ageing adenosine that make for the ideal complexion tone-up for Asian beauty lovers.
Why it's great: Its pressed powder is made with potato starch-based powders to help control excess sebum and blur out pores without diminishing your skin's natural glow.
Now updated with five shades ranging from fair to medium deep, the cushion foundations are available online in Singapore on the Ange Gardien Paris website and Tangs.com as well as the brand's TANGS VivoCity counter. It's priced at SGD80.
4. NARS Pure Radiant Protection Aqua Glow Cushion Foundation SPF 50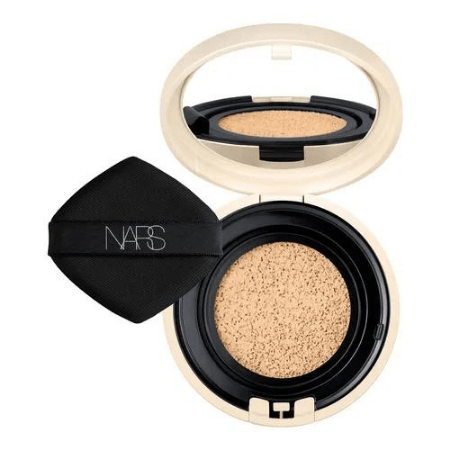 Living in such humid places, we need formulas that can last throughout the day. The NARS Pure Radiant Protection Aqua Glow Cushion Foundation has a buildable, radiant finish and SPF 50 that makes it oh-so-appealing to most makeup lovers.
Why it's great: Its 360° Defense Complex that promises to reduce the appearance of fatigued skin and protect against environmental aggressors make it a top pick for the urban dweller's makeup kit.
Already convinced of its perks? Head over to the Sephora Singapore website where it's priced at SGD56.
5. Gucci Beauty Cushion De Beauté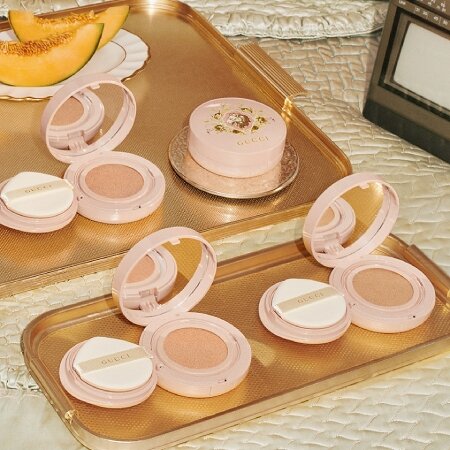 If you have the means to splurge, the Gucci Beauty Cushion De Beauté is another dewy cushion foundation you can consider. It is formulated with high reflection index oils and mineral powders that reflect light as it bounces on your skin, hydrating glycol and glycerin, as well as antioxidant black rose oil to condition and protect your skin throughout the day.
Why it's great: It also has mineral SPF 22 filters to provide protection against UV and blue light damage.
Available in six shades, you can shop this dewy finish base at
Sephora.sg
and Gucci Beauty counters at Takashimaya, Tangs, BHG and Metro. It's priced at SGD115.
6. LANEIGE NEO Cushion Glow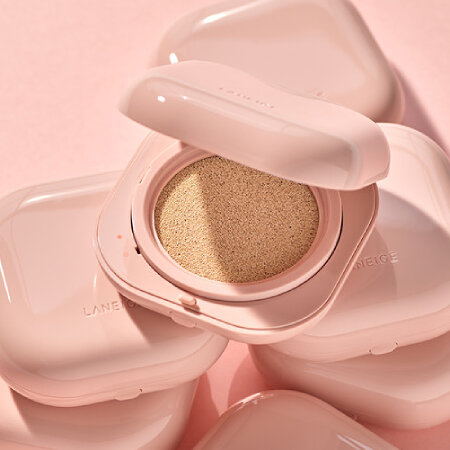 If you're a fan of the LANEIGE BB cushions, consider picking up the LANEIGE NEO Cushion Glow. The brand claims that it contains 5.7 times higher moisturising ingredients than the LANEIGE BB Cushion Whitening, which helps keep your skin hydrated for up to 24 hours. The glowy finish is due to the Liquid Diamond™ and silver glitters in its formula.
Why it's great: It also contains niacinamide, which helps brighten up dull complexions.
If you want to amp up your glow with this, you can shop it in six shades on the LANEIGE Singapore online store. It's priced at SGD66.
7. THEFACESHOP Dr. Belmeur Advanced Cica Cushion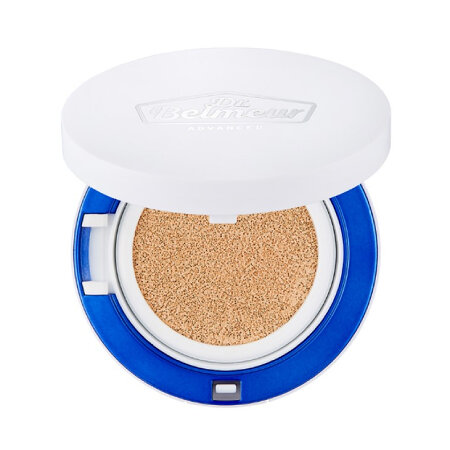 For beauty lovers who want to cover up any redness and achieve a glowy base at the same time, the THEFACESHOP Dr. Belmeur Advanced Cica Cushion might be the one you're looking for. It is formulated with a 5 Cica Complex to soothe irritated skin and provide some anti-ageing action too.
Why it's great: This skin-brightening cushion foundation also contains SPF 35 PA+++, a must-have in our sunny weather.
You can get it online in Singapore through THEFACESHOP Singapore e-store for SGD40.

8. Aprilskin Magic Snow Cushion 3.0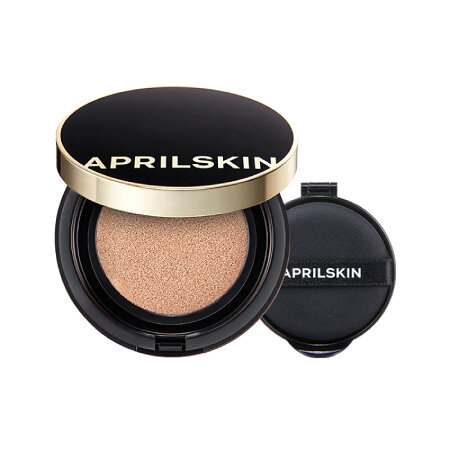 Are hydrating ingredients a must-have in your products? You can find it in the Aprilskin Perfect Magic Cover Fit Cushion foundation. It's like a serum and foundation in one product since its formula contains a 45% moisture base that allows for smooth application and keeps your skin hydrated throughout the day.
Why it's great: It also boasts a high-coverage formula that can easily cover up blemishes like acne, redness, and enlarged pores.
You can find it in Singapore through the brand's official website where it's priced at SGD70.
9. Burberry Ultimate Glow Cushion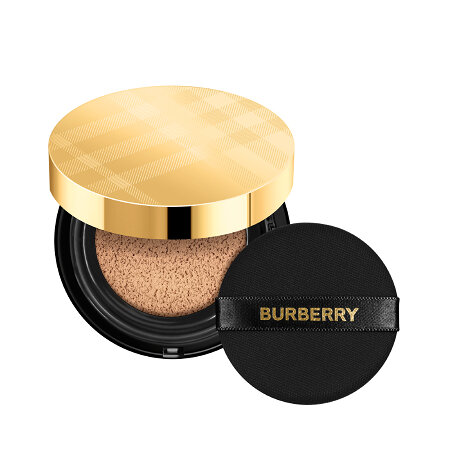 TheBurberry Ultimate Glow Cushion is a lightweight serum foundation that promises to plump, smooth, and protect your skin. It is formulated with hyaluronic acid and viola extracts to retexturise your complexion, while white tea extracts shield your skin from environmental damage.
Why it's great: Its dewy finish comes from light-reflecting pearls that give your skin a lit-from-within glow.
Need to have it in your hands ASAP? You can find it on Sephora.sg where it's priced at SGD100.
10. MAC Cosmetics Lightful C³ Quick Finish Cushion Compact Foundation SPF 50/PA++++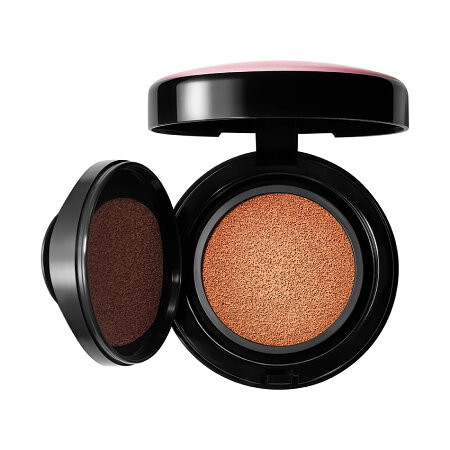 If you're looking for a cushion that claims to be water-resistant, this one from MAC Cosmetics is worth your attention. It's infused with the brand's signature Lightful C³ Complex ingredients and a unique blend of Pink Pearls that hydrate your skin and give it a subtle glow. Did we mention it has SPF too?
Why it's great: It promises to be sweat- and humidity-resistant and suitable for all skin types.
You can find it at Sephora where it's priced at SGD70.
You can't go wrong with these dewy finish bases. So tell us, which one will find its way into your cosmetics bag?
Feel like you need to refresh your look for better months ahead? Here are our top style, beauty, and lifestyle picks that can help.
Comments, questions or feedback? Email us at [email protected].