This article was first published on 3 June 2022.
Looking for a K-drama to add to your watchlist? We recommendWoori The Virgin a.k.a. Korea's adaptation of the hit American series Jane The Virgin starring Gina Rodriguez.
Remakes are nothing new to television and film. In fact, some remakes turn out better than the originals (though pop-culture purists may say that's up for debate), leaving us excited and hopeful every time an iteration of a beloved work comes to light.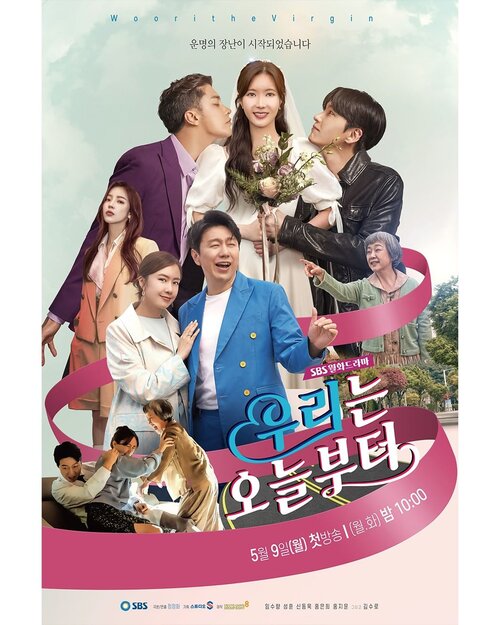 The series airs every Monday and Tuesday, 11PM KST, on SBS. Meanwhile, international K-drama fans can stream new episodes through Viu within 24 hours after the South Korean broadcast.
Woori The Virgin plot
Woori The Virgin
, as expected, follows the main premise of the original series. The titular Woori (Im Soo-Hyang) took a vow of abstinence back when she was 15 years old as a pledge to her grandmother. Now 30, Woori is constantly questioned and made fun of her friends and peers about her choice to remain celibate prior to marriage. Thankfully, her boyfriend — the kind and handsome detective Lee Kang-Jae (Shin Dong-Wook) — shares Woori's values.
Things seem to be going well until one day, Woori takes a trip to the gynecologist and accidentally gets artificially inseminated. Woori gets pregnant and the father? Her ex-crush and now CEO of Diamond Cosmetics, Raphael (Sung Hoon). As if things couldn't even get more complicated, Raphael is still married to the conniving Lee Ma-Ri (Hong Ji-Yoon) who Raphael aims to divorce.
Woori's difference from Jane The Virgin
To the core, the two versions are very similar. In fact, given the similarities between Asian and Hispanic cultures when it comes to family relations, a lot of Woori and Jane's reasons for making certain decisions influenced by their upbringing remain untouched. Society's opinions over women and women's bodies are also quite universal (more on this later), so themes related to this matter are also present in both versions.
As for the tone of the drama, the Korean remake did well in preserving the humour of the American telenovela while still making it, well, Korea-fied. Some of the scenes do get cringey and suspension of belief is definitely needed to enjoy this drama (the premise would lead to a lawsuit in real life, after all) but it's nothing too off-putting since it is expected from dramatic comedy.
One major difference, however, would be the exclusion of some subplots involving supporting characters featured in the American version. It's totally understandable since the K-drama is only slated for 14 episodes while Jane The Virgin wrapped up with five seasons with over 100 episodes.
Still hesitating to add this series to your watchlist? We gave the Woori The Virgin a review and give you three reasons why you should catch up on the series ASAP.
Woori The Virgin review
1. The series gives a relatable and realistic look at society's unwarranted opinions on women's identity and sexuality
In the pilot episode, everyone who knew Woori had an opinion on her celibacy pledge, especially fellow women. When she got accidentally pregnant, the same people gave their two cents on the matter without hesitation, regardless of what Woori would feel. Many of them never even considered Woori's opinions on the matter and they kept on dictating her about what she would do.
It's also worth mentioning that Woori took her vow of abstinence because of her own generational trauma. She thinks that motherhood at 16 years old ruined her mother's life and she didn't want to follow the same path. Her resolve caused her to put unnecessary pressure on herself to live up to a standard that she thinks is more righteous.


The drama hits so many realities women have been facing for centuries. Society always has a say when it comes to women's sexuality, appearance, and overall identity, which consciously or unconsciously influences women to have their own prejudiced perceptions of one's self and one another.
It's interesting to see Woori, a woman in her 30s, only starting to be her own person as she navigates through her sudden motherhood through this series. It's like everything she, and the people around her, believed about what makes a 'good woman' is put into question in a good way.


2. Toxic males are a no-no in this series
It's definitely a far cry from reality, but the two male leads in this series are well-rounded characters without an inch of toxic masculinity.
Kang-Jae is definitely shaping up to be another candidate for second-lead syndrome, with his charismatic and kind personality. He still has his own struggles and insecurities which makes the character more grounded, but not once have we seen him project any of his own issues on his relationship with Woori.


Raphael, on the other hand, is different from the usual chaebol (heir to a conglomerate) we see in K-dramas. He's not cold and doesn't think too highly of himself, but is rather decent and respectful of Woori and other people around him. He is sensitive but is firm when he needs to be.
The drama proves that it is possible to create a story with male characters who are warm-hearted and decent without putting them too high up a pedestal.


3. The main cast's chemistry is amazing
Im Soo-Hyang as the title character is simply a joy to watch. In between her meek role in
My ID Is Gangnam Beauty
or her fierce portrayal in
Cutthroat Family
, the actress proved once again that she's versatile and nothing short of compelling when taking command of a scene.
Next, Shin Dong-Wook as Kang-Jae is endearing and swoon-worthy. This makes us want to see more and more of his character as each episode passes, hoping that he gets his own happily ever after should this adaptation take a page out of the original material's ending.
Lastly, Sung Hoon as Raphael is definitely an interesting choice. While there's definitely room to improve when it comes to his portrayal of scenes where Raphael is angry or dismayed, Sung Hoon's take on the good-natured CEO definitely has the depth needed to back up the character's complicated history.
Combined, these three actors create great energy onscreen that really brings the narrative to life. Im Soo-Hyang's dynamic with both Dong-Wook and Sung Hoon is also a delight to watch, leaving you feeling torn (in a good kind of way) knowing that one of the male leads is bound to get heartbroken by the end of the series.
Stream Woori The Virgin here.
(Cover photo from: @sbsdrama.official)
Comments, questions or feedback? Email us at [email protected].