Looking for a new thrilling fantasy anime to watch on Disney+? You have to tune in to Tengoku Daimakyou (English title: Heavenly Delusion) which started streaming on the platform on 1 April.
The story mainly revolves around three characters — Tokio, Maru, and Kiruko — who all try to uncover the truths about the world they think they live in. It is based on a manga series of the same name, created by author Masakazu Ishiguro.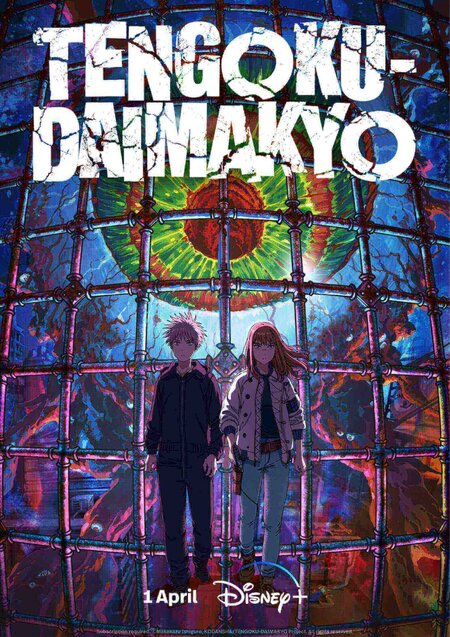 Tengoku Daimakyou (Heavenly Delusion) plot
Fifteen years have passed since a disaster destroyed modern civilisation. A group of children are currently being raised in an enclosed facility, locked away from the outside world. The facility looks like a paradise and no one questions why things are the way they are.
Things changed when a girl named Tokio received a message from an unknown sender, saying, "Do you want to go outside?" A fellow student from the facility, Mimihime, suggested that someone from the outside might be trying to save Tokio.
Meanwhile, a boy named Maru, who shares the same face as Tokio, is trying to navigate the ruins of Tokyo. He travels with a girl called Kiruko and both of them are searching for 'heaven'. However, they must avoid Hiruko, a strange creature that hunts down the remainder of the human race.


Reasons to watch Tengoku Daimakyou (Heavenly Delusion)
1. The plot will keep you intrigued, leaving you wanting for more every episode
This anime starts strong by immediately immersing the audience in the seemingly utopic setting of the facility where Tokio and the rest of the children currently reside. Everything looks serene and perfect but creates an obvious juxtaposition with the irregular number of children in the classrooms or the peculiar way classes are conducted, creating an eerie atmosphere right off the bat.
As soon as Tokio receives the cryptic message about the outside world, the story starts to go at full speed, making the audience wonder more about the narrative. Things get even more interesting when Maru and Kiruko are introduced, shifting the entire perspective of the story.
If you love animes that put you on the edge of your seat thinking about what might happen next, Tengoku Daimakyou will exceed your expectations. Each twist in the story will leave you craving — yes, craving! — for the next episode to fill in another piece to the ongoing mystery.
2. The animation style has a gritty yet cinematic feel to it
/
TVアニメ「#天国大魔境」
📋#アニメ制作探訪記 特別回‼️
\@ProductionIG が手掛ける
制作資料や制作の裏側をお届け📢

今回はメインPVで登場したシーンの線撮映像を2点ご紹介!

【原画担当】
キルコのシーン:榎本柊斗さん
マルのシーン:富坂真帆さん pic.twitter.com/bfaETl2g1T

— TVアニメ『天国大魔境』公式 @毎週土曜日22時〜絶賛放送中! (@tdm_anime) March 11, 2023
If you're someone who is into aesthetics that feel very gritty and laidback, you'll definitely enjoy
Tengoku Daimakyou
.
Compared to other dystopian-themed animes that have a very polished feel to them when it comes to details, this show has a somewhat old-school vibe to it with its 90s-esque anime art style and unmissable lower frame rate per scene. However, it's still nothing short of cinematic with its beautiful scene directions and amazing character designs.


3. The soundtrack is a banger
A great anime soundtrack can definitely make a show memorable and iconic to the point that it's hard to separate it from the anime itself. Think
Attack On Titan
's
Guren No Yumiya
or
Demon Slayer: Kimetsu No Yaiba
's
Gurenge
.
Tengoku Daimakyou
's soundtrack nailed this to a T. The show's opening theme
innocent arrogance
is performed by alternative metal rock band BiSH and the closing theme
Daremo Karemo Dokomo Nanimo Shiranai
is by the emerging musical act ASOBI. Both tracks are absolute bangers, perfectly matching the exciting and heart-racing tone of the series.
This also serves as a treat to BiSH fans who will get to enjoy the group's amazing musicality before the six-piece idol unit officially disbands on June 2023.


Where to watch Tengoku Daimakyou (Heavenly Delusion) in Singapore
You can catch weekly episodes of
Tengoku Daimakyou
(
Heavenly Delusion
) on Disney+
here
.
(Cover photo from: Disney+)
Comments, questions or feedback? Email us at [email protected].