There's a theory that fashion trends today will become popular again in 20 years. We're inclined to believe that it's true. The latest evidence to support this is the resurgence of '00s fashion trends. We're talking tube tops, spaghetti tops, shoulder baguette bags, mini pleated skirts, statement tank tops, backless blouses, polo shirts, bling-bling, bright strappy sandals — basically the costume design in Mean Girls (2004).
While '00s fashion was initially derided for its less than savvy moments, some styles eventually made its way back into our hearts and wardrobes. These "salvaged" noughties looks are mixed with the 2020s polished aesthetic and the result is a modern take on Y2K style. Anything that is old can be new again, indeed. If you kept some of your fashion items from your younger years, then good for you because you can reuse them. But if you've already given them away, they don't fit you anymore or you were too young for adult clothes at the time, here are some Southeast Asian fashion brands where you can buy Y2K fashion pieces.
ZALORA Basics (Polo Shirts)
Who would have thought that those polo shirts we wore as teens and tweens would make a comeback? These casual business pieces were probably picked out for us by our parents because of their crisp clean look. It didn't hurt that Madonna wore some too. While the polo shirts of yesteryears are baggy, a little plain and make you look like you're going to a golf club, its latest incarnation is polished, fitted (mostly ribbed), and chicer. There are tons of affordable modern polo shirt selections to choose from ZALORA's Basics collection. You might like this one in a trendy baby blue shade that you can pair with denim pants or a pleated skirt.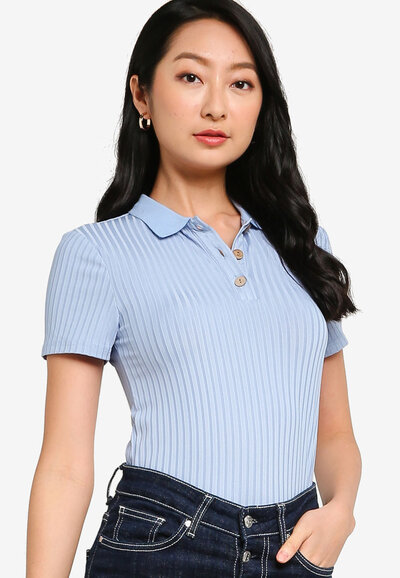 Add a 2020s twist: Instead of wearing it buttoned all the way up, leave two or three of the buttons undone to make way for necklace layering or a single statement necklace.
Áraw (Backless tops)
Backless tops were everywhere in the '00s. Most style icons at the time were spotted wearing one. It's one of the styles that Paris Hilton is particularly fond of and has helped popularise. Back then, it was usually worn with a pleated skirt or a denim skirt.
We can understand why this style is making a comeback. The backless top is simply fab, comfy and can look casual and dressy at the same time. Filipino brand Áraw offers laced backless tops in versatile colours that you can pair seamlessly with any piece.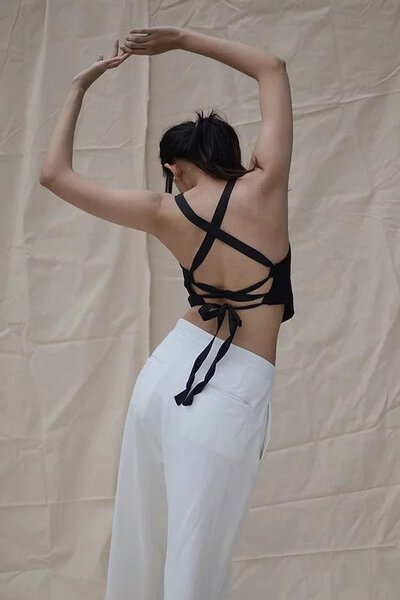 Add a 2020s twist: Pairing backless tops with pleated skirts is fun, but you can make it look more modern by wearing it with athleisure bottoms like jogger pants or leggings. Backless tops are breezy and comfy so they won't feel or look awkward when worn as loungewear.

David's Daughter (Spaghetti-strapped tops)
The spaghetti-strapped top is back in a big way and we love it. There are so many ways to style this top and you can dress it up or down depending on the occasion. It's also a great fashion choice for us tropical gals when we need to beat the heat. We spotted this spaghetti-strapped bodysuit with a fun print that can double as beachwear from Singaporean brand David's Daughter. Here's something nifty: it has a "snap-release" button at the bottom so you don't have to strip down whenever you need to go to the loo.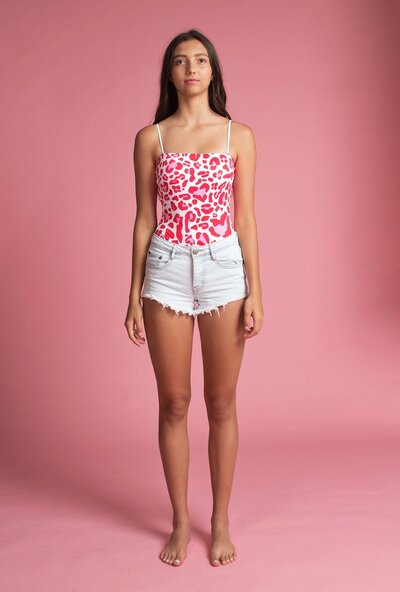 Add a 2020s twist: Instead of going for a full-on matching spaghetti top and low-waisted bottom look of the '00s, look for bottoms that are trendy these days like culottes or those with side-slits to veer away from a cosplay feel.
Pomelo Fashion (Shoulder baguette bag)
Few bags are more popular in the '00s than the shoulder baguette bag. Compact, stylish and sleek, it was a favourite among ladies at the time. It was seen on the shoulders of iconic '00s TV protagonists like Carrie (Sex And The City), Lorelai (Gilmore Girls) and Lizzie (Lizzie McGuire). Maybe we're just being nostalgic but we did miss donning this practical yet fashionable bag. Good thing it's back with a cheeky twist. No longer just in plain leather, the baguette bag comes in many forms — fuzzy animal prints included. But what caught our eye is this super cute cloth one that has a touch of picnic aesthetic from Pomelo Fashion.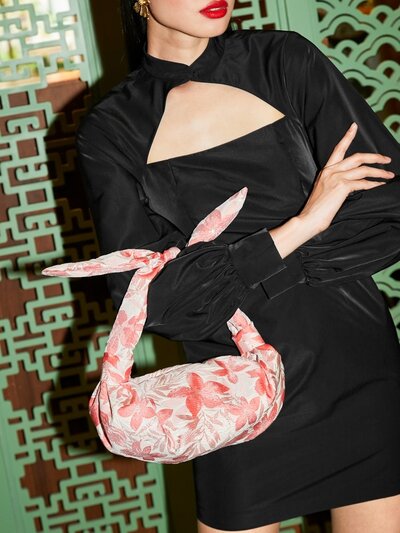 Add a 2020s twist: While baguette bags were bedazzled and adorned with keychains in the '00s, the 2020s version could carry trendy personalised patches instead since some of them are made with cloth.

Hue Manila (Bright chunky footwear)
Bright, chunky footwear with platforms were all the rage in the noughties. They most likely came with thin straps that made them look extra chic. This footwear design faded out of fashion for a time but it's slowly coming back to the spotlight thanks to the Y2K style. Some brands like Hue Manila are reviving the look. Just look at how their Ada piece fits the vibe: strappy sandals with platforms that come in bright yellow, blue, purple, and pink colours.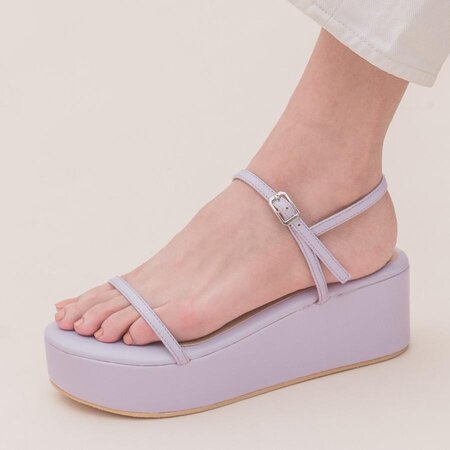 Add a 2020s twist: Spruce up your sandals by adding beads or a piece of fabric to some parts of your footwear to give it a 2020s espadrilles-like twist. Secure your embellishment of choice with a glue gun or sew it on if you can.
Will you hop on the Y2K trend with these picks?
(Cover photo from: Lensabl via Unsplash)
Next, find out what millennials think about the nostalgia trend.

Comments, questions or feedback? Email us at [email protected].