Whether you're a no-nonsense #girlboss, a stylish trendsetter, a busy mother, or all of the above, there's nary a doubt that keeping focused and organised helps you to stay on top of your game. With this in mind, we asked #TeamClozette members (and multifaceted mamas) — Co-Founder Kersie, Editor Becks and Deputy Editor Jorj — to reveal the ultimate daily staples that they'd store in their Clozette On-The-Go Pouch. From makeup must-haves to essentials for daily errand runs, read on to learn more.
For midday touch-ups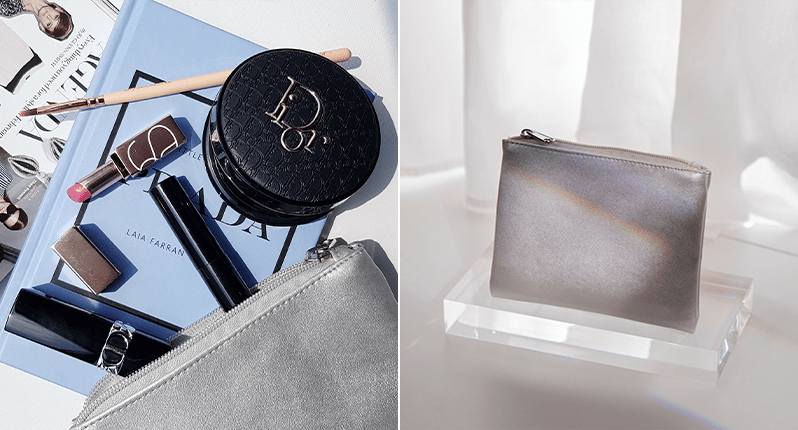 "Whenever I'm able to indulge in a little retail therapy or dine out at a restaurant with my loved ones after a busy day in the office, I would carry this silver pouch in my handbag as it's the ideal size to store my makeup touch-up essentials," shared Kersie.
Measuring 12.5CM by 16CM, this petite arm candy is made of faux silver leather material and comes with a zip-top closure, silver hardware, and a lined interior for durability. "The design of the Clozette On-The-Go Pouch Collection was based on our personal needs. Taking into account the size of our everyday essentials such as a tissue holder and keys, we wanted to ensure that the pouches were still small enough to be carried around in our bags as well," added Kersie.
For the glam mother of three and Clozette's "OG" Content Creator, here are her makeup must-haves: a cushion compact foundation, a vibrant-hued lipstick ("for post-meal group photos with my friends"), mascara, a hydrating lip balm ("crucial even with our face masks on") and a lip liner brush ("to perfect my pout.")

For quick errand runs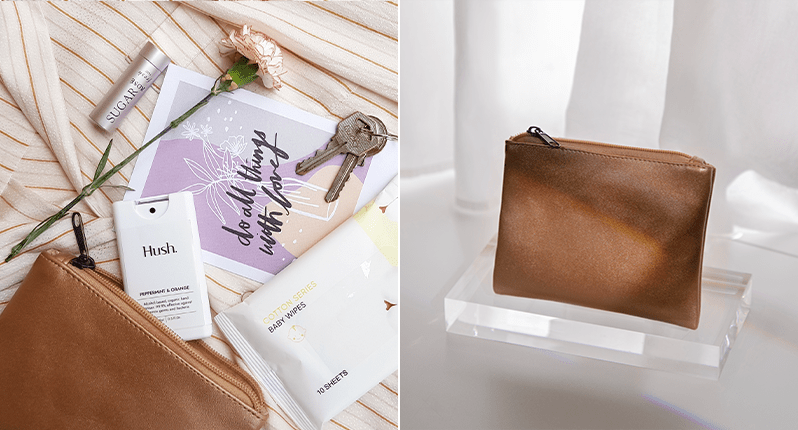 "I'm used to bringing a big bag when I go out (mums know — you can never be too prepared for anything) but my stuff admittedly gets a bit all over the place sometimes. This sleek bronze pouch comes in handy — and stylishly at that! — for keeping all my essentials in one place. I can leave the other contents of my bag (and my big bag entirely) and be armed and ready to just use this when I need to quickly do an errand run," revealed Jorj.
Similar to Kersie's silver pouch pick, the Clozette On-The-Go Pouch in Bronze measures 12.5CM by 16CM as well and is made of faux 56K bronze leather. It also comes with a fuss-free zip-top closure, classic gold-tone hardware and a lined interior too. Before stepping out of the door, Jorj never leaves without these items: a mini hand sanitiser, her card case, keys and a packet of wet wipes.
For chic necessities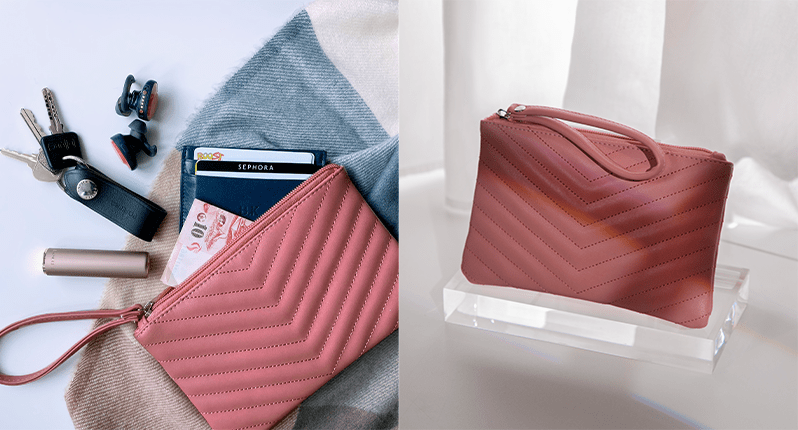 "I don't use a wallet, so a wristlet pouch like this is essentially what I use every single day. Therefore it needs to be spacious enough for my necessities — cash, card, colour (I recently discovered the Lancome L'Absolu Rouge in 888 Kind of Sexy), keys and my wireless headphones (daydreaming in music is one of my favourite pastimes)," shared Becks.
A tad roomier than the two classic pouches featured above, the Clozette On-The-Go Chevron Quilted Blush Pouch measures 12.5CM by 20CM and comes with a wrist strap for hands-free moments. Slightly padded with a chevron quilt pattern, this pouch is able to store your smartphone as well and is designed with the same thoughtful features as the rest of the collection: a zip-top closure and a lined interior for durability.
Sharing is caring. Enjoy 17 per cent savings when you gift yourself and two of your besties a Clozette On-The-Go Pouch with our special bundle deal. Click here to learn more.

Comments, questions or feedback? Email us at [email protected].