Do you call yourself a girl boss? Are you still flat-ironing your hair? Have you worn a rose gold accessory in the past seven days? Congratulations, you're probably cheugy — and it's not exactly a compliment.
So what exactly is cheugy? The term gained popularity when 24-year-old Hallie Cain posted a now-private TikTok back in March where she introduced the word "cheugy" to describe people who got married young and has a "millennial girlboss energy", according to The New York Times. But the word itself was actually coined by one Gaby Rasson way back in 2013 when cheugy things were still at the height of their popularity — so it wasn't originally used to deride all the things millennials love. Rather, it was invented as an adjective for those who are out of touch with trends. But it has now evolved to describe a range of things, from dainty tattoos to rosé wine.
If you happen to love any of the things mentioned, you're probably feeling a little provoked right now. But please don't shoot us, we're just the messengers here. However, if you're still unsure about what counts as cheugy and what doesn't, allow us to explain. Here are fashion, beauty and lifestyle examples of cheuginess.

Fashion: the cheugy uniform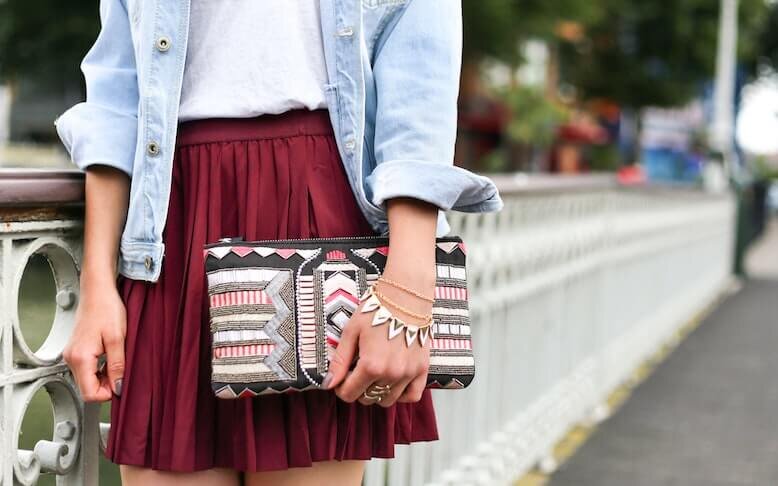 If you've lived during the early 2010s, you probably still own a piece of clothing or two that's now considered cheugy. Looks from that era in particular are branded as cheugy. First on the list are the especially hated skinny jeans which are now traded for pants with looser and baggier silhouettes.
Some prints are also "prime cheugy" and the ones considered to be big examples are chevron and floral patterns. While these enjoyed popularity in the last decade, their reign seems to be coming to an end and they've now become synonymous with passe. Even some colours are labelled as cheugy. Millennial pink, rose gold and mint green — shades that were once considered trendy have gone out of favour.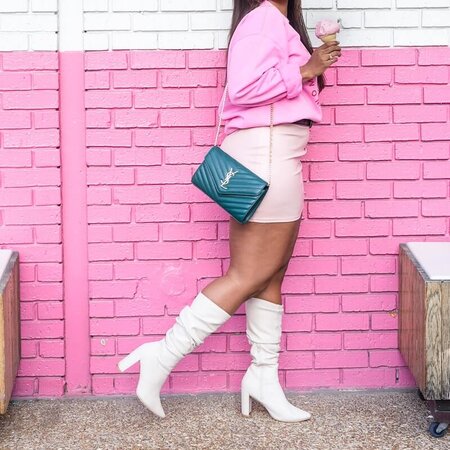 Other fashion items that made the cheugy list are big scarves, high-waisted skater skirts, thigh-high boots, cold shoulder tops, peplum skirts, peter pan collars, bubble necklaces, high-low dresses and many more items that you bought at a fast fashion outlet in 2014.
Feeling a little enraged to know that these are now behind the times? You're not alone. In fact, it has caused a generational divide among millennial and Gen Z netizens on TikTok. However, angry as you may be, this cyclical nature of fashion is normal and so is the tendency for young people to rebel against the norm.
It's been this way since time immemorial. Just look at how the mini skirts of the 1960s stand in contrast to the more conservative poodle skirts of the '50s. In a way, this change in aesthetic is mirrored now. Most of the early 2010s looks got their inspiration from the 1950s (polka dots, high-waist skirts) while trending fashion and beauty styles nowadays are taking cues from the 1960s. It's just the circle of life.
What's a little bit worrying, though, is the faster rate of irrelevance that we're seeing now. For example, the strawberry dress, hockney dress and Gucci belt which were trendy only months ago are now considered cheugy. So yes, even non-millennial fashion can be cheugy as soon as it's considered recently "outdated".
Beauty: from effortfull to effortless
We contoured everything in the 2010s, from faces to cleavages. And it was definitely a time-consuming endeavour. You have to prime and bake before you can start contouring and afterwards, there's the task of highlighting, doing eye makeup and lining lips. Doing skincare was also an event of its own with the 10-Step routine being the most popular.
By the end of the decade, we seemed to have grown tired because trends shifted and opposite beauty philosophies like skipcare and skin fasting began gaining traction. This made things like contour kits, lip kits, certain eye palettes and even cleansing wipes cheugy.
Flat-ironing your hair has also become cheugy as current trends become about embracing the natural texture of one's hair. Rocking stylishly disheveled, "lived-in" no-fuss haircuts like the wolf cut is more preferred by today's younger generation than the polished and fierce aesthetic of the 2010s. Beauty looks have always reflected the current values of its times and the shift we're seeing now could very well be a manifestation of a changing landscape that embraces natural diversity of appearances.

Lifestyle: Girl boss no more
Calling fashion items and beauty looks cheugy is one thing, but finding out that your lifestyle choices are passe can be especially annoying. Sorry to break it to you, but even your mottos and favourite phrases are now cheugy including ones you've probably uttered in 2017 like "but first, coffee" and "love and light".
One term that's particularly branded as very cheugy is "girl boss". What once was an empowering phrase is now only used by the youth ironically. And we have theories about how "girl boss" became a subject of ridicule.
First, it's only in hindsight that we can now see the problematic aspects of having a special adjective for females who are bosses, with some saying that the term suggests that a woman in charge is an anomaly. It also didn't help that those who popularised the term were accused of discriminatory practices in their own workplaces. Hustle culture itself has also become cheugy as the pandemic gave rise to a more relaxed philosophy towards work.
The next reason could be because "girl boss" is now a term often used by recruiters of multi-level marketing companies to sell the narrative that joining one will make you a successful entrepreneur. Since multi-level marketing schemes usually only allow a select few to make enormous profits, many who joined have become disillusioned which may have added to why uttering "girl boss" now leaves a bad taste in the mouth.
Thankfully, some "cheugy" lifestyle picks are actually not as controversial as "girl boss". Things like a love for Disney and Harry Potter are charming childhood mementos that frankly don't hurt anyone. You do you!
The annoyance of millennials to the rude awakening that their beloved fashion, beauty and lifestyle picks are now examples of cheugy is certainly understandable. No one wants to hear that they are out of touch or irrelevant especially when one is still in the process of adulting. But the new wave is here and you have two choices: ride the tide or march to your own beat. In the end, everything will be cheugy anyway — maybe even that word itself.
(Cover photo from: Polina Zimmerman via Pexels)
Next, find out how fashion has changed according to Gossip Girl.

Comments, questions or feedback? Email us at [email protected].