There's a lot of talk about what travel will look like after the pandemic, and a part of the discussion is how to make travel sustainable post-COVID. It's no secret that travelling puts a considerable amount of strain on our planet. Just the very act of going from one place to another will make a dent in your carbon footprint. This has never been more evident than during the early days of the pandemic. As planes were grounded and tourist spots emptied, images of once crowded hot spots becoming "less polluted" began popping up. Who knew that Venice's infamously murky canals can still become clear?
However, a complete halt of tourism isn't the most ideal thing either. While the temporary pause in travel brought us the rare opportunity to see what a world is like with less pollution, the lack of tourism has become a burden to many, especially in places that have been reliant on the spending of visitors. So what now? As travellers, we can contribute by making our future trips kinder to the planet and beneficial to the locals, and the good news is, it may be easier to do than we think. Here are no-brainer ways to become a truly sustainable traveller, as advised by Booking.com Director of Sustainability Marianne Gybels.
Choose authentic experiences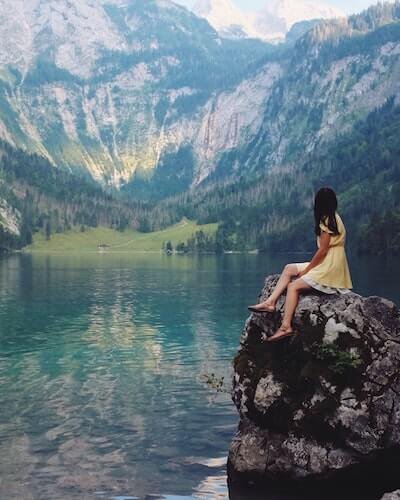 Before the pandemic, overtourism in popular places was a huge problem that not just dampened the expectations of visitors but also drove away locals due to high rent prices. This could be the reason why off-the-beaten-path experiences have become more popular since they promise a more "authentic" experience.
But wait, what makes a travel experience authentic in the first place? "It's difficult to define what makes an experience 'authentic'. What makes for an authentic experience differs from one person to the next — from eating at a local restaurant to visiting historical relics," Gybels said. Although authenticity differs from one person to another, she believes that at the heart of it is a "desire to connect personally with the people or place you are visiting". In other words, authentic experiences are more than about taking a pretty picture but more about understanding and experiencing the local culture.
The next time you plan your visit, make sure to vary your experiences from authentic ones that give back to the community to the destination's bestsellers. Gybels cited a vacation she had on a deserted island off the coast of Cambodia as one of her most authentic travel experiences. "I didn't have any phone or internet connection, and the electricity was only on for a few hours a day, but at the same time, I have never felt like I was truly experiencing a destination more deeply and authentically than in those moments," she said.
She also shared that there are many inspiring startups from Southeast Asia that help the local community. One is Backstreet Academy, a travel experience booking platform that can connect you with local artisans and trained hosts that offer hands-on classes and unique exciting adventures.
Stay at a sustainable hotel
In Booking.com's most recent study on sustainability, more than half of the respondents feel that there are simply not enough sustainable options available. Gybels explained that this notion may be because some accommodations don't communicate their sustainability efforts to guests. "For example, while three out of four accommodation partners say they have implemented sustainable steps at their property, only one-third (31%) actively communicate about their efforts proactively to potential guests, indicating that significant challenges remain to making sustainability information easy to access for travelers at earlier stages of the booking process," she said.
Thankfully, there have been steps made to make booking a sustainable accommodation easier. "We currently display over 30 certifications officially approved by the Global Sustainable Tourism Council (GTSC), Green Tourism and the EU Ecolabel, as well as multiple hotel chain sustainability programs," Gybels shared. "For travellers looking for information on each partner, all the information they need can be viewed on the 'sustainability initiatives' banner on each of their pages. This allows them to make informed, more sustainable decisions about their travel."


Shop local
Shopping locally doesn't mean buying just any kind of souvenirs from the vicinity. It's about supporting your destination's economy. "When thinking about how to support local communities, travellers can look at purchasing from small independent stores that are run by families or members of the communities rather than international brands that have a presence in the destination they are visiting," Gybels said. Some things that you can do include discovering local fashion brands, supporting craftsmen by buying artisanal goods made by local professionals, and if you have the time, maybe go on a thrifting session where you may just score local vintage finds.
Other no-brainer ways to be a more sustainable traveller
Aside from these top tips on how to be a sustainable traveller, Gybels shared other no-brainer easy ways you can save resources while travelling.
Turning off your aircon or heater when you leave the room
Although it may seem inconsequential, turning off your air conditioner when you go out saves a lot of energy. It also doesn't require a lot of effort; just pressing one button is all it takes.
Bring your own reusable water bottle
Aside from enjoying the convenience of having your own water anytime you need to drink, bringing a reusable water bottle instead of buying bottled water will help minimise plastic waste.
Reuse your towel to reduce the amount of water used for laundry
It can feel luxurious to have fresh towels ready for you every day. However, sustaining this habit requires a lot of water for laundry. Make it a point to reuse your towel as much as you can without compromising hygiene. Remember to hang the towels instead of leaving them on the floor.
Becoming a sustainable traveller sometimes feels like an impossible task but it's good to know that little actions, when done collectively, add up and do matter. With these small but impactful actions, we can make travelling a beneficial experience for all.
(Cover photo from: Artem Beliaikin via Unsplash)
Next, find out what slow travelling is like during the pandemic.
Comments, questions or feedback? Email us at [email protected].