What turns a fad into a cultural phenomenon? What's The Hype Around delves into the influences and longevity of the biggest, hyped-up trends right now.

Riding on the waves of today's taste for both the minimalist trend and a brand-conscious culture, logomania quickly became a style phenomenon in its own right. One unsuspecting superstar that emerged from the lineup of Gucci's interlocking G's, Chanel's opposite-facing interlocking C's, and Louis Vuitton's LV monogram is a simple block of red with a Futura Heavy Oblique font text splashed across it — Supreme.
Founded by former
Stüssy
manager
James Jebbia
, Supreme was born on Lafayette Street in Manhattan, New York in 1994. Its flagship store was designed in a way that
allowed skaters to skate right in with their skateboards
. Sticking to its roots as a 'skater shop' since its conception, it's quite surprising how it rose into an iconic streetwear brand with a massive and
very
loyal cult following.

How loyal, you might ask? The brand sold clay bricks — yes, actual clay bricks that would make great paperweights, perhaps? — engraved with the Supreme logo in 2016 for USD30, and it sold out in no more than six minutes. The same bricks were resold later by resellers at prices going as high as USD1,000. And yes, they sold out again. Other than single bricks, Supreme also launched other tongue-in-cheek novelties, including a cash cannon, airhorn and a calculator.

What lies beneath this Supreme craze? We talked and picked the brains of two streetwear enthusiasts, fashion designer and make-up artist, Krystal Yeo and creative director and rap artist, H!zzy.

Supreme and its rise in fashion supremacy
Fashion designer and streetwear fanatic,
Krystal Yeo
explained that from the present-day standpoint of a regular consumer, Supreme may seem like the brand with a "red white box logo" for those who are simply "following the trends and want what influencers or celebrities have". However, for those who are "true to their street style" like Krystal, who has been a skater for more than 13 years, Supreme is first and foremost a skateboard brand.
"I own a red iconic Supreme cap which is my favourite and I got it in Japan. It is a silk red plain cap with a black SUPREME logo at the back of the cap. The cap retailed at USD140, and now no longer being sold or made again. I also own a Supreme speaker and some high socks. The speaker retailed at USD89.90. It is no longer in the market," shared Krystal.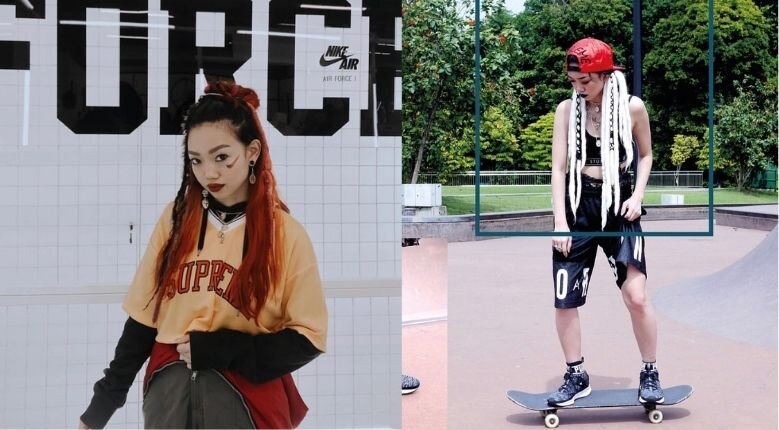 "I also own some Supreme stickers, keychains and Supreme x Nike kicks. A few plain Supreme tees and vintage Supreme shirts. I also have a phone case. I had a Supreme skateboard but I sold it as it was damaged and can't be used for skating anymore." It was sold as a decorative piece.
Supreme's OG core team included skating personalities like Justin Pierce, Gio Esteves, and Harold Hunter, as if to allude that it is a brand 'for skaters, by skaters'. The then-small skate shop, which also carried other streetwear brands like Vans, Thrasher, and Nike SB, caught the eyes of hip-hop personalities like Kanye West and A$AP Rocky, exposing it to another set of customers outside of the skateboarding community. The brand then ventured into collaborating with more prominent names in fashion like Nike, Levi's, and then eventually (and ironically, but more on this later) Louis Vuitton.
In 2017, massive amounts of people queued to get their hands on the Supreme x LV collab, leading to an even bigger interest about Supreme and why this streetwear brand could merit such attention. Soon after, A-list celebrities and media personalities like Justin Bieber, Lady Gaga, Jaden Smith and even Madonna were
seen donning its distinct red-and-white logo
.
Jebbia disputed claims that despite the growing popularity and demand for Supreme and its products, the brand would never offer a limited stock of items. He shared that Supreme's releases "will never be classified as 'limited'", but their move to run some products quickly in the market is purely for the sake of not wanting to be "stuck with stuff nobody wants".
Even so, rap artist and streetwear enthusiast
H!zzy
shared his two cents on the matter: "I think the exclusivity is the reason why Supreme became such a massive brand, which is the same with Bathing Ape. When you see celebrities and high profile people wearing or owning some rare pieces and they are all limited in quantity, it feels like only the 'cool kids' own them."
Why Supreme?
"I used to buy Supreme, Obey, and some streetwear brands because I liked it. If you ask me, I did not see the hype coming," H!zzy claimed. "I thought Obey, Stüssy or Neighborhood was going to blow up bigger as they had quite a reach back in the early 2000s. These brands used to be the unique ones that people don't know about and feel special for owning."
For Krystal, Supreme's omnipotent presence in fashion is most evident in the way that it's become
one of the most highly 'reproduced' brands
today.
"It is so hyped that you can find replicas of Supreme products from China, India, Thailand and many more countries ripping off the brand," she explained. "We're talking triple AAA replicas of Supreme phone cases, bags and shirts. You'd even find old folks wearing Supreme pyjamas because they bought it off at a market."
Given the lack of distinctiveness of its branding and the word 'supreme', Jebbia had difficulties getting the brand trademarked. Supreme was also subjected to criticism as its logo style was inspired by a
propaganda material
created by — ironically — anti-consumerist artist Barbara Kruger in 1989. Looking at the bigger picture, this seems antithetical to the idea of its exclusive nature, but this is easily overlooked given the immense popularity of the brand.

"I think because of the simplicity and iconic logo it made every apparel so easy to wear, especially for both genders," said Krystal. "Just paste a Supreme logo on a plain white tee and you're instantly wearing something branded which gives you status or style. For me, I'd wear it for style, a message or something easy for skating."

Still, both of them refuted the notion that Supreme is as exclusive or luxurious as it's pegged to be. They attributed this perception as a result of a growing demand for the brand through their clever concept of limited drops as well as the 'ridiculous' prices Supreme products often get resold for.
"The resellers are the ones that made the brand expensive. The retail prices of the items are relatively affordable," said H!zzy.
Krystal also pitched in on why she thinks the brand found success in their marketing and branding: "Supreme was smart enough to create such a simple and effective logo which can be easily placed on anything and everything. That way it made it sellable to everyone who's not only looking to buy fashion related items. It can be household items such as a trash bin, pillow covers, and even a brick."
Controversies and the aversion to the core idea of 'skater culture'
Of course, brands of this status seldom have a clean slate underneath their successes. In 2018, the brand advertised its fall collection in New York Post with its logo splashed across the newspaper's front page,
causing quite a buzz
. And why wouldn't it, considering that the USD1 paper sold like hotcakes and were auctioned off for 85 times its original price soon after.
But that's not the end of the issue. Their choice of publication also raised some eyebrows, considering the questionable affiliations of New York Post. For one, the publication, which follows the format of known British tabloids such as The Sun or The Daily Mail, has long been known to be at the brink of bankruptcy for many years. It also released many controversial front pages and vulgar headlines to the distaste of the general public. And of course, the political relationships tied to the newspaper is one of its most prominent 'issues'. So for a brand like Supreme to choose New York Post — it certainly raised a lot of scepticism.
No official statement was released despite the questions this endorsement raised. And it seemed like a good move — at least for Supreme and New York Post — as the issue only blew up for those who were particularly mindful of the brands they support. Given Supreme's reign as one of the most popular streetwear brands, almost nobody minded too much.
But it's not the first time the brand has had questionable collaborations in the past. While often championed as a non-gender-and-race-specific label given its simplistic and almost universal appeal, many artists whom the brand has worked with previously were alleged tied to very sexual, racist and misogynist affairs.
Some of which include Sean Cliver whose works often feature "satan worship to pornography"; Damien Hirst who makes use of "dead animals presented in formaldehyde" in his showcases and has been accused multiple times of plagiarism; and The Chapman Brothers who are known for very gory and explicit imagery in their works.
Their newer collaborations are a lot 'cleaner' now, the one with Louis Vuitton being the most prominent. But it is fascinating to point out that years prior to their collaboration, LV filed a cease-and-desist order against Supreme for using their monogram without permission in now-archived paraphernalia. But then again, let bygones be bygones.

With all these controversial collaborations aside, we do have one burning question: is Supreme losing touch with their original base — the skater community?
Krystal said: "I have heard of a number of controversies about Supreme. Some are agreeable and some are not. In relation to them raising their market price (some at USD120 for a plain white tee), this did not sit well with me because Supreme started off as a skateboard brand and now barely has any affiliation with the sport. Maybe the essence of it remains, sure, but to me, it's now leaning towards high fashion streetwear style."
H!zzy admitted that while he wasn't aware of the controversies surrounding the brand when they happened, his buying interest has now mellowed. He explained that just like with any other business, the more Supreme grew with its collaborations and business affiliations, the more the "creative aspect clash with the business aspect", making a shift when it comes to "who they are catering to and how it is being sold and designed, etc."
Is Supreme worth the hype?
"Why go through all that for this brand? I mean I could say the same thing for bubble tea or salted egg products," H!zzy said. "Fans are fickle. I do think that as long as the brand has the 'clout' or hype and as long as they are constantly being mentioned, the value will sky rocket. I mean come on, what other brand can put their logo on a brick and still sell?"
"Some people believe that it's not as creative the brand thinks it is. Whereas to me, I thought it was them being creatively smart," shared Krystal, on the other hand. "It's not just a simple logo but it's the value it carries to those who support streetwear. The brand plays off a lot of confidence, art and culture. I still support the brand because of the years of history it carries."
Supreme has indeed shaped itself from become a small skate shop to a cultural phenomenon in a quarter of a decade. It is glaring that it has somewhat lost touch with its roots along the way, but it can also be said of other brands that have evolved in a very similar manner. Nevertheless, the way that its every drop has become headline-worthy is astounding, enough to use as a smokescreen for some questionable aspects of its current success.
"I am not going to lie, I do buy things from brands that have questionable affiliations and ethics because what am I left with? The world is such a dark place these days and the fashion industry is not excluded from it," said H!zzy.
Supreme's smart marketing and branding strategy is undeniable and warrants our scrutiny, proving that it is indeed worth the hype it is getting. But when you're paying more for its identity than its actual product value, we think it still pays to be more mindful of its narrative.
(Cover photo from: @krysticism)
Next, find out more about the hype over Filipino beauty brand Sunnies Face here.
Comments, questions or feedback? Email us at [email protected].