The Adidas Stan Smith has become one of the most versatile and popular sneaker designs to date, though at first glance, some may find it puzzling as to why it's been such a hit — with its blindingly white coat and neatly-lined perforations cutting across diagonally on both sides, it resembles the no-frills, white canvas lace-ups that we used to wear in school. Yes, it may be perfectly simple but it's anything but basic.
Sneakerphiles would be able to spot a Stan Smith from far away due to two of its trademark features — first, its tongue (the flap that goes under your laces) which bears the face of Stan Smith, the tennis player who inspired this iconic shoe. Then, there's the coloured heel tab with the Adidas logo and the name "Stan Smith" imprinted at the back.
Worn by some of the most famous faces on the planet, such as David Beckham, Nick Jonas, Zendaya and even former Celine creative director Phoebe Philo, the Stan Smith has proven to be a trusty wardrobe staple that fits seamlessly into every person's lifestyle, regardless of their age, gender or personal style.
The iconic design has had many exciting iterations over the years through its collaborations with other brands and designers. Our favourite design of the moment, though, are these ones from Adidas' latest collaboration with sustainable luxury brand Stella McCartney. Called the
Stella Stan Smith
, it retails for
USD235.63 via
Net-A-Porter
and is the brands' second collaboration since 2018.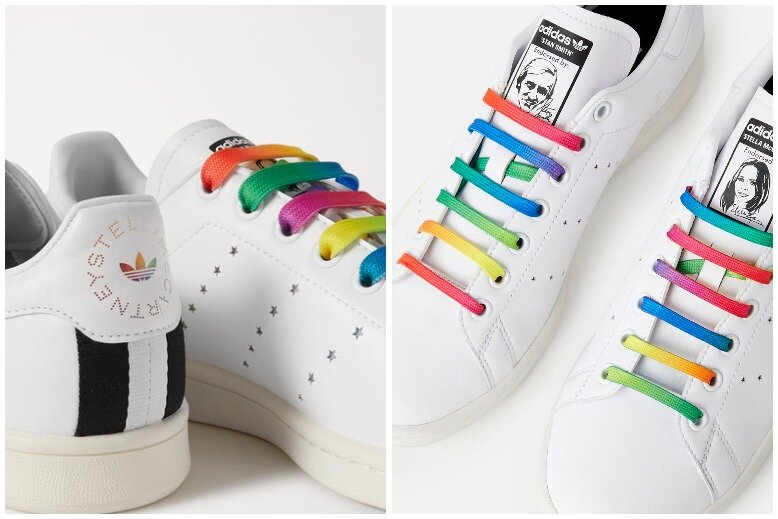 The Stella Stan Smith sneaker is 100% vegan and cruelty free. (Photos from: Net-A-Porter.com)
In this version of the sneaker, the tongues differ from the original's. Stella, the designer behind her namesake label's portrait is featured on one side while Stan's remains on the other. Star-shaped perforations in gradient, rainbow hues now line the sides, compared to the usual rounded ones which we see in the original design. These updates aside, the biggest difference which we're loving in this collaboration design is that it's 100% vegan and cruelty-free. The shoe is put together using glues which are not derived from animals and is made of recycled polyester. Now, read on as we explore four different outfits to rock this sneaker in style.
1. The carefree jumpsuit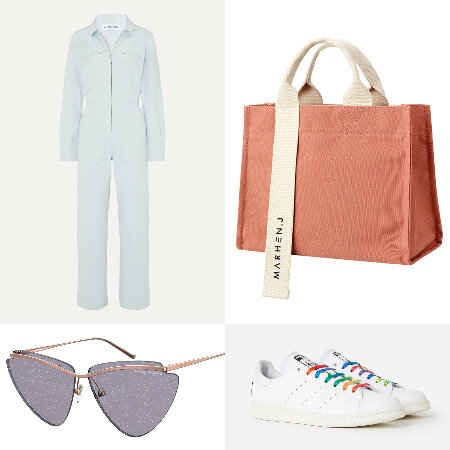 Clockwise from left: L.F.Markey cotton twill jumpsuit, USD213.28 (Photo from: net-a-porter.com); Marhen. J Rico Mini bag, SGD111/~USD79 (Photo from: siftandpick.com); Marc Jacobs sunglasses (Photo courtesy of Safilo Group)
Here's a playful spin on the workwear look, where we pair the Stella Stan Smiths with a
L.F.Markey
(via Net-A-Porter)
jumpsuit in a dreamy shade of sky blue. Made with utility pockets and an elastic waist, the jumpsuit is comfortable, functional and will easily earn you style points as well. Play off the clean, pastel theme by opting for a pair of lavender shades from
Marc Jacobs
, plus a trendy, peach-coloured purse from
Marhen. J
(via Sift & Pick)
to store all of your essentials — you're now all set for your coffee run this weekend.
2. The designer's uniform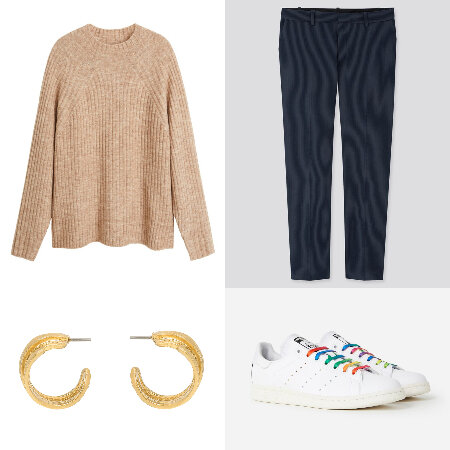 Clockwise from left: Mango Ribbed Knit Sweater, SGD59.90/~USD42 (Photo from zalora.com); UNIQLO Women Stretch Straight Pants, SGDSGD59.90/~USD42 (Photo from: uniqlo.com), Hammered Huggie Hoop Earrings (Photo courtesy of Charles & Keith)
Take style notes from designers Victoria Beckham and Phoebe Philo who have a penchant for wearing their Stan Smiths with pared-back sweaters and tailored pants. It's about striking the right balance between casual and formal. For your top, go with an earthy base-coloured sweater from
Mango
(via Zalora). As for your bottoms,
UNIQLO's
Women Stretch Pants are dressy yet comfortable enough as you take a stylish lap around town. If the length of the pants are a little too long for you, be sure to cuff them up so that all eyes are on your spanking new kicks. Finish the look with a pair of luxe-looking hoops from
Charles & Keith.
3. The colourful charmer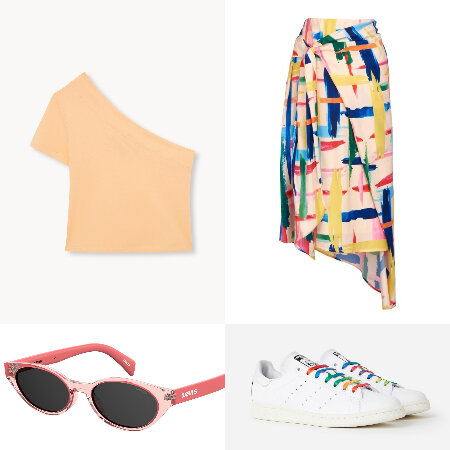 Clockwise from left: Pomelo One Shoulder Short Sleeve Tee, SGD19/~USD13 (Photo from: pomelo.com); Essential Antwerp Skirt (Courtesy of Rue Madam); Levi's Sunnies (Courtesy of Safilo Group)
We love how the rainbow laces instantly make the Stan Smiths look so much more fun — bring these sneakers out for a spin in your most colourful get-up (without looking like a clown). The wrap skirt from
Essential Antwerp
features colourful brush strokes and is giving us major beach vacation vibes — we recommend matching this with a snug, one-shoulder coral tee from
Pomelo
to show off those curves. Complete your get-up with a pair of cat-eye sunnies from
Levi's
for a modern-meets-retro look.
4. The streetwear 'suit'




Clockwise from left: Jacket from Sandro Paris x Smiley collection (Photo courtesy of Sandro); Acne Studios Fyelo Neon Printed Cotton-Jersey Hoodie, USD285.78, (Photo from: net-a-porter.com); UNIQLO x JW Anderson High Rise Slim Fit Straight Jeans, SGD59.90/~USD42 (Photo courtesy of UNIQLO)
Trust us when we say that the Stan Smiths alone are enough in earning you some serious street cred, but we're taking things up another notch with this look if you're ready to attempt this trend. It's time throw on this black jacket from
Sandro Paris
which features a smiley face and the words 'give back love' along the left sleeve. Underneath it, don an eye-catching acid green oversized hoodie from
Acne Studios
(via Net-A-Porter).
Then, slip into a pair of white, high-waisted cuffed jeans from the upcoming
UNIQLO x JW Anderson
Spring/Summer 2020 collection which arrives in stores on 27 March 2020.
Comments, questions or feedback? Email us at [email protected].