If you've been looking for a sign to dress up at home, this is it. Upgrade your #stayhome style by adopting the latest jewellery trends that will add an instant touch of bling to your Zoom call looks without making you compromise comfort. From Summer-ready tropical accessories to tough, hardware-meets-high-fashion pieces, read on to discover the five jewellery trends to try for the season.
Tropical summer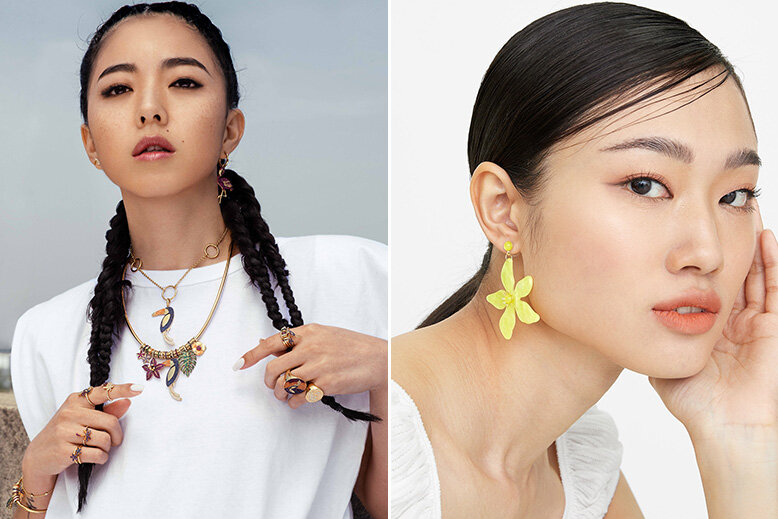 Ice-cold margaritas at the ready! Embrace the beauty of the tropics with this fun jewellery trend, which features adorable toucan charms, sparkly leaves and vibrant flowers. Draw inspiration from nature's wonders while adding your own unique twist to it.
Style it: Beat the summer heat in style with double dutch braids and get stack-happy with your accessories, as shown above by APM Monaco in its new Tropicana collection starring Chinese fashion influencer Yuyu ZhangZou. Alternatively, keep things feminine and a little flirty with your favourite off-shoulder frock and a pair of bright yellow Flower Drop Earrings from Pomelo Fashion.
Rainbow wonder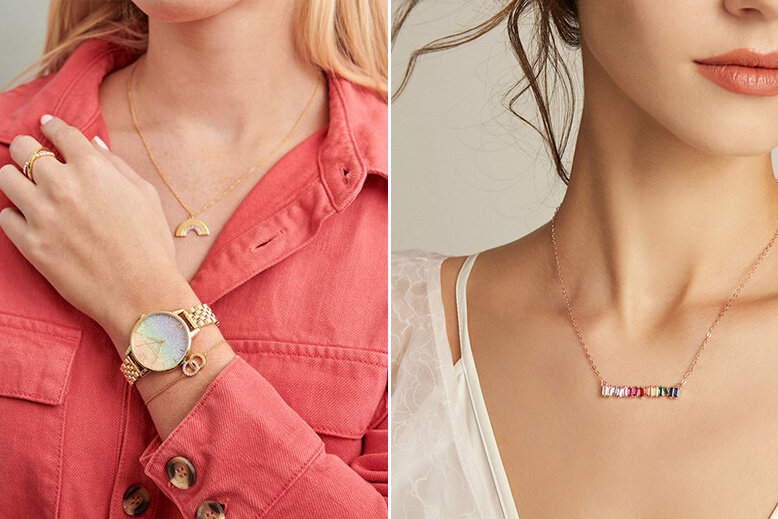 Why limit yourself to just one colour when you can enjoy every hue? After all, love and beauty come in all different forms. Celebrate Pride Month in style by donning a rainbow-coloured statement piece (or two) — be it through a trendy timepiece or with a meaningful necklace.
Style it: British accessories brand Olivia Burton's mesmerising Rainbow Glitter Dial features a vibrant, iridescent-like dial design and it serves as a chic conversation starter for virtual first-dates. It also comes with a yellow gold bracelet strap, which perfectly complements the watch if you're in the mood for layering. Over at Melbourne-based jewellery brand Glacier Mist are pieces that allow you to channel your inner goddess like the Bifröst Rainbow Pride Necklace, which is designed with 14 karat gold plating and crystal stone details.
Chain reaction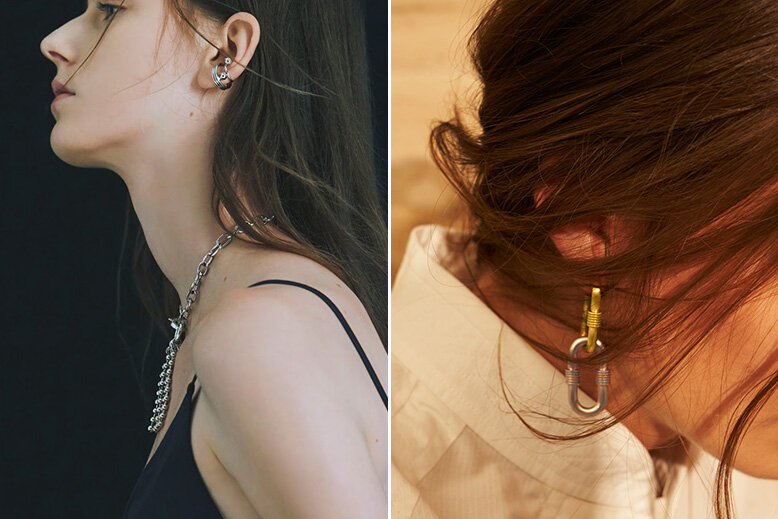 It's amazing how fashion inspiration can come from the most unexpected places. This cool jewellery trend wants you to look past glossy magazines and discover hardware, industrial-esque pieces instead.
Style it: Fine jewellery brand P for Panache by Seoul-based designer Cha Sunyoung boasts masculine, metal pieces that are made for the edgy dresser. Slip into a long, strappy black sundress and a pair of worn-in boots and you're good to go. Looking for a more polished yet statement-making alternative? Set your eyes on Charles & Keith's Summer 2020 jewellery collection, which spotlights chunky, chain accessories that would go wonderfully with a smart shirt as they would with nightlife-ready separates.
Precious pearls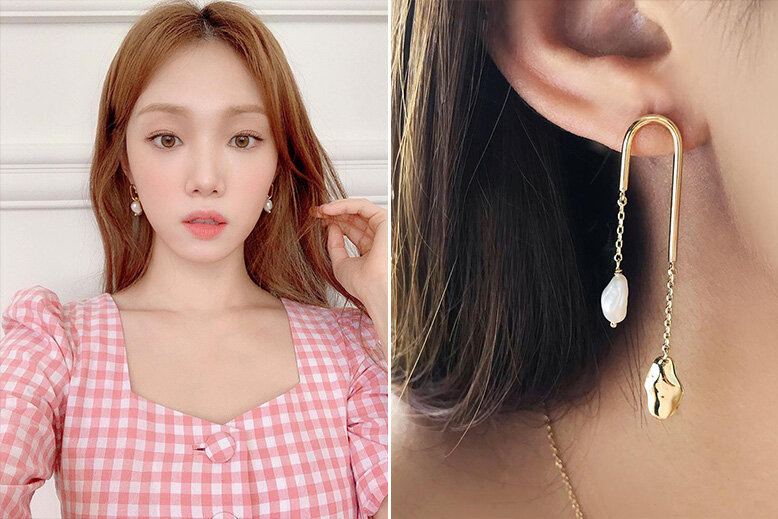 Your grandmother's favourite accessory just got a makeover; pearls are making a comeback for the season and this time, they're presented in a more organic fashion.
Style it: Host a Zoom tea party this weekend and encourage your closest girlfriends to dress in their Sunday best for the occasion. For a stylish and sophisticated get-up, look to Korean model and actress Lee Sung Kyung, who radiates regal vibes with her tousled locks, dainty pearl earrings and pink gingham blouse. Meanwhile, Wanderlust + Co's take on this trend is a little more minimalistic; its Kindred Pearl Drop Earrings feature two beautiful pendants on a trendy curved bar design, where each earring is designed with a pearl on one side and a nugget pendant on the other.
Layer player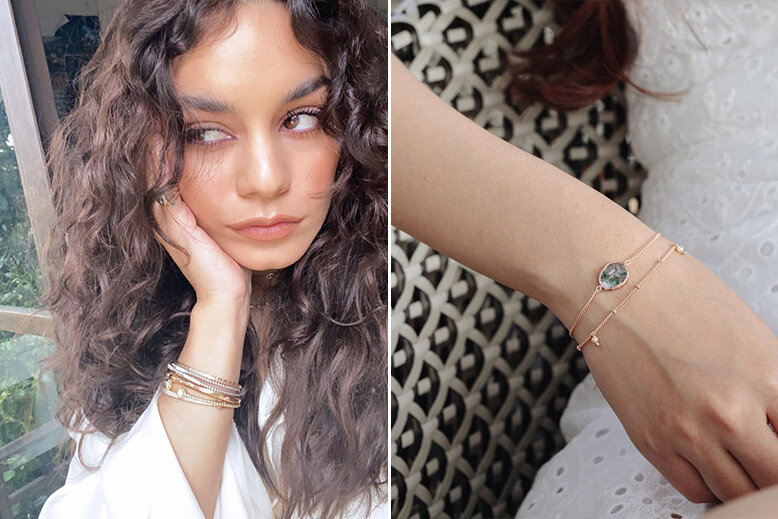 Master the art of subtle layering with this jewellery trend, which invites you to curate and collect multiple thin bracelets which carry meaning and stories behind them. There are no strict rules to nailing this trend — in fact, it's more about embracing your unique individuality and wearing pieces that matter to you.
Style it: We're fans of High School Musical alum Vanessa Hudgens's cosy, off-duty look, which sees her embracing her naturally curly tresses and mixed metal accessories. If you're a fan of gemstones and are looking for a way to incorporate them into your outfits, check out By Invite Only's Rose Gold Moss Agate Bracelet, which features a marble-like pattern and is made with 18 karat rose gold plating.
Which is your favourite #stayhome jewellery trend?
(Cover photos from: APM Monaco, Charles & Keith and oliviaburton.com)
Now, check out our round-up of skincare picks for a pampering, at-home beauty treat.

Comments, questions or feedback? Email us at [email protected].