Welcome, June! As we work towards the latter half of the year, we're hitting the pause button on our wardrobe of usual, go-to pieces and are now on the lookout for new, exciting hero products that will help us to make a strong statement. From introducing a "glow-giving elixir" to our skincare routine to taking our accessory game to the next level with a gold chunky mask chain, read on to discover #TeamClozette's latest picks.
Second Wind Detachable Mask Chain in Gold
"There's no escaping the fact that the mask is here to stay, but there's also no denying that it's become just that much harder to recognise each other when half our faces are covered! I like the idea of being able to accessorise this aspect of my new-normal daily life, and using a mask chain can be functional without channelling granny-esque eyeglass chain vibes.
A chunky chain in metallic tones such as this one from Second Wind definitely carries the aesthetics of a statement piece, and goes well with most day and night looks, especially for someone with a mostly monochromatic wardrobe like myself."
Pomelo Double Breasted Crop Blazer and Double Button Mini Skirt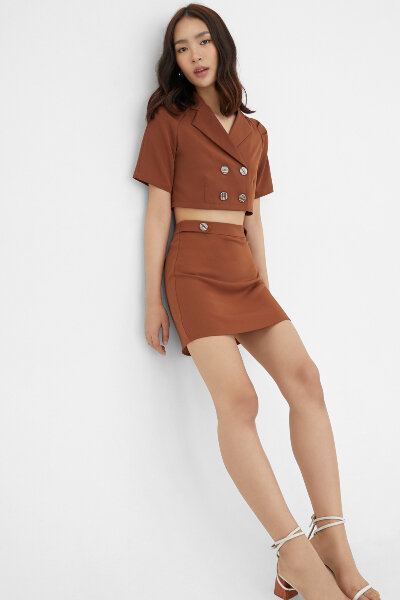 "I'm lacking in the office chic department when it comes to my wardrobe. Whenever I would go to formal meetings or when I need to interview a source face-to-face, I always choose a subdued ensemble because I think it's more professional that way.
These days, however, I feel that there's been a shift in perspective when it comes to business attire and outfits with fashion-forward elements now being deemed appropriate. For this reason, I covet Pomelo's Double Breasted Crop Blazer paired with the Double Button Mini Skirt. The look embodies the perfect balance between business and fun — which is the statement I want to make when meeting someone new in the industry."

OLUMES The Refining Lotion
"Like any woman, I'm prone to hormonal acne around that time of the month and it has left me with some residual dark spots. I've been searching for a gentle exfoliating toner that can boost my skin's renewal process and the OLUMES The Refining Lotion might just be the one I've been looking for.
It's made with Kalalit water, which is rich in brazilin — an ingredient known for its anti-inflammatory, antioxidant, and anti-photo-ageing perks. It also has gluconolactone (a PHA) and niacinamide. This glow-giving elixir with a winning blend of ingredients might just find its way to my vanity soon."
Dyson Corrale™ Hair Straightener
"When I first heard of the Dyson cordless Corrale™ Hair Straightener, I knew I had to get myself one. With its first heating and a protective heating plate, I could style my hair within minutes. Plus, with the morning rush, I could quite literally walk around the house while styling my hair, instead of being stuck next to the power source. Talk about multi-tasking!"
Which of these picks caught your attention?
(Cover photos from: OLUMES, Pomelo Fashion and shopsecondwind.com)
Next, check out our curation of multipurpose skincare products to help streamline your routine.

Comments, questions or feedback? Email us at [email protected].