Following their successful collaboration with popular Japanese manga series Sailor Moon, sports and lifestyle brand Skechers returns with their all-new Skechers x Jeremyville collection. It's a colourful, uplifting collab that's worthy of a spot in our wardrobe. The collection — which comprises a mix of unisex apparel, footwear for women and bottoms for men, features a variety of fun — vibrant illustrations which showcase New York-based artist Jeremy Ville's whimsical creativity and colourful style.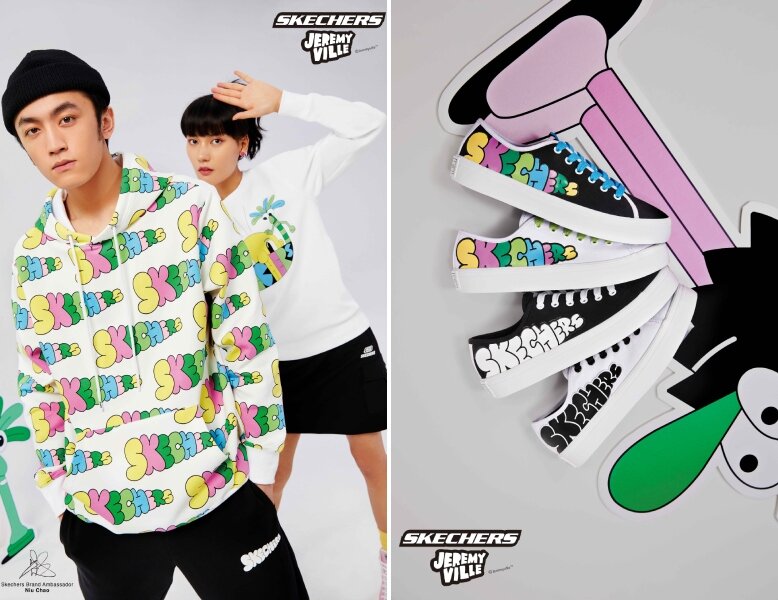 From rainbows and adorable marine sea creatures to palm trees and the blue earth, Ville's vibrant designs represent a powerful message of love for the ocean and our natural earth. All pieces are designed for the young (and the young-at-heart). Read on to discover our favourite pieces from the collection, inspired by four distinct 'positivity' personalities.
The calm & collected homebody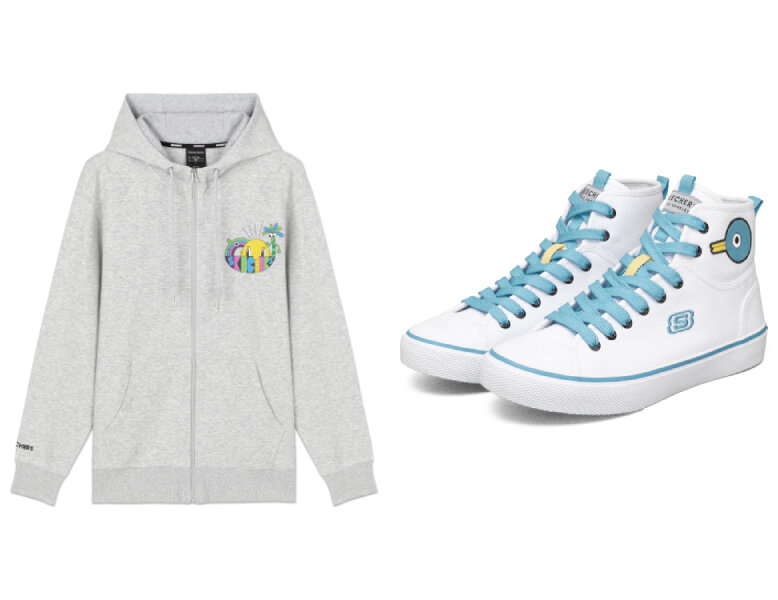 This positive personality is the sort who thrives during #stayhome season. She loves cosying up to a good book and never passes up the opportunity to bond with her loved ones over chill conversations and a warm cuppa. She possesses a strong yet silent personality that makes her highly attuned to other people's moods and needs. Whenever she's faced with a challenge, she remains calm and level-headed. She's a problem-solver, a great listener and a supportive friend.
Her style identity: Comfort is practically her middle name. She lives in the Palm Tree hoodie which comes in the perfect shade of light grey. It complements other wardrobe staples such as the white tee and blue denim jeans. Whenever she's headed outside, she likes to complete her get-up with these white, fuss-free, high-top sneakers.
The fashionable firecracker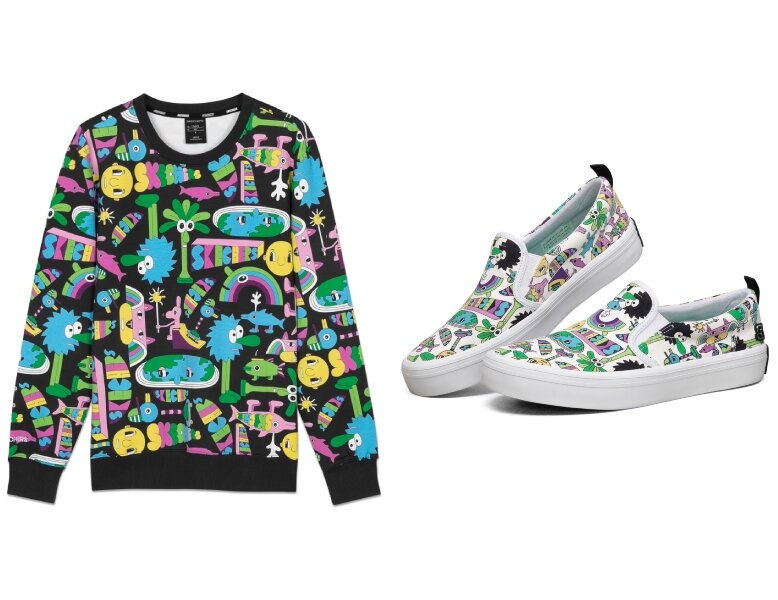 The life of the party. The dancing queen. The thrill-seeker. This positive personality knows how to have fun and enjoys striking up conversations with everyone she meets. She's an approachable, open-minded individual who is fiercely protective of her family and friends. Her idea of fun involves a killer DJ set, colourful confetti and thirst-quenching tipples.
Her style identity: She enjoys basking in the limelight and never shies away from the opportunity to don loud exuberant designs. Even on casual, off-duty days, she still ensures that her outfit reflects her larger-than-life personality. She loves stepping out in a high-impact, contrasting look which consists of this black pullover and white slip-on shoes.
The hopeful healer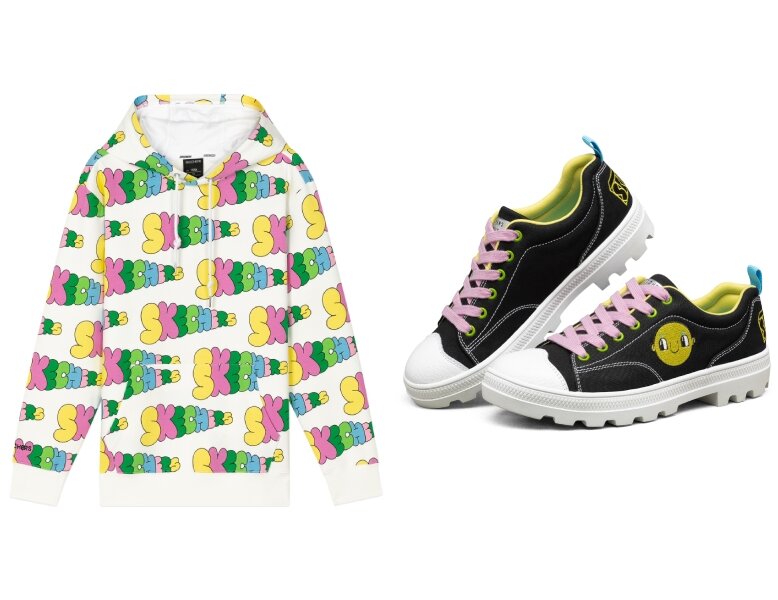 She's generous with her compliments and is known for her killer-watt smile that brightens up the gloomiest of days. As the unofficial 'ambassador' of self-care, this positive personality is always around to gently remind you that perfection is boring and that making mistakes is part and parcel of life. She's an optimistic and understanding individual who does an excellent job at cheering people up.
Her style identity: Seeing that she brings the sunshine on a rainy day, her choice of outfit is naturally made up of bright colours and whimsical prints. For a trip to the movies with her friends, she'll rock this hoodie featuring the 'Skechers' lettering in an animated, bubble-font style. On her feet, she will opt for these black platform shoes complete with light pink laces.

The culture creator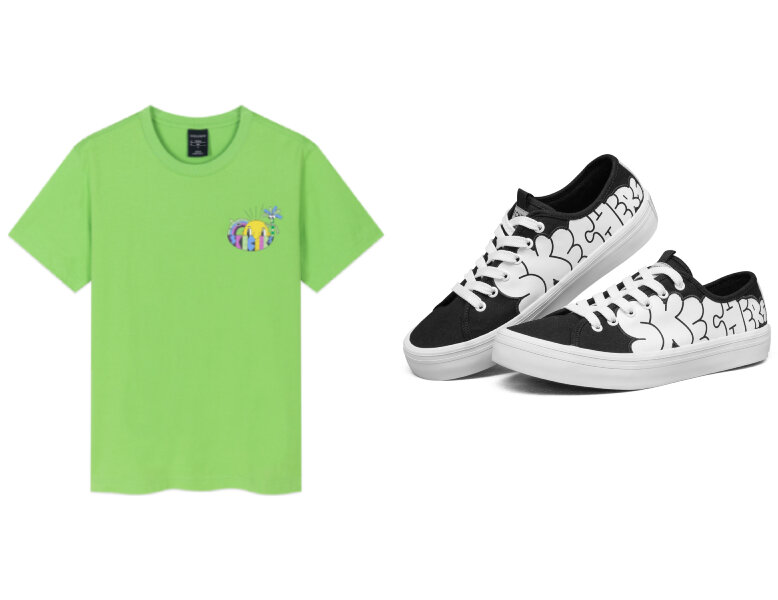 The trendsetter in the group, whatever she wears becomes the next big hit in fashion. This positive personality brims with confidence and enthusiasm, and she inspires you to unleash your inner artist. She enjoys exploring various creative endeavours, such as composing a catchy song or attempting watercolour painting. She's the best companion you can bring along for a trip to the museum or to an underground music showcase.
Her style identity: Simple yet stylish details are her jam. She gravitates towards versatile basics that feature a twist, such as this Palm Tree green tee. As for her choice of footwear, she's likely to slide into these black sneakers with Skechers lettering, but not without adding her own DIY artistic touch to them by using her trusty set of fabric markers.
Which of these positive personalities do you identify with the most?

The Skechers X Jeremyville Collection is now available on Lazada, Shopee and in selected Skechers stores, including Junction 8, Takashimaya, Bugis Junction, NEX and Jewel Changi Airport.
(Cover photo from: Skechers Singapore)
Next, let's discover the best comfortable yet professional-looking blazers you'll need for your next Zoom meeting.
Comments, questions or feedback? Email us at [email protected].