It's no secret that mums' lives really do change after finding out that they have a bun in the oven. But aside from shifts in lifestyle and tweaks in routines, a woman's style also hits a 180 during pregnancy. Still, that doesn't mean that you have to compromise on looking fashionable, especially when you're already showing. Not sure how to do it? Ahead, five tips on how to keep your pregnancy style on point.
Invest in comfy chic pieces and take note of your colour patterns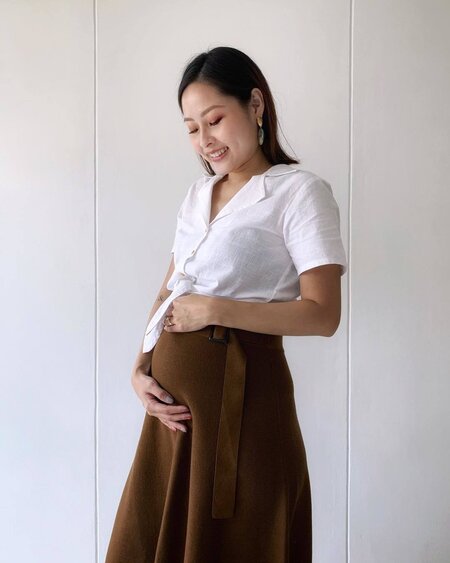 Luckily for mums today, comfy chic pieces are very in. Gone are the days when maternity clothes were the most unflattering pieces, as now brands have realised that mums should also be allowed to push their A-game in style anytime, without compromising on comfort. A common go-to would be oversized pieces — like plain ol' tees or button-down dresses — that you can still picture yourself donning even post-pregnancy. Wrap dresses are also great options as it allows for more room while still giving a nice illusion of a curve to your silhouette.
If you prefer mixing and matching, maxi A-line skirts are to the rescue as it still provides ease of movement, all while creating the illusion of a cinched waist. Wearing two different tones for your top and bottom also complements the previous method, while helping create more dimension to your look.
Use accessories to add shape and layers to your outfits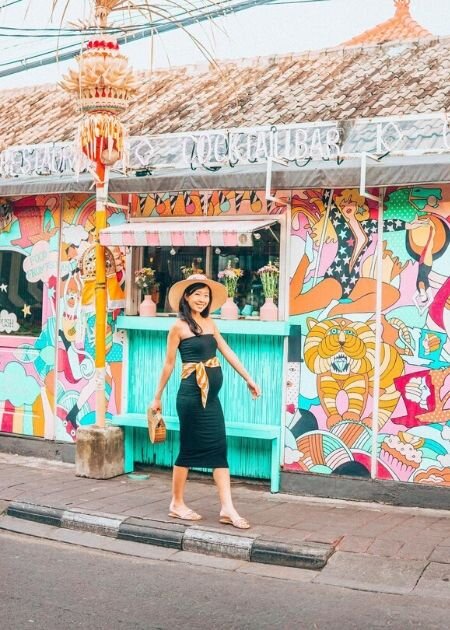 Who said you can't wear belts when you're pregnant? While we're definitely not for anything that can cause chafing around the belly area and constricting your bump, there are ways to incorporate belts to your outfit to help define and complement your new shape as a mum. Opt for thinner belts as it allows for more stretch than thicker ones or like Clozette Ambassador Doranne in the photo above, use a long scarf instead for maximum style yet overall ease. A tip from Doranne: "I just tied it loosely so it was very comfortable."
As for where to place it? Wear it over your baby bump to elongate your figure when wearing tunics or dresses. If you're feeling a bit under the weather (morning sickness, anyone?) and are just not in the mood to fully dress up, whipping up a statement belt that pops against your comfiest oversized shirt dress will definitely elevate your style effortlessly, too.
Same goes for incorporating statement accessories. Much like when you're not preggo, a chunky necklace here or some fancy earpieces there can definitely elevate a look, all while sparing you time and effort to look fabulous.

Don't be afraid of form-fitting outfits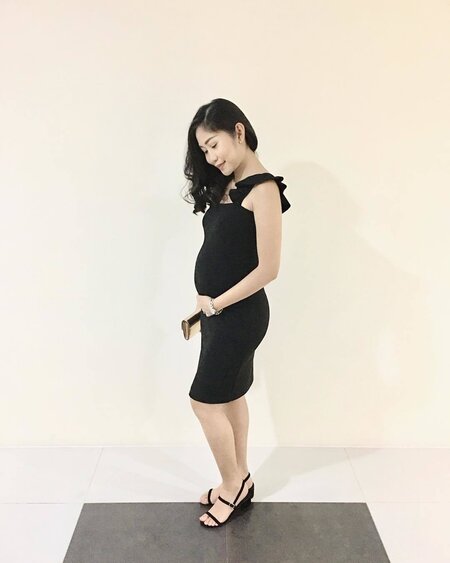 If you're not feeling baggy outfits for the day, form-fitting options are also on the table. Pregnant women often steer clear from body-hugging clothes when they're showing as they think it will make them look larger than they truly are, but these pieces are actually quite flattering to your figure if you give them a try. A common tip is to go for dark colours if you worry about emphasizing unwanted lumps — not that you should, though, because you look fantastic! That, and a form-fitting outfit is simply great for showing off the bun in your oven proudly.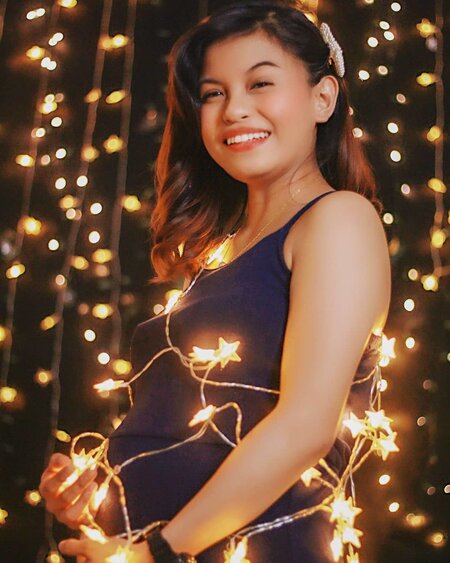 Star Clozetter Katrin says, "It's actually my gynaecologist's suggestion that I wear form-fitting clothes as it helps control unnecessary weight gain during pregnancy. Very practical since I still get to use these clothes post-partum. Button-downs are also great post-pregnancy so that nursing will be easier."
For her part, Clozetter Bianca also shared that if form-fitting dresses are not your thing, bodysuits are great alternatives. "Bodysuits won't ride up your belly like a normal shirt would when you're already showing. I highly recommend it to those who might feel nervous about belly skin peeking through!"
When in doubt, go for the details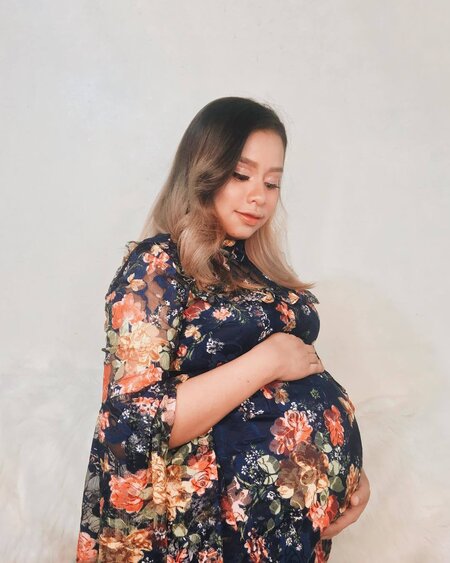 (Photo from: itsmariahazel)
Feeling too much pressure on how to dress up on days when you're running out of ideas? We say, similar to how it is when you're not preggo, going for prints and patterns is a great — and stylish — escape route. Star Clozetter Kal says, "Even loose clothing can look stylish on pregnant women if they have interesting details, shapes, and necklines." So take a page out of Kim Kardashian's 2013 Met Gala look and sport a patterned piece that makes you feel cute, elegant or downright gorgeous regardless of what other people say. Not only does it allow you to own your look while breaking misconceptions that pregnant women should only wear basics, it also dresses up your baby bump beautifully without too much effort.
Just have fun with it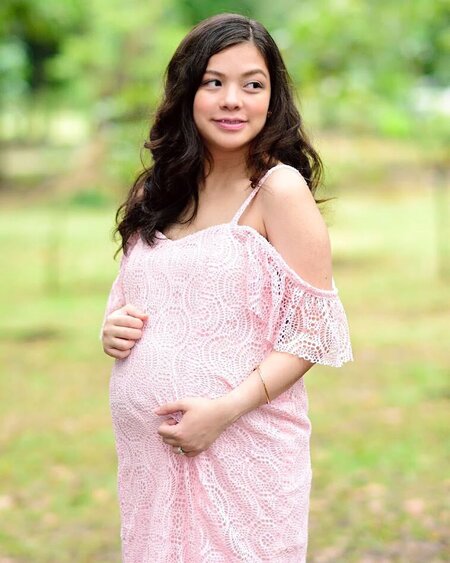 Browsing through our Community, many of our Clozetters say that there is no hindering fun and fashion even with your baby bump. In fact, it's still the same experience, with some elevated level of excitement since you're dressing up for both you and your little one. "When you're pregnant, it's easy to feel frumpy and unattractive, especially with all the changes happening to your body," Star Clozetter Kal says. "But aside from wearing clothes that make you feel comfortable and confident, it's also important to embrace your new baby bump. Don't be afraid to look pregnant!"
At the end of the day, you can keep our tips in mind and put it to practice how to keep your style on point during your pregnancy, but it wouldn't be the same without your own spunk, confidence, and innate passion for fashion — as well as fully embracing the graces that come with being a mum!
(Cover photo from: @themerriedlife)
Aside from slaying your style during pregnancy, make sure your mental health is also in check by taking inspiration from these celebrity quotes.

Comments, questions or feedback? Email us at [email protected].