From visiting historical sites to finding the best authentic cuisine, travelling is one of life's greatest adventures. Our "Travel Notes" series features travel itineraries from real people as inspiration for your future escapades.
Lifestyle consultant to the stars Aimee Hashim, who advises crazy rich Asian movie stars like Filipina actress Kris Aquino, has the kind of job that girls would kill for. Her duty includes shopping for the most beautiful VVIPs, visiting major fashion houses, networking with fashion industry leaders, as well as attending the most exclusive fashion events — Paris Fashion Week included.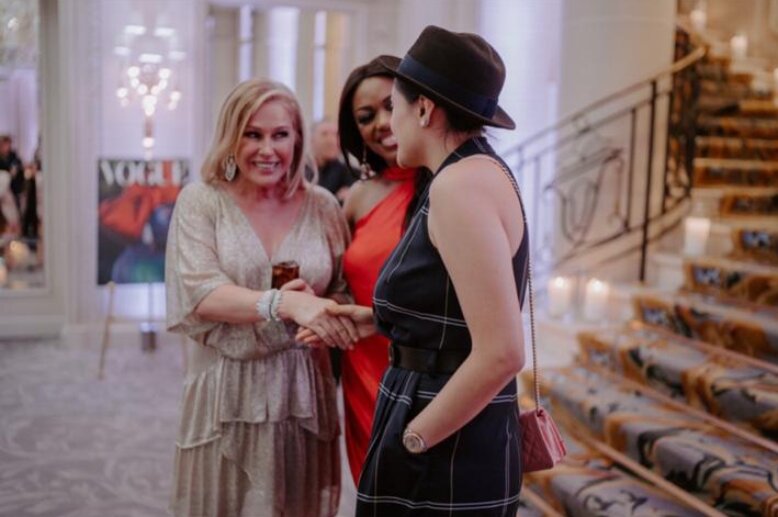 Meeting Kathy Hilton at a previous Paris Fashion Week event
"Paris on its own is very fashion-forward," says Aimee, who regularly gets invitations to the biannual event. Indeed, the city of love is a fashion lover's paradise: the place that inspired and gave birth to brands like Chanel, Louis Vuitton, Givenchy, and Balmain. That nurtured Louboutin, Yves Saint Laurent, and Roger Vivier. That continues to breathe life to the maisons of Thierry Mugler, Dior, Jean Paul Gaultier, Hermès, Lanvin, Chloé, Rochas, and Céline.
There must be something about Paris that inspires designers to create great works of art.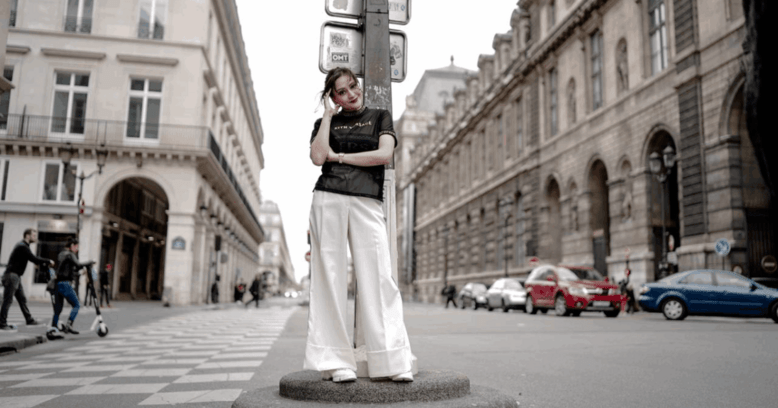 Aimee Hashim on the streets of Paris


After several seasons of being in attendance, Aimee has to miss this season's flurry of events as she is due to give birth soon. But fret not — for the rest of us dreaming of Paris, and for the lucky ones who will be saying "c'est la vie" in Paris this season, Aimee shares a Paris Fashion Week travel guide to exploring the city after the shows: away from the dizzying spotlights and the tension-filled runway, and onto the streets, where fashion in Paris truly lives.
Preparing for the trip
Aimee's Parisian experience revolves around Fashion Week, which begins with invitations from fashion houses. However, she makes sure to allot enough time for rest and relaxation, and for wandering the streets in between shows.
Access
Visitors whose home country is either Singapore or Malaysia do not need a three-month Schengen visa to visit France. As Aimee hails from the Philippines, she applied for the visa at the French consulate in Manila.
Transportation

Shows have different time slots and venues. Beyond the shows, there are welcome dinners and after-show luncheons, re-sees and private appointments. For good measure, brands throw in Benzes with chauffeurs at Aimee's beck and call.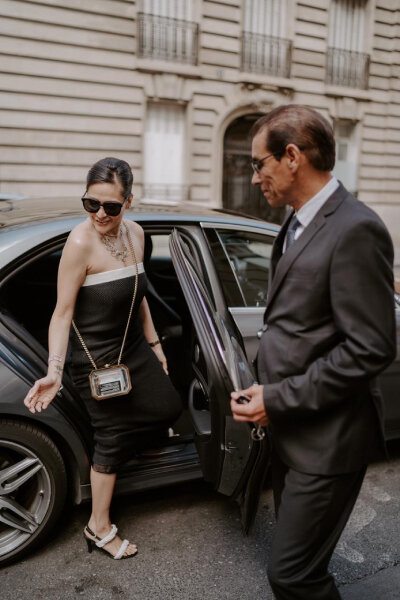 Chauffeur-driven Benz
But after those appointments, for going around the city or to visit churches or see other parts of France, she usually books a private car owned by a kababayan (a fellow Filipino). According to her, "There's a big community of Filipinos in Paris, who have access to almost everything you need."
Accommodation
Aimee's favourite hotels in the city are the opulent
Four Seasons Hotel George V
and
Hôtel Plaza Athénée
. Both five-star hotels are centrally located in Paris and are close to Champs-Elysees, Arc de Triomphe, Eiffel Tower and Moulin Rouge. "However, you need to do your bookings way ahead of time," Aimee warns. "It's considered a peak season, so hotels charge their highest rates, and most of them are fully booked."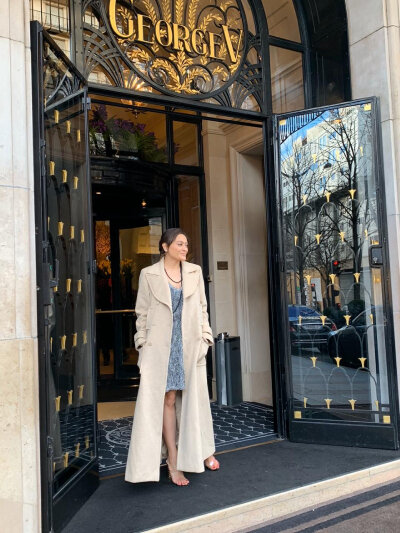 At Four Seasons Hotel George V
"My stays in these hotels have always been perfect," she muses. "Most of the people attending the shows are checked in here, so it's also nice to see everyone dressed up in the lobby."
Wardrobe
A reminder for visitors from tropical countries: "Winter is really cold and summer is really, really hot." Aimee advises the visitors from the Southeast Asian region to be well-prepared. "This season, it's still cold, so you need to pack the right garments," she adds. These are heat tech, coats, boots and the like.
However, during summer, you will need to pack lighter clothes: shirt, jeans, skirts and shorts. In Aimee's words: "Sandals versus boots, flats versus heels."
Day 1: Parisian Icons
The Trocadéro,

Eiffel Tower, Arc de Triomphe, The Louvre, and Sacré-Cœur





"Paris never gets old," says Aimee. "It is as enchanting as it was when I first visited." It could be because Paris takes great lengths to preserve its most iconic monuments. And when it comes to landmarks, visiting the Eiffel Tower is without a doubt anyone's first order of business.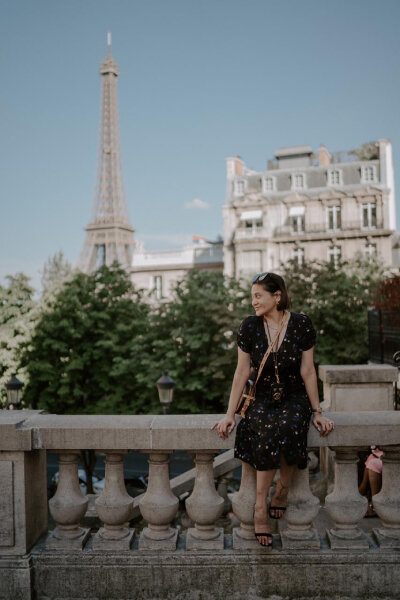 Eiffel Tower
Visit The Trocadéro site of the Palais de Chaillotand. From its wide esplanade, you can take a picture perfect view of the majestic Eiffel Tower. While you're at it, drop by the Arc de Triomphe along Champs-Élysée, the Louvre, and the Sacré-Cœur. Unfortunately, another historic landmark, the Cathedral of Notre Dame, is still going through its slow reconstruction. A tip from Aimee: "For those who want to have a different way to tour around, there are cruises available by the River Seine." She adds, "You may also have champagne by the Eiffel tower if you feel like having some cozy time while sight seeing from the top."
Day 2: French pastries fit for Coco Chanel
Angelina Paris


"Whenever in Paris, I never miss a trip to Angelina," she declares, recalling the whiff of hot chocolate and freshly baked pastries bearing a long tradition that goes back 120 years ago. In 1900s, at the height of Paris' artistic and intellectual boom, writers and artists were said to gather in cafes. Around this time, Angelina was founded at No. 226, Rue de Rivoli, named after the owner's daughter-in-law.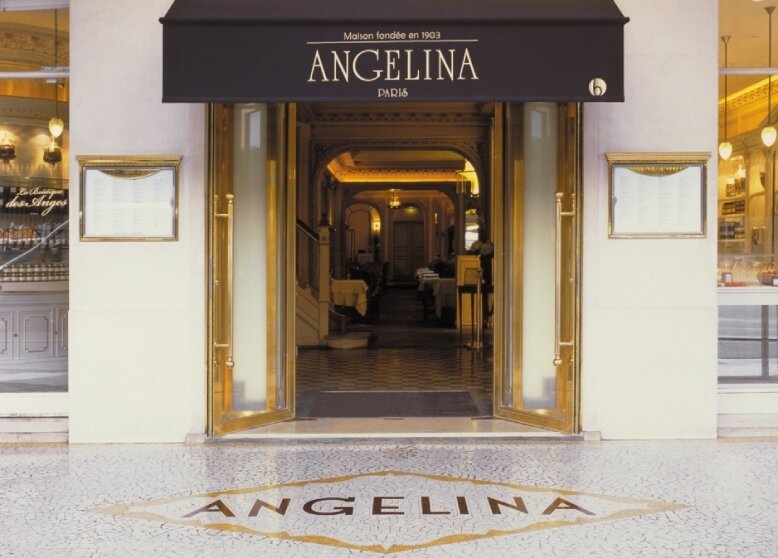 Angelina quickly became famous amongst the elite, and it counts no less than Coco Chanel as one of its clients, among other French fashion designers.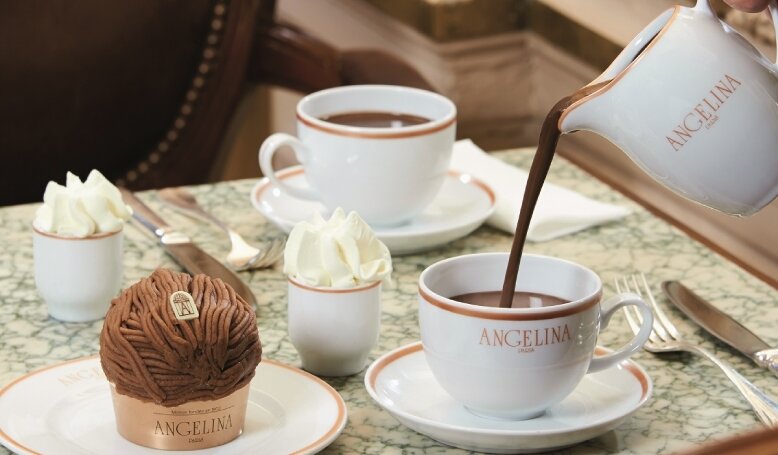 For a luxe experience, partake of its bestsellers, the signature pastry of Mont-Blanc, whose recipe remains unchanged since the beginning of the 20th century, as well as the famous hot chocolate called L'Africain.
Day 3: All the stylish places
Rue Cambon, Galeries Lafayette, Le Bon Marché, Champs-Élysées



As a fashion capital of the world, Paris is teeming with places that would make any fashion lover swoon.
Rue Cambon, a few steps away from Place Vendôme and Rue Faubourg Saint-Honoré, is particularly famous for the House of Chanel. According to the Chanel website, Coco Chanel opened her hat shop "Chanel Modes", at Number 21, a few steps away from Place Vendôme and Rue Faubourg Saint-Honoré. By 1918, Chanel acquired the entire building at Number 31, where she invented the concept of the modern boutique. Coco Chanel claimed Rue Cambon as her "territory," that she occupied five buildings on that road, from 23 to 31.
Meanwhile, Galeries Lafayette Haussman, the main location of upmarket French department store chain of the same name, is a landmark not to be missed because of its incredible dome. Housed in the 70,000-square-metre space is a seemingly infinite array of designer boutiques, as well as food tasting bars offering French food together with produce from around the world. Watch the video above to see the majestic dome in full colour.
Speaking of department stores, Aimee also recommends Le Bon Marché, one of the first modern department stores which is now owned by LVMH. And for more shopping, Champs-Élysées, which people call "the most beautiful avenue in the world," is dotted by luxury flagships such as the Louis Vuitton store, the Longchamp boutique and the Sephora store. Nowadays though, there are also mid-priced brands like Zara and H&M.
"Sometimes I just walk around Champs-Élysées when I feel like having some time alone, and just enjoy people-watching," Aimee admits. The day is made complete by a serving of moules-frites or mussels and fries.
Day 4: Seafood feast
Pedra Alta
Speaking of seafood, we tropic-dwellers can easily get home sick. If this happens in the middle of your trip in Paris, and somehow you're tired of escargot, try something more familiar to the palate by dropping by Pedra Alta at 25 Rue Marbeuf, Champs-Elysées. This Portuguese restaurant is Aimee's favourite seafood place in the area, which she visits with other Filipino friends.
Day 5: Swiss side trip


As France is just near Switzerland, you can fly out with friends for a weekend — in no less than a private jet.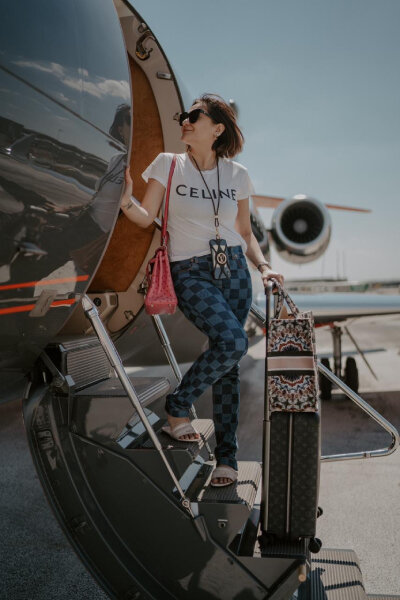 Aimee Hashim living the high life
Home to the famous Swiss alps, numerous lakes, and picture-perfect villages, Switzerland makes a worthy side trip to any trip in Europe. Raclette and chocolate are delicacies to look forward to.
Those who are into luxury can shop for Swiss watches. Switzerland is home to brands like Vacheron Constantin, Patek Philippe, Audemars Piguet, Victorinox, Jaeger-LeCoultre, and Chopard, as well as the more mainstream Rolex, Tag Heuer, and Swatch.
"Fashion week is a really busy time for the city of love," Aimee says. This itinerary does not even reflect the official fashion events one would go to when in the city for Paris Fashion Week. Regardless if you have plans to catch fashion shows, or simply want to appreciate Paris, Aimee advises: "If you are into fashion and love seeing personalities walking around the city, Paris Fashion Week is the perfect time to go."
Photos from: Aimee Hashim, unless otherwise stated
Editor's Note: Due to the ongoing threat of COVID-19, it's important to practice precautionary measures when attending public gatherings. Practice proper coughing etiquette, wash hands frequently with soap and water and disinfect with alcohol, and avoid contact with individuals exhibiting flu symptoms. Click here for more information from the World Health Organization.
Want more? Revisit other travel notes here.
Comments, questions or feedback? Email us at [email protected].