Gifts that are perfect for multitasking are probably the most ideal presents to give this holiday season. These kinds of treats send the message that we are mindful of our recipients' time (including quality time with us). Not sure which picks fit this bill? Fill your Santa sack with these multipurpose products.
IllumiaSKIN by Kim Lim All 1n One Mask
Give the gift of glowing skin this season with this pick from illumiaSKIN. The All 1n One Mask (SGD48) contains salmon DNA, hydrolysed collagen, and hyaluronic acid that help combat signs of anti-ageing and hydrate the skin and give it a gorgeous glow, not just for the festive season but for the rest of 2022.
illumia Therapeutics Metabolic Boost Slimming Coffee
Whether or not your giftee is a certified coffee addict, they will surely appreciate this pick from illumia Therapeutics. Not only does it provide the perfect pick-me-up at any time of the day, but it also helps one lose weight naturally, reduce food cravings, and give the metabolism a five times boost. What a great way to remind someone to take care of their energy and their health inside and out. 
Smudge-proof, lightweight, and comes in gorgeous shades, this pick from Etude House (SGD19.90) is perfect for the eyes, the cheeks, and the lips. This is just what your giftee needs to elevate their beauty kit.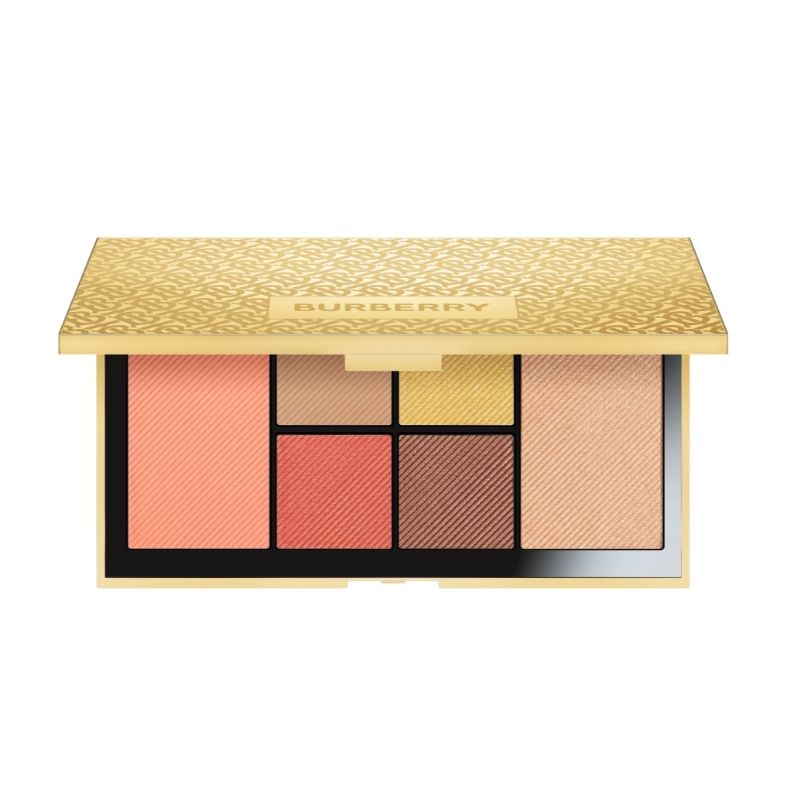 Burberry Festive Monogram Limited-Edition Signature Eye & Face Palette
Add a touch of gold to your gift with this beautiful palette from Burberry (SDG125). This pick has pans for the eyes and the rest of the face. The colours work for casual and bold looks, making it perfect not only for the holidays but the rest of the year ahead.
Burberry BHG Singapore 01-100, 02-17, 03-11, 200 Victoria Street #01-100, #02-17 & #03-11, Singapore 188021
Fenty Beauty Liquid Killawatt Fluid Freestyle Highlighter
Make your giftie twinkle more than Christmas lights (in the best way possible) with this release from Fenty Beauty (SGD39). This liquid version of the brand's bestselling Killawatt Highlighter can be used for the eyes, the cheeks, and any other part of the face and body for a stunning glow. It's also formulated with clary sage extract and coated with microfine pearls for a dewy and luminous effect without moving base makeup products. Cool, right?
Give the gift of pampering with this LUSH Peace and Love kit (SDG40) to remind someone to take their downtime seriously (they deserve it, after all!). This kit includes Lush's Dream Cream for some all-around skin lovin' — yes, it's good to use for the face and body — and the Figs & Leaves soap for indulgent face and body cleansing.
Kipling Creativity L Festive Starts
Your giftee will surely love this cute pouch from Kipling (SGD69). Its creative, sparkly design gives it a fun but elegant vibe that's great for those who love versatile pieces. Most importantly, it can work as a pouch, a clutch, or an organiser inside your bigger tote.
Kipling Takashimaya, Level 2, 391 Orchard Road, Takashimaya Shopping Centre
The Paper Bunny Multi-way Tote
Bags are reliable gifts since they're functional, stylish, and essential. But this Multi-way Tote (PHP2,944.87) takes things to the next level with its ability to transform into a work bag, a picnic bag, a handbag, and more with its notches that can change its silhouette's size and shape. It also has a lot of pockets for all essentials.
Help your giftee document precious moments during the festive season and beyond with this pick from Sony (SGD919). The device not only comes with stellar photography capability but also a leading-edge autofocus system and a directional three-capsule microphone for high-quality videos that are social media-ready.
Philips All-In-One 8000 Series
In an age where prioritising cleanliness is at the top of our lists more than ever, this Philips device (SGD519) promises to do the work. The continuous steam it lets out helps kill 99.9% of bacteria and dust mites as well as remove odour from any fabric. Its Dual Heating technology helps to perfectly de-wrinkle any garment. It also has OptimalTEMP technology that ensures it doesn't burn even the most delicate of clothes. Now that's not just a clothes steamer!
Tefal Ingenio 3-Piece Set
Make cooking a joint affair this festive season with this Tefal Ingenio 3-Piece set that's the perfect gift for people who love food. This non-stick set makes sure every dish is cooked to perfection without burning or leaving pieces on the pan. The removable handle also transforms the pan into a sleek serving plate for food that's 'fresh off the stove'.
Everyone will surely have their fill of treats for the holidays with these multitaskers wrapped with a bow.
Comments, questions or feedback? Email us at [email protected].