It's not a surprise that the once "trendy" minimalist jewellery eventually became a staple in the jewellery market. Aside from the variety of shapes and sizes available, minimalist rings just have a chic and timeless essence that make them oh-so-versatile as accessories. This is because simple and clean lines in jewellery make it look more expensive than it really is, according to Cosmopolitan. You could confidently wear them anytime and anywhere without feeling over- or under-dressed. To prove this, here are some minimalist rings we'd pick to wear for different occasions.
Long days at work
We'd definitely wear an understated thin band with sparkling stones for our workdays. Its clean lines and subtle shine make it perfect even for the stricter rules of office attire. It doesn't call attention to itself but adds some flair to your work OOTD.
Our pick: The Calliope Ring from The Ordinary Co., a Singapore-based minimalist jewellery brand, is the perfect ring to have. This is a chic yet wallet-friendly minimalist ring we'd pick to wear on the daily.
Romantic date nights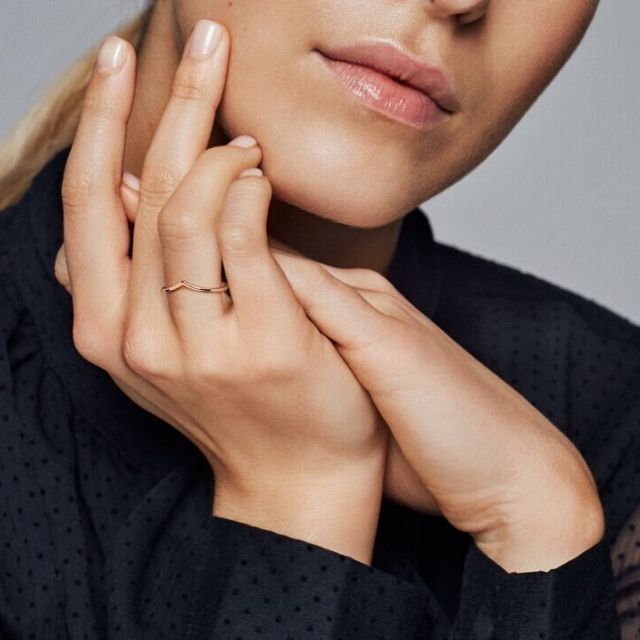 A wishbone is said to symbolise long-lasting luck and happiness. A sprinkle of whimsy for a date night? Why not? While it's typically given as a gift during birthdays and anniversaries, wearing it for a date night gives the occasion a more hopeful and celebratory energy.
Our pick: This Pandora Polished Wishbone Ring has a smooth finish that fits any occasion, mood, or outfit so you don't have to wear it just for dates. After all, the sleek metal just oozes subtle sophistication. But if you do prefer more textured pieces, don't worry! Pandora offers the same design in jewelled and beaded variations.
Chill rest days
Even if you're not really doing anything special while staying at home, getting dressed up —accessorising included — can do wonders for your mood and productivity. It's why we think the minimalist details on a knot ring is perfect for a relaxing day spent indoors. The thin band won't get in the way of your activities but will add a little bit of style even to your lazy day loungewear.
Our pick: The beautiful simplicity of the straightforward design in Suki Jewelry's Tangled Ring really caught our eye. It's available in 14-carat yellow, white, and rose gold.
Weekly brunch dates
Weekly brunch dates with our best gal pals will soon be possible again. So while we wait, it's never too early to start planning the perfect outfit for it, jewellery included. One of the best minimalist rings to wear is a fun, geometric-shaped ring that will surely garner compliments from your besties.
Our pick: This dainty Sarah & Sebastian masterpiece will add some sparkle and softness to any look. The diminutive size of this minimalist ring pick may get overwhelmed by other accessories, so it'd be better to stay within the thinner range of bands if you're thinking of stacking it with other rings.
Formal and glam gatherings
We're taking notes for when we're ready to go on special formal occasions too. Take the opportunity to go for a bolder shape with simple, clean lines. It may be a bit dramatic as far as minimalist rings go, but we're sure it will start a lot of conversations.
Our pick: This Anne Manns Gold Peri Ring is a statement-making yet minimalist ring that deserves all the attention. This ring featuring a structural swooping design was handmade in Germany and made of polished gold-plated silver.
The holidays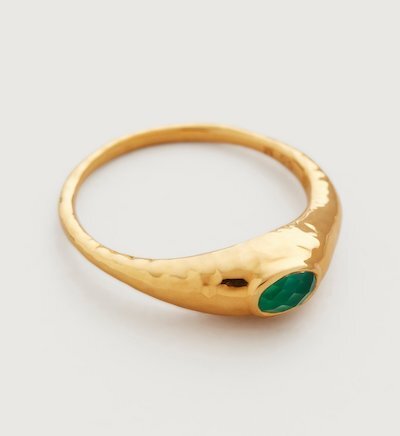 Christmas is fast approaching. If you're attending gatherings (while still being safe, of course), you'd want to dress to the nines. You don't need to go all out and blinged out for the occasion though. You'd be delighted to know that you can still sparkle without having to compromise your minimalist aesthetic.
Our pick: The Deia Gemstone ring from Monica Vinader is just what you need. The base of the ring is still simple but the subtle vibrance of the green onyx gemstone really takes it to the next level. It's perfect for the festive occasion, don't you think?
Everyday wear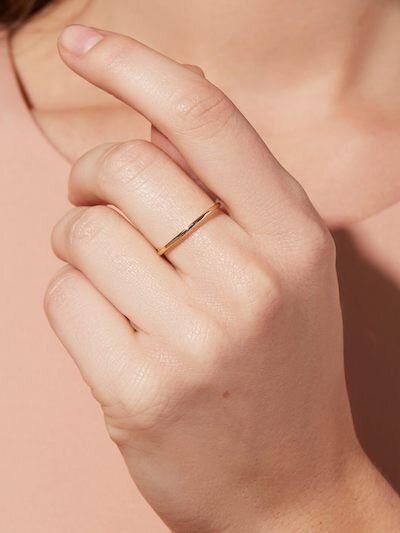 Yes, this is your sign to wear a ring every day — because why not? We've been dealt with pretty tough cards during the pandemic. So it's only fitting that we find ways to celebrate each day to not only help keep us sane but also remember that life can and should still be fun and joyful.
Our pick: The Ana Luisa Stephanie ring. It's as minimalist as it can get but it's still quite impactful with its simplicity and understated elegance.
Which of these minimalist rings caught your fancy?
(Cover photo from: net-a-porter.com)
Do you like keeping your accessories pretty simple? Here are some minimalist jewellery brands you should know.
Comments, questions or feedback? Email us at [email protected].