Once upon a time, cosy sweat separates including grey sweatpants, college sweatshirts and cropped hoodies were strictly reserved for indoor settings such as lounging around at home or for a quick sesh at the gym. They have since claimed a permanent spot in our wardrobe when the 'athleisure' trend came bursting into the fashion scene (and never left.)
Sweats are great for casual and sporty occasions, but it turns out that they carry a lot of potential in looking right at home with luxury outfits too. With the resurgence of interest in sneakers, alongside high-fashion labels teaming up with streetwear brands in launching elevated 'athleisure' attire, sweats make perfect sense with comfy logo tees as they do with sky-high heels and a leather clutch. Curious to learn how you can look luxe in sweats as well? Read on as we share our top styling tips.
Stick to solid colours and minimalistic designs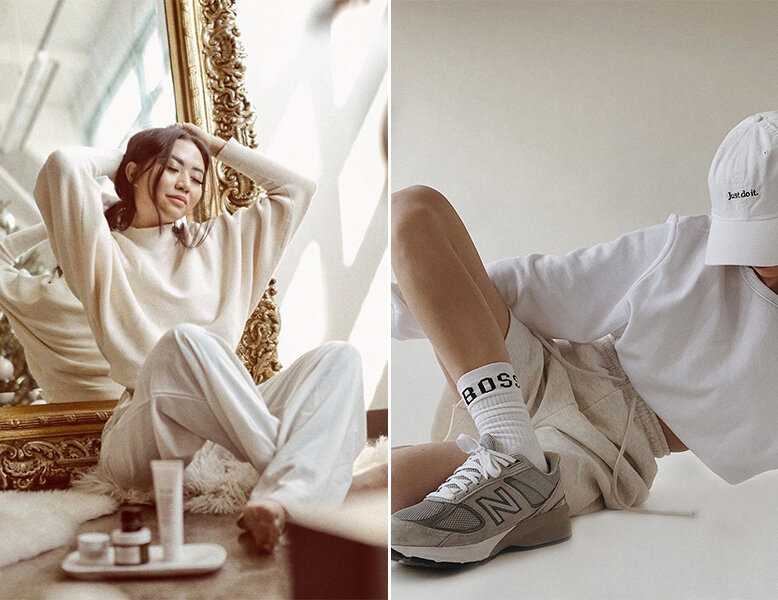 Although trendy items such as tie-dye jackets, trousers with frayed hems and logo-emblazoned tees are bound to make a strong fashion statement, solid-coloured classics and minimalistic designs are better options to go for because they tend to exude a more luxurious and sleek vibe. They are also much more versatile and easier for you to 'build upon' when you want to create a variety of looks. Style your grey sweatpants with a silky, peach tank top and nude heels for a fashionable weekend getaway, or pair an ecru sweatshirt with a pleated skirt and faux leather boots. The options are endless.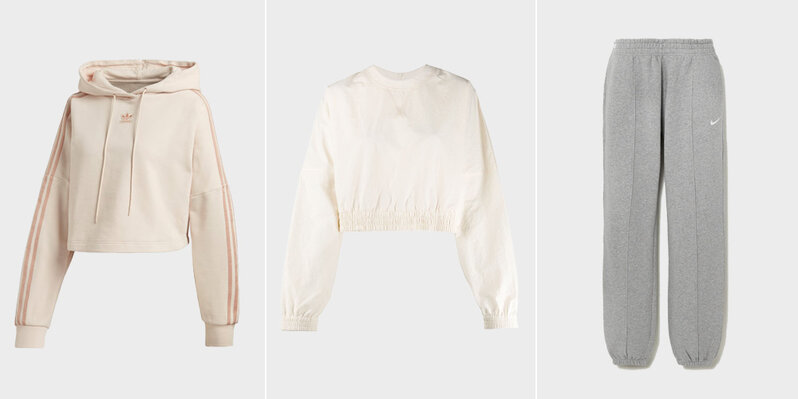 Solid colours such as cream, light grey and camel are a great place to start. To narrow down a colour that would suit you best, simply review your wardrobe and opt for a neutral shade that would go with most of your current pieces. The Adidas Originals Cropped Hoodie shown above features a light beige hue and it boasts peach shimmer details along the sleeves. Made of 100 per cent cotton French terry, this stylish outerwear works for post-HIIT sessions and goes well with a fitted pencil skirt and heels for dressier occasions too.
Master the basics of beauty
Looking good in sweats, or in any outfit, really, starts with taking care of yourself. Commit to a skincare routine, stay active, and keep your nails and tresses healthy and neat. It becomes much easier for you to experiment with different beauty looks when you have built a strong beauty foundation for yourself.
For an instant touch of luxe, paint your pout with a bold, crimson hue. Details matter, so line your lips with a lip liner to prevent your lipstick from feathering before applying your lipstick using a lip brush. As for the rest of your face, keep things natural-looking yet elevated. Shape and define your brows, and apply flattering nude shades over your lids using a light hand. For nails, opt for classic, simple designs and steer clear of rhinestone embellishments or neon shades.
Play with proportions
Dressing in a baggy look from top-to-toe is a no-no and should be reserved for chill, #stayhome scenarios. Try playing with proportions and in contrasting materials to help you to look more put-together even when you are dressed in sweats. Simply follow this fail-proof formula: pair your oversized top with a well-fitted bottom, and vice-versa. Juxtapose softer materials such as silk and rayon with 'sturdier' materials, like suede, denim and leather.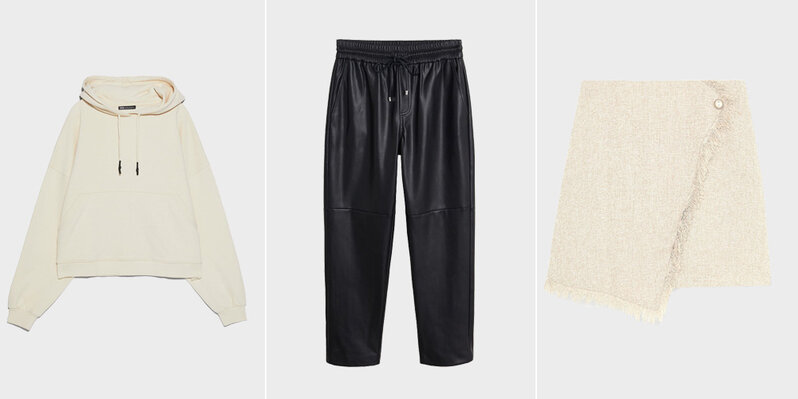 Above, we've styled the cosy, oversized Zara Pouch Sweatshirt with two different types of bottoms. The first is a pair of leather effect trousers from Mango, which offers comfort just like sweatpants with its high rise fit and elasticated waistband. However, its leather effect material and jet black hue lends a touch of luxury to the look, while its slightly tapered fit prevents the outfit from looking sloppy.
The second is a tiny tweed skirt, where its short length contrasts nicely against the sweatshirt's long, oversized design. We observe monochromatic dressing here too by keeping to the same beige theme. These elements work well together in creating a stylish, sleek ensemble.
Pair them with luxe-looking accessories
Accessories will make or break your outfit, so be sure to tread with caution. Caps and sneakers are still very much welcome in your ensembles, however, they should complement your clothing instead of overpowering them with loud, look-at-me designs. If you are not quite sure of the type of accessories to wear, always opt for simple, timeless pieces.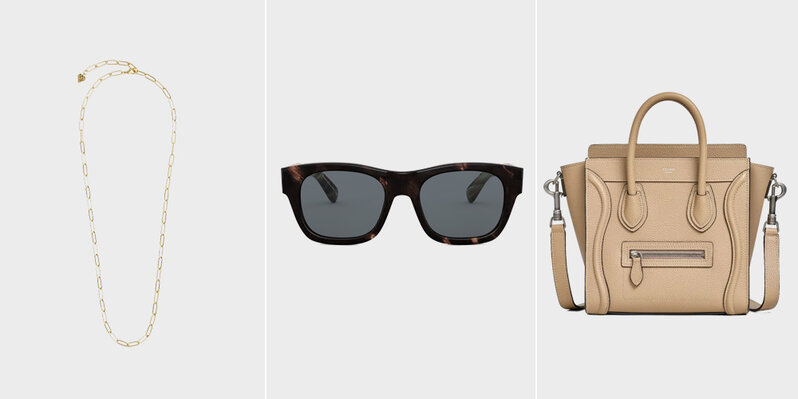 Luxe-looking items that will transform your look from 'chill and casual' to 'streetstyle darling' include minimalistic jewellery, black shades and classic designer purses. Our vote goes to Wanderlust+Co's Harper Chain Link Gold Necklace, which looks wonderful on its own with a V-neck tee and sweatpants or worn shorter and layered over other necklaces with a cropped crewneck hoodie.
(Cover photo from: @thegreylayers, @modedamour, celine.com, farfetch.com, pomelofashion.com, zalora.com and zara.com)
On the hunt for a stylish fitness tracker? Click here for our top picks.
Comments, questions or feedback? Email us at [email protected].