Now that we're spending a lot — or for some, all — of our time at home, it's tempting to just wear sweats or pyjamas all day. After all, it's comfy and we save so much on laundry, right? Plus, no one is here to see us anyway... so what's the point of dressing up? Well, someone can see you — yourself; and what you think of yourself definitely matters. Organising consultant Marie Kondo explains it best in her book: "Time at home is still a precious part of living. Its value should not change just because nobody sees us. Precisely because no one is there to see you, it makes far more sense to reinforce a positive self-image."
Studies show that there is value in making an effort to dress in a presentable manner even when you're at home. It boosts your self-esteem, makes you feel more competent, and even boosts productivity. Who knew fashion could hold so much power?
To help us navigate the relatively uncharted loungewear territory, we sought the guidance of veteran stylist, Ning Nuñez, and a few of our loungewear enthusiast friends. Ahead, they share which loungewear trends have caught their eye and ones that are comfortable yet appropriate to wear for conference calls.
Sweater knits and cardigans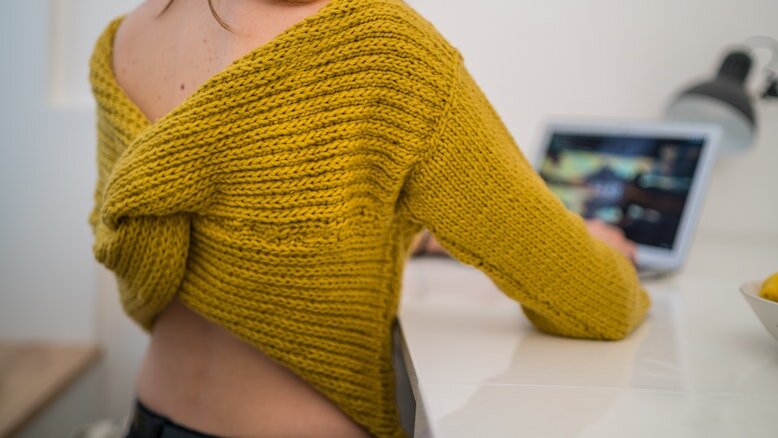 Comfy, cute and presentable — knitwear and cardigans are easily some of the best loungewear pieces to sport and style. It's one of those pieces that you can wear both in and out of the house without looking out of place. Cardigans, in particular, hit the sweet spot of casual chic. Throw it over a tank top and you're good to go for a conference call. Ning Nuñez highlights that while luxurious-looking sweaters are trendy right now, soft and breathable fabrics are still your best bets in our warm tropical climate.
Athleisure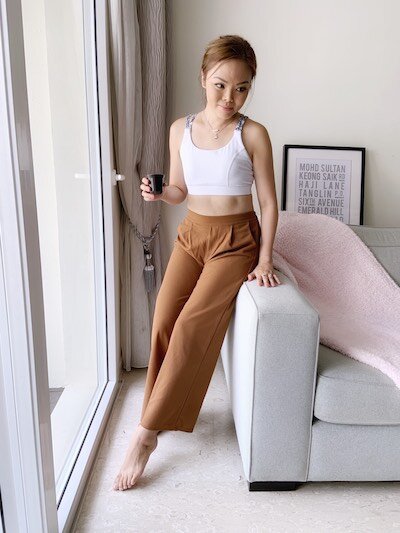 Athleisure has been around for some time, but its popularity took a dip when maximalism dominated the runway in recent years. However, the athleisure ensemble is back in the spotlight, now that we're spending more time at home. This time, instead of being matched with tight-fitting leggings, sports bra are matched with loose, ankle-length bottoms like culottes and cargo pants. Clozetter Roxanne Chia who recently filmed a loungewear haul, shares that among all the ensembles, her favourite loungewear is this modified athleisure look. "I like to pair a sports bra with waist-fitted crêpe pants," she says, sharing that it's very comfortable and ideal for the warm weather.
Modern kimono robe
The trendy kimono robe that's popular these days is similar to the yukata; a lighter, more breathable version of the kimono that's worn during the summer season. Like the yukata, the modern kimono is light and elegant — making it the perfect loungewear piece to wear in a conference call. There are so many ways to sport a modern kimono. Ning Nuñez shares her favourite way to style it: "Wearing a slip dress under a kimono robe looks good. Avoid sweatshirt hoodies and workout wear because it won't complement the stylistic vibe of the modern kimono," she says.
Tight-fitted crop tank with sweats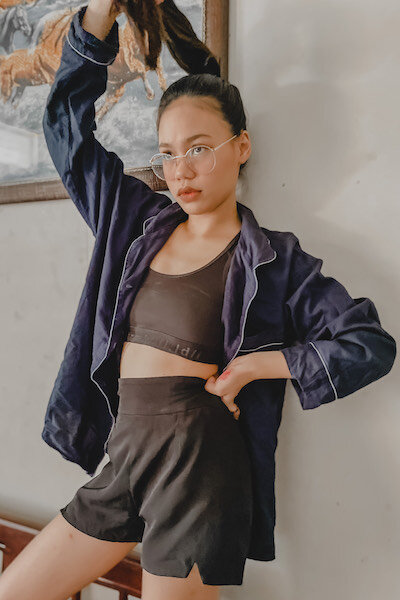 "Tight-fitted crop tank with sweats" — this very specific combination is a favourite among many, even Italian social media influencer and designer, Chiara Ferragni has jumped on the bandwagon. "It's great to wear at home but you can also do a quick coffee run in it. Plus, it's super comfortable," says Roxanne. It's also the favourite loungewear ensemble of longtime home-based worker Kate Pauline. "For me, it gives an 'at-home-boss-babe-vibe' without crossing the sloppy territory," she says. "Before the quarantine, I even wear this at a nearby cafe." Her style advice? Pair a crop shirt with comfy shorts or slim-fit leggings, then layer outerwear — whether a jacket or a pyjama top — to complete the look.
Luxe loungewear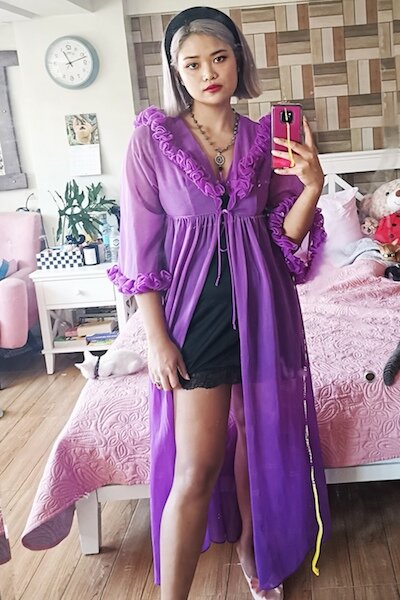 Out of all the reigning loungewear trends today, matching sets are the most sought-after and luxurious-looking. "It's a big trend and it comes in different forms: feathered robes, silk pyjamas, luxe slips, furry and satin boudoir slip-ons in all sorts of bright colours and eye-catching prints," she says. The popularity of this trend could be a way for fashionistas to express themselves now that most of us are homebound. Maximalism in the house? That's possible! In fact, Ning's go-to loungewear look is a vintage peignoir set from the 1950s or 1960s. "They're cute, glamourous and rather extra. I just love the feeling of looking like a princess at home," she quips. In these chaotic times, we could use a little something extra, don't you think?
Next, learn how you can make your home cosier.
Comments, questions or feedback? Email us at [email protected].