Since the start of this year, many fashion designers have emerged from quarantine with collections that reflected their thoughts and feelings on the new normal. Some were hopeful yet pragmatic, launching pieces that were made for staying in and lounging at home. Meanwhile, others remained bright-eyed with optimism, presenting a vibrant, colourful lens on what a post-pandemic future would look like when all was well again.
Now that we've officially passed the half-year mark, it seems pretty clear to us that fashion wants to have fun again (and out in the open, no less) — given the uptake of vaccinations and leisure travel resuming in certain countries across the globe. Read on to discover the latest five fashion trends in 2021 that you should try now — from Wabi-sabi dressing to channelling your inner '90s rock and roll fashionista.
'90s rock revival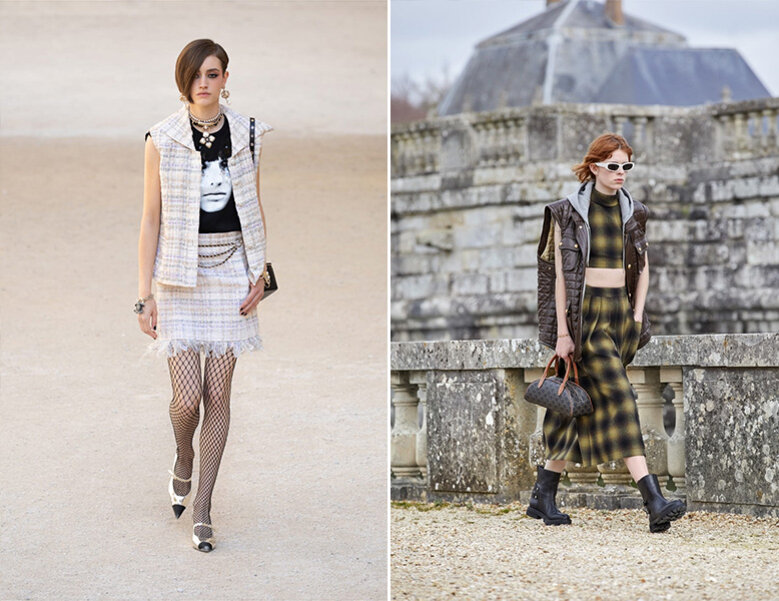 With the resurgence of crochet knits and the Crocs clog, it's no surprise that Y2K fashion is very much alive and well. However, designers are "throwing" things back a little further by placing their bets on the revival of the '90s rock and roll aesthetic. But don't be too quick to expect slouchy jeans or day-old band tees to be back in fashion, as this mode of dressing is injected with touches of effortless luxury.
Renowned French fashion house CHANEL juxtaposed its signature tweed pieces with fishnet stockings and graphic tees for its Cruise 2021/2022 collection. Meanwhile, Gen Z (and BLACKPINK Lisa's) favourite luxury label CELINE showcased a look that consisted of a matching, moody plaid ensemble with oval-shaped sunnies.
Refresh your outlook: Pair your favourite checked blazer with a band tee and chuck your sneakers aside for the time being to make way for a pair of heels. Alternatively, take the grunge route a là CELINE with a plaid shirt, complete with mid-calf boots and a trendy shoulder bag.
Wabi-sabi philosophy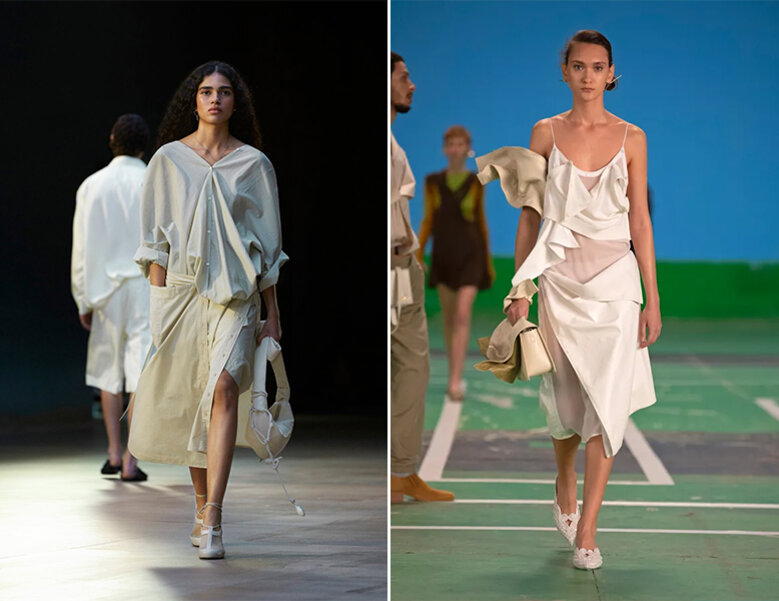 Wabi-sabi is all about learning to embrace imperfections. Fashion-wise, this translates to appreciating designs that do not appear as "polished" and "symmetrical". Take French luxury brand Lemaire's look 51 from its Spring/Summer 2022 collection as an example, where the tunic shirt sleeves seem to be folded almost absentmindedly to convey a sense of relaxation and ease. The light, beigey layer over the tunic does not appear to be the result of an overcalculated styling decision too, which makes the outfit even more refreshingly real and perfectly imperfect.
As for Y/Project's Spring/Summer 2022 runway presentation, creative director Glenn Martens introduced a white knee-length dress that was far from conventional or "regular." It featured an asymmetrical hemline as well as hints of sheerness that were carefully concealed where they needed to be with loosely folded fabric.
Refresh your outlook: Shake off the idea of having to look perfect all the time — whether it's your outfit, your makeup or even the way you wear your hair. For your next casual outing, try leaving your oversized shirt slightly untucked or have a go at pairing your "dressy" slip dress with canvas sneakers. You may just be able to create a little fashion magic without having to try so hard.
It's a wrap (mini)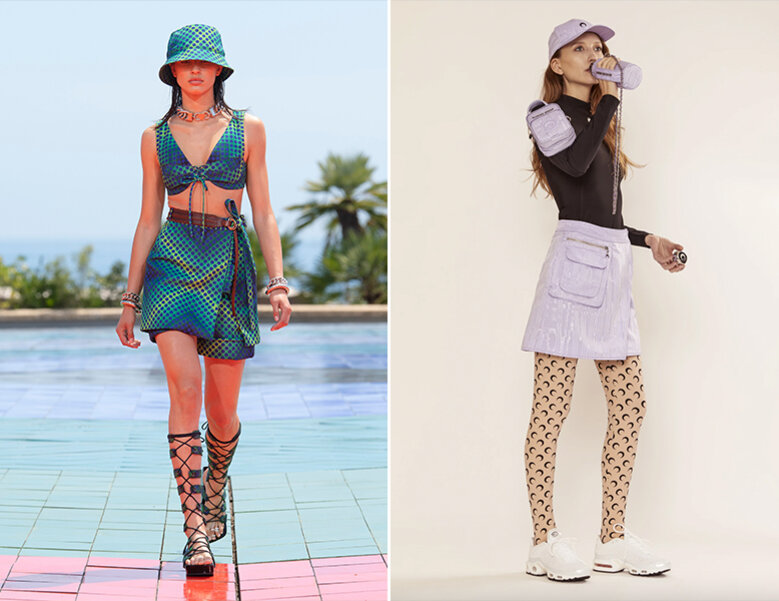 Is that a skirt or a "skort"? Either way, this hot weather fashion essential is refreshed for the season (and beyond) with a simple wrap over design that reminds us of a girl scout's uniform. Look 13 from Paco Rabanne's Spring 2022 collection has singer Becky G's name all over it with its printed, top-to-toe bucket hat, tie-front top and wrap mini combo. Attempt this look if you're headed somewhere bright and sunny, such as the beach or a resort.
As for French designer Marine Serre, she presented a fun, fashion-forward take on the athleisure trend in the 50th look from her Fall 2021 collection. She layered her popular crescent-printed leggings underneath a light periwinkle mini, not forgetting to complete the ensemble with matching sporty accessories.
Refresh your outlook: Skip your regular denim shorts and slide into a wrap mini skirt instead during your next (safe and) stylish lap around town. Pair it with a midriff-baring top if you don't mind showing some skin. Otherwise, go with a casual high neck, sleeveless blouse for a sporty-meets-preppy look.

Strap on this harness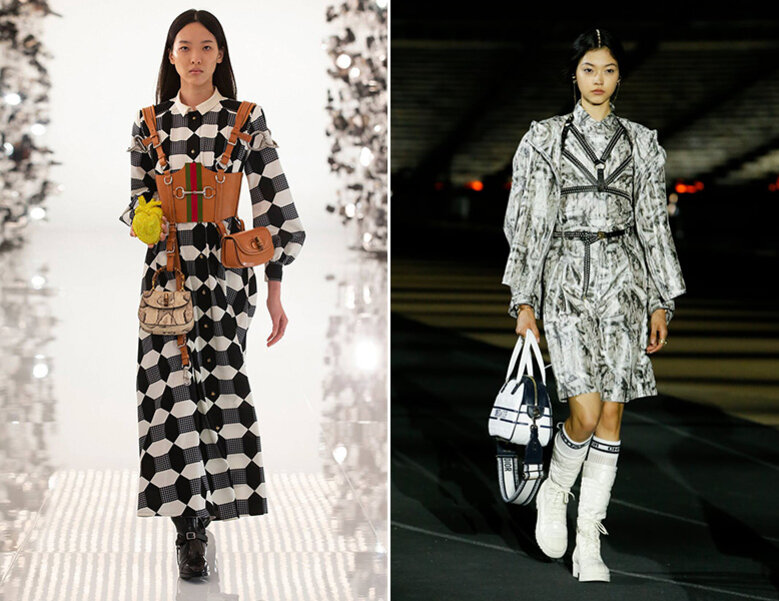 This trend will put you in a bind — literally, and potentially at the expense of your comfort too. Yes, the fashion harness has made its way back to the runway, at least according to two major fashion houses: Gucci and Christian Dior. For Gucci, the leather harness bears the Italian luxury house's iconic green and red striped band and is designed with multiple straps for its wearer to go hands-free when carrying a mini purse.
Meanwhile, Christian Dior took inspiration from the Panathenaic Stadium in Athens, Greece to inform its 91-look collection, which included a number of fitness-meets-high-fashion ensembles. From the cut of the parka-style outerwear piece to the knee-high socks, the look was almost fit for a trip to the gym, except that it was accessorised with a thin, black harness as well.
Refresh your outlook: Accessories have the power to transform your outfits, so have fun experimenting with different styles and be open to trying new trends. If the leather harness seems too "loud" for you, start small by cinching your waist with a thicker belt the next time you decide to don a flowy dress or go with a more conservative-looking pairing, such as a black harness layered over an oversized white button-down.
Hole(s) in one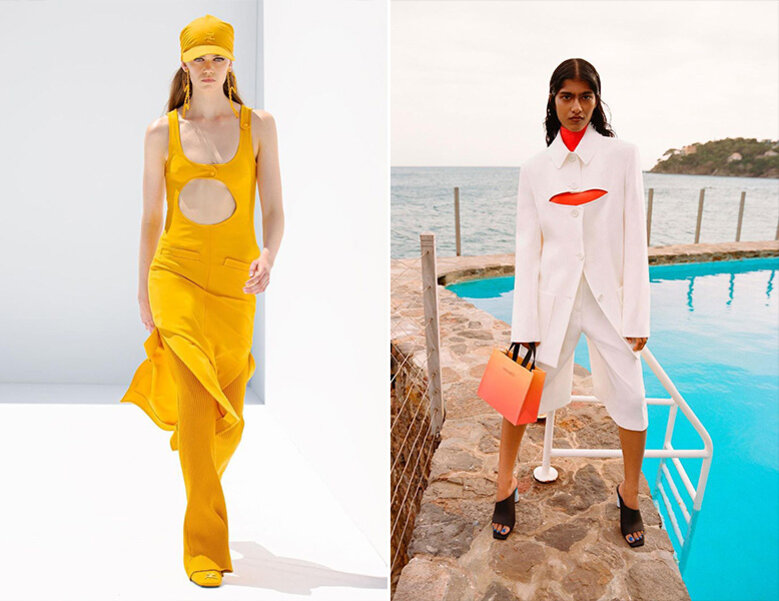 Cutouts have been around for the longest time now, however, this trend has risen in popularity again recently after it's been embraced by notable fashion labels in their Resort 2022 collections. Marc Jacobs-approved Courreges showcased a yellow monochrome outfit that featured a distinct cut out detail at the front of the tank dress.
Meanwhile, fellow French brand Nina Ricci debuted an aquatic wear-inspired range that included a collared button-up shirt with a peek-a-boo cutout above the chest area. Despite showing some skin, both designs still conveyed a sense of elegance that made their wearers look refined and chic.
Refresh your outlook: Instead of reaching for your regular rotation of off-shoulder tops, why not look for pieces with subtle, skin-baring details? Consider the one-shoulder cut-out bodysuit or perhaps a midi dress with tiny, subtle cutouts at the hips.
Which of these fashion trends are you most excited to try?
(Cover photos from: dior.com and pacorabanne.com)
Speaking of fashion trends, should we expect a reincarnation of the roaring 20s? If so, here are five trends we'd like to see on the streets again.

Comments, questions or feedback? Email us at [email protected].