What image do you have of Las Vegas in Nevada, USA? I enjoyed the 1995 movie Casino as well as the 2001 film Oceans 11, so when I think of Las Vegas, I picture a city of casinos.

But Las Vegas isn't all that! Aside from the casinos, there are lots of other activities that can be enjoyed in the city. For one, you can watch entertainment shows of popular artists that become grander year by year, dine in fine-dining restaurants of celebrity chefs, and immerse in the natural beauty of the world heritage Grand Canyon and Antelope Canyon. And with the help of the Las Vegas Tourism Board, we embarked on a luxurious trip to the ultimate entertainment city.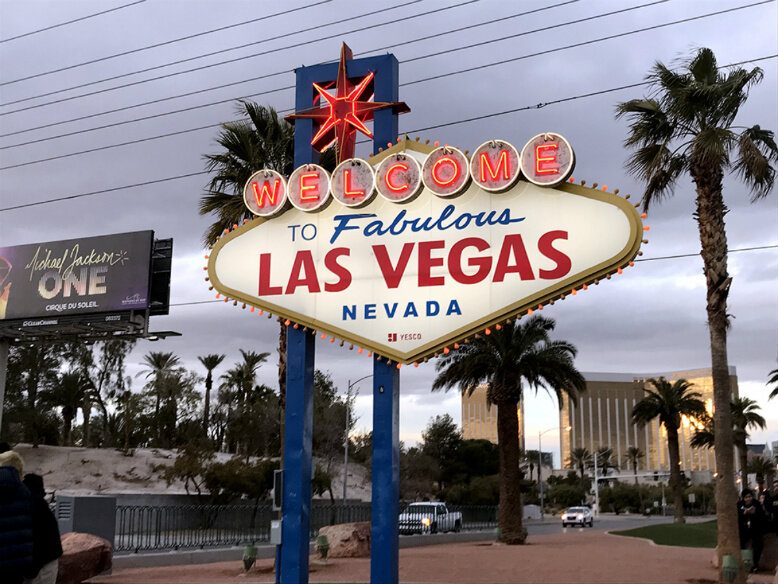 The iconic sign that welcomes you to the Entertainment Capital of the World
Relieving the fatigue of a long trip
Currently, there are no direct flights from Japan to Las Vegas, so we landed at Las Vegas McCarran International Airport after over 11 and a half hours from Tokyo via Seattle. When we arrived, we first stopped by the famous Las Vegas sign, about a 10-minute drive from the airport. Many tourists lined up to take photos at this tourist spot on the Las Vegas Boulevard.
In order to heal from the fatigue brought by the long journey, we went straight to ESPA at Vdara Hotel & Spa, a boutique hotel that opened in 2009.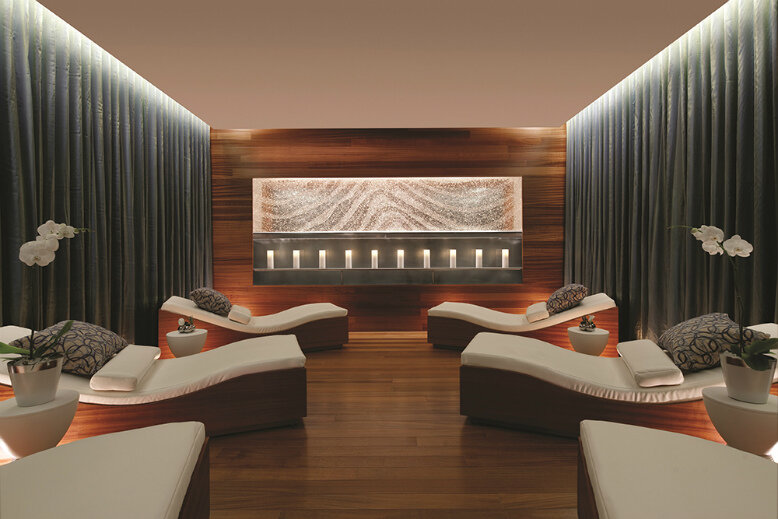 The posh yet simple interiors of ESPA at Vdara Hotel & Spa (Photo from: MGM Resorts International®)
The luxury spa, which originated in UK offered a menu of facials, body treatments, and fitness facilities. I tried out The Detoxifier (USD270), an 80-minute body treatment. Before it started, I first relaxed in the deep jacuzzi and steam sauna. Later on, I was treated to a massage in a private room. With moderate power, the stiffness of my shoulders and the swelling of my feet were carefully unravelled. It was so comfortable that I almost fell asleep. When it ended, we had herbal tea and fruits in the lounge space, completely healing us both physically and mentally.
Dining at Nomad
Park MGM Las Vegas reopened in June 2018 on the site of the Mediterranean Monte Carlo Resort and Casino. On the higher floors of the hotel, we stayed at NoMad Las Vegas, a boutique hotel that first opened in New York. This unusual hotel-in-hotel style opened last October 2018, with 292 guest rooms and interior design by French designer Jack Garcia, similar to the design of their original hotel in New York.
Compared to other casino hotels in Las Vegas, here, there's no flashy entrance. You'll find sweets, stationery, and candles being sold at their store.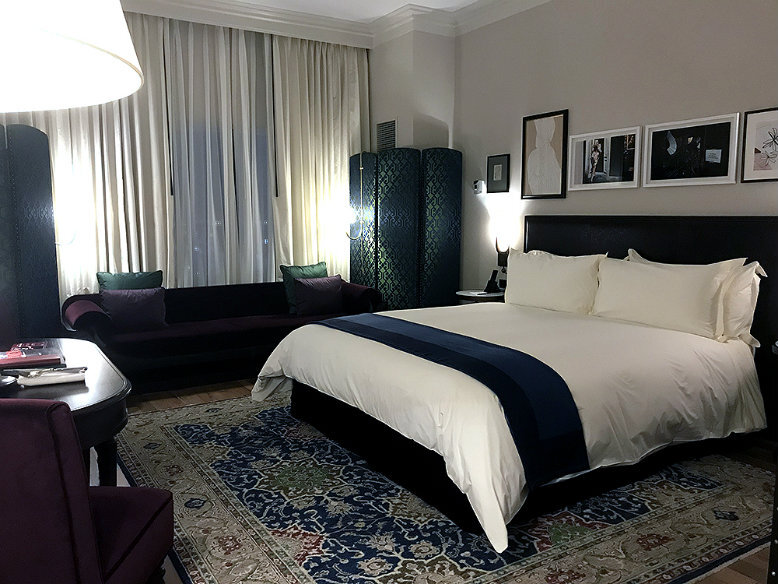 The classic rooms of NoMad Las Vegas set the vibe for a luxe yet comfy stay
The room we stayed during the trip is their Atelier room of about 50 square meters (starts from USD149). The interior is classic and relaxed with a refined atmosphere. It was furnished with a king-sized bed, a mahogany desk, a chic minibar, a walk-in marble-tiled shower, and antique pottery décor.
In November 2018, the hotel's signature The NoMad Restaurant also landed in Las Vegas. The menu is curated by Daniel Ham, a Swiss chef from Eleven Madison Park, New York's best restaurant in 2017, and one of the 50 best restaurants in the world. The menu in the Las Vegas branch of the restaurant was the same as the one being offered in New York, which has won three Michelin stars. The day I visited, the restaurant was filled with dining guests.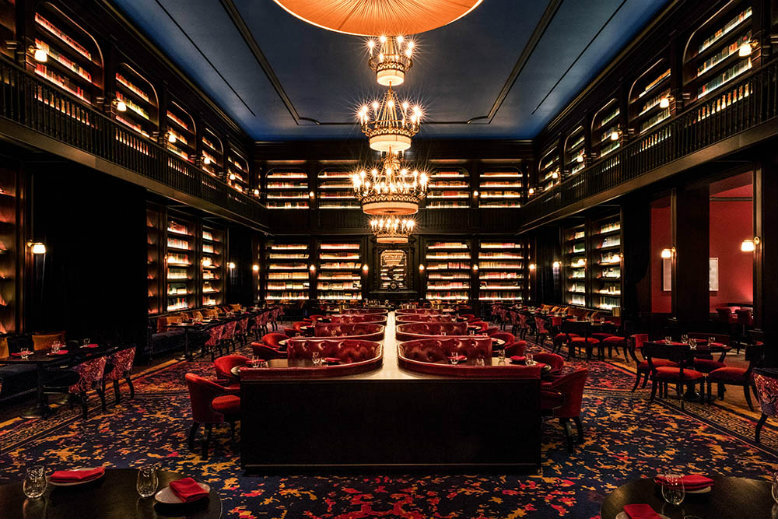 The opulence of The NoMad Restaurant elevates your dining experience (Photo from: MGM Resorts International®)
Just as it was with the hotel, Jacques Garcia was responsible for the restaurant's interior design. The place was created from the image of the library, and with its high ceiling, it gave off a luxurious atmosphere. Just stepping into this space was breath-taking. The restaurant was so beautiful, you can take pictures from any angle.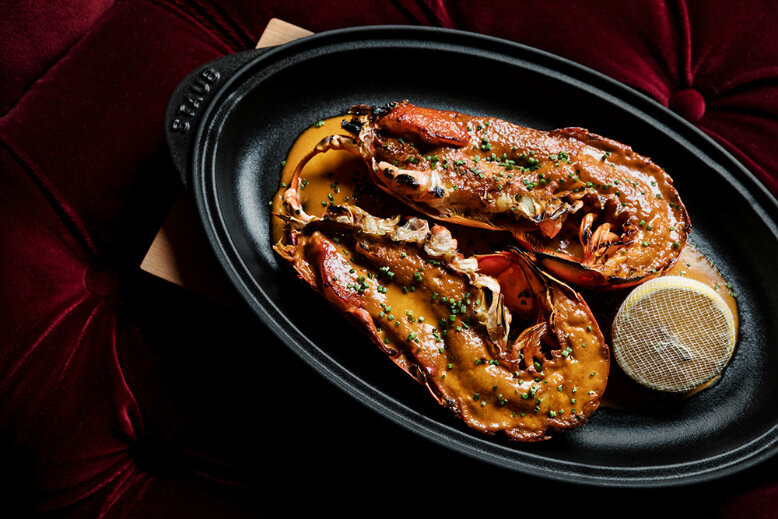 A sumptuous serving of Lobster Thermidor (Photo from: MGM Resorts International®)
The signature dish, the NoMad Roast Chicken (USD94) is recommended, but the generous servings of the seasoned Lobster Thermidor (USD6,500) were also very delicious. Other dishes you might want to try out are the fresh oysters and the beautiful flambé desserts. Here in the hottest restaurant in town, you can enjoy modern American cuisine to the fullest.
Enjoying the Bellagio Fountain Show
We went to visit Bellagio Las Vegas, the luxury hotel where Oceans 11 was filmed. The hotel hosts a famous fountain show that has become a tourist attraction synonymous with the city throughout the years. Also seen in the film, the Bellagio Fountain show runs every 30 minutes during the day and every 15 minutes at night at a huge pond inspired by Italy's Lake Como. The night fountain show synchronised water, music, and lighting. Watching the fountain light up for the first time made me very excited.
Below, you'll see a picture taken from the Bellagio side. Since the day I visited was Valentine's Day, the Eiffel Tower was lit up in red. Romantic, isn't it?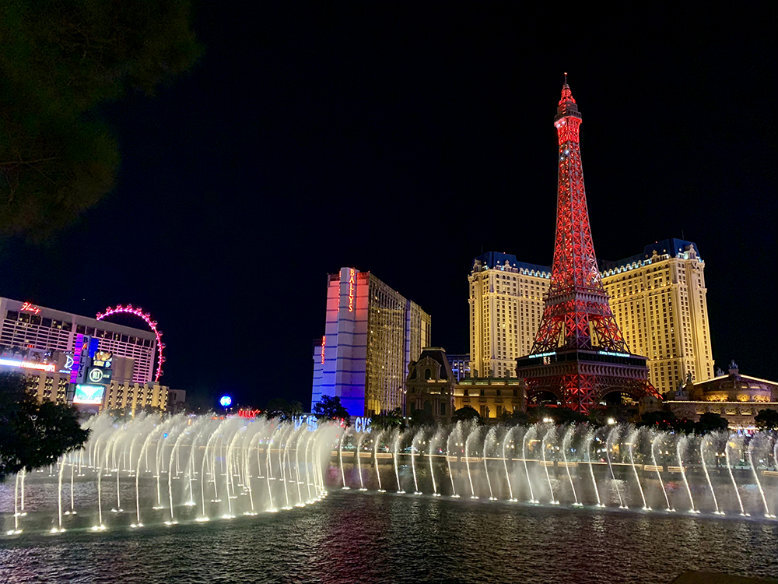 Red sets the mood of the spectacular fountain show
Bellagio is also gorgeous from the entrance, but you'll find it usually crowded by people most of the day. This was taken at around 4 a.m. when it was emptier.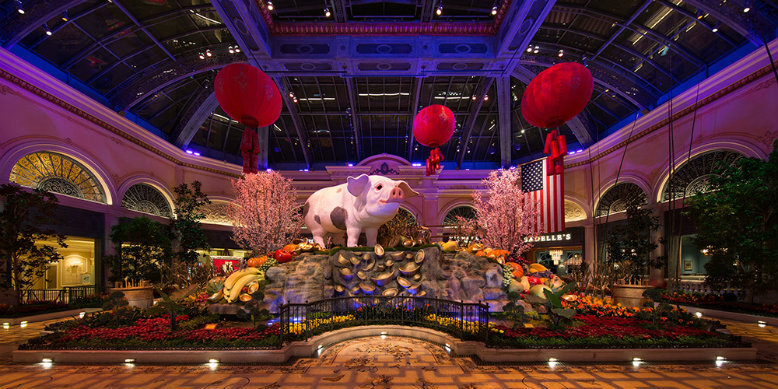 Bellagio's halls were decked in festive decor to usher in the Lunar New Year (Photo from: MGM Resorts International®)
My visit was also timed around the Chinese New Year, so the hall was filled with red Chinese lacquer and a statue symbolising the Year of the Pig. And, as always, the casino was lively.
Bellagio has an amazing number of rooms. Among their 3933 rooms, we stayed at a Resort King Room of about 50 square meters (starts from USD159). Spacious and elegantly decorated, of course with a king-size bed, but I'm glad to have a deep marble bath with a deep bath! Here in their hotel, you can stay with peace of mind, making it perfect for a family stay.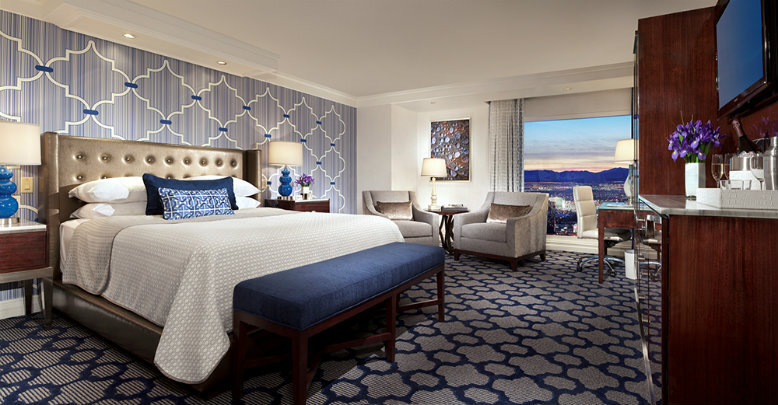 Spacious and elegant rooms where you can sleep your worries away (Photo from: MGM Resorts International®)
For lunch, we ate at Spago, a casual restaurant at Bellagio that opened in 2018. This is the flagship restaurant of Austrian celebrity chef Wolfgang Puck. You might have heard of him, considering that he has a store in Japan. He's also called the "Ocean Academy Award Official Chef" because he serves as the head of the kitchen for the Academy Awards Ceremony.
The restaurant is located right in front of the Bellagio fountain, so you can dine while enjoying the fountain show. It was cloudy when we dined, but the terrace seats on a nice day are the best!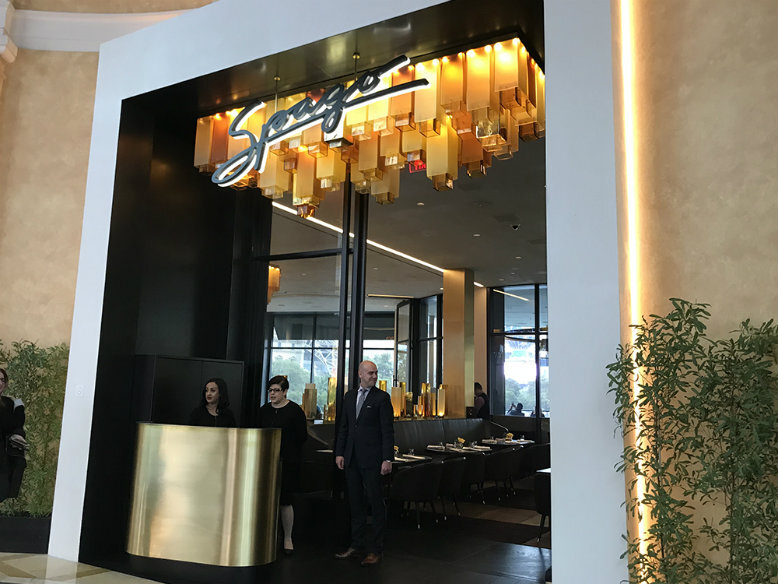 Entrance at the famed Spago restaurant
The restaurant's signboard menu recommended Smoked Salmon Pizza (USD75). Apply diced cream cheese to a crisp baked pizza dough that's served with plenty of smoked salmon on top of it and add caviar to accent the flavour. It was so delicious that it was one of the best we had on this tour.
In addition, the Fettuccine's (USD25) rich mushroom cream sauce lavishly topped with black truffles was great. Menu items like Glazed Salmon Salad (USD32) that made use of miso, pickled salmon with sweet and sour dressing match the tastes of those into Japanese flavours.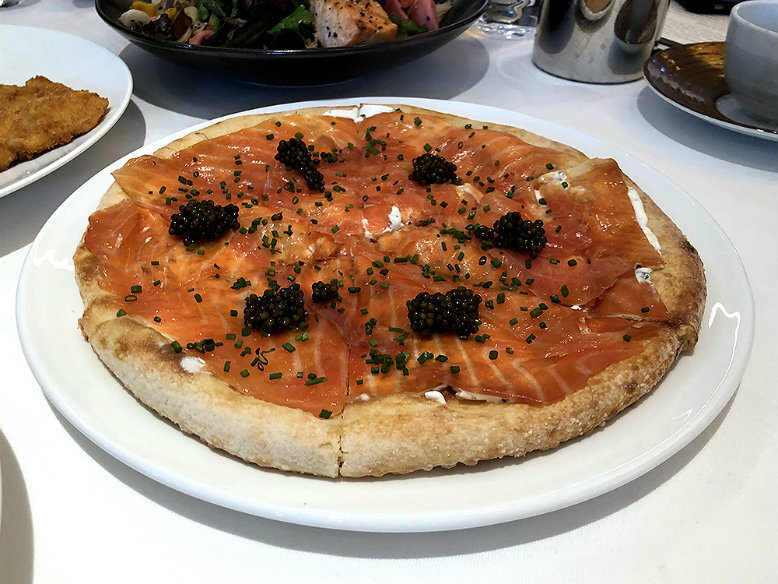 Mouth-watering Smoked Salmon Pizza from Spago will fill you up for lunch
Desserts were also not only delicious, but they also looked wonderful. I tried Spiked Lemon (USD18), chiffon cake decorated with cream and citrus foam, and the Golden Puck (USD19) created as a tribute to the professional ice hockey team Vegas Golden Knights. Dining here, you'll be fascinated not only with the view of the fountain show, but also the creative beauty of the dishes!
The bright art of Yayoi Kusama
During our visit, the Bellagio Gallery of Fine Art exhibited works by Yayoi Kusama, a Japanese artist. Admission is USD15 for adults, USD13 for teachers and students, and free for children under 12 years old.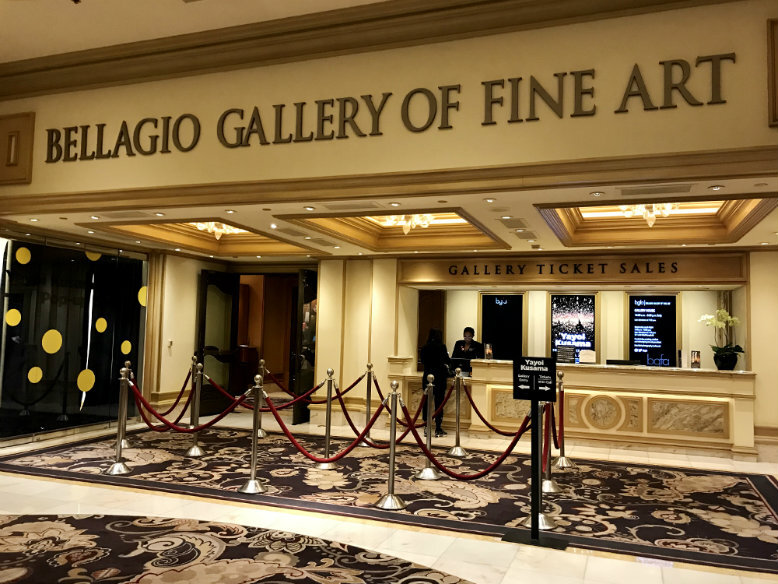 Entrance to the gallery
One of the exhibits, "Infinity Mirrored Room", featured beautiful lights in a 360-degree mirrored room. There was a time limit for viewing this room and we could only stay in it for 45 seconds.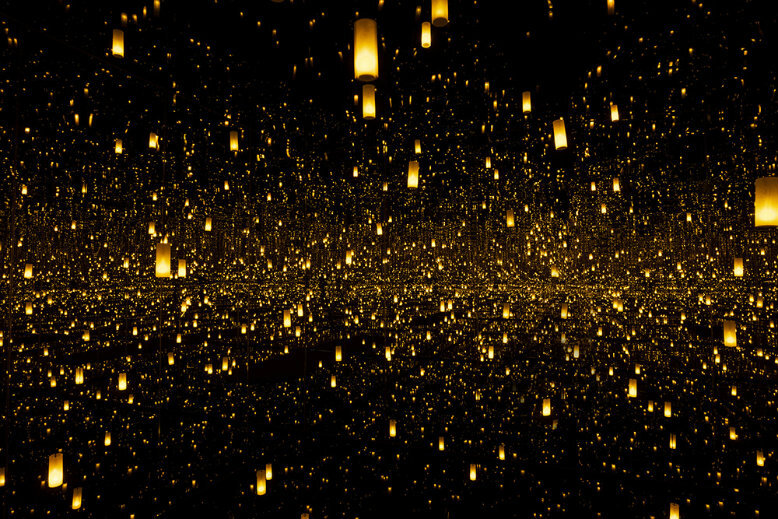 Yayoi Kusama's mesmerising exhibit (Photo from: MGM Resorts International®)
The exhibition by Yayoi Kusama was very popular in Las Vegas. If you are watching while taking photos and videos, 45 seconds will end in no time. So watch here instead to see how it looks on video.
Travel by limousine
In Las Vegas, popular hotels and tourist attractions are concentrated in the central area, so it is convenient to travel via public transport buses, monorails, and taxis. But why don't you ride a limousine? Indulge yourself and enjoy your night as you travel to a fashion show, a dinner, or to a lovely bar in a luxurious ride. When I visited, I asked for the limousine transfer service provided by Bell Trans.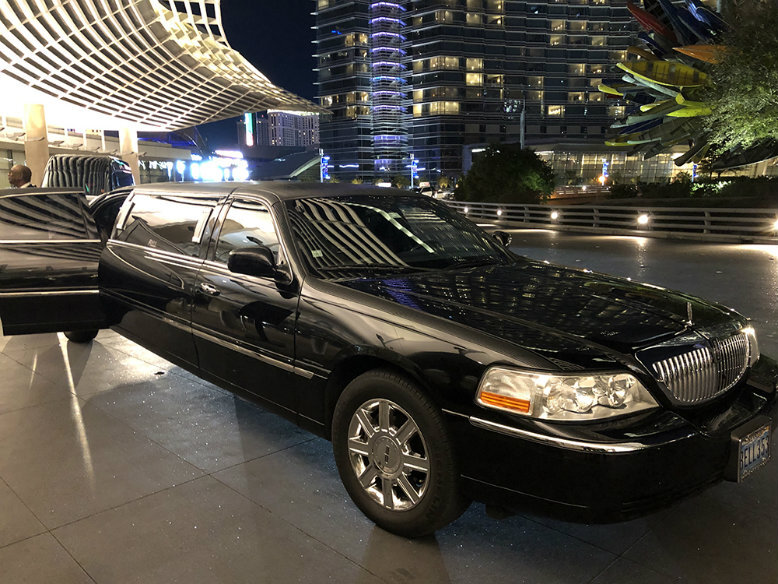 Explore Las Vegas in style by booking a limo
I rode a stretch limousine for 6 people (USD99 per hour). The colour of the lights and background music inside the car can be changed depending on your mood. You can charter up to 1 hour at a time, so it is recommended not only for pick-up but also for a luxury drive within the city of Las Vegas at night when the neon lights glitter.
Next, take a virtual tour of Starbucks Reserve Roastery Tokyo.
Comments, questions or feedback? Email us at [email protected].