Rejoice, sisters! Skinny jeans have been laid to rest as we usher in the revival of wide-legged trousers. With the return of this key '90s fashion staple, you no longer need to wrestle your entire being into skin-tight suckers. Instead, ease yourself into trousers that feature a relaxed, flared hem and are largely designed to sit higher on the torso to help its wearer achieve a flattering, leg-lengthening effect. Ahead, we highlight four fun, stylish ways to rock wide-legged trousers.
Crop & coordinate
One important rule that we've learnt in terms of flaunting one's assets is to either showcase your upper body area or your legs — and never both at the same time. While it's true that rules are meant to be broken and you should wear whatever makes you feel most beautiful in, this piece of fashion advice has also been applied by countless style influencers thus far, with the sartorial prowess speaking for itself.
Indonesian content creator @taniadrwis looks cool and comfortable as she bares a little skin in her matching cropped tank top and cardigan combo. Completing her get-up with a pair of ecru-hued wide-legged trousers and fresh white sneakers, her get-up simply works as her snug-fitting crop top juxtaposes nicely with the looser, fuller cut of her bottoms.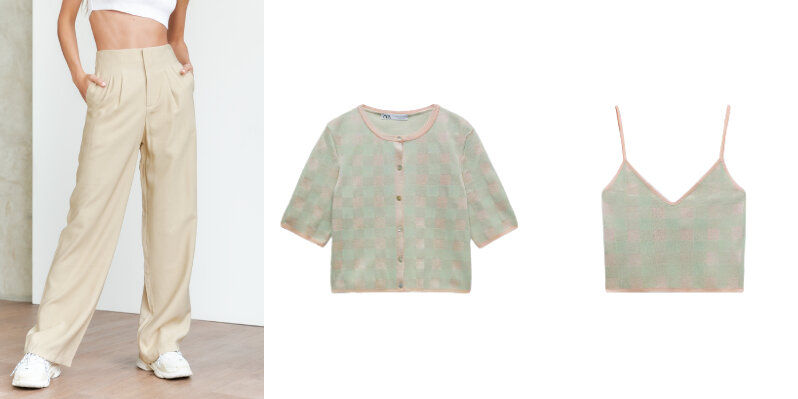 The Soho Pants by Lioness above feature a wide-legged hem just like Tania's and are made from rayon for easy movement. Cap off the look with Zara's matching check knit set, which consists of a short-sleeved, round-neck jacket and a V-neck singlet.
Style tip: In order to re-create Tania's seamlessly sleek look, ensure that your wide-legged pants are long enough to cover the top of your sneakers. Any shorter and they will disrupt the visual "length" of your silhouette.

Create your own '90s uniform
The '90s were brimming with fashion moments that we can easily embrace today as well. It was all about going back to the basics — where slip dresses, cotton white tank tops and non-stretch denim became mainstays in almost every person's wardrobe. One can't also help but think of the impact the movie The Matrix had in influencing fashionistas to don a mysterious long black coat.
Speaking of which, Paris-based digital creator @caroline_hu had her Matrix moment too, where she rocked a leather trenchcoat, a high neck bodysuit and a pair of wide-legged denim jeans.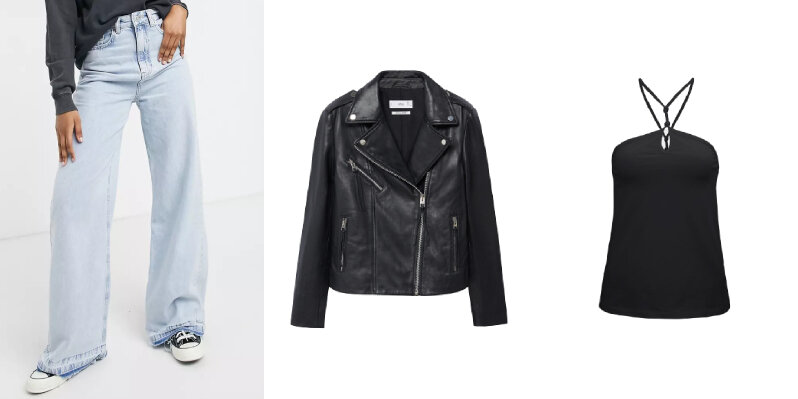 As a more heat-friendly alternative to Caroline's look, go with a shorter leather outer piece from Mango and style it with Stradivarius' super wide-leg jeans and Pomelo's halter neck top. Biker jackets are a nod to the grunge era, while halter neck tops were very much loved by the decade's most popular celebrities including Posh Spice a.k.a Victoria Beckham and Gwyneth Paltrow.
Style tip: Wide-legged jeans go great with streetwear separates such as sneakers, beanies and varsity T-shirts. That said, you can still dress these denims up by opting for a pair of minimalist heels, tortoiseshell sunnies and a high-quality, cream-coloured sweater. It all boils down to your personal preference and style.

Form an X-line silhouette
Ready, layer, one! Take your layering game to the next level just like Polish fashion influencer @olivialczak has with an oversized, broad-shouldered blouse or jacket. With this styling technique, you're forming an X-line silhouette that emphasises your shoulders while creating the illusion of a narrower waist. Her androgynous ensemble also comprises a polo shirt with an oversized collar, a twisted knot handle purse, crisp wide-legged trousers and dad sneakers.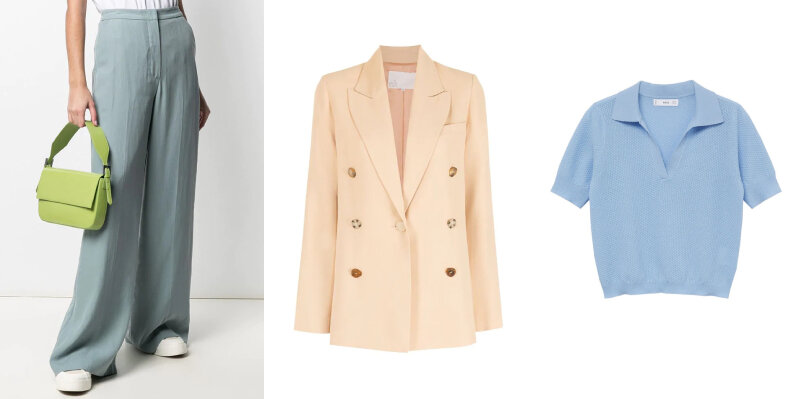 The Remain 'Angelina' trousers are made from linen-blend material, thus making them perfect for relaxed, everyday wear. Match them with a classic white tee for casual days, or play with pastels by styling them with Nk's loose cut beige blazer and Mango's baby blue polo.
Style tip: Colours and fabric play a huge role in creating different types of aesthetics. They also help to draw the eye towards certain parts of your body. For example, darker-coloured, wool trousers tend to exude a formal vibe and add volume to your frame, while light-coloured, cotton bottoms are suited for resort-style occasions.
Keep these factors in mind and think about how they'd work with what you already have in your closet before you make your next purchase.

Look relaxed yet refined in a button-up
With a crinkled shirt sleeve here and minimalist jewellery there, London-based digital creator @allchloerose's laidback ensemble proves that not trying too hard might just help you produce surprisingly fashionable results.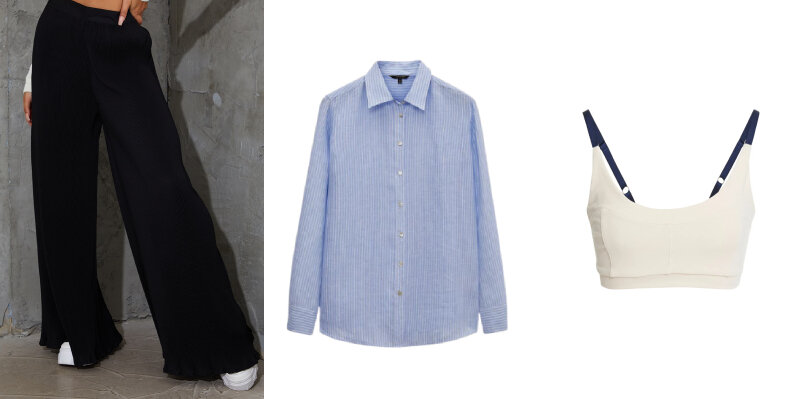 Pretty Little Thing's wide-legged trousers are made from polyester plisse material, which makes them incredibly comfortable and versatile. They're suitable for dressy occasions including date night and everyday affairs such as your regular grocery runs. If rocking a loosely buttoned shirt just like Chloe has done above seems a little too risque for you, consider layering a sports bra with thin straps underneath for that sporty, athleisure look.
Style tip: Wide-legged pants are not reserved just for tall women with boyish figures — everyone can rock a fun flared number and look effortlessly stylish, whether you're a petite princess or curvy beauty.
The key to nailing this trending piece is to ensure that it sits higher on your waist than your regular bottoms and that you keep your outfit proportions in check. If they're too long for you, it definitely doesn't hurt to visit your tailor.
(Cover photos from: asos.com, charcoalclothing.com.au and prettylittlething.com)
Now, check out our top five favourite fashion and beauty moments from singer Lizzo thus far.
Comments, questions or feedback? Email us at [email protected].