The unveiling of the shades PANTONE 17-5104 Ultimate Gray and PANTONE 13-0647 Illuminating (yellow) as Pantone's Colour of the Year (2021) in December 2020 drew surprised reactions from aspiring colour theorists and folks from the fashion, home and interiors industries. After all, the previous years' selections had typically featured one key colour instead of two (with the exception of 2016's Rose Quartz and Serenity). The Pantone Colour Institute later explained that its decision in selecting a collective colour was in response to the unprecedented times.
With that in mind, Ultimate Gray was chosen to encourage feelings of composure, steadiness and resilience, while Illuminating was picked because it is bright, cheerful and aspirational. When paired together, the colours aim to "encapsulate deeper feelings of thoughtfulness with the promise of something sunny and friendly."
Now that we've brought you up to speed on the two colours which are set to define 2021, here are a few tips on how you can rock either or both of these shades in style.
Create monochromatic moments
We'll be honest: bright yellow and grey aren't the easiest colours to wear together, especially with yellow being such a vivid, eye-catching shade as opposed to grey, which looks much more subdued in comparison. That being said, there's always classic black and white which you can use as the base colours in your outfit before you introduce a dash of sunny side up and grey to the mix. By following this straightforward colour combination, you're on track to creating a chic and elegant ensemble.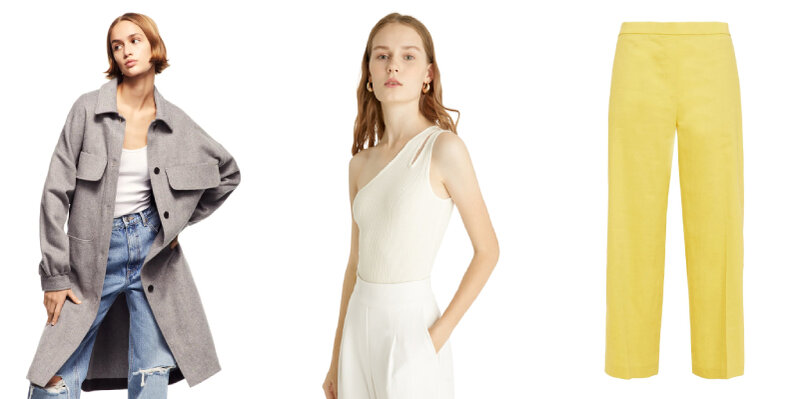 Heading out in a trench coat might appear a little OTT if you're based here in Southeast Asia, given how the outerwear is usually reserved for the autumn or winter season. For a more lounge-ready alternative, we went with the Zara Long Overshirt above, which looks casual yet appropriate if you were to rock this during your next grocery run. As for the monochromatic staple, consider picking up a white bodysuit since it will help streamline your silhouette and make you appear more put-together whenever you decide to rock a high-waisted number. Complete the look with this pair of breathable linen-blend pants from Theory.

Add a lil moss
If you take colour matching seriously as we do, we recommend that you bookmark Adobe's Color site because it's incredibly useful in helping you discover different colours that would work in harmony with one another. In this scenario, moss green goes well with bright yellow and grey if you're open to adding another colour to your outfit.
Need some inspiration? We have German fashion influencer @leoniehanne above in three different outfits which were inspired by this year's Pantone colours. Two of the outfits that she wore featured a touch of moss green, which made her ensembles look fashion-forward yet still cohesive.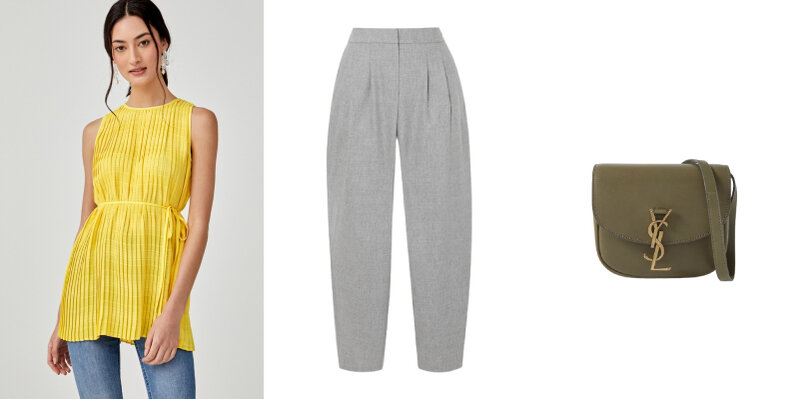 Brighten up your day in Love, Bonito's 'Rosie' Pleated Top, which comes with a belted string detail to define your waist. Since this blouse runs slightly longer than other blouses, we recommend that you go for a tailored pair of trousers (such as the ones above by Loulou Studio) to prevent any unnecessary bulk around your waist. Last but not least, for your moss-coloured accent, invest in this green leather shoulder bag from Saint Laurent, which you can easily wear as a crossbody.
Make magic with makeup
Yellow, you there? Digital content creator @ellenvlora showcased a stunning beauty shot of herself with fluttery lashes, bright yellow eyeliner, peachy lips and platinum grey locks. Embrace this head-turning makeup look on its own or use it to further enhance your Pantone-inspired ensemble. Either way, you're bound to turn heads since this is a welcome departure from the usual beiges and nudes.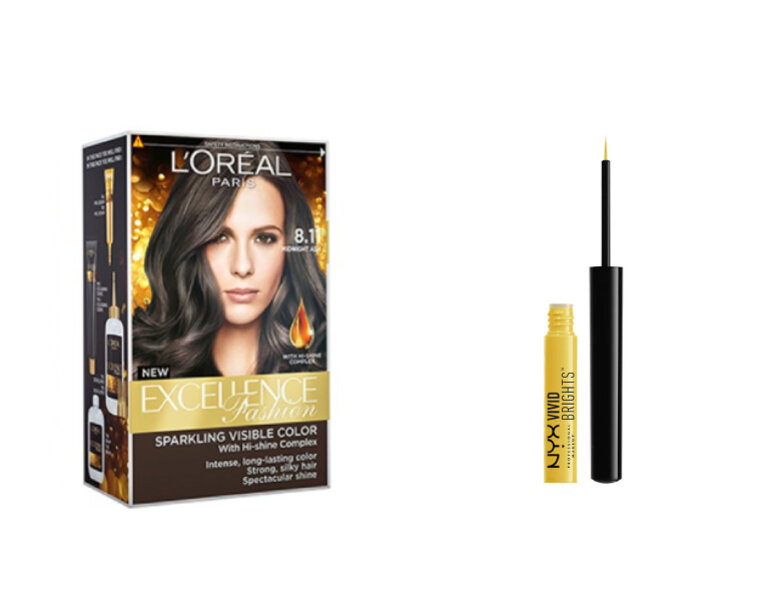 As far as at-home hair dyes go, it'll be tough to achieve light grey locks such as Ellen's since most of us would've been born (and blessed with) jet black hair. That being said, you can still experiment with a cool, ash shade by using L'Oreal Paris' "8.11 Midnight Ash" permanent hair dye from its Parisian Ash Cool Collection. According to the brand, the shades featured in this collection work even on dark Asian hair. Next, add a bright stripe of yellow to your eyelids with NYX Cosmetics' Vivid Brights Liner in "Vivid Halo." Don't forget to pack on a peachy eyeshadow shade before this if you wish to create a stronger contrast with the liner's cheery hue.
What other colour combinations are hoping to try as well?
(Cover photos from: lovebonito.com and Net-A-Porter.com)
Now, see if your favourite fashion trends last year made it to Google's top beauty and fashion searches in 2020.

Comments, questions or feedback? Email us at [email protected].