What comes to your mind when someone mentions Nicki Minaj? For us, we immediately think of her distinct rap style (Super Bass, anyone?) and attention-grabbing outfits. Speaking of the latter, the rapper recently broke the Internet (again) after sharing an Instagram photo of herself in a cotton pink jumpsuit and a pair of Crocs Clogs. Yes, you read that right. Crocs.
Shortly after her outfit reveal, shoe retailer The Sole Supplier reported that it experienced a whopping 4,900% spike in the sales of pink Crocs. The retailer's site ended up crashing as well. And although the hip-hop superstar's "uniform" usually features a pair of extravagant stilettos or sky-high platforms, her endorsement of this foam plastic footwear goes to show that if it's Queen Nicki-approved, it's set to become the next biggest fashion trend.
Sharing her take on this fashion phenomenon, interior design student and content creator Jamie Lim* revealed that she "used to own a lot of Crocs as a kid." As such, whenever she sees a person wearing them, she feels "nostalgic" as they remind her of her childhood.
The 18-year-old added that she's seen "a lot of people on TikTok collect and style Crocs" and she finds it "cool" that wearers are able to express their individuality with the brand's Jibbitz shoe charms. "I've bought a few glow-in-the-dark 'Jibbitz' charms myself to add a personal touch to my Crocs," she enthused.
Meanwhile, fashion, beauty and gaming content creator Anj Lopez* gave her nod of approval on this footwear trend too, stating that Crocs are "convenient, comfortable and easy to pair with different types of clothing."
Ready to rock these Crocs? Here are four fun and refreshing ways to style them.
Defy the decade with a retro print
As content creator Jamie has mentioned, Crocs evoke a sense of nostalgia for many of us as we're reminded of the casual, playful outfits that we used to wear when we were kids. To this, we recommend bringing out the unique charm of Crocs with a groovy, retro-inspired get-up, just like @beaupacha has above.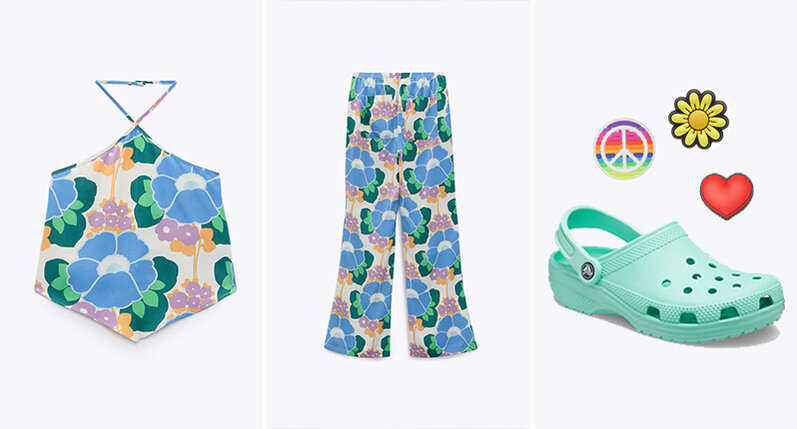 Style it: Re-create @beaupacha's look if checkerboard prints are a part of your fashion vocabulary, or go with this '70s-inspired floral printed co-ord from Zara if that's what you fancy. As for your Crocs Clogs, slide into a classic Pistachio pair and add a fun final touch with groovy Jibbitz shoe charms.
If you prefer to incorporate retro-inspired elements into your outfit in a much more subtle manner, consider taking up Anj's styling advice: "I'd style my Crocs Clogs with wardrobe basics, such as a white tank top and wide-legged jeans." Wide-legged trousers originated from the '90s, however, they've since taken over skinny jeans and are back in vogue due to their comfortable fit and "leg-lengthening" properties.
Keep it feminine with a babydoll frock
For a more casual, everyday look, check out @mintiemnt's feminine white 'fit, which includes a bucket hat, a tote bag, a babydoll dress and of course, a pair of white Crocs Clogs that are adorned with colourful Jibbitz shoe charms. In fact, if you're ever unsure of how to style your outfits — Crocs or not, go with a monochrome colour palette as it's a fool-proof fashion formula that will work for everyone.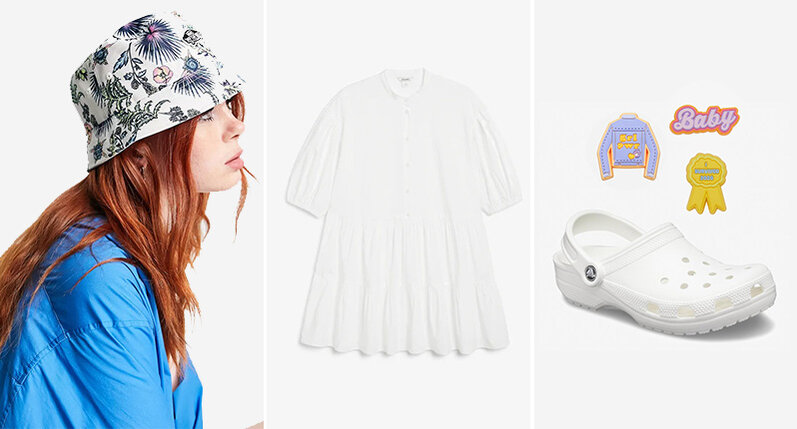 Style it: Rock a plain white bucket hat with a smiley emoji just like @mintiemnt has. Otherwise, try Vans' Deluxe Hanker bucket hat, which features edgy floral motifs and the brand's distinctive "Off The Wall" logo patch. Then, throw on Monki's Baby Doll dress, which bears a slightly oversized fit. On your feet, don the Crocs Clog in white and spruce it up with pretty pastel-coloured Jibbitz charms.
However, if babydoll dresses are a tad too girly for your taste, consider Jamie's fool-proof outfit recommendation instead: "I'm a fan of the classic Crocs Clog in white too, as I noticed how they make my legs appear longer in pictures! Styling-wise, I'd go with something clean and simple, such as a pair of black shorts and a sporty, polo shirt."
Clash it with a "traditional" outfit
Hoping to attempt a dressier-looking ensemble? Try juxtaposing "traditional" pieces such as a tweed jacket or a twinset with the casual Crocs Clog. If you need some guidance, take notes from art director and stylist @heartzeena, who paired her colourful tie-dye Crocs with a CHANEL tweed coat and shorts from the House's Spring/Summer 2021 pre-collection.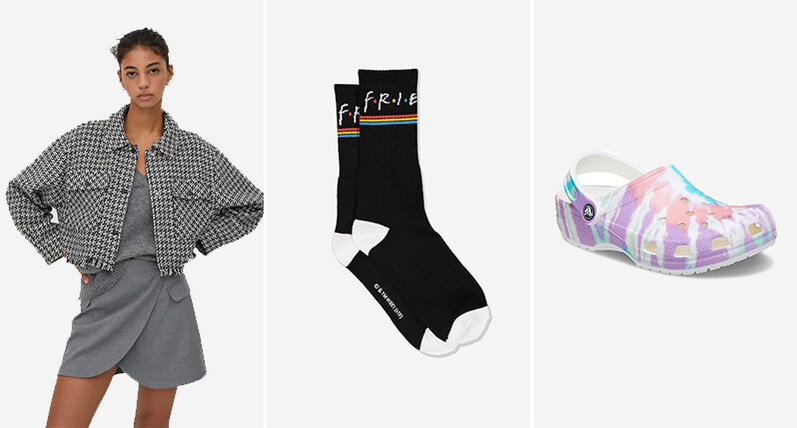 Style it: Tweed may not be the best fabric to wear given our hot and humid weather, hence we've made adjustments to Zeena's look by opting for a cropped overshirt by Pull & Bear instead. The overshirt features an "old-school" print too, while its cropped design makes it easier to style with high-waisted "skorts" or shorts. To complete this get-up, go with a pair of jet-black FRIENDS socks from Cotton On and Crocs' Tie-Dye Graphic Clog.
Apply the analogous colour styling technique
If you're a pro at putting together monochromatic looks and are looking to level up your style, apply the analogous colour styling technique, which requires you to rock colours that are next to each other in the colour wheel. In need of a few examples? Refer to @tarachandra_'s post above, which sees her sporting different shades of blue across her quirky outfit. You can also check out this powerful pink look of hers as well.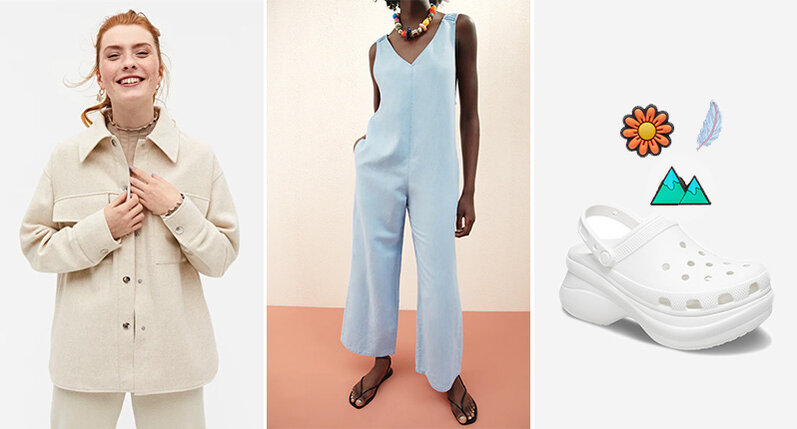 Style it: We love how cosy and comfortable Tara looks in her outfit, and we believe it's because she opted for pieces that feature a more relaxed and roomier fit. With this in mind, layer the Monki cream-coloured "shacket" (jacket meets shirt) over the Zara Oversized Jumpsuit, which are both designed to sit looser on the body.
If you're fully committed to creating an analogous outfit as we've recommended, go with the blue-hued version of the "shacket" instead and restrict your colour palette to varying shades of blue. Last but not least, put on your Crocs Classic Bae Clog, which differs slightly from the Classic Clog as the Bae Clog has a 2.4-inch base to give you a height boost.
So, will you be adding a pair of Crocs to your "shoedrobe" anytime soon?
*Jamie Lim and Anj Lopez are exclusively managed by Clozette Talent Management Philippines.
(Cover photos from: asos.com and shopsm.com)
Next, find out if you should jump on fashion's NFT hype.

Comments, questions or feedback? Email us at [email protected].